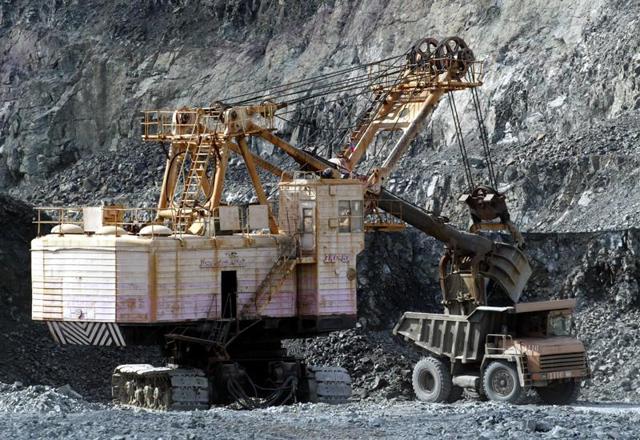 Investment Thesis
Platinum has performed poorly this year. YTD, it has dropped by more than 12%. This article will show why this is an ideal period to invest in platinum by comparing it to the recent surge in palladium.
Introduction
Platinum is a precious metal that belongs to the Platinum Group Metals ("PGM") category. This is a category made up of six more noble metals that include palladium, rhodium, osmium, iridium and ruthenium. These metals are known for their resistance to wear, tarnish and chemical corrosion. They have excellent high-temperature characteristics that make them ideal for use in the automotive industry. They are also known for the fact that they are found deep inside the earth's crust, which makes mining them very expensive.
The biggest source of platinum in the world is South Africa, followed by the United States and Russia. South Africa controls more than 80% of the world's platinum production. The biggest miners of platinum are Anglo American (OTCQX:AAUKF), Impala Platinum Holdings (OTCQX:IMPUY, JSE:IMP), Lonmin (LON-LMI) and Sibanye-Stillwater (SBGL, JSE:SGL).
Of the six metals, platinum and palladium are the most important, especially for the use in the automotive industry. Platinum is mostly used in the diesel-powered vehicles, while palladium is used mostly in gasoline vehicles. As such, the two metals - like copper - are often seen as a barometer for the world economy. In fact, their decline early this year was attributed to the trade war between the US and China. Their recent resurgence is also attributed to the complacency among investors on the impacts of the trade war.
Platinum is also emerging as a key metal in the jewellery industry, and recently, its use in computer cloud computing has emerged. The two metals can be traded directly and indirectly in various ways. Their futures are listed in NYMEX, LME and in Tokyo. Alternatively, investors can invest the mining companies mentioned above or the ETFs like ETFS Physical Platinum Shares (NYSEARCA:PPLT) and GraniteShares Platinum Trust (NYSEARCA:PLTM)
Platinum has Trailed Palladium
In 2017, palladium was the best-performing metal, rising by about 60%. In the same period, platinum rose by about 8%. Year to date, palladium has risen by almost one per cent, while platinum has declined by more than 12%, as shown below.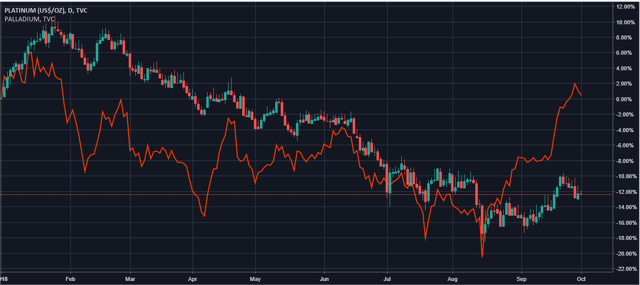 YTD Platinum and Palladium chart
In the past five years, the price of platinum reached a high of $1506, and it reached a low of $755 in September this year. At the same time, the price of palladium fell from a high of $896 and declined to a five-year low of $479 in 2016 and started a major rally that saw it reach a five-year high of $1130 in January this year. The chart below shows the five-year platinum-to-palladium ratio. The current ratio of 0.79 is at the lowest level since 2002. The current ratio means that one ounce of platinum can buy 0.79 unit of palladium. This is lower than the average of 1.41.
Therefore, with the price of platinum being a bit cheaper than palladium, and considering that the two metals can be used interchangeably, it means that manufacturers will likely move to platinum.

Source: Denver Gold
Another interesting chart is on the gold-to-platinum ratio shown below. The ratio is currently near an all-time high of 1.52 and is significantly above the average of 0.83. This means that one ounce of gold buys one and a half ounces of platinum. This is an indication that palladium is undervalued against gold. Historically, platinum has traded above gold. This changed in 2015.

Demand and Supply
Unlike gold, platinum is mostly an industrial metal, with most of the physical metal being used for pollution control. Most of the gold, on the other hand, is used for investment purposes.
The figure below shows the most recent supply and demand statistics from the World Platinum Investment Council (WPIC).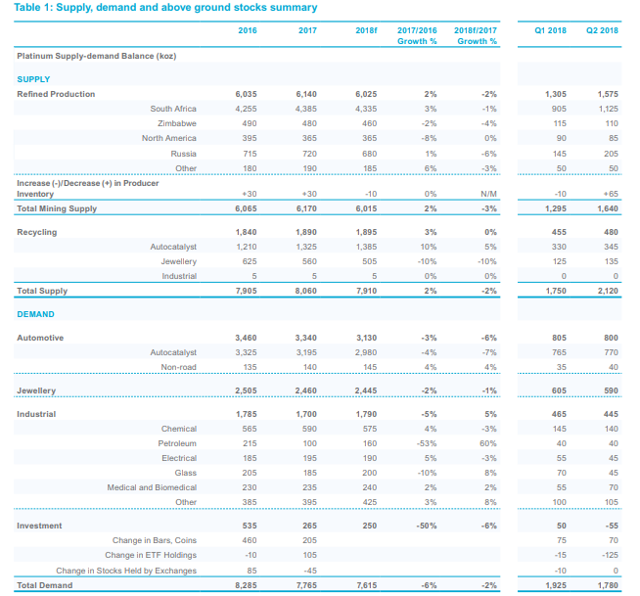 As the figure shows, the total supply of platinum is expected to decline from 6,710 koz in 2017 to 6,016 koz in 2018. The biggest declines are expected to be in South Africa and Russia. Demand, on the other hand, is expected to fall from 7765 koz to 7615 koz this year. The biggest decline is expected to come from the automotive sector, which is expected to see an 8% decline.
However, I believe that the opposite will happen. As mentioned above, platinum is found deep inside the earth's crust. This makes mining it very expensive, and with prices near the ten-year low, companies are expected to reduce the output. In fact, in recent months, the number of South African mine closures has increased and is expected to increase. The CEOs of Northam Platinum Property (OTCPK:NMPNF), Impala Platinum and Sibanye recently warned the government and investors of further mine closures.
The low prices of platinum have been compounded by the recent strikes among workers in the sector. This week, miners at Sibanye-Stillwater and Harmony Gold (NYSE:HMY) received permission from the National Union of Mineworkers (NUM) and the Association of Mineworkers and Construction Union (AMCU) to strike. These strikes and the need for higher wages have squeezed the margins of many mining companies, which has resulted in more closures and job losses. The number of mine workers has fallen to the lowest level in more than 10 years.
This, coupled with the ongoing friction between the United States and Russia, could lead to more problems for palladium. The biggest producer of palladium in Russia is Norilsk Nickel (OTCPK:NILSY). It produces more than 40% of the world's palladium. The palladium it produces is mostly sold to Western companies. This was probably the reason why the company was left out from US sanctions. Experts call it "Too Big to Fail." If Democrats win in the mid-terms, there are indications that they will increase pressure on the Trump administration to do more to sanction Russia. These tariffs will likely target the company, which is headed by a key Putin ally. If this happens, there is a likelihood that manufacturers will move to replace palladium with platinum.
The recent decline in the price of platinum is also attributed to the ongoing shift from combustion engine to electric vehicles. I believe that the impacts of these to platinum are overstated. This is because the shift to mass production and use of electric vehicles will take time. At the same time, the emergence of a growing middle class in Asia and other emerging markets will lead to more demand. This view is shared with Chris Gaffney, the President of World Markets at TIAA Bank, who told Barron's that:
The emergence of a large middle class in both China and India will continue to support the automobile sector, and demand for platinum should continue to increase, especially if/when we see manufacturers switching from palladium into platinum for pollution control.
In addition, more uses of platinum are emerging. With gold being way more expensive than platinum, more jewellery lovers in the developed and emerging markets are moving to platinum, which has an almost equal value. In fact, a recent report by Platinum Guild International showed that more buyers in India are choosing platinum over gold.
In addition, the use of platinum in cloud computing will likely replace the decline in solid-state drives. The recent report by WPIC said:
The increasing use of solid state storage in personal computers reduces platinum use but this has largely been offset by platinum demand growth in cloud-based storage. Recent further scrutiny of platinum use in these applications has led to an upward revision of the estimates and the forecast we publish today, showing that c150 koz more platinum was used in the manufacturing of hard disk drives between 2013 and 2017 and forecast for 2018, than previously estimated.
Conclusion
As demonstrated in this piece, the price of platinum is currently undervalued by most measures. Its demand too has been undervalued, as investors have written off its use in the automobile industry. Therefore, going by the historical average of its relationship with palladium and gold, platinum should be trading at between $988 and $1170.
A key detractor of all this is the strength of the dollar. In the last week's Fed meeting, the officials pointed to one hike this year and another three in 2019. These are more hikes than other central banks have guided, which means that the dollar strength could continue. The chart below shows the five-year relationship between the price of platinum and dollar strength.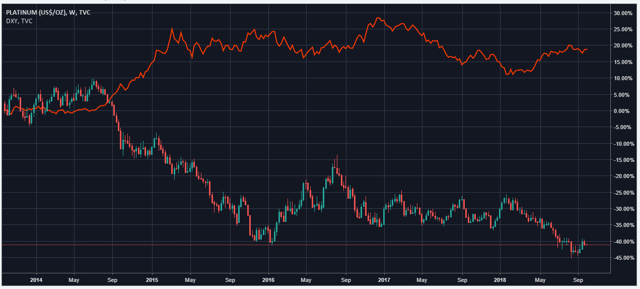 Disclosure: I am/we are long AAUKF, LNMIF. I wrote this article myself, and it expresses my own opinions. I am not receiving compensation for it (other than from Seeking Alpha). I have no business relationship with any company whose stock is mentioned in this article.