We're now weeks away from the big day that many have been waiting for months now. Canada is about to legalize the recreational sale of marijuana across the country, which not only opens an opportunity for the national market to grow but also opens the door to international trade in places like Australia and Germany.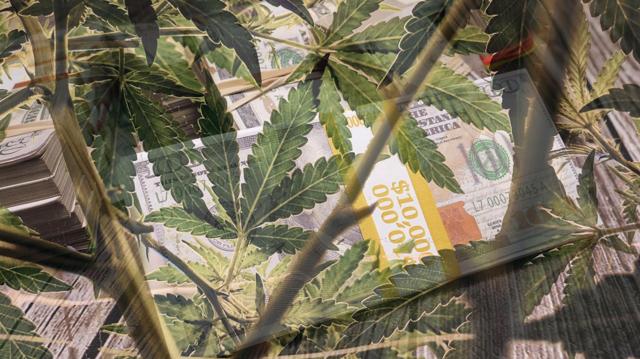 Cannabis companies are already building out global distribution channels with market leaders cutting deals and taking on strategic investments to further enhance their product offerings. One trend that appears evident is that "normal companies" are now getting involved in the sector.
We saw a little glimmer of this last year when Constellation Brands (STZ) threw its hat in the ring with a small stake in Canopy Growth (CGC)(WEED). This small stake turned into a considerable investment into the legal cannabis industry as Constellation went further by investing some $4 billion into the cannabis producer this year.
We also saw other companies like Molson Coors (TAP) make a run at legal weed with its joint partnership with The Hydropothecary Corporation (HYYDF). The deal has beer marker, Molson Coors taking charge with a more than 50% controlling interest.
"Canada is divulging new ground in the cannabis sector and, as one of the country's leading beverage companies, Molson Coors Canada has a unique opportunity to participate in this exciting and rapidly expanding consumer segment," said Frederic Landtmeters, president and CEO of Molson Coors Canada, in a statement regarding the deal.
What To Look For After Legalization
It's no secret that marijuana mania is back and healthy in the stock market. The recent explosion of Tilray (TLRY) following its July IPO sparked much of the current awareness sector stocks are beginning to see. But ahead of this significant legalization event, investors should be looking at more than just hype-fueled equities. There are options like several ETF's to take advantage of these market moves. However the pure-play may be a better bet. It's just a matter of finding a good company that isn't full of random hype or speculative trading.
Following legalization going live, investors should take note of a few unconventional things. The first being what the companies are doing. Are they focusing on expansion or are they "going with the flow" without any more effort? Logically speaking, a company that isn't working to carve a true corner out of this market, that company should be enhancing their current offering.
Canopy Growth and Aurora Cannabis (ACBFF)(NYSE:ACB) have already made it well documented that they are on the takeover trail. For starters, Canopy is already building a huge international footprint that includes brands like Spektrum Cannabis, Tweed, Entourage Phytolab and AusCann. These span across North America, South America, Europe, Africa, and Australia. The recently announced deal with OrganiGram Holdings (OTCQX:OGRMF)(OGI.V) is another step in the expansionary moves being made by the company. This event isn't just about expanding the footprint; it's also a telltale sign that Canopy is focused on mass market entry. Unlike other deals that it has done with companies like AusCann, the Organigram deal effectively allows Canopy to increase its fulfillment.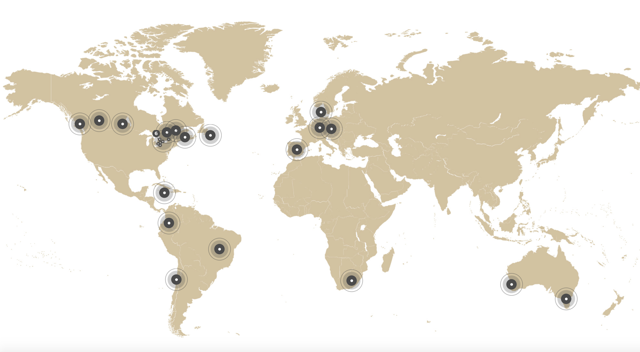 The Companies signed a two-year supply and distribution agreement for OrganiGram to supply Canopy with product in the Province of Newfoundland and Labrador. This isn't just another brand takeover; it's a strategic move to ensure that Canopy can meet demand. Organigram also has supply agreements/MOU's with the provinces of New Brunswick, Nova Scotia, Prince Edward Island, Alberta, Manitoba, and Ontario, though this deal is currently just for Newfoundland and Labrador.
Also keep in mind that unlike other cannabis companies, Canopy is taking a page out of the script of many other companies that are leading in their respective industries and has created an investment company called Canopy Rivers; also publicly traded on the TSX Venture exchange.
Aurora Cannabis (ACBFF)(ACB) has taken a similar approach to Canopy in that it too is making strategic investments and setting up distribution agreements with numerous companies. To date, their M&A strategy has helped amass 15 companies – MedReleaf (OTCPK:MEDFF)(LEAF), CanvasRX, Peloton Pharmaceutical, Aurora Deutschland (formerly Pedanios), H2 Biopharma, Urban Cultivator, BC Northern Lights, Larssen Greenhouses, CanniMed Therapeutics, Anandia Labs, HotHouse Consulting, Agropro, Borela, and proposed acquisitions of ICC Labs.
They've also invested in established partnerships with many publicly traded cannabis companies including:
Aurora has also made a point to get embedded into the growing hemp industry as well. The recent acquisition of Europe's Agropro UAB, as well as hemp processor/distributor Borela UAB, gets them into the same asset class as Canopy. The significant difference between the two (besides price) is the share structure. Canopy has roughly 200 million shares outstanding while Aurora has nearly a billion shares outstanding (958.5 million). Despite the gross differences, Aurora may be a bit more nimble especially at its current valuation.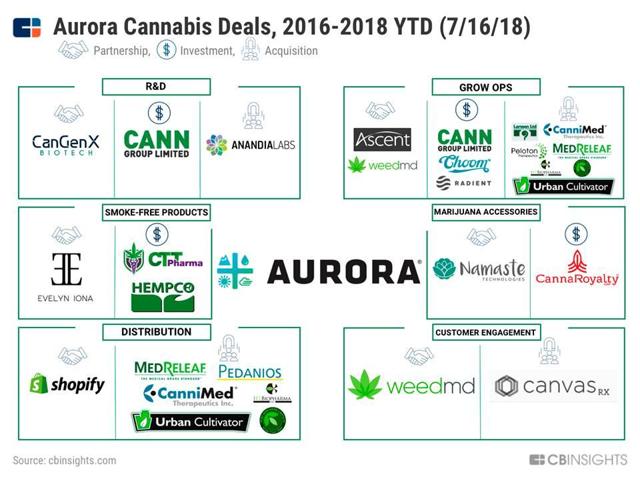 Indeed, you can't argue the fact that Canopy has achieved a lot within the last 18 months, but Aurora is hitting on other angles and that "other angle" is growth rate. The company reported over 220% top-line growth rate in its revenue and a lot of that has been due to the strategic partnerships that the company has gotten involved with.
Management even highlighted the fact that MedReleaf operations were a highlighted contributor to its pro-forma Q4 revenue. As I highlighted in my article, "Alcohol Stocks Fighting To Stay Relevant In A Marijuana Stock Market?" I predicted that the wave of investment from other non-pot businesses was just getting started (and I took a little bit of heat from people in the alcohol world). Now, I'm suggesting that we're likely to see that the next level of success will not only come from significant investment from outsiders like the Molson's, Constellation's, and potentially the Coke's (KO) and Pepsi's (PEP) but once Canada flips that switch, we should begin to see the industry start to roll up a little bit.
We've already seen a little bit of this already with both Aurora and Constellation going directly to other public companies whether it be full buyouts or strategic investment that could result in a majority stake such as with Aurora and The Green Organic Dutchman. Health Canada is already anticipating that demand for marijuana will be substantially higher than what was initially expected.
A report commissioned by Health Canada used a 2017 federal survey on marijuana use to build a thesis and determine potential demand during the first year of legalization. The amount calculated: just under 930,000 kilograms for both recreational and medical use. It also looks like the company is ramping up to utilize their hemp business for CBD production as well as the general "industrial hemp" products in the arsenal.
This is 41% higher than the original estimate of 655,000 kilograms arrived at by the Parliamentary Budget Officer in 2016. With expected demand outpacing supply already, it will be important (as I said above) to focus on companies that are building a runway around growth because anyone standing still in this market especially right now will inevitably get left behind.
New Kids On The Block
But just because companies like Aurora and Canopy growth are rapidly expanding, it doesn't mean that there isn't any more hope for new entrants in the space. Some companies seem to have completely flown under the radar. Take Trulieve Cannabis (OTCPK:TCNNF)(TRUL.C) for instance. The company recently went public on the Canadian exchange and is now dual-listed on the OTC as well. Trading volume has increased, and the price has followed.
The company operates many dispensaries (16) all across Florida. Revenue for the company grew from $15.2 million in the first quarter to $23.3 million in the second quarter of this year. Considering that Canopy Growth did just shy of $26 million in their most recent quarter, the revenue alone could put Trulieve on par with "the market leader."
Also, according to Canopy's earnings press release, "gross margin before the fair value impacts in cost of sales and other inventory charges would have been $16.5 million or 64% of sales."
Trulieve's gross margin, which does not include net-effect of change in fair value of biological assets, was 74.1% of revenue for its most recent quarter. On $23.3 million, that figure is just over $17 million.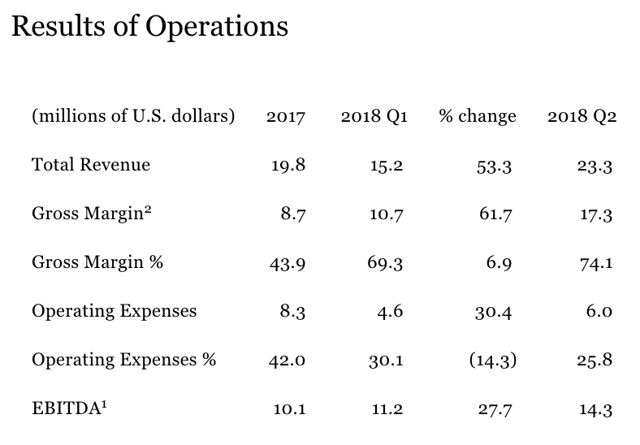 Breaking it down by earnings figures and assuming nothing changes at all for either company, Canopy would end up somewhere in the ballpark of $103 million ($25.9million per quarter) and Trulieve would wind up at roughly $85 million taking into account the next two quarters of similar revenue and accounting for the first quarter revenue of $15.2 million. The reason I point this out is the multiples that these two companies trade at is night and day with Canopy trading at a far higher revenue multiple than Trulieve.
You've also got the recent entry of Pyxus International (PYX) coming online in September. The company itself has been relatively quiet and therefore, we have to go on what limited information there is right now. Here's what we do know: Pyxus is the product of a name and symbol change from Alliance One International to Pyxus International. The company has some operating arms that include a play on hemp as well as the recent entry into the Canadian cannabis industry.
Pyxus' FIGR Inc. via FIGR's subsidiary Goldleaf Pharm Inc. received its Access to Cannabis for Medical Purposes Regulations cultivation license from Health Canada. FIGR's subsidiary additionally received approval from Health Canada for the sale of medical cannabis and oils while closing on a supply agreement in PEI (Prince Edward Island) for 1,000kg of cannabis products.
These developments put both of FIGR's two subsidiaries as companies that are now licensed to produce medicinal cannabis in Canada. Of course, this also gives the company a strong advantage when it comes to producing cannabis for recreational sale following the October 17 legalization date in Canada.
The attraction to this company could be compared to Tilray as far as share structure goes. As we've seen with Tilray, a "perfect storm" of buying in a low float environment creates some impressive movement in a stock. Fortunately and unfortunately for Pyxus, this has worked on both ends of the spectrum recently. There has been a decent run up to highs of almost $29 followed by the recent downtrend in price.
The one thing that is of interest in the company's debt structure and by looking into the filings, investors will likely see that there $645.1 million face amount debt outstanding. This figure is after the purchases the company made in July. These included the purchase and cancellation of $10.9 million of its 9.875% senior secured second lien notes and an additional $7 million of debt. Though this debt is a concern, the fact that the company is utilizing surplus cash to boil down this outstanding debt should be a good sign for prospects in my opinion.
The company does do strong revenues with the last quarter reporting nearly $300 million representing year-over-year growth of 5.1%
On the company's earnings call, company CEO, Pieter Sikkel, stated, "In industrial hemp, our joint venture Criticality is taking active steps to become a leader in the production of CBD hemp oil and related consumer products. We look forward to receiving and processing hemp at Criticality's facility in North Carolina this fall. Our e-liquids investments continued to demonstrate positive momentum. Last month, Fontem Ventures introduced Salt of the Earth, an additional product line that is a direct result of the relationship with our Purilum joint venture and utilizes Purilum's premium nicotine salt e-liquid."
Sikkel continued, "And in legal cannabis, we are fast approaching the October 17 effective date for the legalization of recreational cannabis use in Canada. Our Canadian cannabis business is rapidly gearing up to meet expected consumer demand beyond the current legal medicinal market. As we discussed previously, construction work on an additional 310,000 square feet of greenhouse and warehouse space is underway as FIGR, our wholly-owned indirect Canadian subsidiary works toward its total goal of over 1 million square feet of production in that market."
I've covered other companies on Seeking Alpha before they went public and the story was something along the line of raising significant capital, having a unique product and attracting the attention of companies like Aurora Cannabis for strategic investments. Now, it would appear that it's coming down to company performance versus solely generating capital-interest from investors. Pyxus has a business history of more than 100 years essentially making it the oldest cannabis company in the space right now, and Trulieve has built a revenue machine to drive sales growth that has now proven to be a scalable model.
Marijuana Stock IPO's To Note
In addition to these new players, we still have some marijuana stock IPO's to look forward to. Curaleaf Inc., which is based in Massachusetts, is going to go public in Canada and hopes to raise capital with an ultimate pre-offering valuation between $3 billion and $4 billion. The company is going public through a reverse takeover following the combination of Canada's Lead Ventures Inc. with PalliaTech Inc. in August. This type of going public transaction isn't new to the markets either. MedMen (MMEN)(OTCQB:MMNFF), Green Thumb Industries (OTCPK:GTII)(OTCQX:GTBIF) and others have taken this route to get in on the public pot stock action.
In fact, with some who are concerned with a "high valuation," remember that this new cannabis market is starting to see its fair share of billion-dollar listings. MedMen Enterprises's went public in Canada with a $1.65 billion valuation and leading into its IPO; Green Thumb also joined the billion-dollar valuation club.
There's also the heavily watched High Times IPO coming down the pipe. Right now the company is taking more of a crowdfunding approach to its going public event. They're accepting a minimum of $99 from investors and raising money at $11 per share. The company is focusing on media, events and licensing for revenue growth and in doing so, High Times has already started down the path of M&A before its IPO. The company recently acquired DOPE Media, which included a magazine, website and events business for a little over $11 million. This adds to the stable of acquisitions following several other cannabis-related media properties like CULTURE and Green Rush Daily.
Across "the pond" there will also be the StenoCare IPO. The company will be the first cannabis company in Europe to get in on the growing interest for marijuana stocks. The company is only looking to raise about $3 million on Copenhagen's Spotlight exchange and will give a pre-money valuation of roughly $9.3million according to the company's PR covering the IPO. Investors can look for this to begin trading around October 24 with the short name of STENO. The company is in the consumer products side of the business with current offerings including CBD Drops STENOCARE, THC Drops STENOCARE and 1:1 Drops STENOCARE
Still, Investors Should Be Cautious
Never forget the first cannabis stock boom. The "FOMO" is real, especially with so much excitement and it's easy to lose track of investment strategies. Make sure to pay close attention to balance sheets on companies in the space as a number of them still leave much to be desired. In some cases, the markets are rallying right now as momentum is building across the sector. The share structures, more than anything, are a big plus for traders in my opinion.
Many marijuana stocks are trading well over their float and in some cases their entire outstanding share count on a daily basis. This means the turnover of the float mixed with the periodic short squeezes makes these optimal targets for technical traders I'm sure. But in the long run, as I've mentioned throughout this article, the biggest successes will most likely come from those companies focused on the longevity of a business.
Lately, the excitement has buzzed around cannabis-infused beverages especially after reports suggested Coca-Cola may be getting into the game.
The Securities and Exchange Commission has issued an investor alert warning investors about the potential pitfalls of companies that may be overpromising returns to their investors, "Fraudsters may manipulate stock prices (for example, causing them to rise or fall dramatically) by spreading false and misleading information about a company…Microcap stocks, some of which are penny stocks and/or nanocap stocks, may be more susceptible to market manipulation than stocks of larger companies."
Focus On The Topic At Hand
No one can stop what's about to happen in Canada. The country will be the benchmark used by other countries like the United States. The DEA has already gone ahead and rescheduled CBD to Schedule V instead of Schedule I. Specifically the agency said that this applies to "FDA-approved drugs that contain CBD derived from cannabis and no more than 0.1% tetrahydrocannabinols." This was in response to the drug Epidiolex from GW Pharmaceuticals (GWPH).
Though some think that this may be just another "side project for the DEA," it could open up some doors for CBD in its entirety to be rescheduled or potentially de-scheduled. The scheduling change could also allow access to medical researchers looking at CBD applications beyond epilepsy treatments.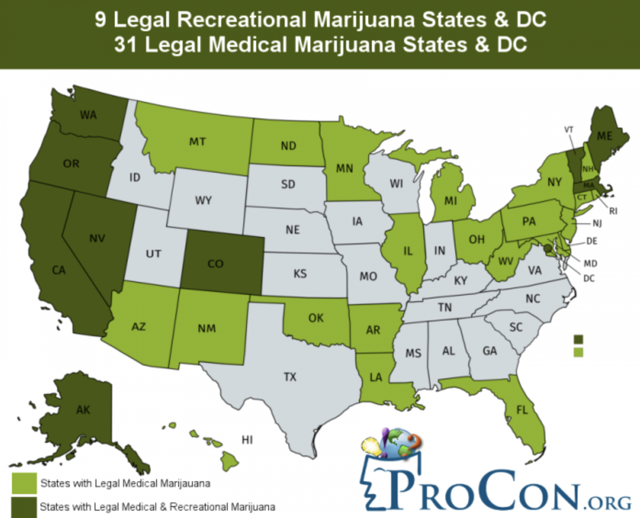 Marijuana legalization is now weeks away for one country, and support for the drug continues to grow across the globe. Despite the potential shortcomings that are typically seen with any industry seeing massive excitement, investors could also have a significant opportunity to take advantage of the end to cannabis prohibition. New IPO's and a robust M&A climate may add to this opportunity as well. Investors should be well aware of all of the reasons why certain cannabis stocks move the way they do and trade/invest accordingly.
Disclosure: I am/we are long TCNNF. I wrote this article myself, and it expresses my own opinions. I am not receiving compensation for it (other than from Seeking Alpha). I have no business relationship with any company whose stock is mentioned in this article.
Editor's Note: This article covers one or more microcap stocks. Please be aware of the risks associated with these stocks.