If it's true that we shouldn't judge a book by its cover, perhaps the same logic should apply to September's financial returns. Although the past month's numbers look as meek as a church mouse, they mask some noteworthy market drivers-including higher short-term interest rates, bombastic trade barbs, and a fresh round of tariffs. After all was said and done, however, stocks finished September pretty much where they started.
What's that line about sticks and stones?
In September, simmering trade tensions boiled over. The Trump administration slapped an additional $200 billion in tariffs on imports from China and was then promptly met with $60 billion in tariffs from China. And, in a break from long-standing friendly relations between the US and Canada, President Trump threatened to administer tariffs on Canadian auto exports-including US brands assembled in plants north of the border.
Trade bluster at times overshadowed an on-again/off-again tap dance with North Korea on the issue of denuclearization-an outcome Pyongyang has repeatedly agreed to but has so far failed to deliver. The action-packed matinee that was September ended with the Federal Reserve raising short-term interest rates by an additional 0.25%-the third such hike in 2018.
Despite all these events, US indexes remarkably managed to squeeze out modest gains amid all the noise, although small and midcaps did lose ground.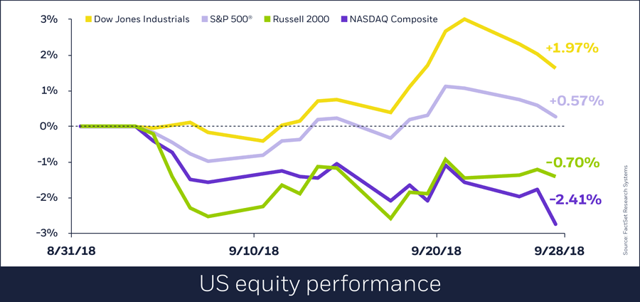 Source: FactSet Research Systems, Oct. 1, 2018
US equities
September saw the continued outperformance of US and developed market equities, as well as strong returns from health care and energy stocks. The energy sector benefited from an expanding global economy, coupled with crude oil supply constraints. In particular, the Trump administration's efforts to isolate Iran with sanctions appear to be having an effect, as the world's fifth-largest oil producer has seen its exports shrink by nearly 500,000 barrels per day since May.
Value stocks showed resilience during the month, with three major sectors within the Russell 1000 Value Index-health care, energy, and consumer discretionary-posting positive returns. Meantime, the hot tech sector took a breather, relinquishing leadership to telecom services, which was propelled by a string of large-scale M&A activity and a reclassification of the sector's industry hierarchy.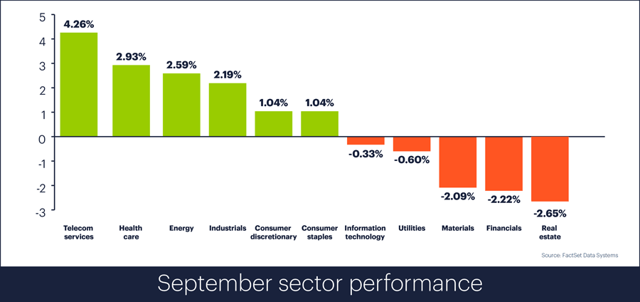 Source: FactSet Research Systems, Oct. 1, 2018
International equities
Developed market equities rebounded nicely in September, actually outperforming major US indices on the strength of Japanese and European stocks. Conversely, emerging market shares finished in the red, despite climbing off of earlier lows. Year-to-date, emerging markets are down nearly 8%-hurt by growing trade deficits, an acute dependence on foreign investment, and a strong US dollar.
Recently, the poor performance of a few countries, such as Argentina, Venezuela, and Turkey, has set off contagion fears throughout the rest of the developing world. In some cases, weakness in emerging markets currencies has necessitated raising interest rates in those countries, which could have long-term ramifications for economic growth.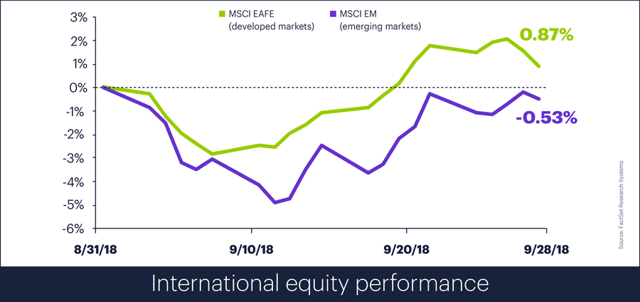 Source: FactSet Research Systems, Oct. 1, 2018
Fixed income
The fixed income markets were marked by narrowing yield spreads, underscoring relatively strong demand for corporate bonds. Narrowing yield spreads reflect optimistic market sentiment, although a relatively flat Treasury yield curve continues to concern some observers. Rising Treasury yields have pressured other income-oriented asset classes, which may help explain the recent poor performance of dividend-oriented stocks in the utilities and real estate sectors.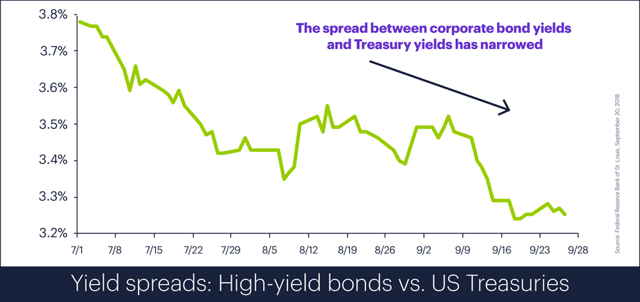 Source: Federal Reserve Bank of St. Louis, Oct. 1, 2018
Looking ahead
As we head into the final quarter of 2018, currency headwinds, inflationary concerns, and trade issues are likely to loom large. Consequently, investors may wish to consider some key themes:
• International equities: Given escalating trade tensions and a strong US dollar, international equities may have more opportunity for growth relative to US stocks. In addition, the relatively low return correlations between US equities and international stocks can make international holdings an important source of portfolio diversification, particularly if US stocks weaken.
• Tariffs and earnings: Believe it or not, earnings season is right around the corner, and investors will be watching to see how tariffs have affected corporate profits. Increased trade barriers can increase input costs and adversely affect profit margins-particularly for large, export-dependent companies. Of particular note will be any revisions in earnings guidance as a potential harbinger of stock market performance.
• Mid-term elections: Nothing rattles the markets quite like uncertainty, and the only thing certain about next month's mid-term elections is that they will be closely followed worldwide. All seats in the US House of Representatives will be voted on, and the political balance of the US Senate is also in play. Voters will also weigh in on state races that could affect 2020 Congressional redistricting. Until the results are tallied, elections could serve as a source of investor unease.
October is typically one of the more volatile months of the year, and the coming month may prove to be no exception. While US economic fundamentals continue to impress and stocks have been on a remarkable nine-year run, headline risks abound. As always, a well-diversified portfolio may be investors' best defense against possible disruptions to what has otherwise been a solid year for the financial markets.
Disclosure: I/we have no positions in any stocks mentioned, and no plans to initiate any positions within the next 72 hours.
I wrote this article myself, and it expresses my own opinions. I am not receiving compensation for it. I have no business relationship with any company whose stock is mentioned in this article.