"Backlog was strong at the end of Q2, and Nokia (NOK) continues to expect commercial 5G network deployments to begin near the end of 2018." Hanging on to this statement printed on the Finnish network equipment vendor's most recent earnings report, Nokia shareholders eagerly await the company's 3Q18 results scheduled to be shared with the investment community in the early morning of October 25th.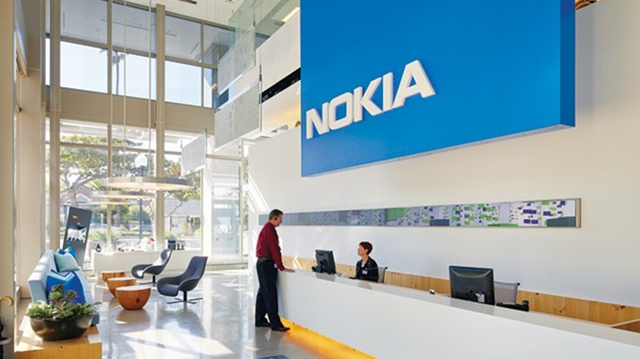 Image credit: My Nokia Blog
I believe the stakes will be particularly high this time. The optimism conveyed by management over the past few months should start to manifest itself in the form of improved financial results and guidance this quarter. This is the time, in my view, for more tangible evidence supporting the start of the 5G upcycle to be delivered.
A quick glance at Nokia's stock performance over the past year (down 8% since this time last year) reveals that the market has been very cautious, not to say skeptical, about the financial impact of the wave of 5G infrastructure upgrades that are projected to take place some time between late this year and the early part of 2019. Were this not the case, it would be hard to justify NOK's modest valuations (see chart below) only months away from what could be a significant and possibly long-lasting increase in carrier capital investments.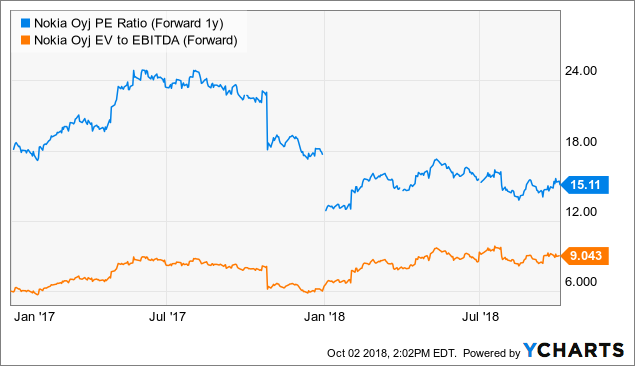 Regarding the upcoming earnings release, I believe 3Q18 results will be most relevant in what pertains to 5G-related spending activity. In other words, topping the Street's revenue and EPS projections of $6.45 billion and $0.06, respectively, should have little bearing on whether investors might turn more bullish toward the stock - particularly if the lumpy technologies segment (e.g. patents business) once again ends up playing an important role in producing consensus-beating profits.
On my end, I will be very attentive to CEO Rajeev Suri's narrative about the evolution of 5G projects over the next several months (keeping in mind that the chief executive has a history of being very conservative on his outlook), along with the backlog metrics and the guidance for the fourth quarter.
Buy ahead of earnings?
I remain optimistic about NOK as a long-term investment. However, I believe we might be entering high-volatility territory, as the rubber is about to meet the road with regard to 5G activity.
If I had to make an educated guess, I believe the upside potential outweighs the downside risks here, considering (1) anecdotal evidence that the beginning of an upcycle is, in fact, starting to take shape, and (2) that the lack of share price traction suggests much of the pessimism may be already priced in. But rather than pounding the table and calling this stock a high-conviction buy ahead of the third quarter report, I prefer to remind readers that this is not a play best suited for the more risk-averse investors.

Source: DM Martins Research, using data from Yahoo Finance
Maintaining my long-term views on the stock, I continue to project EPS of €0.40 in 2020 and I see limited risk to future results falling short of my estimates - absent major macro shocks that might cause an abrupt halt in network spending. Should I be right in my assessment, I believe NOK should trade at $7.50 per share within the next 24 months valued at a conservative forward P/E ratio of 16.0x, which points at a projected 18.5% annualized return on an investment made at current levels.
Note from the author: If you have enjoyed this article, follow me by clicking the orange "Follow" button next to the header, making sure that the "Get email alerts" box remains checked. And to dig deeper into how I have built a risk-diversified portfolio designed and back-tested to generate market-like returns with lower risk, join my Storm-Resistant Growth group. Take advantage of the 14-day free trial, read all the content written to date and get immediate access to the community.
Disclosure: I am/we are long NOK. I wrote this article myself, and it expresses my own opinions. I am not receiving compensation for it (other than from Seeking Alpha). I have no business relationship with any company whose stock is mentioned in this article.