Background
Based on CDS swap rates, Italy's (NYSEARCA:EWI) implied default probability is now above 20%.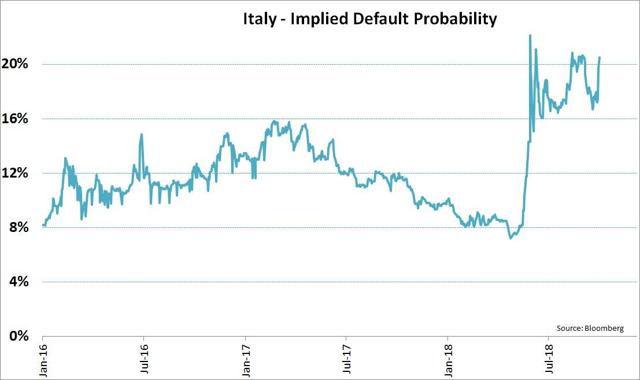 Just when you really don't need it, the country's manufacturing PMI fell to 50, suggesting low or zero growth going forward.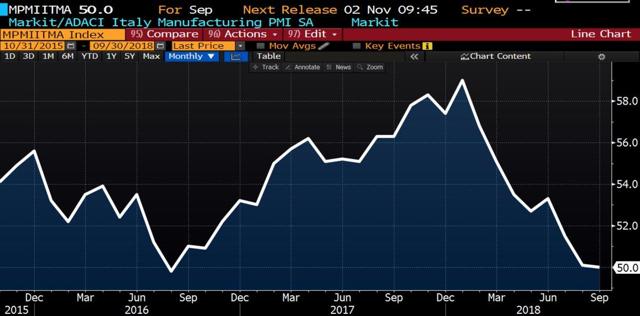 Surprised? I'm not.
You can't say that I haven't warned you in advance. That is true on the continent level, on the country level, and even on the sector level.
To wit:
Europe is doomed! - September 15th 2018

Let's not forget that we have the budget and rating agency updates ahead of us (both inside 2018). A benign outcome would likely lead to a very fierce squeeze.

This would be my last warning about Italy (EWI) for 2018. I feel like I've done my fair share here. - August 30th 2018
For the record, this is not another warning. This is already a post-warning analysis. If you ask me, it's only the beginning. As such, it's still prudent - and not too late - to do the right thing.
My version: When a country has so many debts (and issues), investors have to be more careful. I hope that investors know that.

Don't wait for the Italian debt mountain to fall into pieces, just like a Lego structure does. - August 30th 2018

Eventually, the house of cards falls apart, the "ponzi scheme" collapses, and the bubble bursts. Nothing of that kind and/or of that magnitude (can/should) last forever.

The big question now is how quickly the ECB will announce a new purchase plan. It can't reverse course, but it can decide on a new one. However, until it does, the European economy continues - and is probably destined - to gallop towards the cliff.

If the ECB sticks to its guns, Europe may enter a recession no later than September 2019, just when Mario Draghi is expected to leave his post as chairman of the bank - September 15th 2018
Last week, Italian capital markets sold-off due to a 2.4% budget deficit that the country's populist government agreed on (hats/flowers to Matteo Salvini). Consensus was for Rome to agree on no more than a 2% deficit, in line with the maximum allowance of the ECB. This is, therefore, a more fiscally aggressive budget than investors had anticipated/hoped for.
Just to make it clear: A 2.4% budget deficit is much higher than the growth of Italy's nominal GDP.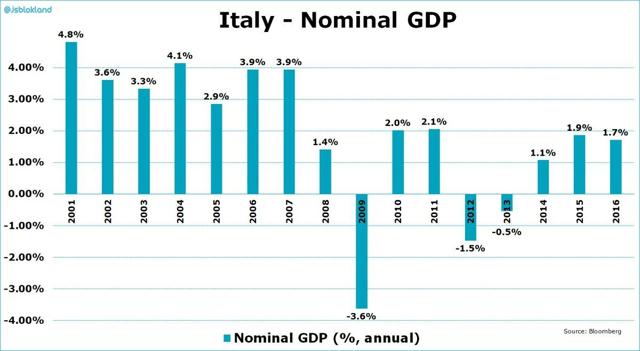 So if you wish to reduce the 131% debt-to-GDP ratio down - there's no way you can do so with a deficit that is 50%+ higher than the pace of growth.
As a result, both Italian equity and debt came under renewed pressure, following few weeks of false calmness.
European Reaction
Reaction to Italy's deficit target of 2.4% for 2019 from EU officials was negative. The 2.4% puts Italy in breach of its obligations, said an EU official from Brussels, adding that government in Rome had signaled (earlier) it would push for deficit of only 1.9%, below the ECB 2% threshold.
This undoubtedly set up a clash with the European Commission, which monitors and enforces EU fiscal rules.
I guess that Italians adhere to the old saying that "promises (and rules) are meant to be broken..."
But it wasn't only EU/EC officials who raised concerns about the country's fiscal policies. While addressing a group at the presidential palace that had marked the 70th anniversary of the constitution, the Italian president, Sergio Mattarella, noted that the country's founding law requires "balanced budgets and the sustainability of debt.... to protect the savings of our fellow citizens."
A little later at a conference in central Italy, Bank of Italy Governor Ignazio Visco said the country's debt - the largest among big European Union economies at 131% GDP - must not be allowed to increase.
Italy needs to favour public and private investment and to contain and reduce public debt... Debt must be put on downward path...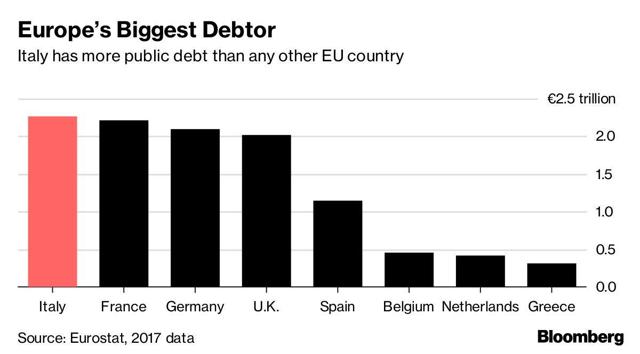 Matteo Salvini - the deputy prime minister, the leader of the League party, and the main figure behind the approval of the new budget - was quick to respond to president Mattarella's concerns, saying that years of Brussels-imposed austerity measures had only resulted in driven up debt.
Be calm Mr. President, years of budgets imposed by Europe have made our public debt explode... finally we are changing course and betting on the future and on growth.
Why This Caught The Markets By Surprise?
Until Thursday, markets had been betting on finance minster Tria's capacity to rein in political forces. The assumption was that he is strong and persistent enough to keep all parties in check and ensure they are doing the right (economic) thing. That assumption is now crumbling.
The Euro (FXE) drops against the US Dollar (UUP) on both days.
Thursday's (9/27) move was about -1% for the EUR/USD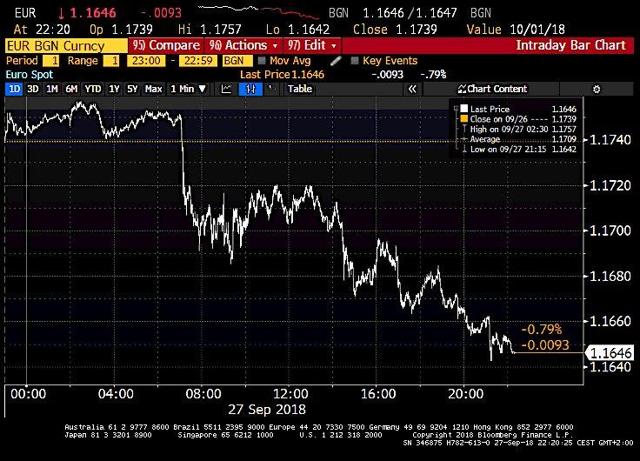 Friday (9/28) move saw another -0.5% for the pair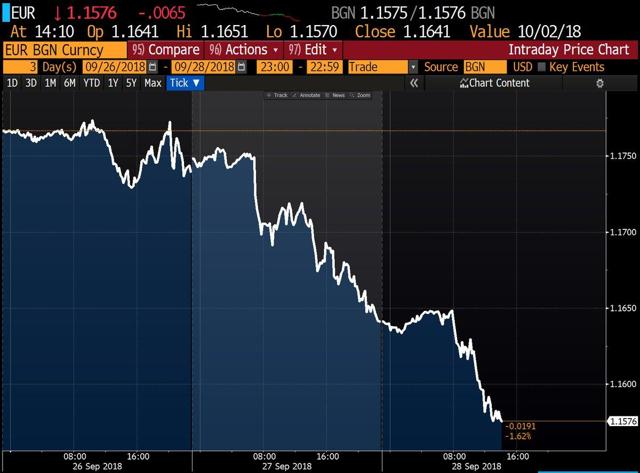 Overall, the pair has lost ~2% since the Italian budget has been approved.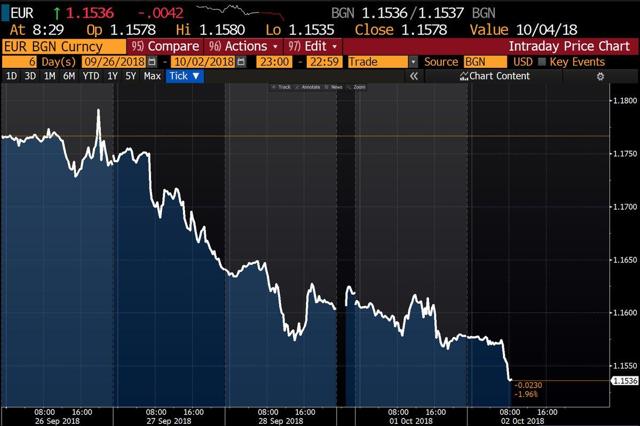 Yields
Italy's 2-year bond yield briefly spiked to above 1.20%, from 0.70% a couple of days ago.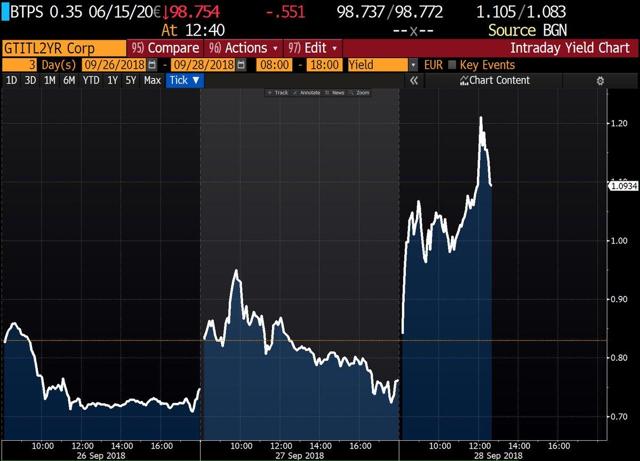 Few days later and the yield on the 2-year Italian debt has doubled since the budget has been approved.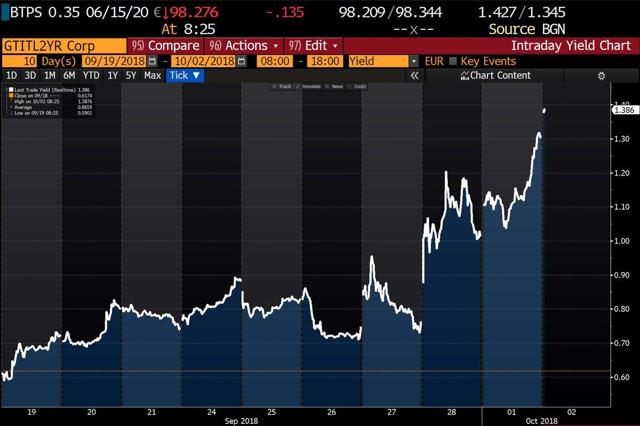 The 10-year bond yield jumped 26 bps all the way to 3.12% after touching 3.26% earlier on the day, matching a multi-year high.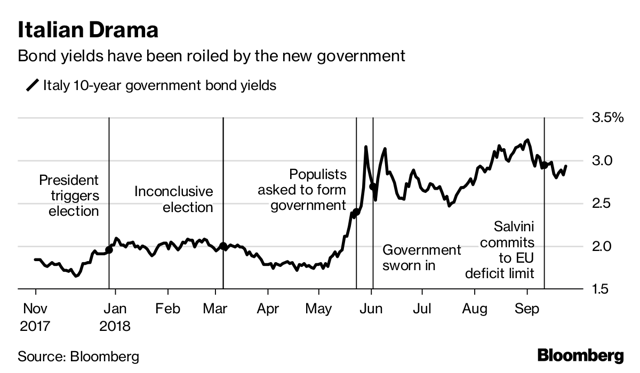 Tuesday's morning update: Yield on the 10-year is now 3.4%.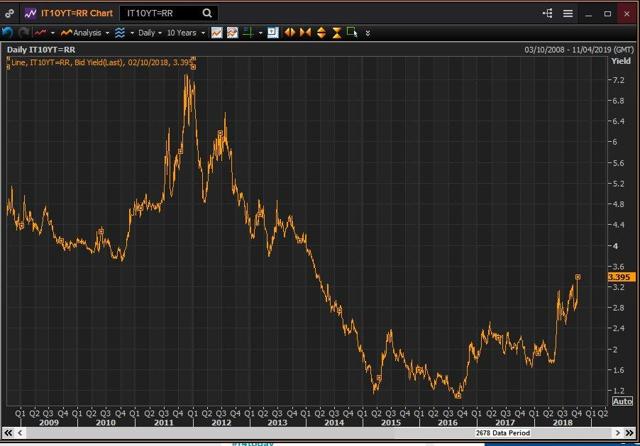 Italy is now only second to Greece when it comes to the 10-year bond yields among the PIIGS countries:
Greece (GREK): 4.14%
Italy (EWI): 3.40%
Portugal (PGAL): 1.88%
Spain (EWP): 1.51%
Ireland (EIRL): 1.01%
France (EWQ): 0.82%
Germany (EWG): 0.50%
Interestingly, 10-year bond yields in Italy are at the same level as the US thanks to the ECB program and the very same evil Europe that the populist government blames for Italy's economic woes.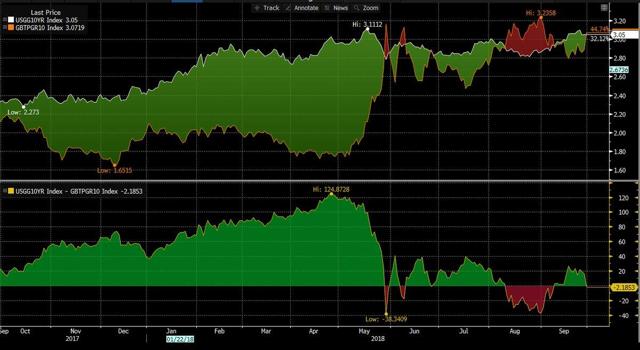 By the way, the price of the 50-year Italian government bond sank 2.6% in value. Long-duration is becoming a real trap when things are heading the wrong way.
Spreads
Italy's bond spread spikes versus their German counterparts.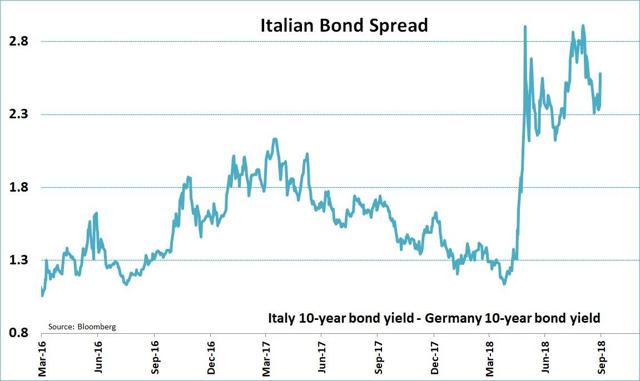 Even the spread on the short 2-year bond is now well over 2% compared to its German counterpart.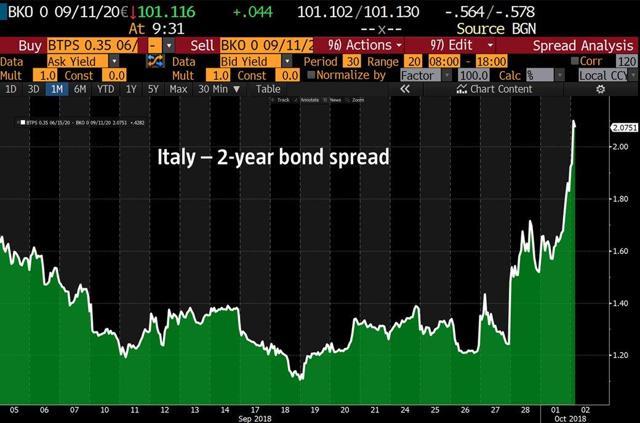 Any reduction in debt-to-GDP is unlikely next year.
Populism has its price, with Italy's 10-year risk over Germany jumping above 250 bps. Not for the first time though.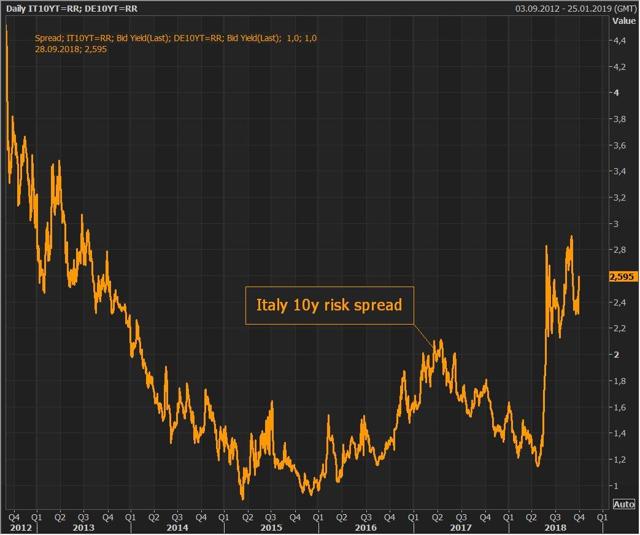 The 10-year spread was at 125-130 bps at the time of the general elections. Since then - it has doubled. Ouch!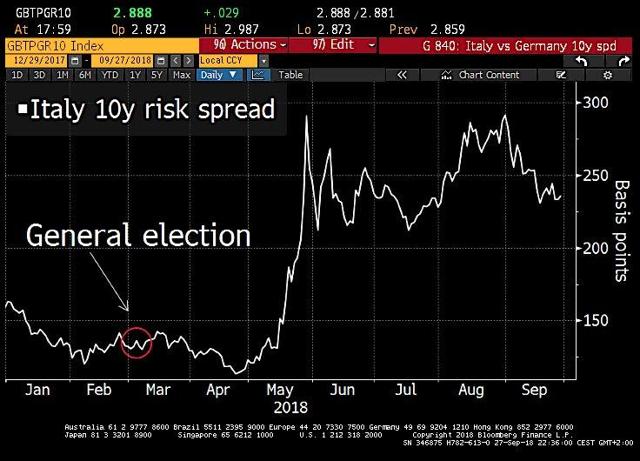 The spread between 2-year bond yields in Italy and Germany was up a staggering circa 0.5% on Friday. Total spread is now 1.70%.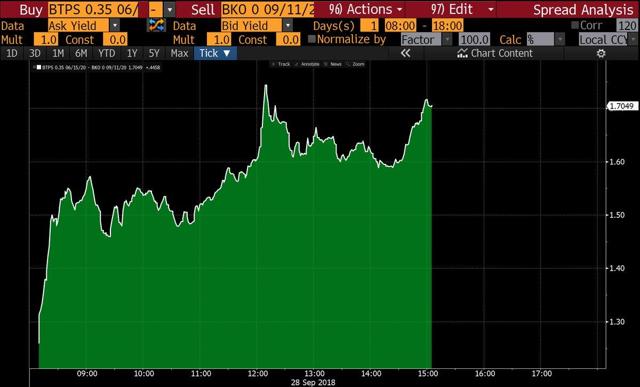 There's a growing concern in EU credit markets about the ECB tapering its bond purchases, which have dramatically distorted corporate debt values in the region. Investors are now demanding close to the most extra spread to own EU junk debt over similar US notes since 2012.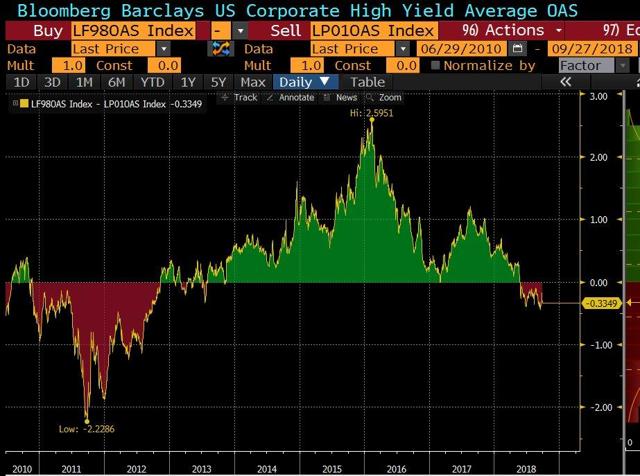 Equities
No wonder Italian stocks tumbled with Italian banks leading the way.
The FTSE MIB index lost 3.7% on the day.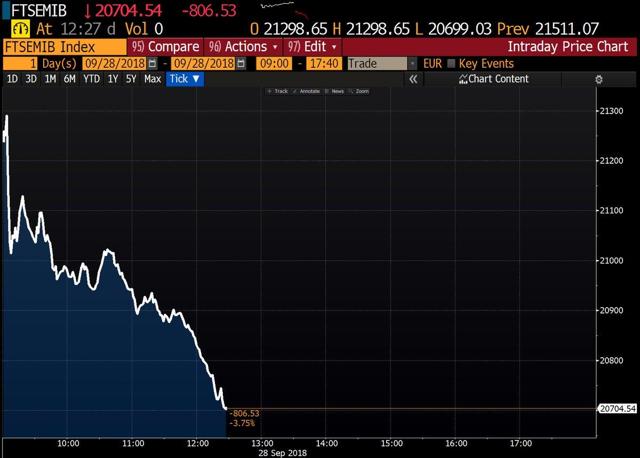 The FTSE Italy Banks Index plunged 7.3%.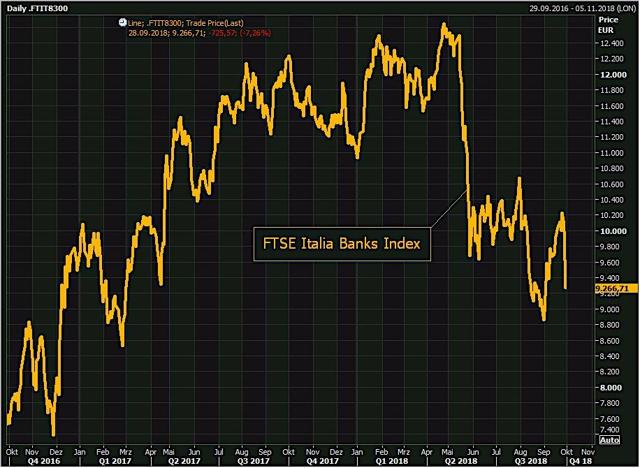 Italian bonds are selling off just after a second quarter in which Italian banks increased their net holdings of government debt by more than €40B, the largest amount since 2012.
European banks and financials haven't escaped the Italian carnage:
Meanwhile, across the Atlantic, the Financial Select Sector SPDR ETF (XLF) was down only 0.6%.
Investors Takeaway
Goldman Sachs (GS) chimed in, saying that a sizeable primary balance is required to keep Italy public debt on a stable trajectory. I wouldn't bet on it.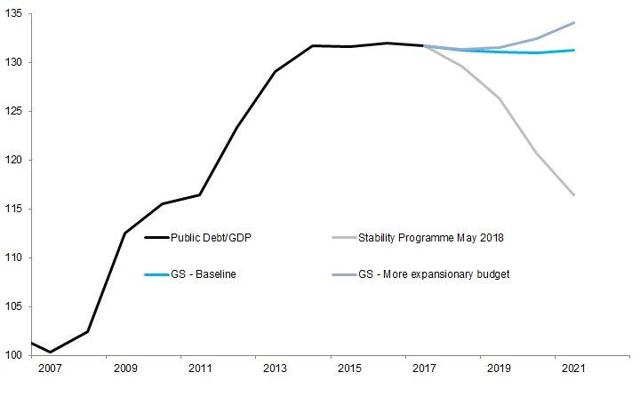 We now expect that the 2019 government deficit-to-GDP to be just short of 3% and that public debt will be on a rising trajectory again. Such an expansionary fiscal policy stance will put the Italian economy and Italian assets under pressure.
As a reminder, Italy's debt-to-GDP ratio is 131%, leaving very little room for an "error", and now we have already seen one (major) error...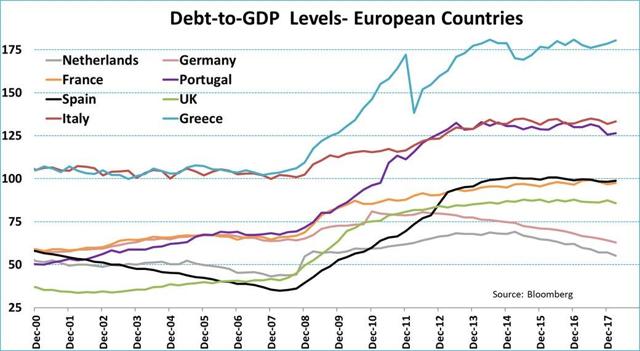 M1 (money supply growth) in the EU (12-month advanced view) is a pretty good indicator for the region's GDP forecast. Based on the current readings, the EU is expected to be in recession in about a year from now.
If this isn't enough, keep in mind that historically, October is not a good month for stock markets. Interesting fact, or just noise?
Now do with the data what you want...
Author's note: Blog post notifications are only being sent to those who follow an author in real time. In order to receive notifications for both articles and blog posts, go to Author Email Alerts, which lists all the authors you follow, and turn on "get e-mail alerts" (see below).


The Wheel of FORTUNE is one of SA Marketplace's most comprehensive services. We view our service as a "supermarket of ideas" with an emphasis on risk management and risk-adjusted returns.
We cover all asset-classes: common stocks, preferred shares, public debts, baby bonds, options, currencies, and commodities.
With Trapping Value on-board, you're getting two leading authors for the price of one.
Before committing to the service on a long-term basis, take advantage of the two-week free trial.
Disclosure: I/we have no positions in any stocks mentioned, and no plans to initiate any positions within the next 72 hours.
I wrote this article myself, and it expresses my own opinions. I am not receiving compensation for it (other than from Seeking Alpha). I have no business relationship with any company whose stock is mentioned in this article.
Editor's Note: This article discusses one or more securities that do not trade on a major U.S. exchange. Please be aware of the risks associated with these stocks.