Gold Mining Bull: Top News for September 2018
I've scoured through gold mining newsletters and company websites to find the top news of the past month for September 2018. This includes takeover announcements, mine exploration updates and other relevant news to keep readers and investors informed and up-to-date.
Here's the top news in the gold and silver mining sector for September 2018. Subscribers received this article early with access to my current gold holdings.
10. Great Panther to Buy Beadell Resources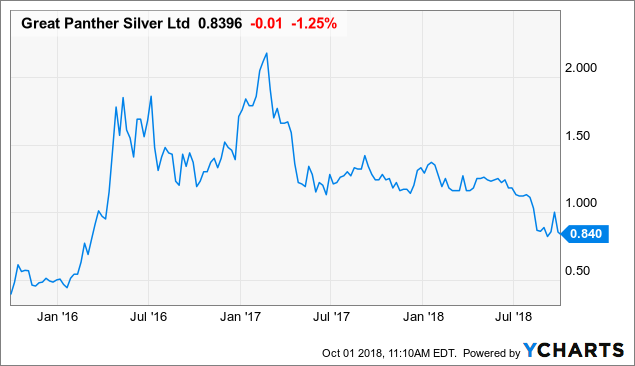 Mexico-focused silver miner Great Panther (GPL) made an interesting move recently when it announced it will acquire Beadell Resources (OTCPK:BDREF). This will be Great Panther's first entry into Brazil; Beadell owns 100% of the Tucano Gold Mine in northern Brazil.
Tucano contains 1.47 million ounces of gold reserves but it is a very high cost mine. In the most recent quarter, Tucano produced 23,604 ounces of gold at $1,306 AISC, and this year's guidance calls for costs to fall between $1,000-$1,100. However, in 2019, the company expects costs to fall from current levels as it implements several cost-reduction initiatives.
Beadell shareholders have to be pleased with this announcement as the takeover deal values Beadell at $105 million, a 51% premium to its closing price on Sept. 21. That seems like a pretty good deal for this company. I'm also guessing Great Panther will undergo a name change as its focus is no longer solely on silver.
9. Continental Gold Geologists Killed In Colombia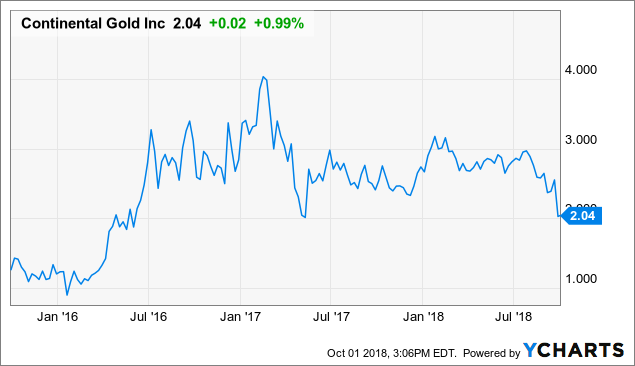 An attack in Colombia recently left three of Continental Gold's geologists dead and three others injured. Continental blamed the attack on dissident members of the Revolutionary Armed Forces of Colombia guerrilla group. This attack follows the murder of a mining engineer on Sept. 5.
I've stated in the past repeatedly that Continental Gold should be avoided and I have not changed my mind. While Continental has released a positive feasibility study on its Buritica project, the jurisdiction risk of Colombia, financing risks and the past failures of insiders of Continental Gold (in particular, Ari Sussman previously worked at Colossus Minerals) cannot be ignored.
I urge investors to avoid this stock as I don't think it's worth the risk.
8. Coeur Achieves Commercial Production At Silvertip Mine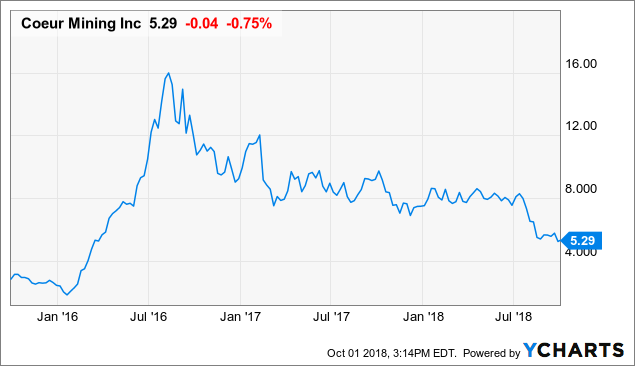 Coeur Mining (CDE) has declared commercial production at its Silvertip silver-zinc-lead mine in British Columbia. This is a big milestone as the company had just purchased the mine back in October of 2017 and commenced initial production in March.
The mine should average 750 tonnes per day by year's end, ramping up to 1,000 tpd by early 2019. Coeur is expecting annual production of approximately 10 million silver equivalent ounces over an initial 7.5-year mine life.
This is also great news for Maverix Metals (OTCPK:MACIF), which owns a 2.5% NSR royalty on all metals production. Maverix bought this royalty from Silvercorp (SVM) by issuing 3.8 million shares of its stock (plus 2.8 million more shares upon the mine reaching commercial production), in what is looking like a great deal.
7. Semafo Declares Commercial Production At Boungou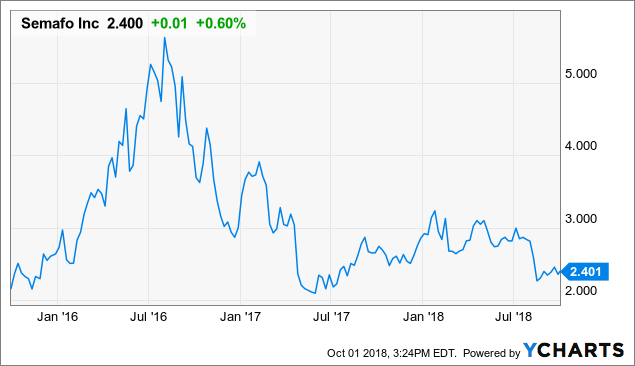 Semafo (OTCPK:SEMFF) is another company reaching a big milestone this month as it announced it has achieved commercial production at its Boungou mine in Burkina Faso, ahead of schedule and under budget.
The Boungou Mine is expected to produce between 60,000 and 70,000 ounces of gold in 2018, ramping up to 226,000 ounces next year, and it will be Semafo's flagship operation given its low projected costs.
Semafo is in good financial shape, with a positive net cash position, and annual production is expected to eclipse 400,000 ounces per year from 2019-23 with AISC under $700/oz.
Operating cash flow should exceed $250 million per year with gold at $1,300/oz, according to its corporate presentation, but should still be substantial at $1,200/oz gold.
6. Corvus Gold Announces Initial Resource At Mother Lode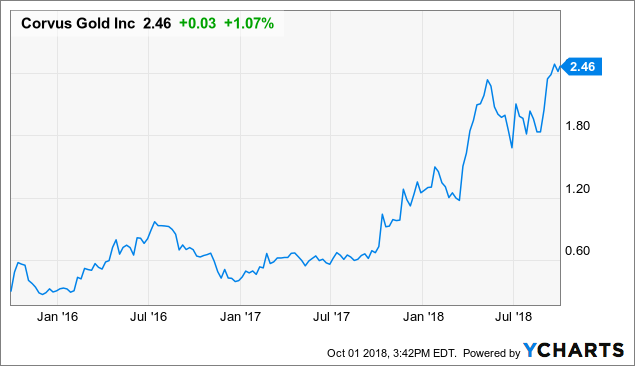 Corvus Gold (OTCQX:CORVF) published the highly anticipated initial resource for its Mother Lode project in Nevada, which will be an addition to its nearby North Bullfrog project.
Mother Lode was acquired from Goldcorp in 2017 and is a past producing heap leach gold mine, producing 34,000 ounces of gold at 1.8 g/t. It's located just 10 kilometers from Corvus' North Bullfrog project as will likely serve as a satellite operation.
Previous coverage: Corvus Gold Mother Lode Resource Analysis
Corvus says Mother Lode contains 1.16 million ounces of gold in the measured and indicated resource categories, plus 240,000 ounces inferred. 427,000 ounces of this resource is run of mine heap leach gold resources, with 733,000 ounces of sulfide mill resources. There is also potential to expand the resource to the west, north, east and at depth, according to the company.
5. Harte Gold: Permits For Commercial Production Received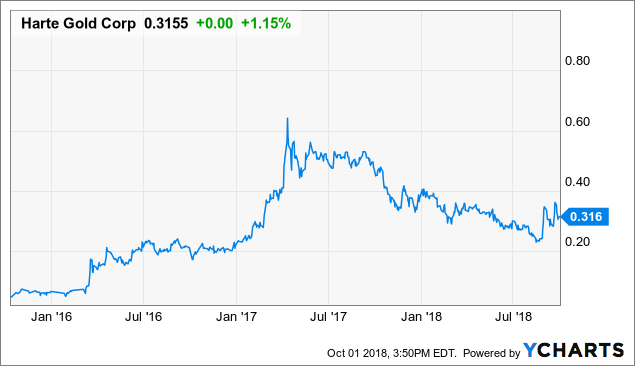 Harte Gold (OTCPK:HRTFF), which is focused on development of its 100% owned Sugar Zone Property, recently received permits to start commercial production at the mine.
Sugar Zone has one of the highest grade resources of any new gold project, with 714,200 ounces of gold indicated at 8.5 g/t, plus 760,800 ounces of gold inferred at 6.6 g/t. The company aims to produce more than 100,000 ounces of gold annually at $708 AISC by 2021.
The mine carries a pre-tax NPV of $344 million, based on the results of a preliminary economic assessment, but the company thinks it can improve the value by upgrading resource and optimizing the mine plan.
4. TMAC to Dilute Shareholders With Equity Financing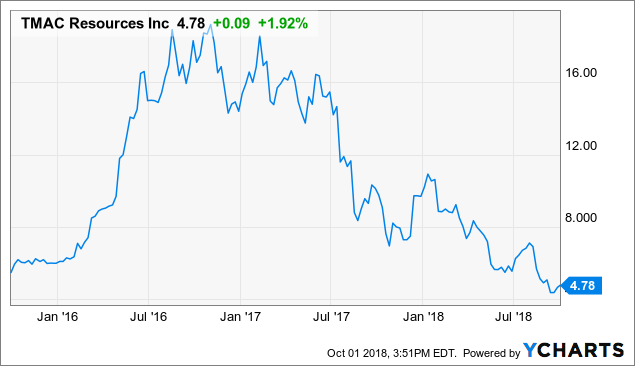 TMAC Resources (OTC:TMMFF) (TMR.TO) has announced that it will raise money via equity issuance in order to repay debt, fund exploration expenses and capital expenditures. The company will raise C$90 million, with the majority of shares to be issued at a price of C$4.25 per share.
This news is no doubt painful for existing shareholders as the equity financing is being done with shares trading near 52-week lows. But the financing looks necessary as TMAC's cash balance is dwindling and it has $160 million in debt, with $6.5 million due quarterly and a $30 bullet payment due by January 31, 2019. TMAC is currently not a profitable miner as it produced negative free cash flow for the first two quarters of this year.
3. Nevsun To Be Acquired By Zijin Mining, Spurring Lundin Bid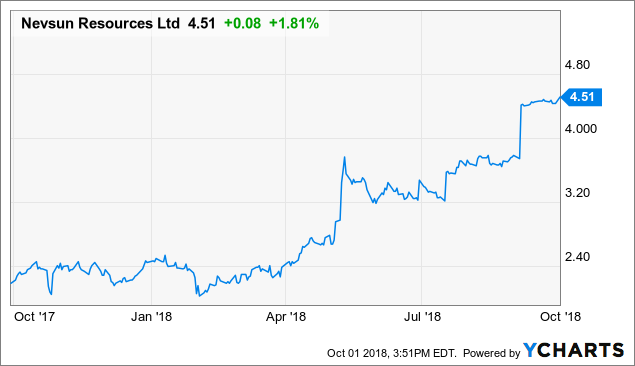 Nevsun Resources (NSU) announced that Zijin has made an all-cash offer for the company at C$6 per share, which is a much better deal than Lundin's previous hostile bid offer of C$4.75.
Nevsun's board has wisely recommended shareholders accept this offer. I think investors still holding Nevsun shares should consider holding longer if they want to get full value for their shares, as the takeover bid is for C$6.00 in cash, but the stock currently trades at C$5.78 per share.
2. Equinox Gold Gets A Golden Deal On Mesquite Mine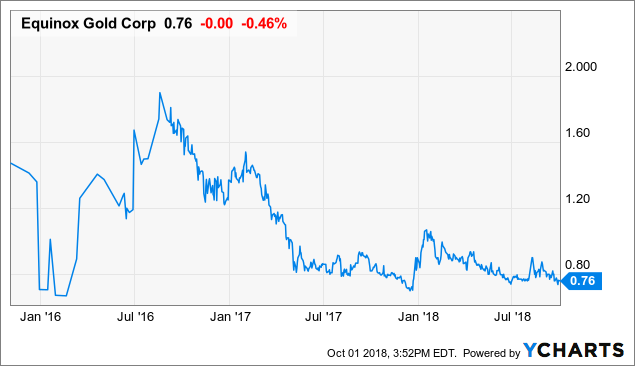 Equinox Gold (OTCPK:EQXFF) shareholders have to be happy following the company's acquisition of New Gold's Mesquite Mine in California. The acquisition price of $158 million seems more than fair as Equinox gets a producing gold mine that's on track to achieve production guidance of 140,000-150,000 ounces of gold in 2018 at sub-$900 AISC.
Mesquite is a producing, open-pit heap leach gold mine that has produced more than 4 million ounces of gold since commencing operations in 1985. The mine contains 1.13 million ounces of Proven and Probable Reserves and an additional 1.18 million ounces of Measured and Indicated Resources.
Combined with production from the Aurizona gold mine next year, Equinox will be producing close to 300,000 ounces of gold annually and will be one step closer to reaching its target of 500,000+ ounces per year.
The deal does not come without its risks, however, as I discussed in more detail with subscribers.
1. Randgold And Barrick To Merge And Form World's Largest Gold Miner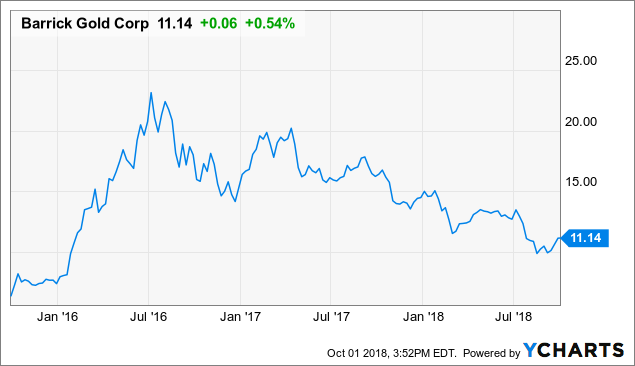 Randgold (NASDAQ:GOLD) and Barrick (ABX) have announced that they will merge and form the world's largest gold mining company. Barrick shareholders will own 66.6% of the "new Barrick," while Randgold shareholders will own 33.4%. The deal is expected to close by Q1 2019 and is subject to shareholder approval.
Read my previous coverage (link above) for more information on this huge deal.
Other notable news
If you'd like to receive more timely updates and receive my top overall picks, which have outperformed the GDX, GDXJ and other gold indexes, please consider joining The Gold Bull Portfolio, rated 4.8/5 stars by subscribers.
- Join and get access to FULL ARTICLES which include more detailed analysis of junior gold stocks, including insider buying updates and takeover target picks.
- Enjoy access to my real-life gold portfolio and trade alongside me as I look to continue my outperformance of the gold price and major gold indexes.
- Take advantage of a free two-week trial before committing to the service on a long-term basis.
Disclosure: I am/we are long OR, NSU, SVM.
I wrote this article myself, and it expresses my own opinions. I am not receiving compensation for it (other than from Seeking Alpha). I have no business relationship with any company whose stock is mentioned in this article.
Editor's Note: This article covers one or more microcap stocks. Please be aware of the risks associated with these stocks.