Summary
Oilfield supplier stocks are down almost 40% since 2013, while those of E&Ps are up approximately 20%.
The indispensable-provider model, whereby which customers willingly pay premiums for better execution and quality, is not embraced by most decision-makers in the segment.
There's been a damaging influx of expansion- and survival-capital that many companies can't handle don't deserve.
To survive going forward, suppliers need to be better, shrewder and more disciplined. The alternative is to fall victim to the sector's crushing odds.
It's time to acknowledge the illusory mindset of the sector isn't working.
Imagine a contest between two horses. History suggests one of the animals, having lost the majority of its races against this competitor, is the slower of the two. You are given even odds. Would you bet on the slower horse?
The answer, of course, is no. Only a glutton for punishment would take even odds on a horse that is reasonably expected to lose.
Now imagine an opportunity to invest or work in one of two segments of the oil and gas industry. One segment, the longtime laggard, has the same chance of outperforming the—terms of rewards and opportunity—as does the slower horse of beating the faster. Would you invest your time, money and resources in the laggard? Would you recommend others do so?
Again, for most of us, the answer is a resounding no. Only a dupe or wide-eyed romantic would invest in a segment that is expected to so regularly come up short.
But here's the hard truth—those who bet on the oilfield supplier sector year in and year out do just this.
Think we're exaggerating? We're not.
Consider that stocks of oilfield suppliers, as measured by the PHLX Oil Services Index (OSX), are at the same level as in 2000 when WTI crude was near $30 per barrel. Today, WTI is near $70; yet only a fraction of suppliers are making money.
The OSX is down almost 40% since 2013, while the NYSE Arco E&P Index (XOI) is up approximately 20%—a huge performance gap over a period that includes good times and bad.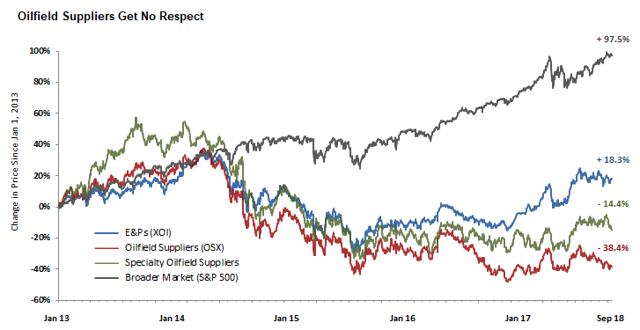 Source: Yahoo Finance Quotes, prepared by EnergyPoint Research

It's the performance of suppliers over decades, however, that's especially damning.
To illustrate, we calculated a range of annualized returns for suppliers and E&Ps going back over 20 years. For the year 1998, this included 21 discrete periods, ranging from one to 21 years in length. The year 1999 included 20 discrete periods, the year 2000 included 19 periods, and so on. We then compared supplier and E&P returns for each period.
What we found was sobering. Out of 231 discrete periods since 1998, suppliers have underperformed the E&P sector an astonishing 64.9% of the time. This means a random investment in oilfield suppliers made at any point since 1998 had an almost two-thirds chance of generating a lower return than a similar investment in E&Ps. In 20 of 21 term lengths, suppliers underperformed E&Ps more than half the time.
The compounding effects have been devastating. In terms of real dollars, $1,000 invested in the oilfield supplier index in 1998 would be worth approximately $1,250 today. By comparison, a similar investment in the E&P index would be worth $3,300.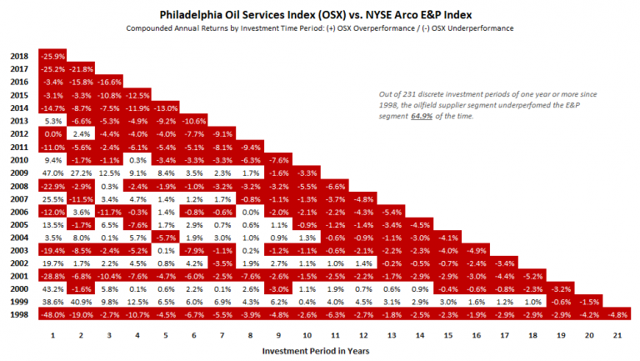 Source: Yahoo Finance Quotes, prepared by EnergyPoint Research

What's driving the underperformance of suppliers? Too much emphasis on the short term for one thing, including large periods of time focused on merely surviving. There's little commitment across cycles to being above average, much less exceptional. The indispensable-provider model—whereby customers willingly pay premiums for better execution and—not embraced by most decision-makers in the segment.
The upshot is customers, who aren't overly pleased with oilfield products and services in general, see suppliers as fungible entities. With few standouts, vendors are endlessly pitted against each other there's nothing left to give. Some participants push bundled offerings at low prices, hoping one or two profitable lines offset losses elsewhere. They rarely do.
Many supplier executives are too far removed from customers to understand how their companies are perceived. An addiction to advice and funding from investment banks, private equity and others with short-term interests doesn't help. The result has been a damaging influx of expansion- and survival-capital in a segment that, in many cases, can't handle it and doesn't deserve it.
In the U.S. alone, a total of 167 oilfield service companies filed for bankruptcy from the first quarter of 2015 through the first quarter of 2018, according to the law firm Haynes and Boone. Over half were in Texas, where many of the industry's most experienced operators reside.
Houston-based Weatherford International (WFT) could be the poster child for the segment's unavailing ways. Based on the idea that customers wanted a fourth global supplier to provide the range of products and services that go into a well, Weatherford set out in the mid-1990s to join the ranks of Schlumberger (SLB), Halliburton (HAL)and Baker Hughes (BHGE).
The company's growth-through-acquisition strategy was an investment banker's dream, feeding off the premise that customers would be willing to look past inconsistent quality in return for lower rates. The conceit, which Wall Street analysts happily validated, led others to emulate.
But it turns out the market didn't need another integrated provider, especially one so sold on the belief that price and size mattered more than quality and performance. In 2016, Weatherford's long-time CEO, Bernard Duroc-Danner, was forced to step down, but not before the market laid bare the company's widespread failings. Today, the company's stock is down 94% from its high. It continues to labor under heavy debt.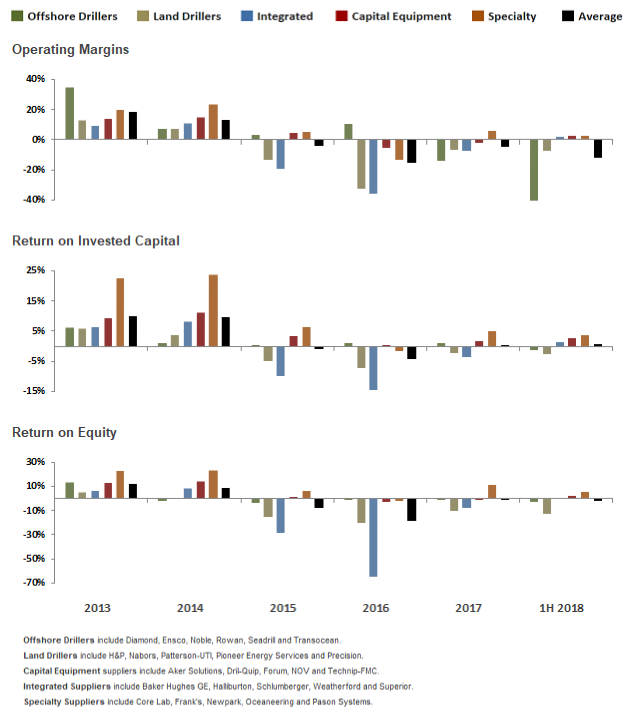 Source: Yahoo Finance Financial Data & SEC Filings, prepared by EnergyPoint Research
Despite the lessons of Weatherford and others like it, there's little reason to believe the segment is prepared to break the habits of the past. Many are still gripped by an almost-inexplicable inertia, one driven by a conviction that cut-rate pricing and middling quality remain the answer, even as debt levels rise.
This ethos hangs like a millstone over the industry and its reputation. As one ex-executive from a capital equipment manufacturer recently mused, "Why would you ever invest in the oilfield supply segment given how often it's in the tank? Even when times are good, money pours in at rates that depress margins. On average, it's a terrible business."

Source: Yahoo Finance Financial Data & SEC Filings, prepared by EnergyPoint Research
To survive—much less prosper—suppliers need to be better, shrewder and more disciplined. Crushing odds await those who aren't.
Many will endeavor to reduce costs further by downsizing or combining. Some will try to innovate their way out of their predicament, a strategy that will work for some but fail for most.
A handful of companies will permanently up their games. They'll embrace quality, execution, stability and customer focus as central tenets. This is the group from which most winners will emerge. Whether they can lift the performance and esteem of the entire segment remains to be seen.
Top-rated companies in EnergyPoint's surveys like Ensco (ESV), Helmerich & Payne (HP), Core Laboratories (CLB), Gardner Denver (GDI), Newpark Resources (NR), Derrick Equipment, MarkWest Energy Partners (MPLX) and Plains All-American (PAA) seem poised to outperform.
These companies are the rare area of opportunity - for investors and employees - in the segment. The savviest run their businesses knowing good times don't last forever. As competitors fall away across cycles, they take up the slack bit by bit, steadily growing market share and earnings - usually organically. All the while, they build expertise, invest in their brands, and guard their reputations.
But mostly there's an enduring commitment to excellence. It's who they are. Some have been rated number one by customers for consecutive years, a feat easier to achieve when much of the competition lacks the will to be anything other than "in the business." In the process, they've delivered portly rewards in a grudging sector.
Still, these are the exceptions. The vast majority of industry suppliers have no objective customer satisfaction data or related performance metrics about themselves or their competitors. Nor have they much interest in building the kind of culture that values such data. The sector's customer scores reflect the deep indifference.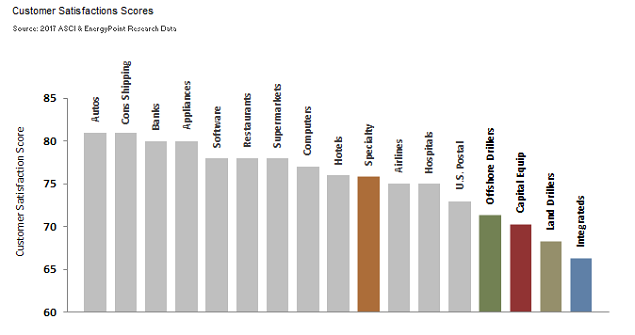 Source: EnergyPoint Research & American Customer Satisfaction Index
It's not clear what managements of oilfield suppliers don't get about how higher levels of quality and customer satisfaction lead to stronger financial performance. But clearly, they don't get it.
Consider that stocks of suppliers have risen less than 25% over the last 20 years, despite the fact that the value of all oil and gas produced globally has grown 370%. How is this disparity so easily ignored by executives, the markets, employees, and others? No industry can thrive when its supplier base languishes like this.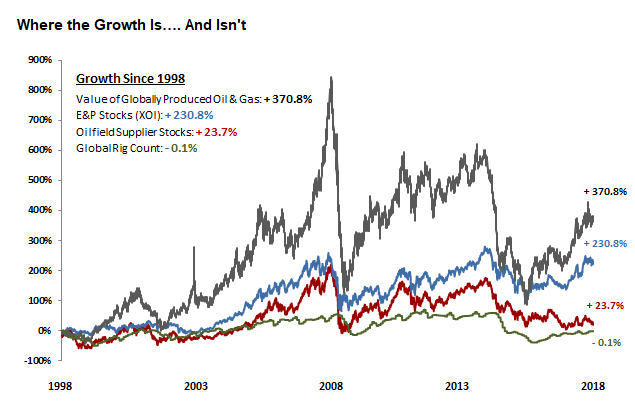 Source: Yahoo Finance Quotes, prepared by EnergyPoint Research
It's been said that hope is not a strategy. Yet, hope - that suppliers will finally and magically get the credit they deserve, that commodity prices will be more cooperative, that competitors will capitulate, etc. - has fueled the space for decades. Isn't it time we acknowledge this illusory mindset isn't working?
Disclaimer: My firm, EnergyPoint Research, does and/or seeks to provide for-fee data subscriptions to oil and gas industry participants, investors and other stakeholders, including companies covered in its posts, reports, articles and surveys.
Disclosure: I/we have no positions in any stocks mentioned, and no plans to initiate any positions within the next 72 hours. I wrote this article myself, and it expresses my own opinions. I am not receiving compensation for it. I have no business relationship with any company whose stock is mentioned in this article.