With fears over high oil prices, rising interest rates and foreign trade proliferating, many believe that the U.S. broad market remains vulnerable to an October pullback. While there is certainly evidence to support this conclusion, another possible outcome needs to be discussed. In today's report we'll discuss the scenario that current high levels of uncertainty on Wall Street will prevent a market-wide correction this month. Instead, the likelihood is that we'll witness an "internal correction" in which only a portion of the market takes the brunt of the selling pressure while the large cap indices remain largely unscathed.
With the large cap S&P 500 Index (SPX) just slightly below an all-time high, it would be natural to expect investor sentiment to be optimistic if not downright ebullient. After all, most new highs in the major indices are typically accompanied by a burst of enthusiasm among participants which temporarily exhausts buying power and prepares the way for a pullback or "correction". With so many stocks making new 52-week highs in recent weeks, many analysts believe such a correction is long overdue. Yet this expectation has been consistently disappointed even as the risks for a short-term market decline continue to increase.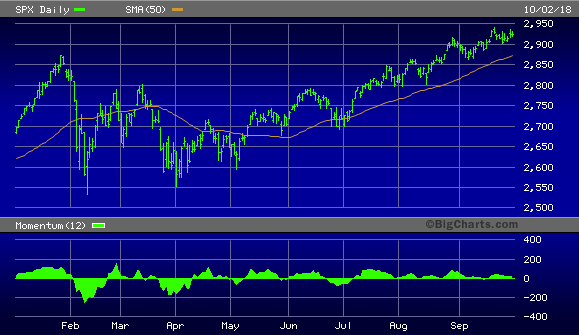 Source: BigCharts
One reason for the bull's stubbornness in refusing to rest is the fact that it has been fed a steady supply of fuel and therefore remains energized. The fuel I'm referring to is the widespread presence of worry, which bull markets tend to feed off of. Consider for instance the latest set of readings in the widely followed CNN Money Fear & Greed Index. As the name implies, the indicator measures the most prevalent emotion among retail investors on any given day. The indicator is based on stock price breadth, 52-week new highs and lows, market volatility, and junk bond demand, among other variables. It's most recent reading as of Oct. 2 was 46 out of a possible 100. This puts the indicator squarely in the "neutral" category but not far from a "fear" reading. Given that the S&P 500 is only a few points below an all-time high, this is a remarkable commentary on the lack of enthusiasm for equities among retail investors. It also suggests that investors are in no way over-committed to owning stocks and that downside risk is therefore minimized.
Another well-known measure of investor psychology is the weekly survey published by the American Association of Individual Investors (AAII). According to the latest poll, the percentage of AAII members who identified as bullish was only 36%. That's below the historical average of 38.5% and well under the percentage of bulls typically seen at a major market high. It's not uncommon to see a 50% or higher bullish percentage in the AAII poll when the stock market is in the process of topping. It has been several months since we've witnessed anything close to this reading, however. This suggests that the market is psychologically sound and isn't vulnerable to a major correction anytime soon due to the apparent lethargy of the average investor.
Along these lines, an old Wall Street bromide instructs investors to "buy when there's blood in the streets". Buying now likely wouldn't be the advice of most advisors, especially given the continued internal weakness confirmed by the increased number of stocks making new 52-week lows on the major exchanges. Yet there is something to be said about the above-average levels of worry right now reflected in several high-profile news headlines and various market sentiment indicators. Elevated fear tends to support the stock market's "wall of worry" which every bull market must climb in order to continue. Worry breeds increased short interest, which in turn can quickly turn against the bears when the worst case scenario for stocks doesn't pan out.
The latest manifestation of fear was highlighted in an Oct. 2 CNBC article which made explicit reference to "blood in the streets" in the headline. The focus of the article is the continued "tit-for-tat" trade war between the U.S. and China, which some analysts believe will take months to resolve. There has been an intensifying concern among economists that a slowdown in China's manufacturing sector could have profoundly negative consequences for the global economy. Already there is evidence to suggest that China's economy is losing momentum as a result of the trade war. This in turn is a major source of the investor pessimism reflected in the sentiment polls discussed here.
Widespread investor fear can't be blithely dismissed as a harmless opinion, however. If the fear is intense enough it can definitely exert a negative impact on equity prices when investors put their negative emotions into action by selling stocks. Bull markets do tend to eventually benefit from investors' fears, but in the very short term fear can lead to internal weakness. This is evidently the case now as many small cap stocks have lately been targets of selling campaigns. Consider the Russell 2000 Index (RUT), which is down by about 5% from its late August high. The Russell has decisively penetrated below its widely watched 50-day moving average and is about to test its even more psychologically significant 200-day MA (below) for the first time in six months. By contrast, the S&P 500 remains above both major moving averages as the large cap stocks have been surprisingly immune to trade war fears.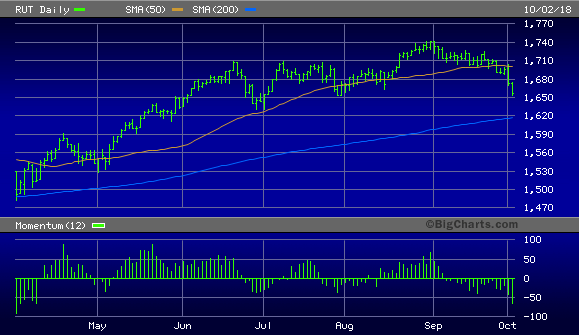 Source: BigCharts
The implication here is that the small caps are bearing the brunt of the increased selling pressure visible in the NYSE and Nasdaq new 52-week lows. On both exchanges, the new lows have been in the triple digits recently which is a sign that there is a definite undercurrent of weakness below the market's surface. Much of this weakness is due to the liquidation still underway in rate-sensitive securities, including income funds. However, there is also evidence that many smaller companies, including financials and China ADRs, are encountering increased selling pressure. This would explain the bifurcated market environment in which some major indices remain in a position of strength while the small caps are showing signs of weakness.
Another reason for investors' reticence in the face of new all-time highs in the Dow and SPX is the length and tenacity of the bull market. There is a belief shared by many investors, retail and institutional alike, that when the bull market became the longest in history by some measures this summer, it has become "long in the tooth" and therefore vulnerable to an abrupt ending. Yet the bull market remains bolstered by strong corporate earnings and revenue momentum, which is expected to remain high in the latest reporting period this month. According to FactSet, earnings are expected to increase by 19.3% in the latest season which begins at mid-month. While this is below the rate of earnings growth in the first two quarters of 2018, it's impressive nonetheless. If realized, it will mark the third highest earnings growth since Q1 2011, according to FactSet.
With earnings growth still on a positive trajectory and Nasdaq internal momentum still bullish (below), the probability is strong that the large cap major averages will survive an increase in October volatility with their 200-day moving averages remaining intact. (See Dow Jones Industrial Average below for illustration). Most of the weakness will likely be confined to the small caps and rate-sensitive sectors, including the financials. If the market's interest rate-related internal weakness remains confined to these segments, the probability is high that this will turn out to be another "internal correction" in which the Dow and SPX remain buoyant while the Russell 2000 bears the brunt of the selling.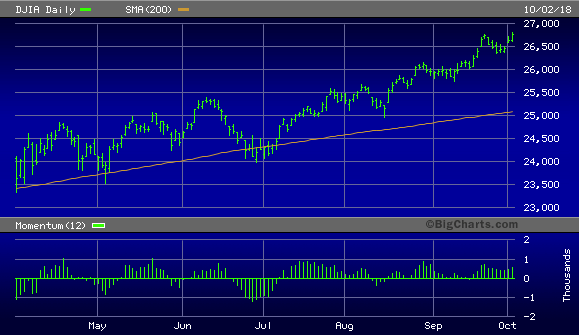 Source: BigCharts
In light of the fact that the small cap and financial sector stocks remain weak while the new 52-week lows on both the NYSE and the Nasdaq are elevated, I recommend that investors hold off on making new purchases among stocks and ETFs. There is an increased possibility of a volatility event in the immediate-term (1-4 week) outlook as long as the new 52-week lows outnumber the new highs on both exchanges, while the new lows remain above 40. Until the internal weakness shows signs of dissipating, a defensive stance is warranted for the immediate term.
Investors can, however, continue to maintain a longer-term bullish exposure to the stock market via ETFs and outperforming individual stocks in strong sectors. This includes in particular the retail, health care, and tech sectors, which have all shown relative strength versus the S&P 500 Index in recent months. I also recommend raising stop losses on existing long-term positions and taking profits in stocks and ETFs which have already had impressive upside moves.
Disclosure: I am/we are long XLK, XLV.
I wrote this article myself, and it expresses my own opinions. I am not receiving compensation for it (other than from Seeking Alpha). I have no business relationship with any company whose stock is mentioned in this article.