Seriously, The NASDAQ Composite's Bullishness Has Never Been This Top-Heavy
Summary
Strength from FANG stocks is painting a misleading picture.
Most NASDAQ-listed stocks are currently below key moving average lines.
Non-FANG tech stocks are oddly more expensive than the market's biggest names.
Most investors innately understand that market indices consist of hundreds of, if not thousands of, individual pieces that make up a whole. And, most investors know some of those pieces have a bigger impact than other's on the broad market's performance. Most investors even know that the degree of those respective impacts will ebb and flow over time.
What most investors may not know, however, is that at no point in the past few years has the NASDAQ Composite done as well as it has of late solely thanks to just a handful of the biggest NASDAQ-listed names.
That dynamic can last a little while, but it rarely lasts long enough to justify a trade based on the apparent, superficial bullishness.
Top Heavy
They say a picture is worth a thousand words. If that's true (and it is), a look at the performance of several different NASDAQ-centric indices and that of the Invesco QQQ Trust ETF (QQQ) below is not just interesting, but a bit alarming. The different indices are labeled, but are also color-coded for easy reference. The 'start date' is the first of October of 2016, making this a two-year performance comparison.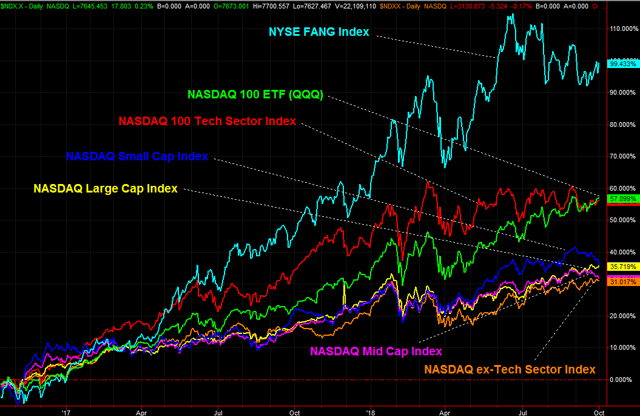 Source: TradeStation
There are several interesting pieces of information tucked away on the chart, but there's one overarching one. That is, had it not been for Alphabet (GOOG, GOOGL), Amazon.com (AMZN), Netflix (NFLX) and other 'FANG' stocks, the NASDAQ 100 and its corresponding funds and ETFs wouldn't have been the star performers they've been of late. In fact, not even the previously-heroic technology names like Advanced Micro Devices (AMD) and Microsoft (MSFT) would have been much help to the NASDAQ 100 or the NASDAQ Composite of late. As the chart indicates, the NASDAQ 100 Technology Index (red) has just slipped below the performance plot for the overall NASDAQ 100 ETF's two-year result (green).
In other words, it's now only the very biggest and most influential names carrying all the weight… not most of the weight, but all of the weight.
There's more evidence to that end.
As of Tuesday there are more NASDAQ-listed stocks below their 200-day moving average lines than not, and more NASDAQ-listed stocks below their 50-day moving average lines not. It's interesting if only because the NASDAQ Composite itself isn't under either of those moving averages.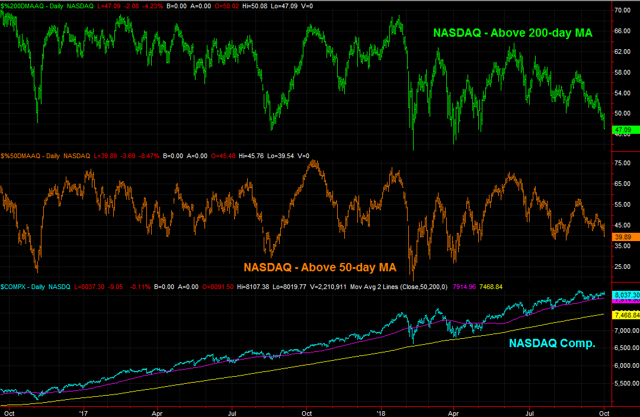 Source: TradeStation
Explanation? Again, it's ultimately a nod back to the first chart, which told us the only grouping or stratification that was outperforming the NASDAQ 100 ETF was the FANG names. Small cap and mid cap NASDAQ names -- which had been laggards anyway -- have actually lost ground since late August, along with large cap technology names. The only reason the NASDAQ Large Cap Index has been able to shrug off the bigger headwind is (you guessed it) the strong performance from the FANG stocks and a couple of their very biggest brethren. That's fine, but again, how long can a group five, maybe six stocks keep the whole market propped up?
Non-Fang Names Struggle to Justify Valuations
The proverbial fly in the ointment: Technology stocks, as a group, aren't exactly overvalued. Or, maybe they are.
It's not a perfect apples-to-apples comparison, but a look at the S&P 500 Technology Index's fundamentals and valuation reveals that these names aren't collectively pushing their luck. As of the latest print, the S&P 500 Technology Index is valued at a trailing P/E of 20.86. That's below the frothy valuations seen in 2017, and above the typical P/E levels seen in the years spent coming out of the subprime meltdown. More than anything though, it's close to normal, and plenty palatable given the strong double-digit growth rates we've seen of late and are expected to see next year. The pink arrow marks Q2's actual per-share earnings; everything to the right of that arrow is an estimate.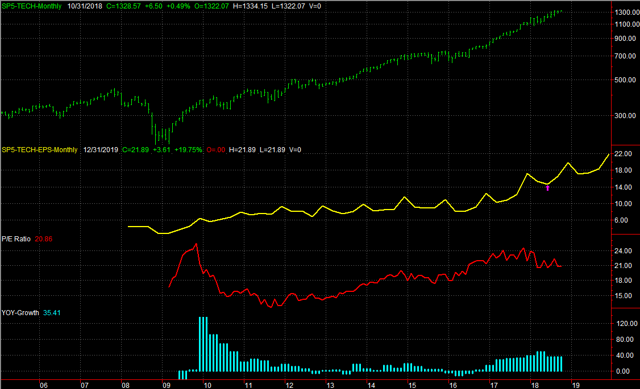 Source: TradeStation
Still, the valuation graphic doesn't answer a key question: To what degree are only a handful of stocks are responsible for the overall sector's fundamental strength. Is it lopsided?
Quite a bit, actually. Of the three FANG stocks classified as technology stocks by Standard & Poor's, they're a little better than average in terms of projected earnings growth, but are considerably cheaper. The non-FAANG portion of the S&P 500's large-cap technology stocks are sporting a rather frothy trailing P/E of 47.2. Revenue growth is about the same for both stratifications.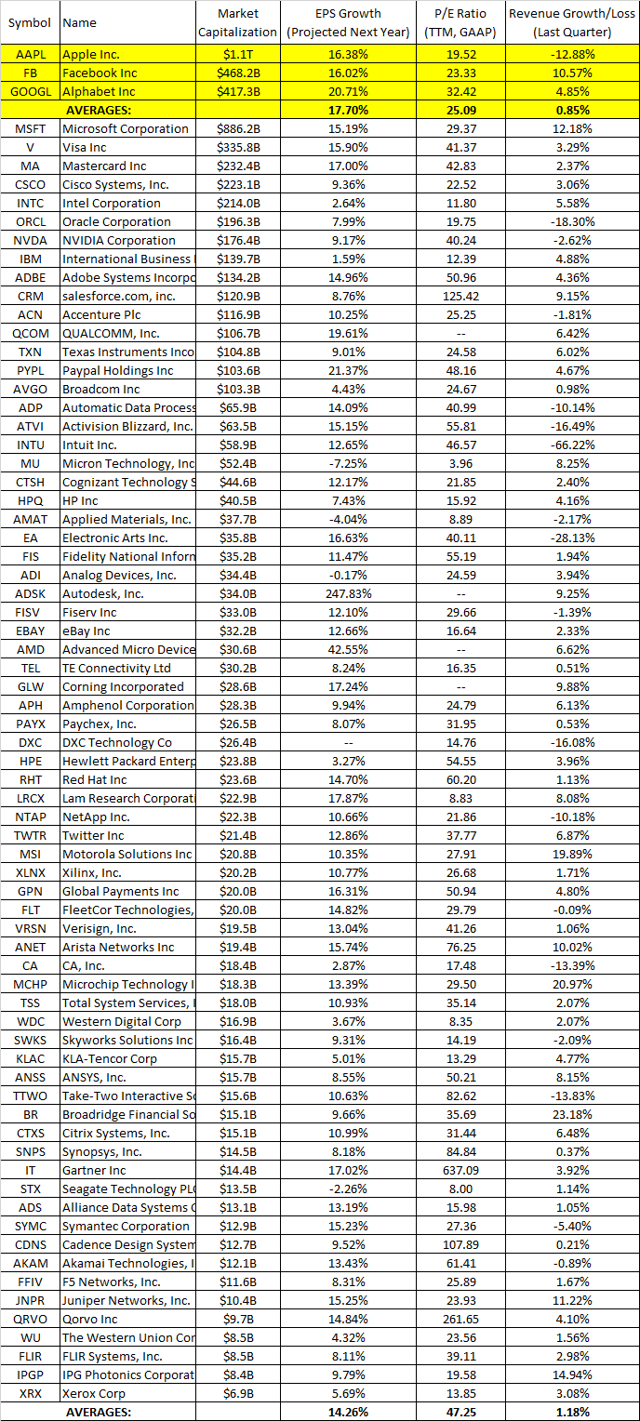 Source: Image made by author, data provided by TD Ameritrade/Morningstar
The same valuation and growth tendencies should apply to just the NASDAQ-listed tech names that make up the S&P 500 Technology Sector Index. Moreover, the tendency underscores the initial concern… the best-performing and most-valuable stocks are only the ones at the very top of the food chain, so to speak. Beyond FANG names and their obvious peers, the bullish case weakens pretty quickly.
Implications
There's an oft-circulated theory suggesting the NASDAQ leads the market higher and lower. It makes sense. These are generally the names that offer the most growth, but they're also the names that pose the most risk if-and-when it looks like the broad market is running into a headwind.
If that's the case (and I contend it is), then there's something of a red flag waving here, but nobody can see it. Most tech stocks are actually fighting a losing battle that at most any other time would rattle investors. In this case though, the biggest and best-known names appear to be masking lackluster results from non-FANG stocks. That's fine, but it puts a massive amount of pressure on just a few names. Should they finally start to crumble, there's no immediate backstop in the form of other names that are just as strong.
And yes, I'm looking for a correction -- not a bear market, but a correction -- sooner than later. Members of the Well-Rounded Investor newsletter have been waiting patiently for that dip, however, simply because we'll be using it as a buying opportunity. Don't confuse the lack of participation in the recent marketwide strength as a sign of long-term trouble.
On other hand, don't dismiss it either. Corrections can hurt, a lot, for traders that aren't prepared for them.
Disclosure: I/we have no positions in any stocks mentioned, and no plans to initiate any positions within the next 72 hours. I wrote this article myself, and it expresses my own opinions. I am not receiving compensation for it (other than from Seeking Alpha). I have no business relationship with any company whose stock is mentioned in this article.