Dear readers and subscribers,
First off, I would like to thank you for your ongoing interest in my research articles. The third quarter of 2018 was so far the most productive one in terms of new ideas generated that fit the criteria of my investment philosophy. I received a vast amount of feedback which helps me staying encouraged to provide you with the best investment ideas from the world of publicly-traded companies that come to my mind. At the beginning of the quarter, I decided to sensibly rebalance the model portfolio due to a high amount of new information, an inflow of new ideas, and a reference to my earlier research.
Q3/2018 Summary Statistics
Now to the numbers: As measured by Interactive Brokers Group, the time-weighted return of my model research portfolio reached -5.33 percent in the third quarter of this year. To put this into perspective, the S&P 500 index added approximately 7.65 percent over the same period. As the portfolio's risk-return characteristics are significantly skewed in favor of maximum capital appreciation over the long term and financial leverage is employed, the portfolio is significantly riskier than the benchmark - in Q3, the downside deviation of the index reached 0.25 percent whereas the downside deviation of the portfolio totaled 1.53 percent. The equity curve and precise portfolio risk statistics since its inception are captured in the outputs below: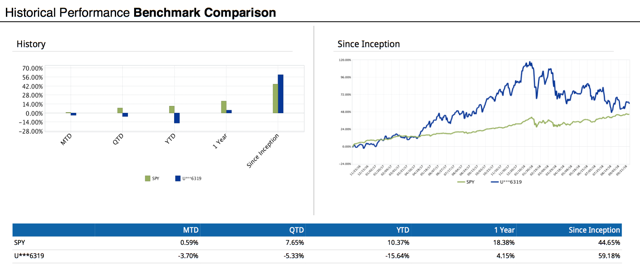 Source: Interactive Brokers quarterly portfolio statement
As of September 30, 2018, the largest proportion of the model research portfolio's funds has been allocated to shares of the companies domiciled in North America (61%), Asia (24%), and Europe accounted for roughly 11%. The allocation by sector has been led by Technology (~23% vs. 33% in Q2), Consumer Cyclicals and Non-Cyclicals (~31% vs. 28% in Q2), and Communications (~23% vs. 23% in Q2). The portfolio concluded the second quarter with 50 holdings.
Selected Q3 New Ideas:
(OTCPK:JVTSF) - Juventus, the famous Italian football club closed a deal with one of the world's best football players of all times which has already translated into the club's shares' price.
(NYSE:YEXT) - Yext is a young and rapidly growing New York-based knowledge engine company which might considerably profit from the arrival of artificial intelligence.
(NYSE:FND) - Floor & Decor Holdings is a leading U.S. home improvement discount retail chain with high growth targets and a very attractive valuation.
Q4 Outlook
In the fourth quarter of 2018, I would like to come up with several new ideas that fit the tenets of a growth-at-a-reasonable-price investment philosophy regardless of market geography, industry, and market cap.
That's all for this quarter, thanks for reading! Should you have any feedback regarding the structure of performance reviews or anything else, feel free to share your thoughts either via private message or in the comment section below.
Seize the day & invest for the long run!
Best,
David
Author's note: To bring similar articles to your attention, please consider subscription of my SA feed by clicking on the ''Follow'' button at the top of this page.
Disclaimer: Please note that this article has an informative purpose, expresses its author's opinion, and do not constitute investment recommendation or advice. The author does not know individual investors' circumstances, portfolio constraints, etc. Readers are expected to do their own analysis prior to making any investment decisions.
Disclosure: I am/we are long FND, JVTSF, YEXT.
I wrote this article myself, and it expresses my own opinions. I am not receiving compensation for it (other than from Seeking Alpha). I have no business relationship with any company whose stock is mentioned in this article.