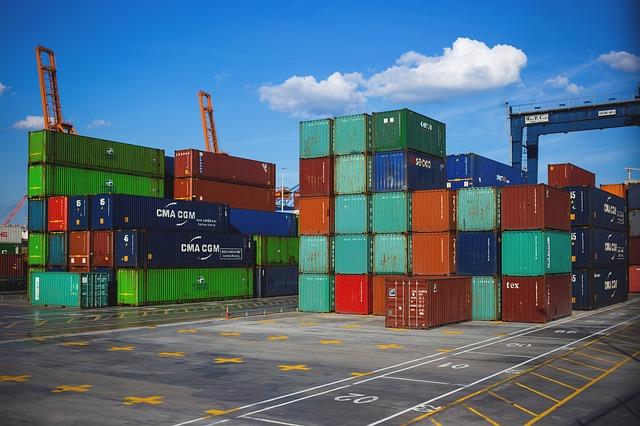 Introduction
In mid-January, I began writing a series of articles that examined how far some popular large-cap industrial stocks might fall if we were to have a downturn within the next three years. I continued writing about stocks in the industrial sector through the month of February, eventually covering a total of 11 popular large-cap industrial stocks: Caterpillar (CAT), Boeing (BA), Cummins (CMI), Deere (DE), General Dynamics (GD), Northrop Grumman (NOC), Eaton (ETN), Emerson Electric (EMR), United Technologies (UTX), 3M (MMM), and Rockwell Automation (ROK).
While all the articles were generally bearish in nature and meant to be a warning to current investors that even the stocks of good companies could fall quite far during a bear market, I didn't stop there. In each article, I suggested alternative investment ideas for the stocks in question. With the exception of 3M, whose suggested alternative investment was Johnson & Johnson (JNJ), those alternative investments either took the form of the Invesco S&P 500 Low-Volatility ETF (SPLV), Vanguard Utilities ETF (VPU), or a split between the two of them.
This article will examine how those stocks and alternatives are performing so far, and I'll also share some of my observations about the market, as well as some general takeaways or investing lessons we might learn from tracking these results.
The basic strategy I've been proposing in this series is that when the risk/reward - even for good stocks - becomes tilted too far toward the risk end of the spectrum, and the stocks are overvalued once we consider the inclusion of a bear market within the next three years, that investors should rotate out of these stocks and into more defensive positions. The ETFs that I have suggested were chosen because I thought that if the market kept rising, the ETFs would likely capture some of the upside that cash wouldn't. But, if the market went down, the ETFs would likely fall a little bit less than the S&P 500. I assumed that investors liked the companies themselves, and would like to own more shares of the companies, and also that if investors could manage it, that they would like to avoid holding through very big price declines that might include drawdowns in excess of 50%.
Given these assumptions, the goal of this strategy is to increase the shares of the target companies one owns without spending any more money to do so. For example, if one rotated out of the target stock and into the defensive ETF while they were both priced at $100 per share, then during a bear market the ETF might drop to $80, and the target company to $40 per share. At that point, you can rotate back into the target company stock and own twice the number of shares at no extra cost. Then when the stock eventually recovers, you have doubled your wealth compared to what it would have been if you held the company through the entire period (minus taxes, of course).
In order for all this to work one needs to 1) identify a quality company 2) understand when it is overvalued 3) get somewhat close at identifying the late-stages of the business cycle 4) correctly identify a more defensive alternative 5) have the guts to rotate back into the stock when it looks like the world is ending near the bottom of the cycle.
My goal is to provide research, strategies, and ideas that help investors do this.
I'm going to be posting total return YCharts for each one of these stocks and their suggested alternatives in this article. The dates for the charts are from the day of publication of the article until the end of September for each stock. I think it's important to post the charts for each stock because, while the sum of total return is important, it is equally important to see the price relationships between the stocks and their alternatives as they move through time. I'll also include SPY as a reference point as well. The reason for these parameters is to keep me consistent and honest with the tracking of the performance over time so readers know I'm not cherry-picking dates. Even without a pro-subscription, readers can go to my profile and see the publication dates of the articles if they would like to double-check my work.
I have included a section for the four financial stocks I wrote about in May and June as well.
Interest Rates and the Alternatives
All of the industrial target stocks ended the month of September higher than they began, as the bounce that started for most of the stocks in July continued, despite the fact that ongoing trade negotiations saw little progress. (Though the new NAFTA deal was just agreed upon as I edit this, the market's reaction will not be reflected until October.) This uptrend was fairly predictable and I bought some Cummins stock back in July because I thought that was the best way to play this potential late-cycle bounce in industrials. That Cummins investment continued to rise through the month of September along with the rest of the industrials.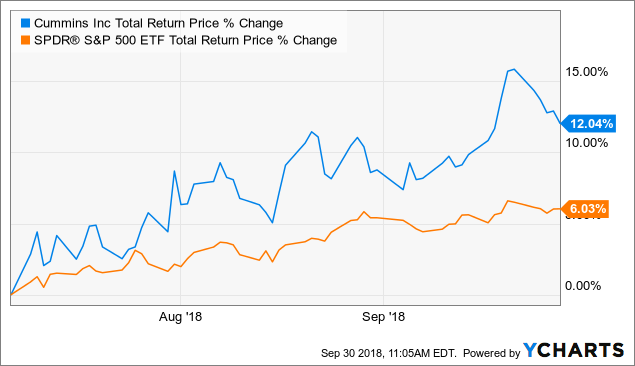 Even though I decided to play this probable bounce with a small amount of my portfolio, I still think there is a lot of risk to the downside for industrials until we get through the next bear market. So, don't mistake my Cummins investment for medium-term bullishness. At least part of the reason for the investment was to let readers know that I expected a bounce for industrials after a deep sell-off this spring, and I wanted to put my money where my mouth is. If the investment gets in the +20-25% range, I'll be taking profits for the time being.
The biggest change that happened in September actually had to do with interest rates and the alternative investments I've suggested, in particular, VPU and SPLV. Both investments ended September lower than where they started and I think that decline can be attributed to rising interest rates. Yields on 10-year treasury bonds rose to over 3% and the Federal Reserve hiked short-term rates again. Rising yields in fixed income can put pressure on stocks that are considered bond proxies like utilities. Currently, the yield for VPU is 3.2%, not much higher than the 10-year.
I think SPLV suffered in September for the same reason as VPU. Due to the low-volatility of utility stocks during the mini-correction in February, when SPLV readjusted its holdings it became fairly utility-heavy in its composition (about 24% of its holdings are now utility stocks). I wrote about SPLV back in the spring and how I expected this sort of adjustment to happen and thought it would make the fund more defensive as time went on. I was correct in that assessment, but the downside was that it also became more interest-rate sensitive, and, at least for the past few months, it hasn't offered that much diversity for my suggestion of using a 50/50 split of VPU/SPLV as a defensive alternative for some of the stocks. Right now, they are moving similarly in the market. I recognized this overlap, and by early summer, I started mixing in some other alternatives in my articles in order to get a little more diversity. (Though it should be noted that SPLV is always changing, so it's possible that next quarter, utilities will comprise a smaller portion of the holdings.)
At any rate, I expect October and November to be better performing months for the defensive alternatives since we probably won't have too much focus on interest rates until December when the Fed is expected to hike rates again.
Two of the Industrials are Holding Up Well
Boeing joined Emerson Electric this month as an industrial stock that is performing well against the alternatives.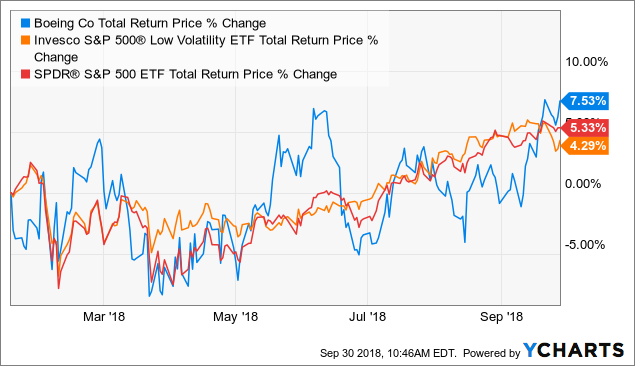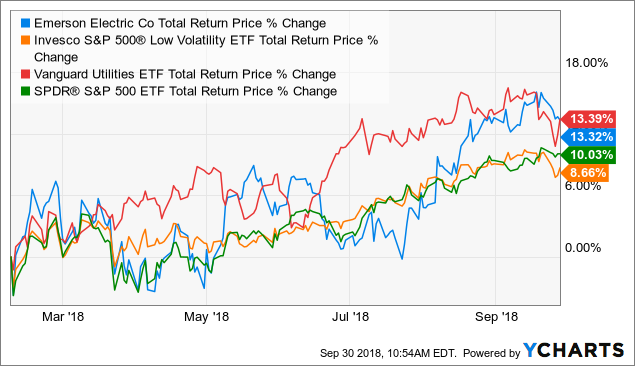 I think each of these two stocks is doing fairly well for different reasons. Emerson has a history of shallow cyclicality but typically trends pretty close to the S&P 500 over time. Boeing is more interesting. I think I've expected it to break lower each time it has had a significant dip this year, but it always finds a way to bounce back. Everyone seems to love Boeing and the new contracts keep rolling in while worries about China trade relations are mostly shrugged off. I still think expectations are very high for the stock, but it's probably going to take a recession before we see this stock behave like other industrials or defense stocks. The P/E ratio for Boeing has compressed from 33 when I wrote about in January to 27.5 here at the end of September. So earnings growth is starting to bring that multiple down, which is good news for current shareholders. I think I'll plan on writing a follow-up to my Boeing article in January and re-run my analysis and examine the difference a year makes. Maybe Boeing won't look so dangerous, then? We'll see.
Deep Cyclicals
The deep cyclicals all had a good month in September, but remain far below the alternatives. I expect they'll keep doing okay in October, but maybe not the explosive upside we saw last month. I doubt these stocks fully catch up to the alternatives before the economy slows, but it's not impossible.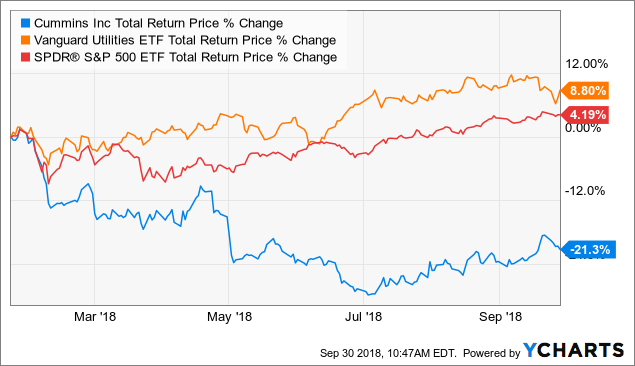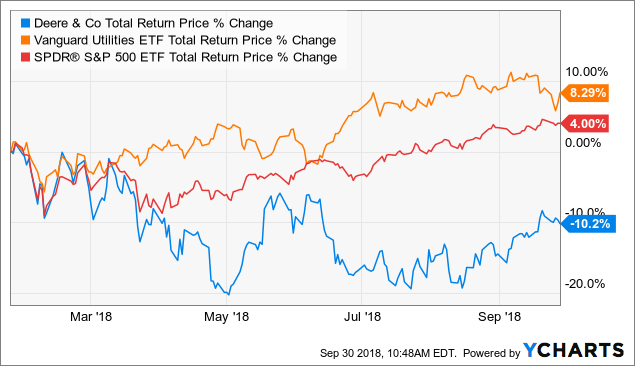 JNJ & 3M
For the first time since I suggested Johnson & Johnson as an alternative back in January, the stock went positive. It dipped back down into negative territory before the end of the month, but it appears to be closing in on the S&P 500. Meanwhile, 3M is still struggling, I think at least partially due to trade issues.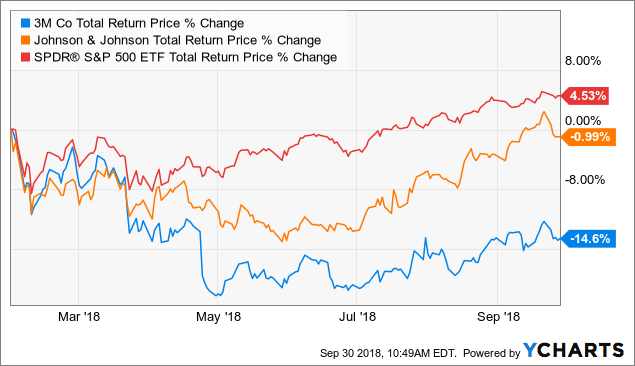 Defense Stocks
This is where I have traditionally chimed in with some political analysis about the upcoming election and the potential of a Democratic takeover of the House of Representatives affecting future defense spending. I'm mostly going to avoid that this month, other than to say I think after the Kavanaugh hearing we are in uncharted territory going into the November elections. There haven't been enough polls conducted since the hearing to see what public opinion is doing, we don't know what will happen in the next week or two, and, as a person with a lot of political science training who previously thought the Democrats had a lock on the House, I think the election is unforecastable right now. All of the defense stocks had a good September, but are still underperforming.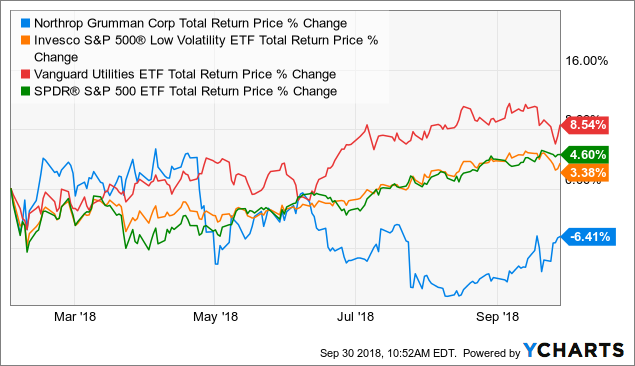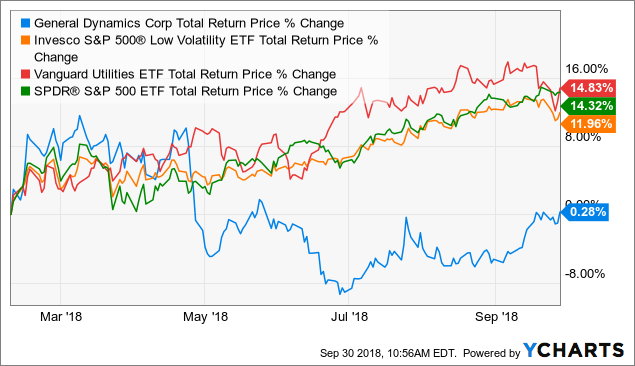 Almost Back to Even
Eaton, Rockwell Automation, United Technologies are almost back to even performance with the S&P 500, and they might well catch them in the next couple of months. That said, I think current shareholders should take a close look at what can happen even when the economy is growing at 3-4%. These stocks can still get hit really hard even with a modest downturn in the market.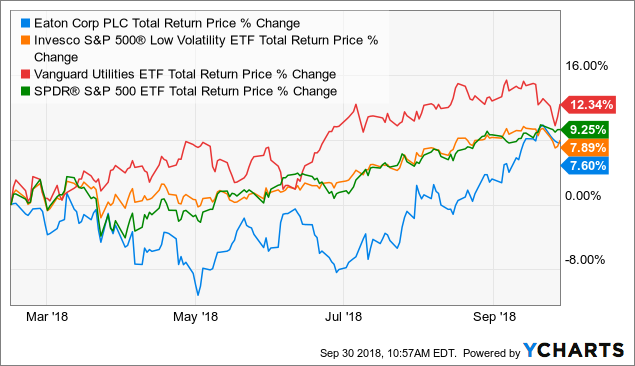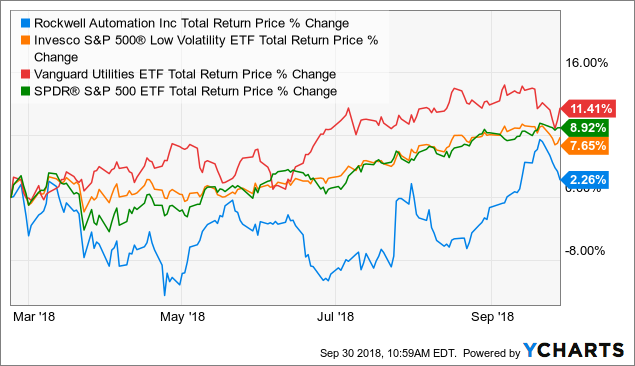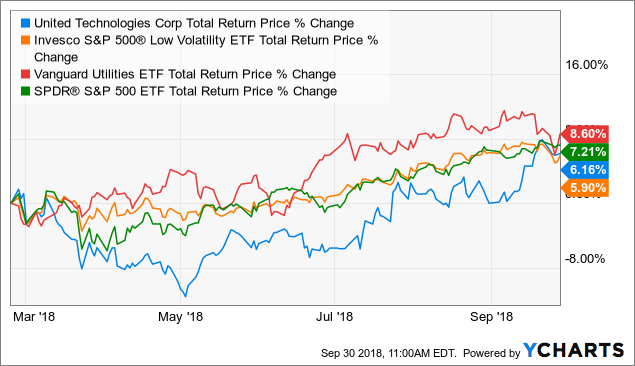 Financials
These are really interesting because the performance of each investment and the alternatives are so unique. American Express (AXP) is unique because for the alternatives I paired a very conservative VPU with a fast-growing but steady-earning Fiserv (FISV). The idea being that as the market went up Fiserv would grow faster than AXP, but if it went down, VPU would hold much steadier. Since I use two different entry points during downturns, it would allow me to choose which alternative to sell and rotate back into the AXP with should the stock experience a big downturn. This is an experiment, but currently, it is working exactly how it is supposed to as the market rises, Fiserv is up nearly 20%, while VPU is doing better than cash, but not as good as AXP.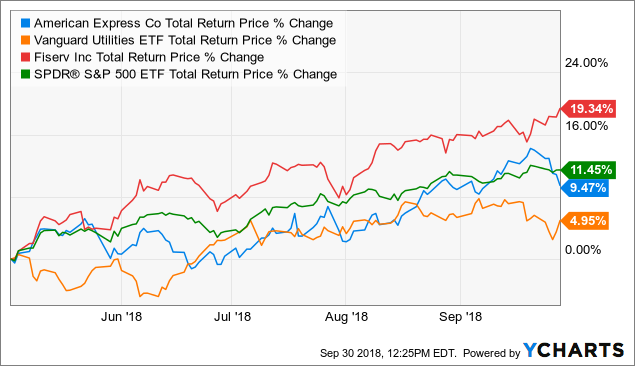 I think PNC's (PNC) price decline is mostly earnings-related, but it was near all-time highs when I wrote about it, so expectations were high. I'm not sure what it would take to get the stock to move higher. I'd love to hear any ideas in the comment section.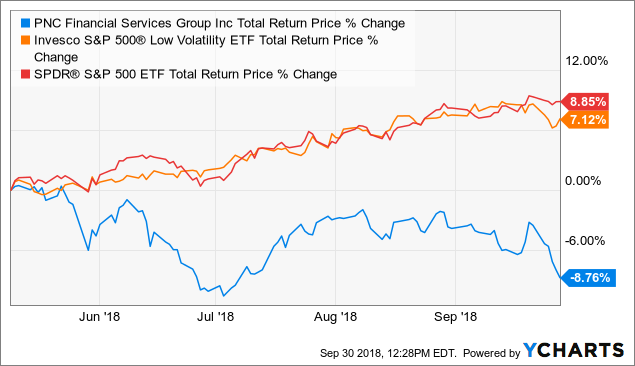 State Street (STT) has really gotten hammered, too. I might have to take a closer look at this one soon and see when I should consider buying.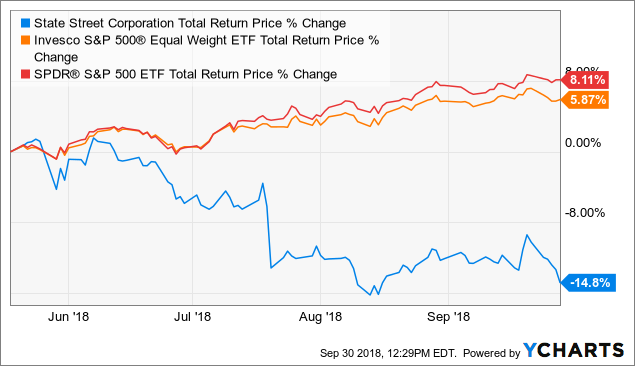 The big surprise has been Progressive (PGR). I wrote about it while it was making new all-time highs and it just keeps doing so. Plenty of other insurance companies have not faired as well. I would be open to listening to any theories as to why Progressive is so loved by the market. I don't know much about insurance companies, or Progressive in particular, but after an initial dip, the stock has shown no signs of slowing down and I'm not sure what the catalyst would be for it to drop. In the past, it has been subject to significant cyclicality, though, so I know there's some danger here, I'm just not sure what would trigger a decline.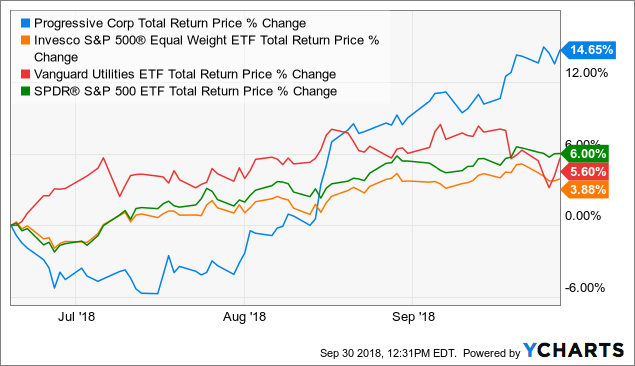 Conclusion
The final results through the end of September for the 11 industrial target stocks were -2.22%, the defensive alternatives +7.52%, and the S&P 500 +7.12%. This compares to -6.75%, +7.64%, and +6.38%, for the same respective investments through August. So, the key difference in the month was the rise of the industrials.
The final results through the end of September for the financial target stocks were +0.14%, the defensive alternatives +7.47%, and the S&P 500 +8.60%. Through last month they were .50%, +7.40%, and +7.96%.
I think over the coming months we should expect a continued push higher in the market and in the cyclicals. That said, we are also at a stage where, at least for cyclicals, they could turn lower at any moment. One obvious catalyst to the upside would be resolving trade deals with our major trading partners. Downside catalysts over the next few months are the election, rising interest rates, and more tariffs on trade. Of those known catalysts, interest rates rising are, by my estimation, the most certain, both in terms of their actually happening, and in terms of their effect on the market and economy. My guess is that the economy is going to keep chugging along until at least the end of spring. Tax refunds and wage growth should provide a boost to get us there. But, since most of the time, I'm a fairly defensive, medium-term investor, I'll mostly be looking for stocks that are less cyclical and more defensive between now and then (unless they have already experienced a deep downturn like in oil services, in which case, I'll be buying).
In my next article, I'll review how my service sector alternatives are tracking. Thus far there has been a huge variation of performance among the target service sector stocks. In that article, I'll calculate the performance of all 28 stocks I've written articles about so far, including the ones discussed here. Thanks for reading, and I'm happy to answer any questions in the comments section.
Disclosure: I am/we are long CMI. I wrote this article myself, and it expresses my own opinions. I am not receiving compensation for it (other than from Seeking Alpha). I have no business relationship with any company whose stock is mentioned in this article.