Introduction
While I know it can be cliche to quote Warren Buffett, the title of this article is one of the most profound quotes that I have heard about investing for the long term. So often you read the news or what an analyst thinks will happen in the next quarter or two and it can wreak havoc on your emotions or force you into an impulse buy or sell. Now Warren Buffett has said many different things over his long tenure, but this one stood out. Why? Because it just makes so much sense. It provides direction and focus and above all, it allows you to see the forest for the trees and keep you disciplined.
I can admit short-term volatility is hard to stomach especially if you are new to investing. You have spent hours researching and doing your homework to find the right company to invest your hard earned money into. It then only sees fitting for you to then see the value of your stock drop dramatically for either no reason or for a couple of bad earnings reports. That's where it is important to remember that you are not buying your company's stock based on what you think will happen this year or next, but based on what you believe will happen in the next 10, 20, or 30 plus years. This is what helps me keep my focus and how I plan to build long-term wealth so that I can enjoy a comfortable retirement.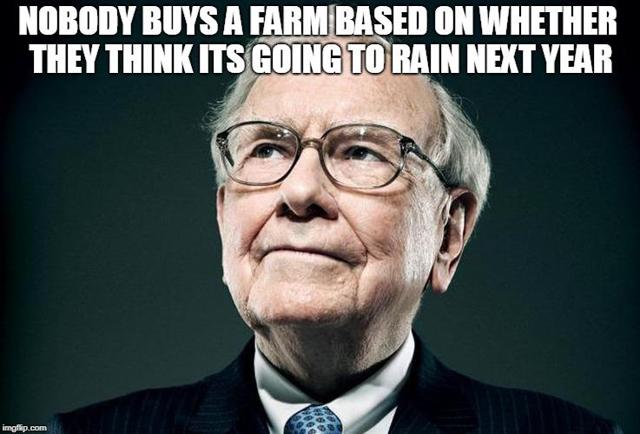 Background
My investing journey began about four years ago when I first started out working as an engineer. I didn't know what in the world I was doing. All I knew was that you were supposed to match your employer's 401k contributions because that was "free money", at least that's how I heard it called. I wasn't able to give more than about 6% of my income at the time and I simply chose the most aggressive plan they offered. I didn't know what my money was being invested into or what the cost of that plan was (turns out they were just charging a 1% expense ratio on top of a bunch of index funds). I would go to Marketwatch and watch the tickers for the S&P 500 and Dow Jones 30 go up and down, not knowing what in the world I was looking at. Truth be told, I only went there to find out what the price of oil was doing as this was my most volatile expense in my budget at the time and money was tight.
From there my curiosity grew based on that little exposure to the stock market. Finance was my fall back in school if it didn't work out in engineering so as I settled into my career I started to gain more curiosity with the stock market as a whole. I began researching the difference between active and passive mutual funds and seeing what made a good fund to invest in. I ended up settling on index funds as my choice of investing for a while after seeing mountains of evidence that active mutual funds just didn't perform as well. What was more damning was the fact that I was being charged a premium for this underperformance. It wasn't until I started reading articles on seeking alpha that I started to see the flaw in both styles of mutual funds.
While being charged a premium for poor performance struck a chord with me with respect to the active funds, I was really more surprised to see how short-term focused they actually were. As I started looking through the funds in my current employers' plans, I notice that most if not all of the funds approach or exceed 100% of portfolio turnover! It's almost as if these funds managers were day trading with my money that I had worked hard for. It was at that point I knew that my values and the active managers' values did not match up. So I cut them out and went to the index or "passive" funds.
Things were going well at that point until I started doing more digging on what it was I was actually buying. While the idea of investing in entire asset classes and economies made sense on the surface, I started to wonder if this was the best I could do and why do people even bother with anything else? While indexing can certainly provide a decent return, the thought about how much do I really need to diversify started to creep in. At one point I think I owned over 5,000 companies based on the funds I was invested in and most were international companies.
The more I sat down and thought about it, the less sense indexing started making. Why would I just arbitrarily own companies just because they are in an index? What about the health of the company or the industry for that matter? Is the company's stock overpriced or fairly valued? Then you look at how they are weighted and you realize that most of your returns are controlled by the very top companies anyways! So I thought, why not just try and find the best companies to invest in and be done with it! The problem was I didn't really know what drove the value of company or why a stock would be priced the way it was. It all just seemed like a jungle full of noise and secrets that I just couldn't figure out without paying a huge premium for what amounts to someone's opinion and not real returns.
So I began searching for answers. It didn't take me long before I came across Aswath Damodaran's website that the veil was taken of this "mystery" of the stock market. At first, my head was spinning with all the information that he throws at you, but he does a great job of breaking things down and making you feel comfortable with what you are doing. I went through both his classes on Valuation and Corporate Finance and felt worlds better about the decisions I was making. I was also able to read a copy of the much sought after book Margin of Safety by Seth Klarman which really changed the way that I looked at companies and investing. If you get a chance to read it, I highly recommend it. So while I know this was long winded, I hope you at least have a better understanding of where I come from and why I make the decisions or valuation choices that I do.
Philosophy
My philosophy is simple: invest in great companies and hold them forever. Sounds simple right? Well, that can be a lot harder than it sounds obviously, but this is the fundamental thought I come back to when I start to doubt myself. I know there are a lot of styles people like to use such as growth, value, dividend growth, etc., but for me, I don't like to limit my options because a company doesn't pay dividends or is in a period of high growth. If I had a leaning it would be more towards value investing, but I don't need to have a huge margin of safety like some traditional value investors looks for. What I want to focus on is high-quality companies with low leverage, positive cash flows, and that create value for shareholders.
While I could say I am looking for a certain profit margin or ROIC in a company, to be honest, it is a case by case situation. Some industries lend themselves to lower or higher margins. The biggest thing that I am looking at is does this company create value? In other words, do they make a return higher than their cost of capital? A company is not going to be able to last if it cannot create value so it makes little sense to invest for the long term. I also don't want to overpay for a stock so I do a DCF for every company I want to invest in. I do this to protect myself and make sure that I fully understand the downside risk I'm about to face.
I know some are uncomfortable in the assumptions that need to be made in DCFs, but we live in an uncertain world and we have to come to terms with it one way or another. DCFs give me more control to tell the story I want to about a company rather than just accept the market is always right. If you want to see how I do my valuations, just look at my first article that I wrote for Seeking Alpha. On all my valuations I will leave a link so that you can change the numbers in all of my articles going forward so that you can tell your own story if you don't like the assumptions that I have made.
Conclusion
My goal is to invest for the long term so that I can eventually retire and live a comfortable life after I'm done working. While I know there is a lot of uncertainty that lies ahead, I plan to embrace it and make the most of my situation. I don't expect to be perfect or claim to know everything, in fact, I know I will make mistakes. I just want to make sure I do more things right than I do wrong. I wanted to write this article in the hopes that you could get to know me better and understand where I come from. I hope that in my future articles that I can provide you with some helpful advice and research that can benefit us both as we figure out what this uncertain world brings us. And, of course, we must always remember that when we invest for the long term, we are buying the "farm" based on what we think will happen years from now and not just the next year.
Disclosure: I/we have no positions in any stocks mentioned, and no plans to initiate any positions within the next 72 hours.
I wrote this article myself, and it expresses my own opinions. I am not receiving compensation for it (other than from Seeking Alpha). I have no business relationship with any company whose stock is mentioned in this article.