Out of the very large and diverse set of publicly-traded shopping center REITs, Ramco Gershenson Properties Trust (RPT) probably gets the least amount of press. By and large, most retail investors have little to no knowledge of the firm. They might not have missed out as it has, for the most part, been a middle of the road operator in recent years. Change is in the air, however. In December, long-standing CEO Dennis Gershenson stepped away from the role of CEO after more than two decades. This gives new CEO Brian Harper, an outside hire, the opportunity to really drive change in a company that needs it. He looks to have hit the ground running.
There are many reasons why smaller investors should be following the firm more closely, including the well-covered dividend yield of 6.5%,. The portfolio is solid, re-leasing spreads and net operating income growth are heading in the right direction, and leverage is well under control. While I'm a big fan of the entire shopping center space within REITs, this is a better choice than most.
Business Overview, Market Opportunities
Ramco Gershenson ("Ramco") wholly owns and operates 56 open air shopping centers located in or around major metro markets. Anyone that follows my REIT coverage knows that there has been a significant flight to quality – both from public shareholders and private capital – when it comes to buyer interest. The top five metro markets (by annual base rent) are Detroit, Cincinnati, Miami, Denver, and St. Louis. Together, these five metros drive slightly more than half of overall net operating income ("NOI"). Broadly, these are healthy markets that are still seeing some recovery – especially Detroit. Yet these markets are still cheap enough that cash yields on properties are solid enough to justify investment while also remaining liquid as assets change hands. In my view, Ramco is (relatively) close to the sweet spot when it comes to operating within in demand markets while also still earning decent returns on invested capital.
Like most in the space, the company has in the past placed emphasis on tenant quality – particularly highlighting grocery exposure. Oft cited, roughly two thirds of the portfolio is "grocery anchored". As I've stated, problems from within the retail mall apparel tenants are starting to cascade over into big box stores – and not just through the obvious cases like the bankruptcy of Toys R Us. See the trials and tribulations of Bed, Bath, and Beyond (BBBY), which has lost 80% of its equity value since the beginning of 2015, as an example. Shopping centers have significant exposure to these retailers – including Ramco – so the goal has been to try to distance themselves somewhat from the traditional big box format despite solid results in finding new tenants. Many have tried to fragment "power center" strip mall definition, something investors can see Ramco doing this within its presentations: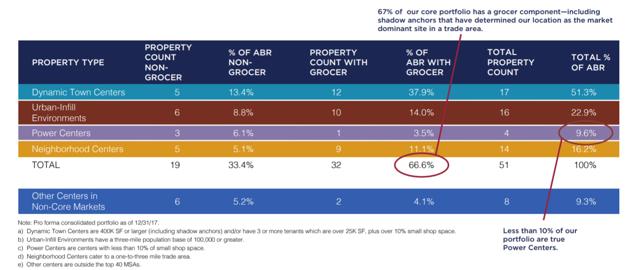 *Ramco Gershenson, 2017 Investor Day Presentation, Slide 26
Note, however, the use of the "shadow anchor" above. These are grocers located nearby but are not part of the shopping center – nor do they pay rent to the REIT. While still a benefit, this is a major difference between other shopping center operators that actually count grocers as tenants. Current market interpretation of the retail environment is simple: grocery good, big box bad. We've all got to eat, so grocery tenants guarantee foot traffic.
But it isn't just about grocery, and I think many operators have been too simplistic in explaining how they differentiate from others. Coinciding with the new management team onboarding, there has been a move towards a shift from "commoditized shopping experiences" to offering a broader value proposition for consumers. The less commoditized the tenants, the less potential e-commerce impact. Management has begun to mention the "Three F's" (Fit, Fabulous, Food). Having tenants with an athletic focus including gyms (Orange Theory Fitness) and associated retailers like Lululemon (LULU), the benefit from recession resistant make-up retailers (Ulta Beauty (ULTA), Sephora (OTCPK:LVMHF)), and tried and true differentiated grocery like Whole Foods (AMZN) all fit into this line of thinking. While certainly not unique, I see the vision and line of thinking present here.
One of my initial major concerns heading into looking at this firm was the low annual base rent ("ABR") stat. With $14.91/foot in ABR, Ramco sits near the bottom of the shopping center space, really only ahead of only Brixmor Property Group (BRX). In my opinion, this is one of the major issues holding back the valuation compared to more well-regarded REITs in this space like Retail Properties of America (RPAI), Regency Centers (REG), and Acadia Realty Trust (AKR), most of which carry much higher implied underlying property valuations.
However, with rates so low, the question is whether the properties are poorly located or if they have been inefficiently run in the past. I lean more towards the latter. Recent trailing twelve month re-leasing spreads reported in the 10%+ range does point to closing the gap with peers; high single digits have been the norm of late for most shopping center operators. I think there is some untapped potential and with more than a third of ABR rolling off by the end of 2020 (and more than half by the end of 2021) new management has significant opportunity to drive higher rents.
Relative Valuation, Leverage Profile
I track cap rate data fairly extensively in the shopping center area. Unlike some other forms of real estate (e.g., malls) there is plenty of information out there, both in the form of public sales data and surveys from various commercial real estate firms. I've found that for the most part, shopping center REITs tend to move together from a net asset value ("NAV") standpoint. Peak to trough off the strongest part of the recent cycle for cap rates (2016) the bias has been for high quality urban outperformance versus lower quality suburban properties. I've deemed this a "flight to quality".

*Source: Author calculations using SEC filings, Guidance
In my view, recent asset sales from property owner Retail Value Inc (RVI) provide a solid valuation floor underneath the entire space. With those initial sales coming in in the low 8% cap rate range – and arguably set to go lower for the rest of the portfolio – there is very little downside risk in most of these shopping center names in my opinion. Any weakness would just be an opportunity to pick up shares at a discount to underlying asset valuations. Remember that cap rates just speak to the NOI yield on properties and are not a signal on relative valuation between two companies. Properties in Los Angeles are going to trade at more expensive cap rates versus those in Detroit - that doesn't mean the Los Angeles operator is not the better buy. Also, given NOI is before non-property level expenses, some of these REITs are going to be more efficient than others and have more cash available to distribute to shareholders or grow the business.
For Ramco, the leverage profile here is already healthy. With net debt/EBITDA of 6.2x on a trailing basis as of Q2, there is substantial fixed charge coverage. 90% of NOI is unencumbered (gives the opportunity to mortgage properties in a pickle), there is nearly $300mm available on company credit facilities, and the average time to maturity is over six years. This is around the sector average, but the debt profile is incrementally better in my view. None of the debt is publicly-traded so there is no opportunity there.
Vision Going Forward
Brian Harper and team are going to come out of the gate swinging on this one. While I think that analysts (and most likely the market as well) are skeptical that a new C-suite team will be able to drive much change given the Board of Directors remains somewhat in place, there was substantial optimism on the Q2 conference call. Over the next year, the company expects to sell a handful of non-core assets to delever the balance sheet incrementally to between 5.5-6.0x net debt/EBITDA. Taking a half turn of leverage off the net debt/EBITDA multiple does not require much; $80mm in sales gets them there. Given that, the expectation should not be for a major divestiture program and three or four properties likely gets them to their goal. Brian Harper toured pretty much all of the properties during the first month of his tenure so I expect the short list of properties he would prefer to see gone is already in place. I would not be surprised to see an announcement of the first sale by early next year.
Expect a lot of focus on small shop space development, ancillary business income (vending, pop up shops), and general merchandise mix. For years, Ramco has not pushed the envelope on its properties. Because the firm was never truly efficient at utilizing its assets on a square footage basis, it seemingly developed a reputation for mediocrity versus being a top tier operator. I think there is a very real opportunity for that to change. Ramco deserves a second look – or a first look from those that did not know it existed.
Note: Members of the Industrial Insights community receive access to actionable research ideas like this often. This isn't your average investing resource. Receive deep dive insight into companies that include facility tours, management interviews, and in-person conference coverage. This type of coverage is not publicly available.
Disclosure: I am/we are long DDR, RVI. I wrote this article myself, and it expresses my own opinions. I am not receiving compensation for it (other than from Seeking Alpha). I have no business relationship with any company whose stock is mentioned in this article.