What Will Trigger The Next Bear Market?
Includes:
AMZN, DDM, DIA, DOG, DXD, EEH, EPS, EQL, FEX, FWDD, HUSV, IVV, IWL, IWM, JHML, JKD, JPM, OTPIX, PSQ, QID, QLD, QQEW, QQQ, QQQE, QQXT, RSP, RWM, RYARX, RYRSX, SCHX, SDOW, SDS, SFLA, SH, SMLL, SNE, SPDN, SPLX, SPUU, SPXE, SPXL, SPXN, SPXS, SPXT, SPXU, SPXV, SPY, SQQQ, SRTY, SSO, SYE, TNA, TQQQ, TWM, TZA, UDOW, UDPIX, UPRO, URTY, UWM, VFINX, VOO, VTWO, VV
by: The Mad Hedge Fund Trader
Summary
Excessive debt will trigger the next bear market.
Emerging market debt has rocketed.
Student loans have been the sharpest rising form of borrowing.
To paraphrase Leo Tolstoy in Anna Karenina, all bull markets are alike; each bear market takes place for its own particular reasons.
Now that the wreckage of the past financial crises is firmly in our rear view mirror, it is time for us to start pondering the causes of the next one. I'll give you a hint: It will all boil down to excessive debt… again.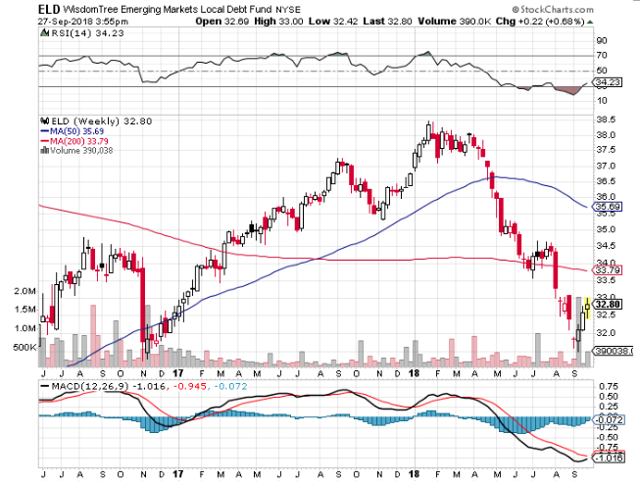 Global quantitative easing has been going on for a decade now, keeping interest rates far too low for too long. The unintended consequences will be legion, and the day of atonement may be a lot closer than you think.
The 1991 bear market was prompted by the Savings & Loan Crisis, where too many unsophisticated financial institutions in a newly unregulated world dreadfully mismatched asset and liabilities.
Every time I drive by a former Home Savings and Loan branch, with its unmistakable quilt decorations and accents, I remember those frightful days. Back then, when I looked at buying a home in San Francisco, the seller burst into tears when the price I offered would have generated a negative equity bill due for him.
The 2000 Dotcom crash can easily be explained by the monstrous amounts of debt provided to stock speculators. The 2008 crash was produced by massive, unregulated, and largely unknown lending to the housing sector through complex derivatives that virtually no one understood, especially the buyers.
So, here we are in 2018 nearly a decade out of the last crisis. Potential disasters are lurking everywhere under the surface while blinder constrained investors blithely power ahead. Once they metastasize, they rapidly feed into each other, creating a domino effect. They always do.
Emerging Market Debt
Lacking domestic capital markets with any real depth, companies in emerging economies prefer to borrow in U.S. dollars. When the dollar is weak that's great because it means liabilities on the balance sheet shrink when brought back into the home currency. When the greenback is strong, the opposite happens. Dollar debt can grow so large that it can wipe out a company's total equity.

This is already happening in a major way in Turkey, where the lira has plunged 50% in the past year, effectively doubling their debt. And once it starts, a global contagion kicks in as all emerging companies become suspect. This is not a small problem. Emerging market debt has rocketed from 55% to 105% of GDP since 2008.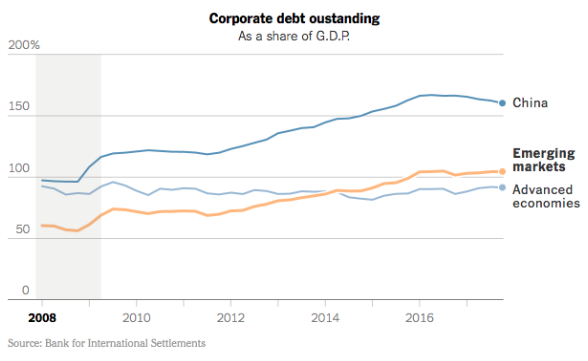 The Rise Of Junk Borrowers
In recent years, there has been a massive expansion in borrowing by marginal credits. This is taking place because fixed income investors are willing to accept a large increase in the amount of risk for only a small marginal rise in interest rates.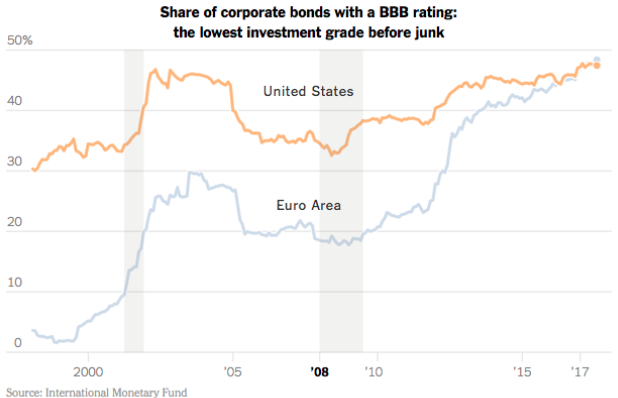 There is now $1.4 trillion in low grade BBB bonds outstanding, with one-third of this one downgrade away from junk. There has also been a dramatic rise in "covenant lite" issuance, which minimizes the rights of bondholders in the event of default. When the next round of trouble arrives, you can expect this market to shut down completely, as it did in 2008.
Student Loans
These have been the sharpest rising form of borrowing over the past decade, doubling to $1.5 trillion. Some 10% are now in default. This acts as a major drag on the economy as heavily indebted students don't borrow, buy homes or cars, or really participate in the economy in any way, banned by lowly FICO scores. This is why millennials in general have been slow to enter the housing market for the first time.

Shadow Banking
Would you like to know today's equivalent of subprime the lending that took the financial system down in 2008? That would be shadow banking, or off the books, unreported lending by hedge funds, private equity funds, and mortgage companies. Again, this is all in pursuit of high interest rates in a low interest rate world.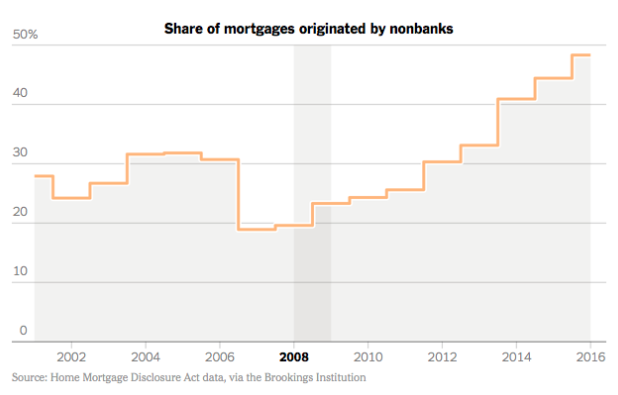 Yes, liars' loans are back, just not to the extent we saw 10 years ago… yet. I'm waiting for my cleaning lady to get offered a great refi package again, just as she was in the run-up to the last crisis. How many of these loans are out there? No one has any idea, especially the Fed. As a result, nearly 50% of all mortgage lending is now from unregulated nonbank sources.
The Outlier
Remember when Sony (SNE) was almost put out of business by a hack attack from North Korea? What if they had done this to JPMorgan (JPM)? That would have created a chain reaction of defaults throughout the financial system that would have been impossible to stop. When this happened in 2008, it took the Fed three months to reopen markets such as commercial paper. If big bankers need a reason to lie awake at night, this is it.
I'm not saying that markets can't go higher before they go lower. In fact, I dove back into Amazon (AMZN) only this morning.
However, as an Australian farmer told me on my last trip Down Under, "Be careful when you cross the field, mate. Deadly snakes abound." Add up all the above and it will turn into a giant headache for investors everywhere.
Disclosure: I/we have no positions in any stocks mentioned, and no plans to initiate any positions within the next 72 hours. I wrote this article myself, and it expresses my own opinions. I am not receiving compensation for it (other than from Seeking Alpha). I have no business relationship with any company whose stock is mentioned in this article.