Investment Thesis
Nvidia (NVDA) is very much in favor with the investor community. However, given that its top line growth rate is starting to decline, together with diminishing benefits from operational leverage, this leaves Nvidia's stock materially overvalued.
Recent Developments
Nvidia's share price continues to soar ahead. Inevitably, a rising share price attracts a lot of attention. Amongst the crowd looking at its rising share price are investors who look for confirmation in a rising price to argue that what they are buying is correct, that they are right because the share price is rising. And while many investors who had the foresight to buy 3-4 years ago were correct to do so, presently I argue that there's no wiggle room, no margin of safety for an adequate return. Furthermore, the more the share price rises, the more certain commentators on SA push the stock, which I consider astonishing.
Allow me to clarify one further aspect of my stance on Nvidia - because it too appears to get lost on many readers. Simply because one argues that there's no more room for a reasonably safe return to be made from Nvidia's stock at present, this does not mean I recommend shorting Nvidia. For one, shorting offers investors a terrible risk reward. The most you can make from shorting is 100% - that's it. While going long Nvidia at today's valuation of $175 billion market cap and expecting to double one's invested capital in a company with a contracting growth rate is equally dangerous.
Growth Rate Declining

Source: SEC filings, author's calculations, revenue in $ billions
Nvidia is a remarkable company. There's no argument here. In fact, I too have a lot of admiration for CEO Huang. But I'm a professional investor, I'm not here to fall in love with my best ideas. I'm here in the first instance to try not to lose capital. Presented above is Nvidia's growth rate for fiscal 2019. You will notice how Q1 2019 delivered astounding growth, at 66% and presently looking out to Q3 2019, this top-line growth is now coming down to 25%.
However, at the same time as Nvidia's top line growth is declining, although management is attempting to squeeze out all efficiencies Nvidia is capable of, ultimately, Nvidia's gross margin appears to have stopped expanding and it actually is starting to compress.

Source: Press releases, author's calculations, GAAP gross margin.
We can see in the table above how Nvidia's gross margin started off in Q1 2019 having benefited from YoY expansion of 5.1%. However, at present looking out to Q3 2019, it will only benefit by 3.1% YoY.Common sense would agree, right? There's only so much a gross margin can be expanded, even for an asset-light company such as Nvidia.
Thus, here we find a conundrum. What happens to a rapidly-rising stock, when a company's top line growth rate starts to slowly contract, and at the same time, its previous operating leverage starts to have a less pronounced effect?
Automotive Opportunity
If you have followed Nvidia for some time, you will have heard Huang and his team boast of Nvidia's Automotive opportunity, and how the total addressable market by 2035 could hit $60 billion. Firstly, this assumption is a wild guess. Secondly, investors, today are interested in the next 3-5 years. There are very few investors in Nvidia today which will in the fullness of time still be invested in Nvidia around 2035.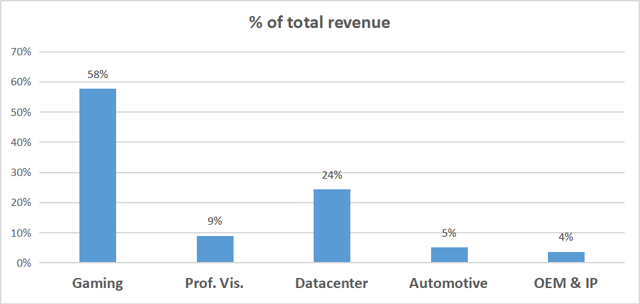 Source: 10-Q Q2 2019, GAAP
Presented above is Nvidia's automotive revenue. No matter how much Nvidia spins the story, Nvidia's opportunity lies in gaming. And gaming has benefited in 2018 from crypto rage. Of course, Nvidia management says that crypto did not play a major role. However, as I have highlighted above, we can see that going forward Nvidia's growth rate appears to be contracting. So maybe gaming did actually benefit slightly more from crypto than management is willing to admit? In reality, I simply do not know. However, the great thing about being a value investor is that you do not need to have the answers to every question, you just need to let valuation guide toward the opportunity.
Valuation

Source: author's calculations, morningstar.com
The table above succinctly expresses just how overvalued Nvidia is. We already discussed above how the rate of revenue growth is contracting. Also, how Nvidia operational leverage is no longer providing as much benefit as it was at the start of the year. Thus, with this in mind, there's no legitimate reason for Nvidia's P/cash flows to be priced at a premium to its five-year average.
Furthermore, readers will no doubt have seen on Tuesday afternoon how the hotly priced competitor AMD (AMD) fell swiftly on apparently no news. Arguably, once it reached its peak valuation. Accordingly, I suspect that once Nvidia reports its Q4 2019 guidance at the end of next quarter, and its rate of revenue growth continues to slow down, I trust many shareholders will be quick to take profits here too.
Takeaway
In the article, we discussed Nvidia's top line growth contraction, as well as the potential harm which will come about from its operational delevering. Additionally, we have put a spotlight on the fact that Nvidia presently trades at a premium to its historical valuation, when its fundamental performance is starting to slow down.
Author's note: The only favor I ask is that you click the "Follow" button so I can grow my Seeking Alpha friendships and our Deep Value network.
Disclaimer: Please do your own due diligence to reach your own conclusions.
Disclosure: I/we have no positions in any stocks mentioned, and no plans to initiate any positions within the next 72 hours. I wrote this article myself, and it expresses my own opinions. I am not receiving compensation for it (other than from Seeking Alpha). I have no business relationship with any company whose stock is mentioned in this article.