By Baruch Lev and Chenqi Zhu
On Sunday, May 3, 1998, a front-page article in The New York Times reported on a breakthrough in cancer research by EntreMed, a biotech company developing cancer drugs. Investors' reaction was swift and decisive: On Monday, May 4, EntreMed's share price surged from $12.1 close on Friday, to $85.0 on Monday's opening, and closed near $52.0. The price hovered around $30.0 during the three following weeks. And not just EntreMed; the Nasdaq Biotechnology Combined Index also rose 7.5% on that Monday.
Why do I bother you with a 20-year old story about medical news moving markets? Because there was nothing new in the Times, 5/3/98 story. Surprisingly, all the great information about EntreMed's cancer drug was previously published in Nature, and in various newspapers, including the New York Times' Science section.
Evidently, biotech analysts and investors were completely oblivious to all this earlier potentially market-moving information despite its prominence in the media. It took a front-page article in the New York Times to wake investors up. Egg in the face of true believers in efficient capital markets.
Ok, fine, but what does this have to do with today's markets? Everything. On July 4, 2018, a Wall Street Journal editorial favorably discussed the biotech company Sarepta Therapeutics (SRPT) and its gene therapy for Duchenne, a disease that weakens muscles and organ function. The therapy, said the Journal, is still under development, but early test results are very promising ("The therapy is still very early in the pipeline and the data are from only three patients, but the details are striking").
Being familiar with the EntreMed 1998 case, I expected a similar surge in Sarepta's stock, but to my surprise, the stock didn't budge. How come? Over the past 20 years, investors, at least in pharma and biotech companies, became increasingly alert and smart, quickly reacting to real scientific news, rather than to stale media reports. Here are the details and the lessons for investors.
Two weeks before the Journal editorial discussing Sarepta, the company conducted an "R&D day" with analysts and investors. Examining the day's plan, we notice that it opened with the CEO's presentation of Sarepta's mission (7:30-7:50am), followed by discussions of various clinical trials and a coffee break (9:10-9:20am). After the break several scientists and Sarepta's Chief Scientific Officer Dr. Jerry Mendell started presenting the positive results of a small clinical trial of the Duchenne therapy under development, ending around 10:30am. As the following figure shows, Sarepta's share price didn't change until 10:35am, at which time the stock surged from $106.50 to $160, ending the day at $143.93. Google search volume for Sarepta peaked during 10-11:00am, coinciding with the trial presentation. Furthermore, three analysts covering Sarepta raised their target price after the R&D day.
Figure 1. Stock Price and Trading Volume on the R&D Day (June 19, 2018)
Figure 2. Hourly Google Search Volume of "SRPT" or "Sarepta" on June 18 & 19, 2018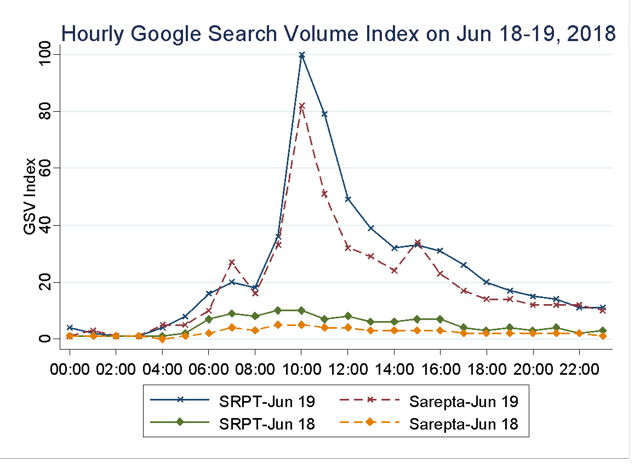 Obviously, in contrast with 20 years ago, investors now react immediately to fundamental information, at least in the pharma and biotech sectors. And that's the reason that the July 4, 2018, Wall Street Journal editorial about Sarepta was shrugged off by investors. Old news.
This episode provides important lessons to investors:
The media today generally follow events rather than create them. By the time financial news appears in newspapers, it is already baked in the price. For example, the WSJ covered Sarepta on June 19, 2018, one day after the R&D day, documenting that the stock price surged upon the positive trial results.

Important news, like the initial positive trial of Sarepta, usually generates an overreaction. Better wait a few hours for the price to settle.

For pharma and biotech investors there are several easily accessible sources of timely, market-moving information. For example, get informed about all upcoming catalyst events with BioPharmCatalyst.com or bullcatalyst.com. Discover the latest innovations from patent application filings at FreshPatents.com long before the USPTO decision to grant or reject the patent. Stay tuned to earnings announcement schedules with Seeking Alpha's earnings calendar. Be alert to real news as they develop, otherwise you'll miss the train.
Disclosure: I/we have no positions in any stocks mentioned, and no plans to initiate any positions within the next 72 hours.
I wrote this article myself, and it expresses my own opinions. I am not receiving compensation for it (other than from Seeking Alpha). I have no business relationship with any company whose stock is mentioned in this article.