The Variable Changing Price Momentum Indicator (VC PMI) Early Bird Weekly Update for October 2, 2018.
Gold
The gold market traded last at $1,210, up $18.60. The market has reverted back from the buy 1 (B1) levels below $1,200, has gone through the average price of $1,192 and met the extreme above the daily mean of $1,201. We are meeting targets of the weekly sell 1 (S1) of $1,208. The sell 2 (S2) level is $1,220. There is a chance this market could run up to $1,220. We are taking some profits at $1,208 and we are waiting for the market to give us a signal either from the S2 or the S1 level. On a close below $1,208, the market would activate a short signal using the 15-minute bar.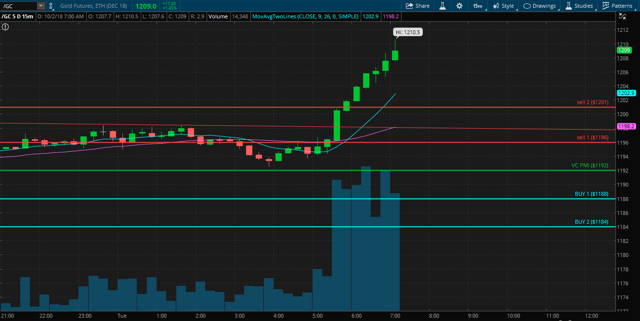 Courtesy: ema2tradelivesignals.com
Silver
Silver traded last at $14.93, up $2.30. Silver has completed the targets from the buy 2 (B2) level of $14.21 made just a few days ago on September, and now we've accomplished the extreme above the mean of S2 at $14.87. The market has completed the daily S2 level and weekly S1 levels, so we are harmonically aligned between the daily and weekly in supply. Based on the VC PMI, we recommend that you reduce your positions, take some profits, and wait for the market to adjust to the demand levels.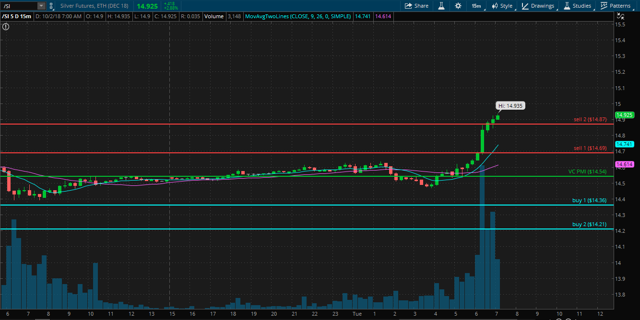 Commentary
Based on the daily and weekly numbers, the gold and silver markets have completed the short-term to intermediate targets set by the VC PMI in previous reports. We recommend lightening up here a little, but continue to maintain your long position in the market. The market is giving you an opportunity to lock in some profits. Wait for the markets to adjust to the B1 and B2 levels and then get back on the long side.
Disclaimer: The information in the Market Commentaries was obtained from sources believed to be reliable, but we do not guarantee its accuracy. Neither the information nor any opinion expressed herein constitutes a solicitation of the purchase or sale of any futures or options contracts. It is for educational purposes only.
Disclosure: I am/we are long JNUG, GDX, USLV GLD.
I wrote this article myself, and it expresses my own opinions. I am not receiving compensation for it (other than from Seeking Alpha). I have no business relationship with any company whose stock is mentioned in this article.