The Federal Reserve Cannot Continue Quantitative Tightening For Much Longer
Includes:
BIBL, BXUB, BXUC, CHGX, CRF, DDM, DIA, DMRL, DOG, DUSA, DXD, EDOW, EEH, EPS, EQL, EQWS, ESGL, FEX, FWDD, GSEW, HUSV, IVV, IWL, IWM, JHML, JKD, OMFS, OTPIX, PMOM, PPLC, PSQ, QID, QLD, QQEW, QQQ, QQQE, QQXT, RSP, RVRS, RWM, RYARX, RYRSX, SCAP, SCHX, SDOW, SDS, SFLA, SH, SMLL, SPDN, SPLX, SPSM, SPUU, SPXE, SPXL, SPXN, SPXS, SPXT, SPXU, SPXV, SPY, SQQQ, SRTY, SSO, SYE, TNA, TQQQ, TWM, TZA, UDOW, UDPIX, UPRO, URTY, USA, USMC, USSD, USWD, UWM, VFINX, VOO, VTWO, VV, ZF
by: Katchum
Summary
Interest income from securities on the balance sheet of the Federal Reserve is decreasing.
Net unrealized losses are increasing with rising bond yields and prevents the Federal Reserve from achieving its goal on QT ($50 billion per month).
Remittances to the U.S. treasury are steadily declining.
Banks still get paid by the Federal Reserve via IOER taxpayer money, but are still not increasing lending activities.
Last week, the Federal Reserve increased the fed funds rate to 2.25% (see chart below from FRED).

At the same time, the Federal Reserve reduced its balance sheet by $200 billion already since the start of QT in 2018, but there is still a long way to go (see chart below from FRED).

As you may already know, the Federal Reserve earns money from the securities it owns on its balance sheet which amounts to approximately $100 billion per year. As the Federal Reserve unwinds its balance sheet, the interest income on these securities will keep decreasing. On the cost side, the Federal Reserve pays interest on excess reserves to banks that store money at the Federal Reserve. This interest that the Federal Reserve pays to the banks amounts to approximately $30 billion per year and depends on the amount of excess reserves and the fed funds rate.
The amount of excess reserves has been steadily declining while the Federal Reserve decreased its balance sheet and slowed the growth in interest on excess reserves (IOER). So banks have less incentive to keep their money at the Federal Reserve (see chart below from FRED). Excess reserves have been declining, but the IOER has risen, so banks are still being paid by the Federal Reserve at the same rate (from taxpayer money). What is interesting to notice is that while excess reserves are declining, the deposit to loan ratio isn't declining, which means that the banks aren't lending out quickly enough. As the yield curve approaches zero (green line), this could mean trouble for the net interest income of banks because banks would pay more interest on deposits than they receive from loans.

On the following chart, you can see that the gap between IOER and the effective fed funds rate has been narrowing. The Federal Reserve is trying to get the amount of excess reserves down so it can start paying less to the banks (see chart below from FRED).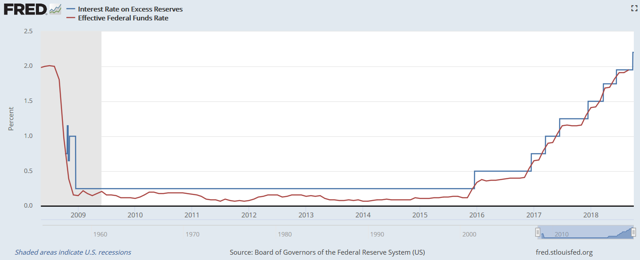 To summarize, the Federal Reserve has $100 billion in income per year and pays out $30 billion per year to the banks via IOER, which leaves approximately $70 billion that is being remitted to the treasury per year (see chart below from FRED). This trend is going to keep declining because of QT (less income) and because of the increase in IOER (more costs).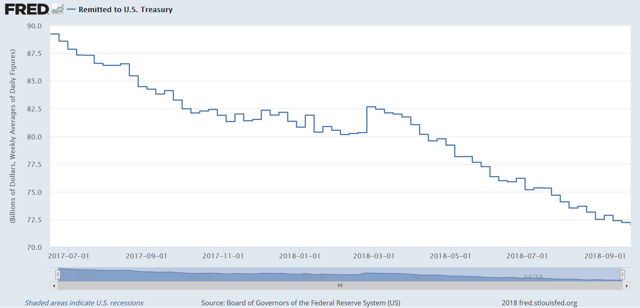 The big question is: How long can this continue before something snaps?
The first thing to look at is obviously the 10-year bond yield (see chart below from Bloomberg). As the Federal Reserve shrinks its balance sheet, it needs to dump treasuries and mortgage securities onto the market or let it mature. This will push up bond yields and mortgage rates. Considering the fact that the Federal Reserve has only managed to shed off 5% of its balance sheet in 2018, bond yields have already risen by 1%. So I don't expect that QT will last very long.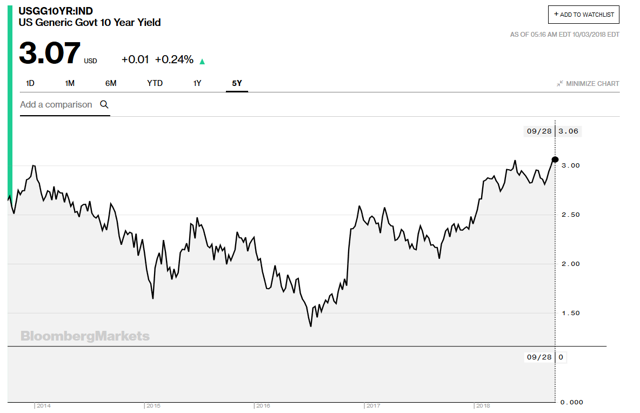 This rise in bond yields is already putting pressure on the housing market. Lumber prices (leading indicator for home prices) are falling and pending home sales were down for 7 straight months.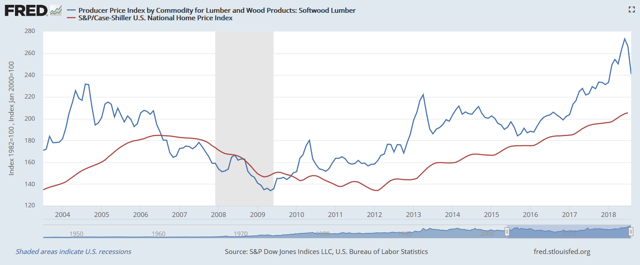 Higher bond yields also add to the losses on the securities of the Federal Reserve which can be found here. The net unrealized losses already amount to $42.6 billion (see chart below from FRED).

My take is that when the amount of remittances to the treasury (currently at $70 billion and decreasing) meet the amount of unrealized losses (currently at $42.6 billion and increasing), the Federal Reserve will pull the alarm bell. This will occur when bond yields approach 4% while the Federal Reserve continues with QT at the same pace. Moreover, when the balance sheet shows unrealized losses, the Federal Reserve cannot sell its securities, it will need to let it mature. So the Federal Reserve really has a big problem to meet its goal of reducing its balance sheet at the current pace of $50 billion per month.
I will continue to monitor this while it unfolds.
Disclosure: I/we have no positions in any stocks mentioned, and no plans to initiate any positions within the next 72 hours. I wrote this article myself, and it expresses my own opinions. I am not receiving compensation for it (other than from Seeking Alpha). I have no business relationship with any company whose stock is mentioned in this article.