Che bella cosa na jurnata 'e sole,
n'aria serena doppo na tempesta!
Pe' ll'aria fresca pare già na festa...
Che bella cosa na jurnata 'e sole.

(English Translation:
What a beautiful thing is a sunny day.
The air is serene after a storm,
The air is so fresh that it already feels like a celebration.
What a beautiful thing is a sunny day.)
Unfortunately, Luciano Pavarotti is no longer with us, and without him, his beloved Italy is not as shining as it was at the time he left this world, eleven years ago (The greatest tenor passed away on September 6th, 2007).
Italy (EWI) continues to make the headlines this morning. Following the past few days carnage that saw prices of both Italian stocks and bonds collapsing, it seems like Rome is trying to lower the flames today with reports the country may cut its budget deficit to 2% as early as 2020, a faster pace than previously thought.
The shift happened on the heels of the country's 5-year default probability jumping to almost 21% as Deputy PM Luigi Di Maio said yesterday that the Italian government will not retreat by even a "millimeter" from its 2.4% budget deficit target.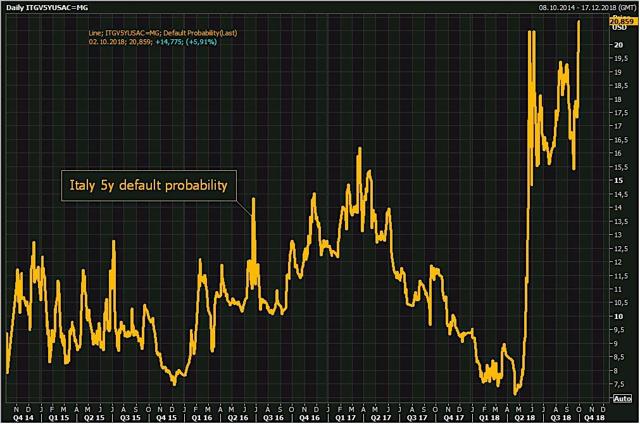 So he said...
As we all know, just like actions talk louder than words, markets talk much louder than promises; especially those made by Italian politicians these days.
Italian assets are breathing a sigh of relief with equities reversing early losses as the leading FTSE MIB index is now up 1.3%. The Euro (FXE) rebounded (albeit slightly) from six-week lows, and the yield on Italy 10-year bond is down 12bps (at the time of writing) to 3.35% from yesterday's peak at 3.47% - the highest level since 2014.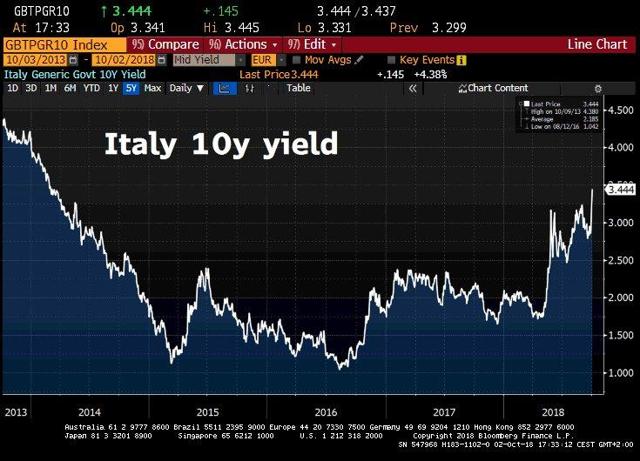 Allow me to be blunt and say one word: Ridiculous!
I see very little odds for Italy being able to stave off its problematic debt blowout as early as in 2020 (or at all, i.e. foreseeable future).
As the Italian government is due to discuss budget later in session, the target deficit falling to 2.2% of GDP in 2020. This is, in my opinion, a temporary move that won't hold for too long.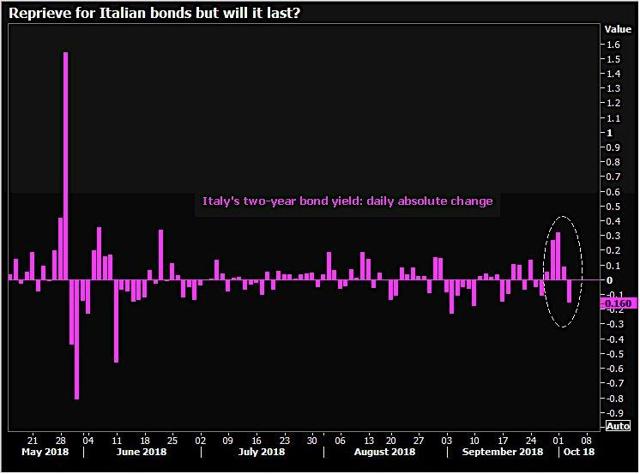 Why temporary? Because the boot country, currently led by a right-wing, anti-EU, government doesn't, can't, and won't comply with the EU/ECB requirements. Doing so will be nothing short of shooting themselves in their own... boots. This is neither warranted politically, nor in line with their economic agenda.
Don't believe (or agree with) me? Perhaps you'll find it easier to do so after listening to Claudio Borghi, one of the League party lawmakers, who just said - loud and clear - in a radio interview:
I'm truly convinced that Italy would solve most of its problems if it had its own currency
The Italian 2-year bond spread is down even more, ~25bps, as the government is said to reduce budget deficit targets for 2020 and 2021.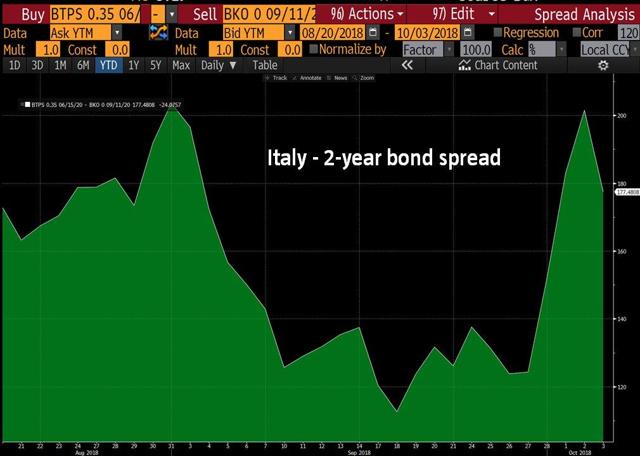 Folks, let's not mix hopes with facts, expectations with abilities, fantasy with reality.
1. Stock prices of Italian banks - UniCredit (OTCPK:UNCFF, OTCPK:UNCRY), Intesa Sanpaolo (OTCPK:IITOF, OTCPK:ISNPY, OTCPK:IITSF), etc. - are down almost 15% over the last couple of days, since last Thursday.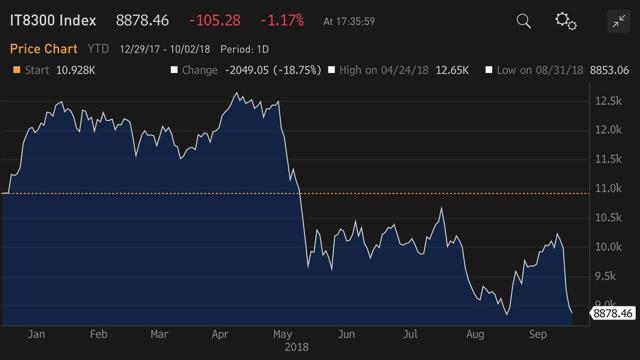 2. Since its late January 2018 peak, the iShares MSCI Europe Financials ETF (EUFN) has lost almost 1/4 of its value, led by banks like BBVA (BBVA) and Deutsche Bank (DB).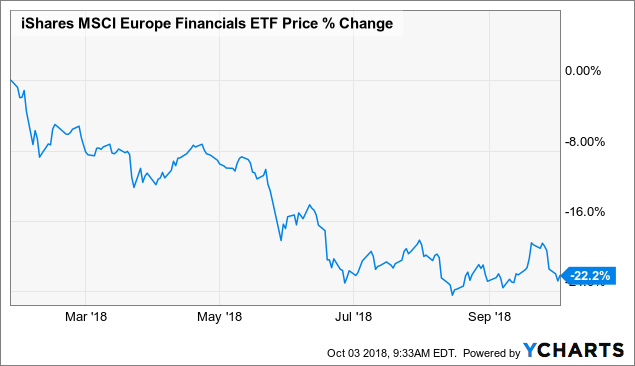 3. Italian 10-year bonds are yielding the most relative to similarly dated German (EWG) debt since 2013.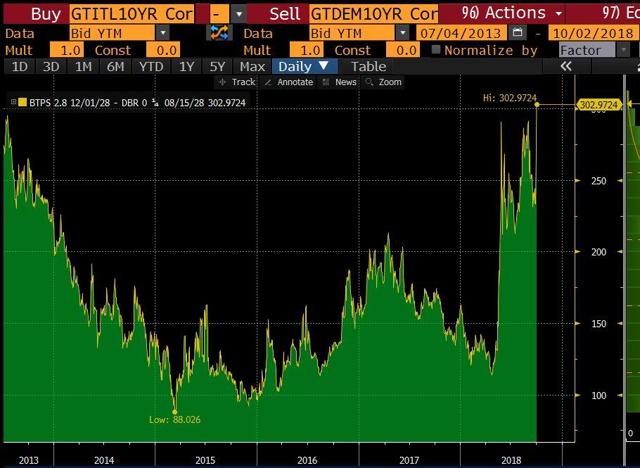 4. Italian 10-year bonds are yielding the most relative to Spanish (EWP) bonds since the beginning of 2012.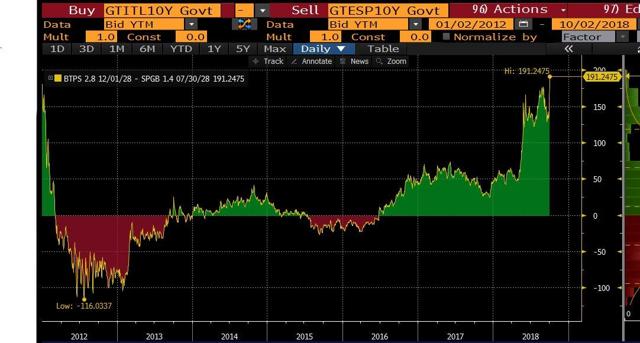 5. Italian 10-year bonds are yielding the most relative to Portuguese (PGAL) debt in decades.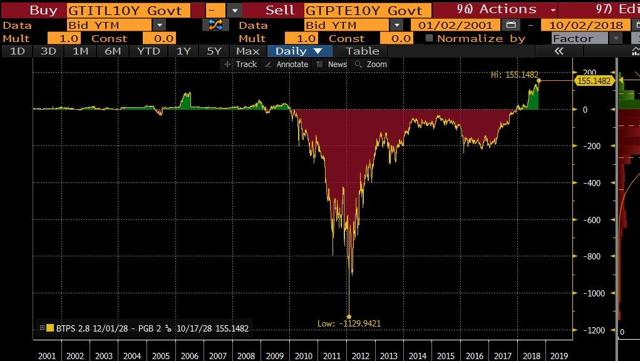 Last but not least, investors should ask, is an inflationary shock just around the corner for Europe (VGK, EZU)?
Yields have spiked as populists clash with the EU/EC over budget
The ECB balance sheet is at an all-time high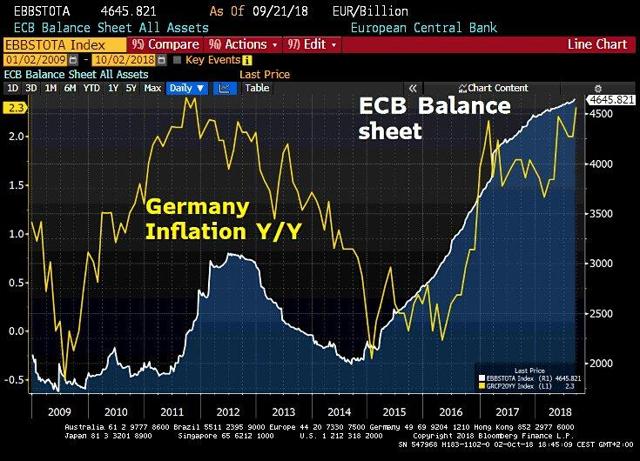 Truth is, it's hard, if not impossible, to remain optimistic about Europe as a whole, or about Italy specifically. So, we don't... and neither should you!
Author's note: Blog post notifications are only being sent to those who follow an author in real time. In order to receive notifications for both articles and blog posts, go to Author Email Alerts, which lists all the authors you follow, and turn on "get e-mail alerts" (see below).


The Wheel of FORTUNE is one of SA Marketplace's most comprehensive services. We view our service as a "supermarket of ideas" with an emphasis on risk management and risk-adjusted returns.
We cover all asset-classes: common stocks, preferred shares, public debts, baby bonds, options, currencies, and commodities.
With Trapping Value on-board, you're getting two leading authors for the price of one.
Before committing to the service on a long-term basis, take advantage of the two-week free trial.
Disclosure: I/we have no positions in any stocks mentioned, and no plans to initiate any positions within the next 72 hours. I wrote this article myself, and it expresses my own opinions. I am not receiving compensation for it (other than from Seeking Alpha). I have no business relationship with any company whose stock is mentioned in this article.
Editor's Note: This article discusses one or more securities that do not trade on a major U.S. exchange. Please be aware of the risks associated with these stocks.