On Tuesday, I penned something for this platform called "It's The Oil Stupid", which actually garnered quite a bit more in the way of interest than I expected.
The point of that post was simply to highlight some recent commentary from JPMorgan's Nikolaos Panigirtzoglou, who has variously suggested that whatever bullish bond impulse (i.e., fixed income accumulation) might result from higher revenues for oil exporters will be more than offset by a bearish impulse (i.e., dearth of fixed income buying) from oil consumers, who will see their capacity to save eroded by higher crude prices.
That's not a new thesis for Panigirtzoglou. He's presented it on at least a couple of occasions before, but I thought it was particularly germane in the current environment because over the past month, rising crude prices (USO) have helped catalyze a recovery in commodities and that's been accompanied by rising Treasury (TLT) yields. Here's the Bloomberg commodities index plotted with 10-year U.S. yields:

(Bloomberg)
Panigirtzoglou is basically arguing that while it's tempting to attribute the relationship between oil (and, by extension, commodities more generally) and Treasury yields to inflation expectations, there's a bearish fixed income impulse at play involving less savings to recycle into bonds from oil consumers.
For bond traders, that's just one more thing to consider at a time when the list of potential drivers for rates is seemingly getting longer by the day.
At the tail end of the post linked here at the outset, I quoted Panigirtzoglou on the read-through for equities. Here is the expanded version of the truncated quote I used in that piece:
What about the impact of higher oil prices on equity markets? The rise in oil prices should in principle create a positive flow into equity markets this year via increased SWF accumulation and increased share buybacks by oil companies. But this additional equity flow is likely to be negligible this year. It looks like close to 95% of this year's oil revenue by oil-producing countries is going to imports and less than $100bn is being saved. And almost all of this $100bn appears to be taking the form of FX reserve rather than SWF asset accumulation implying no more than $15bn of equity buying this year, down from $30bn last year. Increased share buybacks by oil companies should offset this reduction. Therefore, it seems that despite significantly higher oil prices, the net change from last year in overall equity buying is rather small.
As it happens, one of Nomura's quants was out on Tuesday with an interesting piece that looks at the relationship between rising crude prices and equity demand from the perspective of CTAs (i.e., trend following strategies) and I wanted to take a second to bring it to readers' attention. Nomura also touches on the sovereign wealth fund point made by Panigirtzoglou and I'll briefly discuss that as well.
On the CTA point, Nomura suggests that despite evidence of large block trades pushing crude higher over the last couple of sessions, CTAs are likely providing a consistent bullish impetus.
Although the bank says CTAs likely have more in the way of dry powder to deploy in pursuit of the trend higher, other specs may be attempting to pare their exposure in anticipation of a pullback considering how quickly crude has risen (in other words, they're taking profits).
Ok, so in light of the above, one might reasonably ask whether CTAs' good fortune in crude will embolden them to take more risk in other assets. For Nomura, the answer is "yes", or at least "probably". To wit, from the note mentioned above:
Because of CTAs' improved performance their willingness to take risks has risen. For CTAs with the commodity futures market one of their most active areas of trading, good performance in crude oil trading tends to prompt more aggressive trend following trades in other asset classes.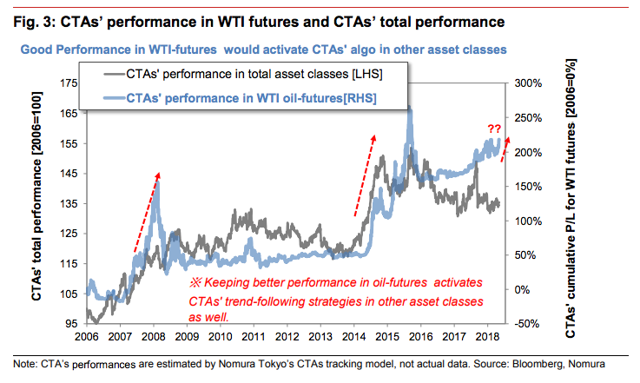 Needless to say, CTA activity tends to be to a certain extent self-feeding. They can turbocharge moves on the way up and exacerbate the situation during selloffs, so if recent improved performance in commodities does indeed "activate CTAs' algo in other asset classes" (to quote Nomura), that could potentially be bullish for equities.
On the SWF point mentioned above, Nomura has a slightly more optimistic take than JPMorgan in terms of the read-through for wealth funds from higher crude prices. JPMorgan essentially argues that whatever is left over from the oil windfall after funding imports will be spent on FX reserve accumulation, not on risk assets in SWFs.
Remember, Norway's SWF is the largest such piggybank in the world with over $1 trillion in AUM. If you're not familiar, just note that Norway owns, on average, 1.4% of the world's listed stocks. And no, that is not a typo.
I don't want to get into a deep-dive on that here, but suffice to say Norway has ratcheted up their allocation to equities over the past couple of years, despite (and arguably because of) the downturn in crude, which forced the government to tap the fund (to plug fiscal gaps) for the first time in history back in 2016. Well, in June, Norway made the first deposit into the SWF since 2015 thanks to the recovery in oil prices.
With that as the context, consider this from Nomura:
Risky investments by some sovereign wealth funds (SWFs) are likely to rise with resource-related revenues increasing. In particular, so-called "oil money" such as in Norway or the Middle East tends to encourage these countries to take risk-seeking stances, along with steadily increasing crude oil prices. If the rise in crude oil prices can be sustained, we would expect "oil money" investors to increase their exposure to the global equity market such as in Japanese stocks toward the end of this year.
The takeaway here is that, on the margin, rising crude prices could prompt risk asset (e.g., stocks) buying by CTAs and SWFs.
I want to be clear here in noting that the Nomura piece cited above is not particularly expansive. Rather, the point is simply to flesh out the implications of rising crude prices for equities via the possible impact of an oil rally on trend-following strats and SWFs.
At the margin, both of those bids could help support stocks, although obviously, you need to think about this in the broader context, where that means appraising the relative merits of, for instance, EM equities at a time when the fundamentals for the space are still sour and/or U.S. stocks at a time when benchmarks are already at records and multiples are stretched.
In other words, the above is simply meant to help investors when it comes to taking a holistic view of markets, by drawing your attention to a couple of dynamics that you might not otherwise be attuned to.
Disclosure: I/we have no positions in any stocks mentioned, and no plans to initiate any positions within the next 72 hours. I wrote this article myself, and it expresses my own opinions. I am not receiving compensation for it (other than from Seeking Alpha). I have no business relationship with any company whose stock is mentioned in this article.