REIT Rankings: Shopping Center
In our REIT Rankings series, we analyze each of the major real estate sectors. We rank REITs within the sectors based on both common and unique valuation metrics, presenting investors with numerous options that fit their own investing style and risk/return objectives. We update these rankings every quarter with new developments.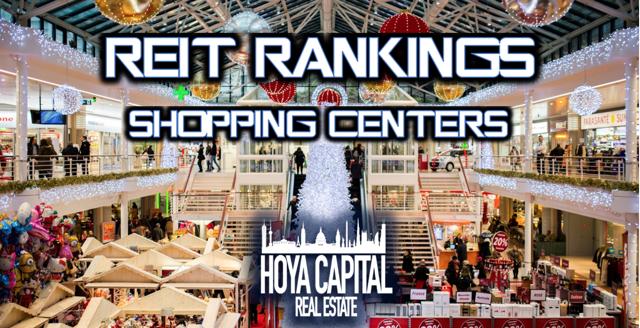 We encourage readers to follow our Seeking Alpha page (click "Follow" at the top) to continue to stay up-to-date on our REIT rankings, weekly recaps, and analysis on the commercial and residential real estate sector.
Shopping Center REIT Overview
Distinct from their enclosed mall REIT peers, shopping center REITs comprise roughly 6-8% of the REIT ETFs (VNQ and IYR). Within the Hoya Capital Shopping Center Index, we track the eleven largest shopping center REITs, which account for roughly $50 billion in market value. American Assets (AAT), Acadia Realty (AKR), Brixmor (BRX), DDR (DDR), Federal Realty (FRT), Kimco (KIM), Regency Centers (REG), Retail Opportunity (ROIC), Retail Properties of America (RPAI), Urban Edge (UE), and Weingarten (WRI).

We separate the space into three categories: power/strip centers, grocery-anchored centers, and street-level urban retail. Grocery-anchored centers have historically commanded premium valuations relative to power centers, a premium that has expanded in recent years as e-commerce has encroached on the competitive positioning of many "big-box" retailers that reside in power centers. Shopping center REITs have been proactive in recent years in transforming the tenant mix into a more "experience-oriented" portfolio that is less threatened by disintermediation.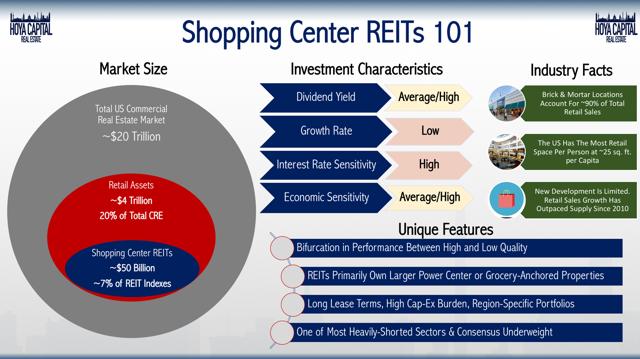 The retail landscape remains challenging for both retailers and retail REITs. Anemic wage growth during the recession, combined with the rise of e-commerce, has forced many large retailers to halt expansion plans and redeploy capital towards their e-commerce platform. Overdevelopment of retail space in the lead-up to the recession, particularly in less desirable trade areas, has left an overhang of supply that remains partially unfilled. Additionally, "big-box" retailers now desire less square footage in new and existing stores, requiring many REITs to redevelop and " de-box" properties. Same-store NOI growth for shopping center REITs has lagged the REIT average in every quarter since 2005.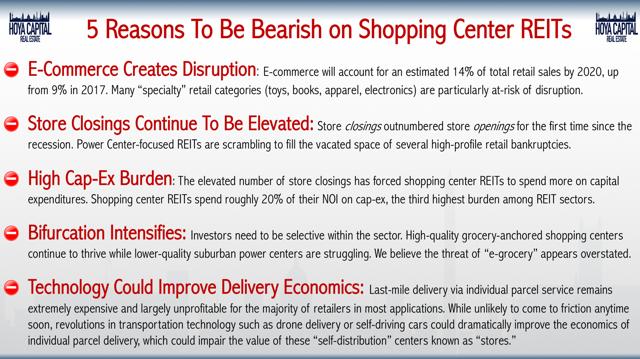 High-quality shopping centers, however, continue to see steady demand for centrally-located retail space. Powered by tax cuts and the resulting economic reaccleration, retail sales are on-pace for their best year since 2012, led by the resurgence in brick and mortar sectors. Until last-mile individual parcel delivery proves that it can be a sustainable (and non-subsidized) superior value proposition for consumers and be a true improvement in economic productivity, the "self-service distribution system" of a store will continue to be the central hub of retail sales.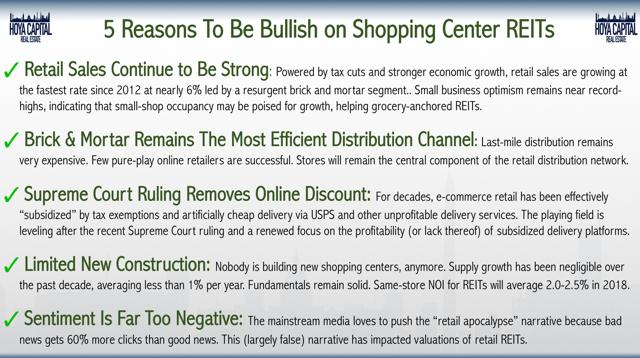 Recent Stock Performance
Since the start of the Modern REIT Era in 1994, shopping center REIT performance has lagged the broader REIT average by roughly 130 bps per year, a common theme among sectors with a higher-than-average capital expenditure burden. Between 1997 and 2017, the sector has returned an average of 10.9% per year compared to the 12.2% average annual return on the NAREIT All Equity REIT index. The sector has finished in the top-half REIT sub-sector annual returns just three times over the last ten years.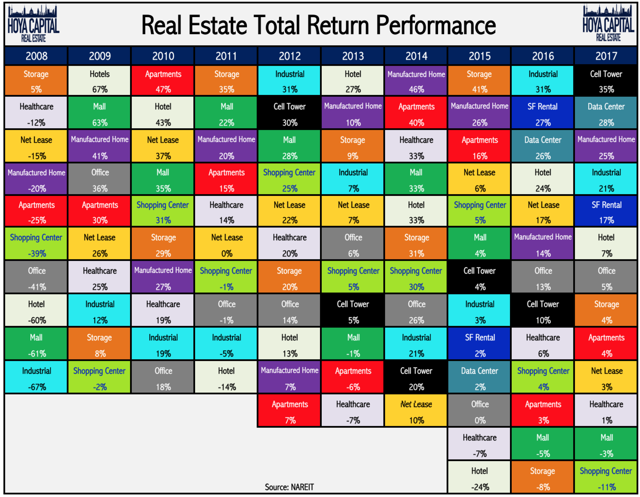 Despite the fundamental improvement that we'll discuss below, shopping center REITs have continued to lag the REIT average in 2018. The sector is lower by 9% this year, the worst-performing REIT sector. As one of the most interest-rate-sensitive sectors, the headwinds from the significant 76 basis point surge in the 10-Year yield has so far outweighed the positive tailwinds from resurgent retail sales data and an improving long-term outlook for the brick and mortar sector. Perhaps most disappointing has been the significant underperformance relative to the non-REIT retail sector (XRT), which has climbed 9% this year.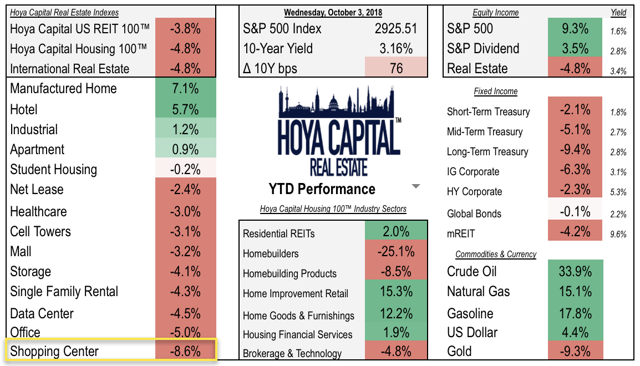 Over the last 52 weeks, we have seen continued bifurcating performance between the higher-quality and lower-quality portfolios. Regency and Federal Realty have been among the top-performers while Kimco, Urban Edge, Brixmor, and have been among the worst performers. Notably, DDR's spin off of Retail Value Trust (RVI) was completed in June and was relatively received by DDR investors.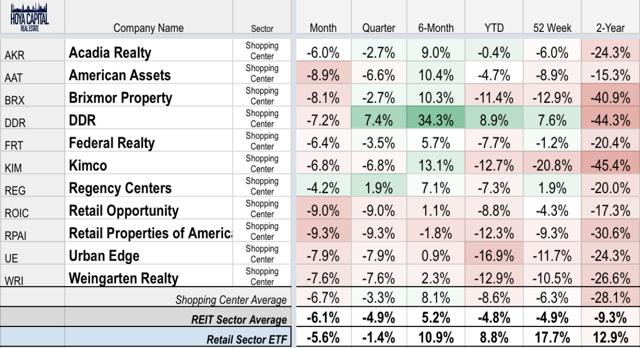 Recent Fundamental Performance
2017 was a downright dismal year for the shopping center sector. A stretch of disappointing earnings results, sputtering retail sales, elevated store closings, and seemingly endless downward guidance revisions sparked the 'retail apocalypse' sentiment that still lingers into 2018. The elevated level of big-box closings in 2017, combined with the Toys R Us bankruptcy in early 2018, continue to have a particularly negative effect on power center REITs.
The first two quarters of 2018, however, have seen a positive inflection in most critical metrics. In 2Q18, six of the eleven REITs saw acceleration in same-store NOI growth, which climbed from 2.4% to 2.6% in the quarter, the best since 2016. Three REITs (FRT, KIM, REG) raised full-year NOI guidance. At 2.4%, full-year guidance appears far too conservative given the expectation of a record holiday retail season.

Occupancy ticked higher by 10 basis points from last year to 95.1%, but small-shop occupancy remains stubbornly stagnant at 88.3%, a dip of 30 basis points from last year, a surprise given the surge in small business optimism over the last two years. Leasing spreads continue to be robust for the high-quality grocery-anchored centers at nearly 10%, but have decelerated for the lower-quality segments to an average of 7%. If we see a slowdown in store closings this year (which we expect, based on the robust pace of retail sales), we expect to see moderate occupancy gains and a modest acceleration in same-store NOI growth in 2018.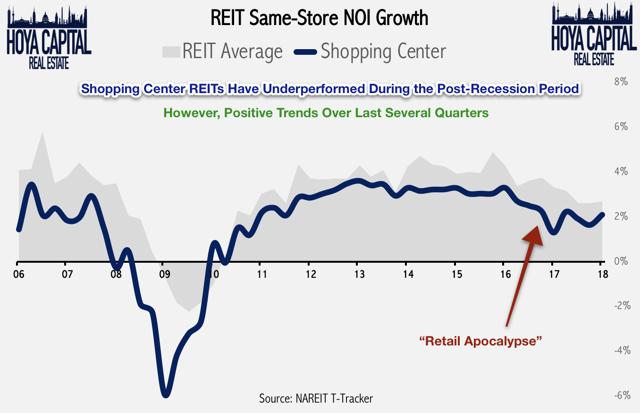 Consistent with the broader REIT average, NOI growth has inflected higher since bottoming in 2017. Retail REITs saw the most significant acceleration in same-store NOI from 1Q18 to 2Q18, as measured on a TTM basis according to the NAREIT T-Tracker.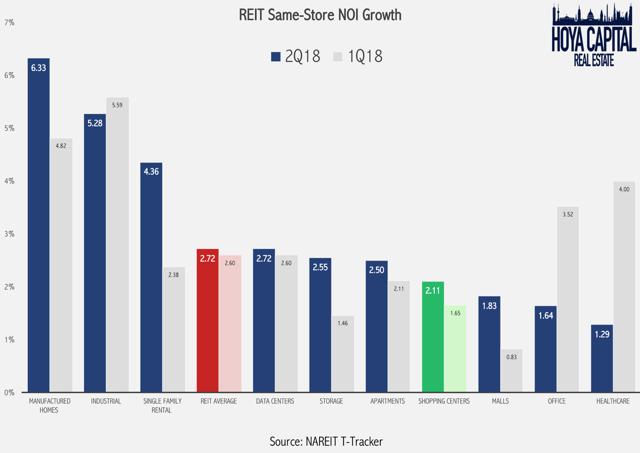 Capital Markets & Property Development
As discussed in our mall REIT quarterly update, a sharp disconnect has persisted between private market valuations of retail assets and the REIT-implied valuation. Analyst consensus is that lower-quality shopping center assets have depreciated 10-20% over the last two years while higher-quality asset valuations have remained relatively flat. Shopping center REITs now trade at an estimated 10-20% discount to private market values. The persistent NAV discount has forced these REITs to be net sellers since the end of 2015.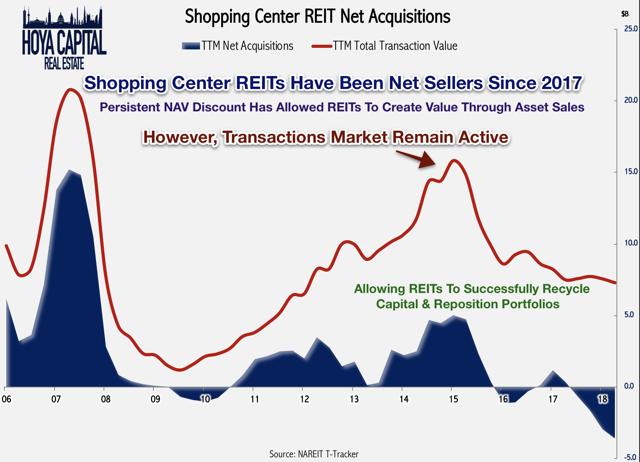 Many REITs reported increased capex and tenant improvement allowances, a function of the changing retail landscape and a potential drag on FFO growth. The retail development pipeline, however, remains muted as new ground-up development remains almost non-existent across the shopping center space. As outlined above, the lack of new supply growth has been a saving grace for the sector. While other REIT sectors are dealing with the effects of significant new development, supply growth in the retail space has averaged less than 0.5% per year since the recession.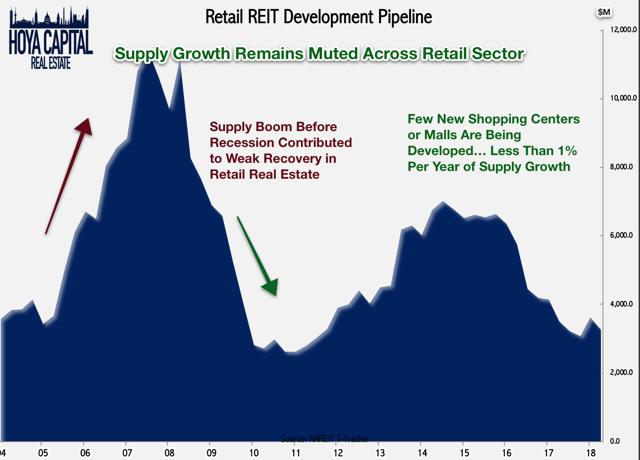 Deeper Dive: Retail Outlook & Recent News
While the financial media was relentlessly pushing the retail apocalypse narrative, we've been discussing for several quarters that retail sales data has actually been solid and accelerating following a downturn from 2015 through late 2017. Retail sales, particularly in the traditional brick and mortar categories, continued their positive momentum in August. On a trailing twelve-month basis, growth in total retail sales climbed 5.5% to the strongest rate since late-2012. After slowing from 2012 through 2016, retail sales growth has mounted a solid recovery. Again, there is mounting evidence that tax cuts have strengthened the spending capacity and willingness of the American consumer. Brick and mortar sales rose 4.2% on a TTM basis while nonstore (e-commerce) sales ticked sideways at roughly 10%.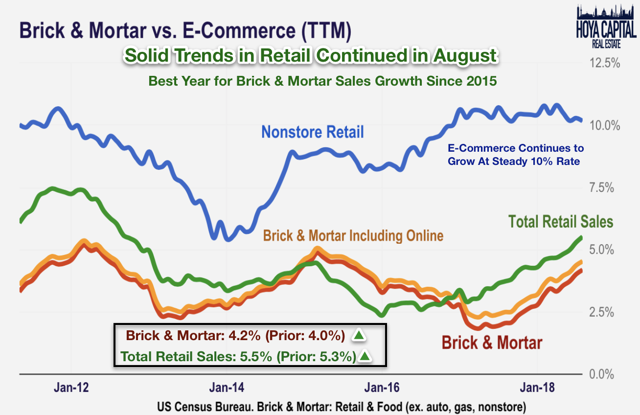 On a TTM basis, six of the ten brick and mortar categories ticked higher on the month. As a whole, the services, food-based, and discount retailers continue to thrive, but the recent story has been the surprising reacceleration in the beaten-down retail categories including clothing, electronics, and health and beauty. Redbook Retail Sales data noted a robust 6.3% YoY rise in same-store retail sales, a trend that has been confirmed by recent retail earnings reports.

Most importantly for shopping center REITs, retail hiring has picked up over the past twelve months after a dismal stretch through 2017. We believe that retail hiring data is a more useful indicator of demand for retail real estate space than data from private providers on store openings/closings which tend to reflect only a small subset of retailers. Recent strength in inflation-adjusted retail sales also indicates that retail job growth should be robust in 2018 if past trends hold.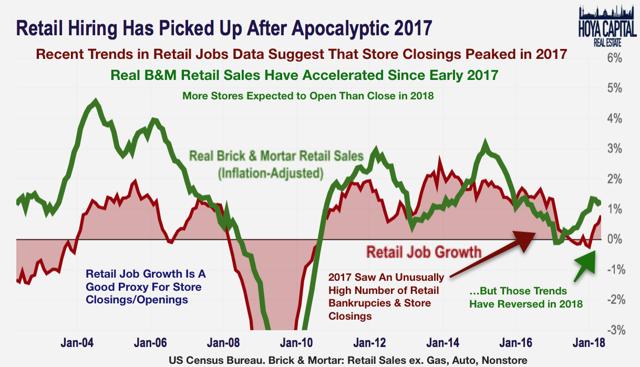 Elevated levels of store closings, however, continue to be an issue as just a handful of retailers are in growth mode amid a broader trend of rationalization of their brick and mortar presence. 2017 was the first year since the recession that saw a decline in the total number of stores in the US, but the decline was quite modest considering the headlines citing a "retail apocalypse." According to Coresight Research, store closings are down 30% YTD compared to the same time last year among major retailers. Total net openings, which include smaller retailers and restaurants, has seen a mild net gain in 2018 based on our estimates.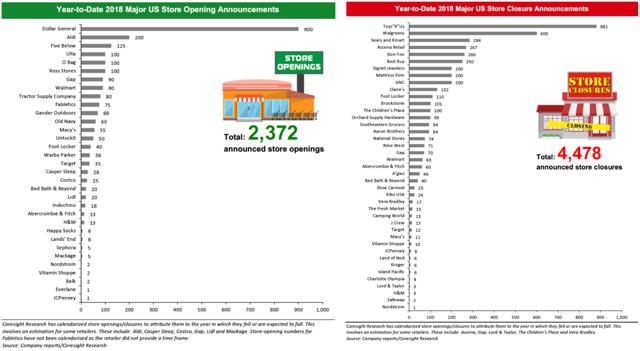 Over the last several months, however, there are mounting signs that the tide may be shifting on retail appetite for expanding their brick and mortar presence. Most notably, Amazon (AMZN) is reportedly considering opening as many as 3,000 stores by 2021. For reference, that would be more stores than Target (TGT), Costco (COST), and Best Buy (BBY) combined. The lines between e-commerce and brick and mortar continue to be blurred as retailers increasingly recognize the value of a well-executed omni-channel retail strategy. Also notable are the reports of a potential revival of Toys R Us brand, which made a somewhat surprising decision to close their 800 US stores earlier this year. According to the reports, controlling lenders see potential to create "a new, operating Toys 'R' Us and Babies 'R' Us branding company that maintains existing global license agreements and can invest in and create new, domestic, retail operating businesses."
Valuation of the Shopping Center REITs
Despite the recent underperformance, shopping center REITs appear only moderately attractive across cash flow-based valuation and Net Asset Value metrics. Shopping center REITs trade roughly in line with the broader REIT Free Cash Flow (aka AFFO, FAD, CAD) average. When we factor in two-year growth potential, the sector appears mildly expensive relative to other sectors. Using an aggregation of analyst estimates of NAV, we see that shopping center REITs trade at a roughly 10% discount to NAV.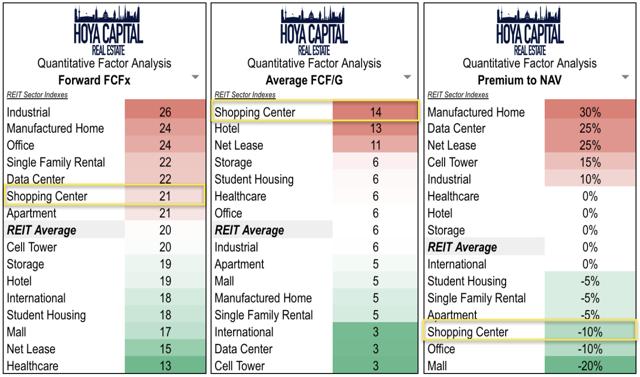 Similar to the mall sector, there is a significant bifurcation in valuation metrics between higher-quality and lower-quality REITs. The high-quality names, including Acadia, Federal Realty, and Regency, command significant premiums to the average. Lower-quality names, including Brixmor, DDR, Retail Properties of America, and Weingarten, trade at sizable discounts.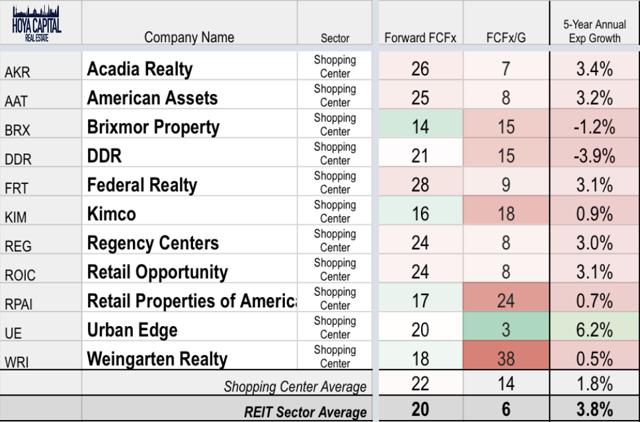 Interest-Rate & Equity Sensitivity
More bond-like than their mall REIT cousins, shopping center REITs are quite sensitive to movements in Treasury yields, a function of their long lease terms, high dividend yields, and relatively limited growth trajectory. Interestingly, the sector is also sensitive to movement in equity markets, reflecting the importance of the retail sales outlook on operating performance.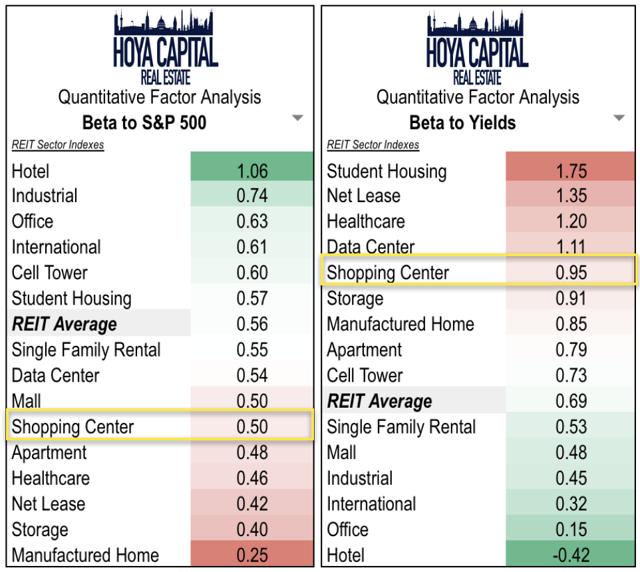 We separate REITs into three categories: Yield REITs, Growth REITs, and Hybrid REITs. (Click to read more information about our methodology).

As a sector, shopping center REITs straddle the line between the hybrid and yield REIT category. As we see below, the high-quality grocery-anchored centers have higher interest rate sensitivity while the lower-quality power-center REITs are more levered to an improving economy, reflected in the higher sensitivity to equity market movement.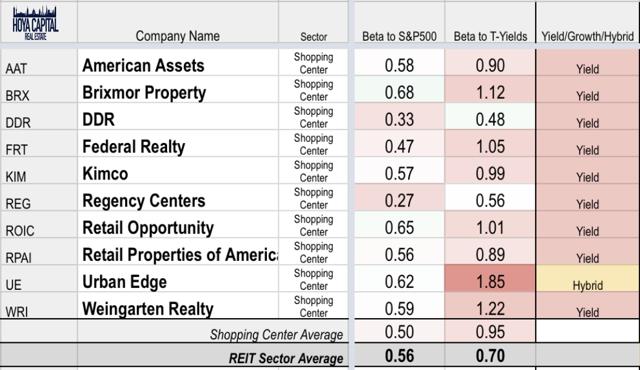 Dividend Yield and Payout Ratio
Shopping center REITs are one of the highest-yielding REIT sectors, paying an annualized dividend yield of 4.6%, above the REIT average of around 4.0%. To do so, though, these REITs payout more than 95% of their available free cash flow, limiting their flexibility to deploy the capital towards redevelopment, acquisitions, or increased dividends.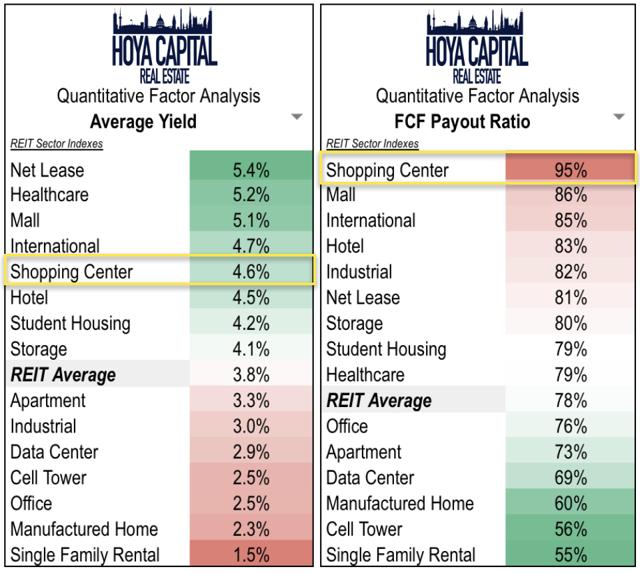 Within the sector, we note quote a bit of divergence in dividend yield, which is inversely related to the quality of the underlying portfolio. Kimco pays the highest yield of nearly 7% while American Assets pays a yield of just 2.9%. Several REITs are paying dividend yields above their 2017 free cash flows, so investors should expect more modest dividend growth from these REITs in future years.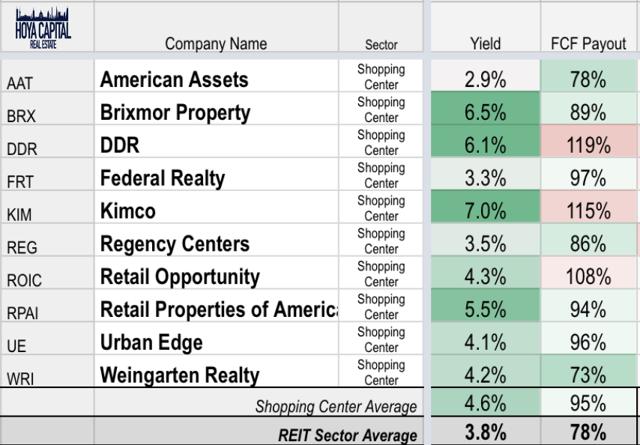 Bottom Line: One Step Forward, One Step Back
Retail sales are on-pace for their best year since 2012, but shopping center REITs haven't gotten the notice. Despite strong recent performance, the sector is still down 9% in 2018. While ground-level fundamentals have inflected higher in recent quarters, the headwinds of rising interest rates and big-box bankruptcies has largely negated the positive economic tailwinds.
The long-term outlook for well-located retail centers, however, remains very solid. Amazon is reportedly planning to open as many as 3,000 brick and mortar stores over the next four years. It's no "retail apocalypse," but there's little doubt that e-commerce and demographic trends continue to weaken the outlook for lower-productivity retail assets, particularly in rural markets encumbered by slower economic growth. Absent a revolution in last-mile delivery technology, high-quality retail stores will continue to be the center of retail distribution. Physical stores are the cheapest and most economically efficient distribution center.
Be sure to check out all of our reports to see how each real estate sector stacks up: Healthcare, Net Lease, Malls, Industrial, Single Family Rentals, Data Center, Apartments, Cell Towers, Manufactured Housing, Industrial, Hotel, Office, Industrial, Storage, Homebuilders, and Student Housing.
Please add your comments if you have additional insight or opinions. Again, we encourage readers to follow our Seeking Alpha page (click "Follow" at the top) to continue to stay up to date on our REIT rankings, weekly recaps, and analysis on the REIT and broader real estate sector.
Disclosure: I am/we are long VNQ, SPY, REG. I wrote this article myself, and it expresses my own opinions. I am not receiving compensation for it (other than from Seeking Alpha). I have no business relationship with any company whose stock is mentioned in this article.
Additional disclosure: All of our research is for informational purposes only, always provided free of charge exclusively on Seeking Alpha. Recommendations and commentary are purely theoretical and not intended as investment advice. Information presented is believed to be factual and up-to-date, but we do not guarantee its accuracy and it should not be regarded as a complete analysis of the subjects discussed. For investment advice, consult your financial advisor.
Editor's Note: This article covers one or more microcap stocks. Please be aware of the risks associated with these stocks.