Weekly Edge: Jobs Report Beats Expectations
Includes:
DDM, DIA, DOG, DXD, EEH, EPS, EQL, FEX, FWDD, HUSV, IVV, IWL, IWM, JHML, JKD, OTPIX, PSQ, QID, QLD, QQEW, QQQ, QQQE, QQXT, RSP, RWM, RYARX, RYRSX, SCHX, SDOW, SDS, SFLA, SH, SMLL, SPDN, SPLX, SPUU, SPXE, SPXL, SPXN, SPXS, SPXT, SPXU, SPXV, SPY, SQQQ, SRTY, SSO, SYE, TNA, TQQQ, TWM, TZA, UDOW, UDPIX, UPRO, URTY, UWM, VFINX, VOO, VTWO, VV
by: Invest With An Edge
By Troy Tanzy
The U.S. private sector, according to the ADP Research Institute, added 230,000 jobs in September. The report largely beat economists' expectations of 185,000, signaling continued strength in the U.S. economy and its labor market. Unemployment continues to steadily fall. Moody's Analytics chief economist Mark Zandi said that, at the current pace, unemployment will fall near 3% next year.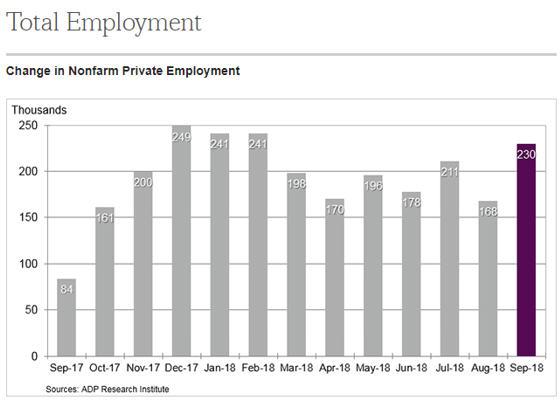 The primary driver of September's additions was the Service sector, which accounted for 184,000 jobs, as reported by the Financial Times. Most of those jobs (70,000) came from professional and business services, and 44,000 were in education and health services. The Information sector was the only sector to experience a reduction in jobs (-3,000). The remaining 46,000 jobs came mostly from the construction industry, according to The Wall Street Journal.
Midsized businesses (50-499 employees) experienced the strongest jump in jobs (99,000), followed by large businesses (500 or more employees), which added 75,000 jobs. This is promising, as the lion's share of jobs did not go to large multinational corporations.
The report measures 24 million U.S. workers using real payroll data from ADP and is largely recognized as a key metric in the health of the labor market. The Bureau of Labor and Statistics is scheduled to release a jobs report of their own on Friday, and it is also expected to be positive.
The Federal Reserve will be closely watching the Bureau of Labor and Statistics jobs report as well, looking for support for its rate hike in September and its plan to raise rates through next year. Financial markets are positive on the news, as uncertainty about the U.S. economy seems to have subsided a bit following the report.
Sectors: Among the Sector Benchmark ETFs, the average momentum score decreased from 13.36 to 10.45, signaling an overall decline in sector strength. Notably, Real Estate, Materials, and Financials are now showing negative scores for the week. Not all sectors declined, however; Health Care, Energy, Telecom, and Utilities all increased this week, albeit only slightly. Technology remained flat and continues to be the second-strongest sector, according to our methodology. Financials lost the most ground last week, moving from 8 to -7.
Factors: Among the Factor Benchmark ETFs, the average factor score decreased from 16.50 to 12.83. All but one factor declined for the week, showing that overall factor investment strength may be waning. Momentum moved up just 1 point this week and remains at the top of the list. Momentum, Quality, and Yield are still the top three holdings (though the order did change a bit), and Small Size remains at the bottom.
Global: Global Benchmark ETF momentum decreased this week from 1.91 to 0.27, but the declines were not even across all geographical regions. Japan ticked up and is now at the top, followed by the United States, which fell just 3 points. In other regions, Latin America skyrocketed from -3 to 14 and is now the third-highest region. China and the Emerging Market regions are still at the bottom, losing a bit each. We will be looking for the U.S. to add a few points going into next week as strong jobs data signaled a renewed optimism in the domestic economy.