By Jerry Wagner
I've always loved bridges. Their ability to connect two land masses, allowing people to explore what's on the other side, has continually captivated me.
Here in Michigan, we have the longest suspension bridge (between anchorages) in the world. The Mackinac Bridge, or "Big Mac," is a gorgeous structure that connects the lower and upper peninsulas of Michigan and opens the land of Hiawatha and "Yoopers" to all of the city folk down south.
Another suspension bridge that I am blown away by is the Bosphorus Bridge in Istanbul (now called the 15 July Martyrs Bridge). It connects Europe to Asia (and, of course, vice versa). The view of the structure from any angle is magnificent. The picture above is the view I had as I sat at a family dinner at a small café on the European side. But it is equally stunning when you are sailing down the Bosphorus on holiday.
My mind drifted back to these bridges when I was working on a webinar last week, and I recalled how they have expanded our world. The webinar addressed the importance of having most of one's portfolio invested in a core.
The core is what keeps an investor in the game, capturing the beta (market return) of a diverse group of asset classes. Since it is tailored to a given level of risk, it can be customized to each investor.
We tried to make a number of points in the webinar. First, a core, like any other portfolio, should be diversified. Why use only the buy-and-hold strategy to make up a core? A dynamically risk-managed core adds a defensive strategy to the diversity of the traditional buy-and-hold core. Both types should be in a portfolio. Utilizing a buy-and-hold core only fails to incorporate a plan B for when the current bull market ends.
Furthermore, diversifying the methodology used in the strategies of the dynamically risk-managed portion of the core delivers multiple risk-management approaches. A multi-core solution can also be more opportune in its asset selections.
While the core is important, the portfolio construction technique that most often uses them is called "core and satellite" or "core and explore." Both phrases mean the same thing: using core portfolios to track the markets and "satellite" or "explore" asset classes or strategies to extend the portfolio.
The "explore" portion of the portfolio is like a bridge extending into a foreign land. It makes it possible for us to get where we want to go.
Picking the proper "satellite" or "explore" strategy is like choosing a bridge in New York City. They all link to Manhattan (the core) but one takes you to Brooklyn and another to Queens. (Heck, you can even take one to New Jersey!) Choosing one is just a matter of knowing where you want to go.
So it is with choosing an "explore" strategy. You can use them to seek to increase the return of your portfolio beyond that of the core. Or you can choose strategies designed to further dampen the risk or protect against a perceived threat (like rising interest rates).
Two cautions: (1) Don't use too small a core. At a minimum, you need 60% to let you track the basic asset classes. (2) Don't try to build a core from "explore" strategies. The strategies used are not made to work optimally together like a dynamically risk-managed core is designed to do. Such creations tend to be more, instead of less, correlated and can be more volatile. Worse still, you can't diversify into a multi-core strategy. It's just too unwieldy with too many moving parts.
The "explore" portion of your portfolio should, like a bridge, extend the reach of your portfolio. It should take you to new places. And yes, a dynamically risk-managed core-and-explore portfolio could even provide a bridge over troubled waters should (when) the current bull market end.
Market update
While it wasn't the start of a bear market or even a correction, it certainly felt like troubled waters last week as Washington was roiled by the Senate Judiciary Committee hearing on the Supreme Court nominee. Those waters were further agitated by tariff uncertainty, big moves up and down in the bourses of the emerging markets, new Italian economic fears, and the decline of three of the four major U.S. stock market indexes (NASDAQ saw the lone increase).
Surprisingly, the change that often has been viewed negatively actually generated gains. The Federal Reserve Board increased the Federal Funds rate by 0.25% on Wednesday (9/26). While increasing rates should send bond prices lower, this week bonds rose slightly in price, just as they have during the last several rate increases.
As the following chart shows, the Federal Reserve has not been completely effective at lowering the longer-term government-bond rates. This was the eighth increase in rates directed by the Fed since it began "normalizing" rates in December 2015. While shorter-term rates have certainly soared, the farther out we go on the yield curve, the less effective the increases have been.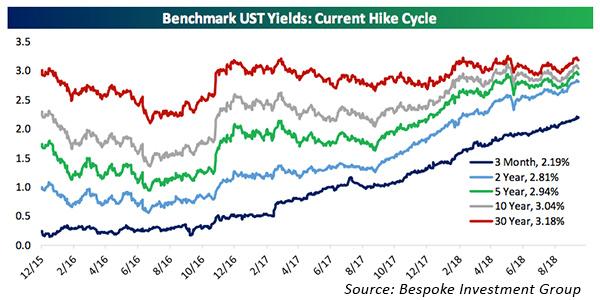 Still, the resulting flattening of the yield curve does bring us closer to the dreaded inverse yield curve (short-term rates exceeding long-term rates) that has signaled all recessions since WWII. However, such a crossover has usually taken place more than a year before such an event.
Other recession indicators are also suggesting the economy has plenty of room to grow before a recession is likely to take hold. The Index of Leading Economic Indicators (LEI) soared over the 6% mark last week. In the past, whenever the LEI has been over 5%, a recession has not occurred for at least 24 months (the average delay is 35 months).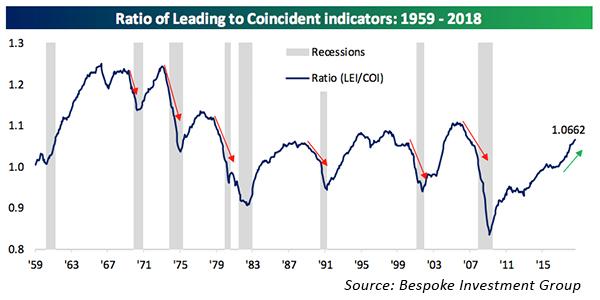 There was a negative tone to economic reports last week. Eighteen indicators failed to meet expectations, while only 11 exceeded them. Of the 38 reports last week, nine met expectations.
Jobless claims unexpectedly missed expectations, probably due to continuing hurricane disruptions. New housing reports were down once again with mortgage rates hitting their highest point in eight years. And there was even weakness in manufacturing. Next week will not have as many reports, but we do have the ISM reports and the influential employment report (where early forecasts are of an expected lower number of jobs created).
In contrast to the economic reports, estimates are of much higher earnings to be reported in the future. While earnings are still likely to be strong in the year ahead, charts like the following suggest that analysts may be getting ahead of themselves. Expectations that are too high can set us up for disappointment and falling prices.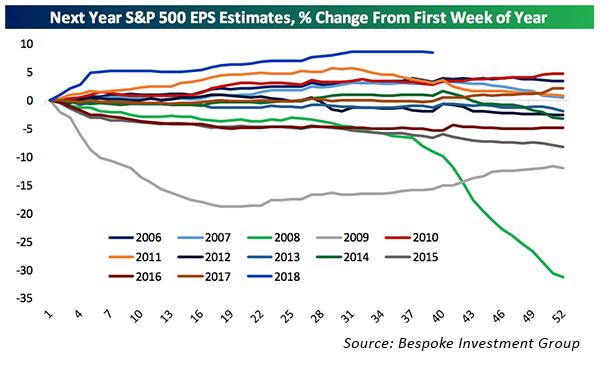 Regardless, we know that the trend is currently our friend. The NASDAQ has now been higher nine quarters in a row. And the S&P 500 finished September with a six-month run of advancing monthly prices. In the past, such numbers have usually meant higher prices on these indexes six months out. So the uptrend can be forecast as likely to continue on a trend-following basis.
With stocks at all-time highs, it's always a good time to review your portfolios. Shed underperformers and diversify your core with dynamically risk-managed core strategies that give you a defense for the unexpected. And while you're at it, add some explore strategy options to build a bridge over what may become troubled waters in the future.