Turkey: Not What You Think. As A Matter Of Fact, Much Worse.
Summary
The Big Bazaar in Turkey is in great disorder.
The Turkish Hamam seems to be getting hotter and hotter.
I don't know if the boiling point is already behind us but either way, this is way too hot for me.
It's been a while since we touched upon "The Turkish (TUR) Bazzar" but make no mistake: Things haven't cooled one bit in "The Turkish Hamam"!
Turkey's almighty president, Recep Tayyip Erdoğan, claims American pastor has links to "terrorist group" and accused detained US pastor of having "dark links with terror".
Today, Turkey's headline inflation rose to no less than 24.52%, more than 3% above expectations.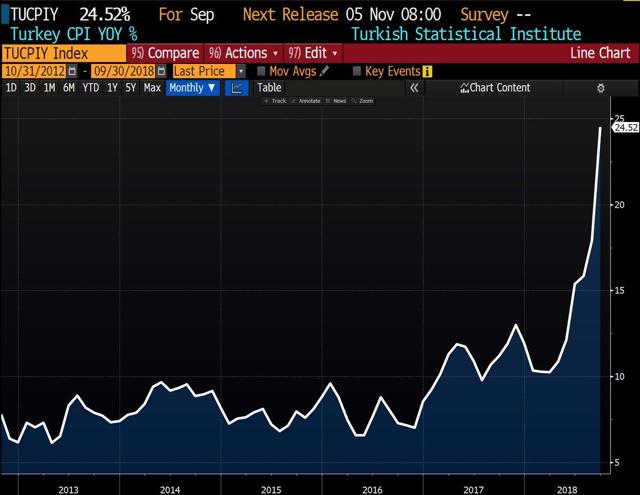 The jump in inflation puts Turkey's Central Bank, again, behind the curve. Since the country's main interest rate is "only" 24%, the real rate (i.e. CB rate minus inflation) has turned negative again.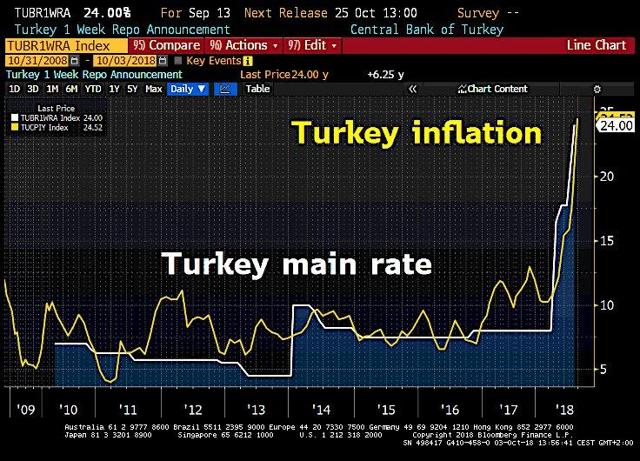 The high, out-of-control, inflation, has led Berat Albayrak - the Turkish finance minister who is also Erdoğan's son-in-law - to blame "opportunism and stockpiling" for the soaring rate of inflation.
Unsurprisingly, markets ponder whether the current monetary policy stance is sufficiently tight. As a result of the figure, the Turkish Lira has weakened over 2% against the US Dollar (UUP), before easing back to ~1% decline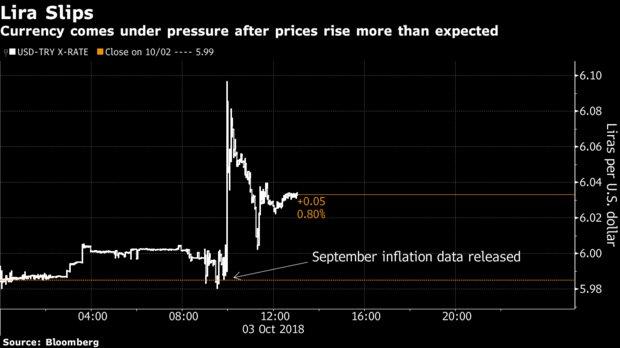 In the context of recent inflation numbers, the obvious question is how much inflation will erode the real depreciation of the Lira? The evidence from other large devaluations is that there is only a very small give-back, i.e. much of the devaluation is permanent.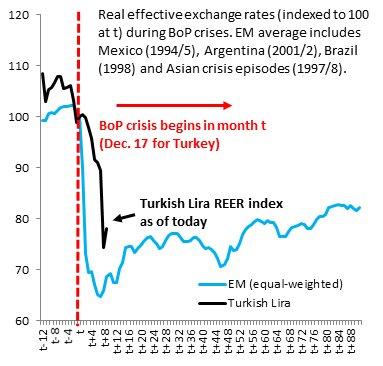 The true scale of inflation confronting Turkey can be (better) seen through the lenses of the PPI which has jumped Y/Y to an incredible 46.15%, the highest level since 2002!
This is happening before the full effects of rising oil prices (USO, OIL) are built-into the data.
Another problem that Turkey is facing with demonstrates the vicious circle the country is facing. Higher oil prices lead to higher inflation and weaker Lira. Higher inflation and weaker Lira lead to higher oil future prices denominated in Turkish Lira. That's, for itself, is adding more fuel to the burning inflation fire.
So much so, that oil prices in Turkey have doubled this year along with the collapsing Turkish Lira.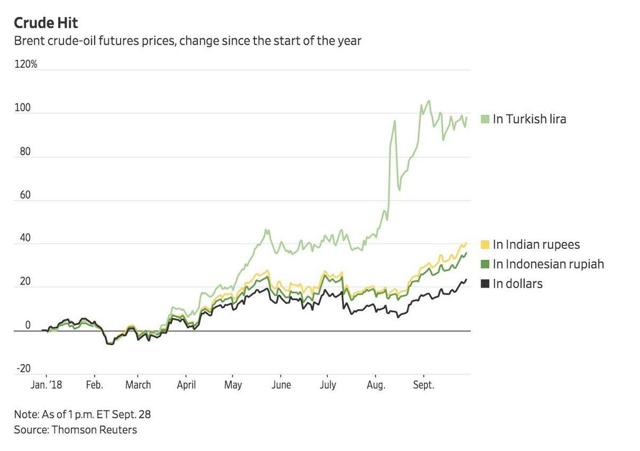 I don't know about you, but just like as the case is when it comes to Italy (EWI) - Turkey doesn't seem like a good bet from a risk/reward perspective.
With the annual inflation rate measured at around 71%...,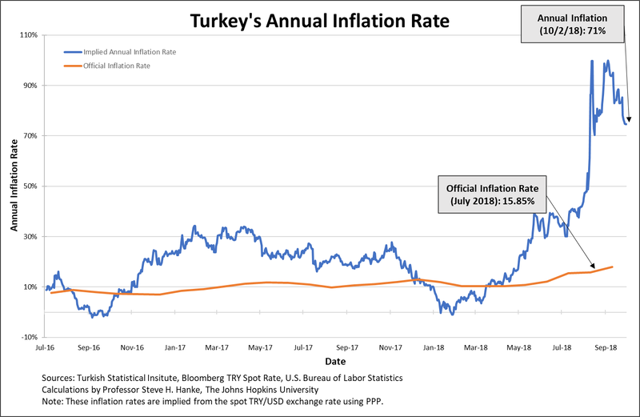 And with the PMI for September at 42.6 (minus 4 points for the month), implying a GDP growth of -2.1% Y/Y (versus +1.4% in August)...,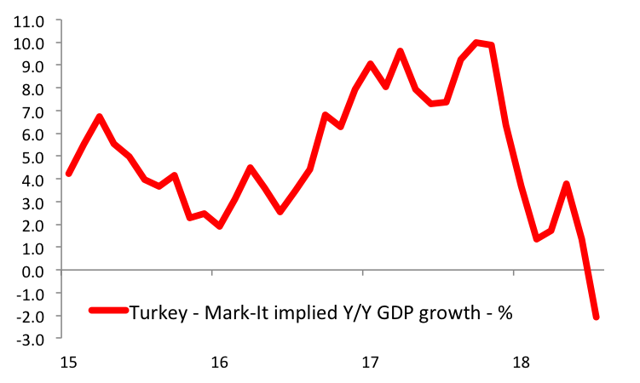 It's hard to see a compelling case to invest in Turkey. I'll leave this for the Qataris who anyhow seem to be i) declaring more than doing, and ii) focusing on political aspects rather on investment returns.
Since we only care about the latter, I keep my Turkish exposure very constrained and limit it to no more than rachat lokum.
When I think about it, the biggest problem of both Turkey and Italy nowadays is best illustrated by their neighboring country - Greece (GREK).
When Italians look to the right - they realize that their 'O Sole Mio country isn't shining like it used to be. When Turks look to the left - they know that their secular* and democratic* country isn't as open/tolerant as it used to be.
*officially, perhaps not practically though.
When Greece looks like a "safe heaven" compares to your country - you know, for sure, that your own-beloved country is facing serious problems...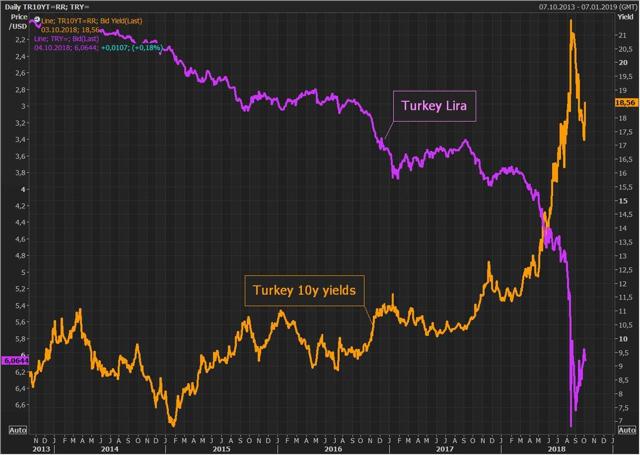 Author's note: Blog post notifications are only being sent to those who follow an author in real time. In order to receive notifications for both articles and blog posts, go to Author Email Alerts, which lists all the authors you follow, and turn on "get e-mail alerts" (see below).


The Wheel of FORTUNE is one of SA Marketplace's most comprehensive services. We view our service as a "supermarket of ideas" with an emphasis on risk management and risk-adjusted returns.
We cover all asset-classes: common stocks, preferred shares, public debts, baby bonds, options, currencies, and commodities.
With Trapping Value on-board, you're getting two leading authors for the price of one.
Before committing to the service on a long-term basis, take advantage of the two-week free trial.
Disclosure: I/we have no positions in any stocks mentioned, and no plans to initiate any positions within the next 72 hours. I wrote this article myself, and it expresses my own opinions. I am not receiving compensation for it (other than from Seeking Alpha). I have no business relationship with any company whose stock is mentioned in this article.