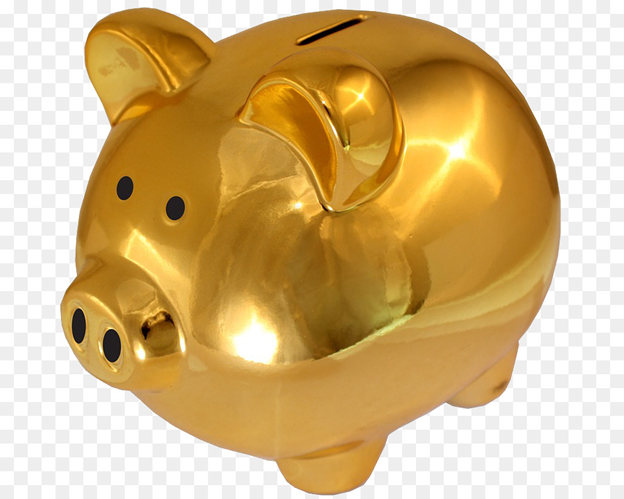 I write articles about various stocks looking at the companies that issue them and what price to pay for the shares based on current and future dividends. But this is only a portion of what goes into being a good investor. Portfolio management is also a large part of it. I think looking at how an actual portfolio is handled can be instructive. Readers can see which stocks I actually buy while also seeing how those purchases fit into a whole portfolio. At worst, I hope folks can learn from my mistakes so they won't have to make them themselves.
What did I think at my last portfolio review?
So that it is very clear what the starting value of my portfolio was, I have included below a screenshot of my broker's year-end report for 2014, which shows the starting value of my portfolio in 2015, which is also the ending value from the last day of 2014. Adding all of the separate parts together, the starting value of the portfolio is $397,597.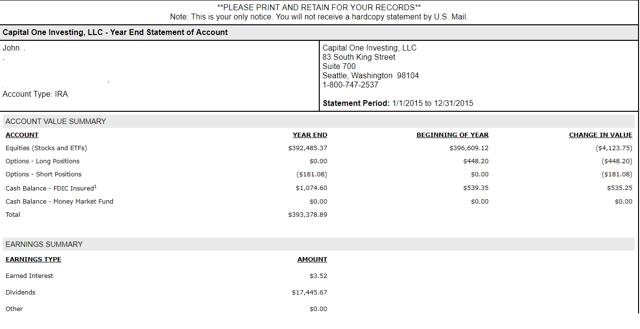 Figure 1 Source Broker Records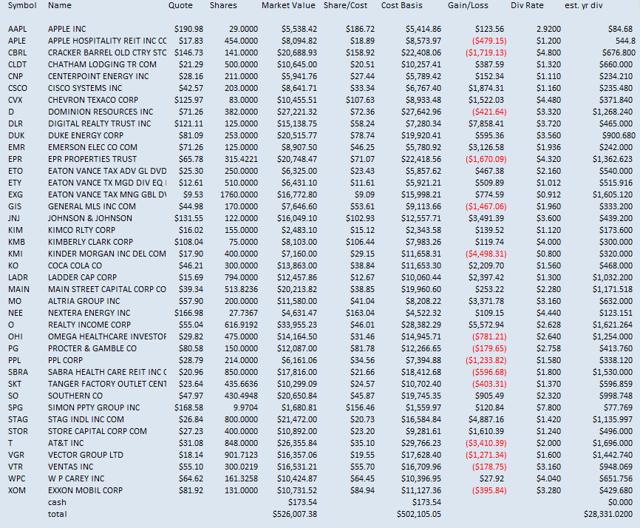 Figure 2 Source Author Records and Broker Data as of August
All data presented in this article comes either from my broker or from this tool. It is free to use, so you can run your own comparisons if you wish.
What has happened since?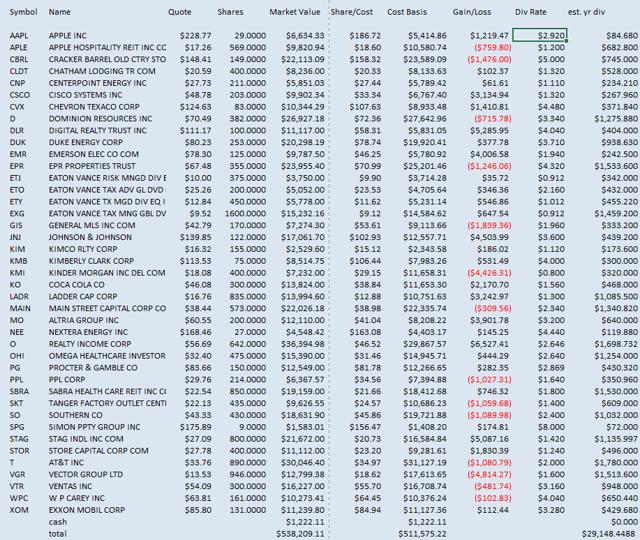 Figure 3 Source Author Records and Broker Data as of October 3
Some might notice that the total "cost basis" for the portfolio is listed at $502,105 in the table above and wonder why it is so different from the starting value of the portfolio. This is because what my broker calls "cost basis" isn't what most people would think. It's actually more in line with what the IRS calls cost basis. Sharebuilder keeps track of how much you pay for each share you own (they started doing this from the start, well before they were required by law to do so). The cost basis column shows how much each share you currently own cost to purchase (no matter where the actual cash to buy them came from). When you sell shares, the price you paid for those shares is deducted from the cost basis number (and not the price you got for selling them). So the reason why the table shows that the "cost basis" of my portfolio is now ~$114K above its starting value is that between dividends paid, net proceeds from share sales, and $26,500 added from another 401(k) rollover, I have added that much additional cash to buy more shares.
One big change in my portfolio this time is that none of my positions contain partial shares anymore. This was done as my broker prepares to move all brokerage accounts to E*Trade, which will happen at the beginning of November according to the latest notice. Coupled with that, the broker has terminated the automatic buy program, which allowed investors to buy fixed dollar amounts of stocks at specified intervals. Dividend reinvestment has also been stopped. To compensate us for this the broker has given use a number of free trades. I have used some of my free trades since I last reported results from my portfolio.
I purchased shares in 9 companies over the last 2 months in 8 separate transactions. I will detail each below.

Figure 4 Source Broker Records
I bought 42 more shares of AT&T (T) on 3 August. AT&T is one of my larger positions and I like the company's performance. I think the Time-Warner acquisition will produce significant improvements as I talked about in this article. I used some cash on hand plus the dividend payments from AT&T, General Mills (GIS), and the special dividend payment from Cracker Barrel (CBRL) to pay for the new shares.

Figure 5 Source Broker Records
On 8 August I decided to add another Eaton Vance CEF to my portfolio, (ETJ), and re-balanced the positions to spread the money across all 4 funds. Part of the reason to add the new fund was that I want a CEF available for purchase so that I can keep my dividend payments the same when I swap out of riskier investments into safer ones as I detailed in this article. I prefer to purchase CEFs when they are trading at a discount to NAV and none of the funds I had at that time were trading at a discount. ETJ was trading at a discount and looked attractive. So far it seems to be doing okay.

Figure 6 Source Broker Records
On 14 August I continued my efforts to re-balance positions sizes between Apple Hospitality (APLE) and Chatham Lodging (CLDT). I have invested about the right amount of money I want in hotels but I want more diversity. Since APLE pays a 10 cent a month dividend and CLDT pays 11, I sell shares of CLDT to buy shares of APLE when the pricing is advantageous. I need to get at least 110 shares of APLE for each 100 shares of CLDT (so the dividends are the same) and here I was able to get 115 (plus $60 cash left over).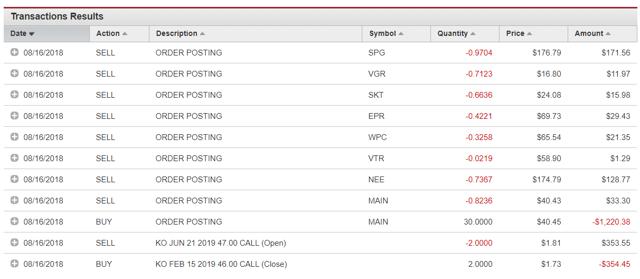 Figure 7 Source Broker Records
At first blush 16 August looks like a very complicated day. However, all the sell orders were just converting the last of my partial shares into cash. I bought more shares of Main Street (MAIN) out of cash on hand. I like MAIN, it's my only BDC (Business Development Corporation), although I am looking at some others that I might add in the near future, and was selling at a very good price.
I also rolled the KO covered call out 4 months and up a dollar in strike price for the huge net credit of $0.90. By pushing the expiration date to June, I am certain to collect more dividends, even if the shares eventually get called away. Also by pushing the strike price up a dollar I both lower the chance that the shares will be called away and increase the cash I will be paid if that happens by $200. And I was able to do that and collect a net credit, even if it was pretty tiny. It will only take a few thousand of such credits to give me some real money!

Figure 8 Source Broker Records
On 4 September, I decided to realize some capital gains in order to buy more dividends. At the time Digital Realty was selling for a fairly high price, more than twice what I paid for the shares and a good bit above where it is today. Due to the high price the yield was also on the low side. Realty Income (O) and EPR Properties (EPR) had both higher yield and were trading at a better value. So the swap made a lot of sense.

Figure 9 Source Broker Records
As I said earlier, I like MAIN and I proved it again on 14 September when I bought 30 more shares using cash on hand. I think the NPV (Net Present Value) of the dividends sets a buy price of anything under $42 and the $39.51 price on 14 September was a deal I didn't want to pass up. Main Street is one of the best BDCs (which is a reason why many of the articles I write about the company have the word "best" in the title).

Figure 10 Source Broker Records
On 26 September I bought 41 more shares of Ladder Capital (LADR) at what I thought was a good price. Based on the dividends, the price is still a good value even though a better price can be gotten today. Currently the share price is under some pressure due to issues in the Manhattan real estate market, so going forward I will want to make sure the dividends are still as safe as they appeared last quarter.

Figure 11 Source Broker Records
The very next day I got a nice dividend payment of $360.40 and 45 more shares of VGR.

Figure 12 Source Broker Records
My last purchase since my beginning of August update was to buy 9 more shares of Cracker Barrel. I bought them while researching this article. I didn't buy them on Friday because I thought that only getting 8 shares wasn't enough to make a purchase. Over the weekend I realized that the yield is paid based on the price, not the number of shares, and that I could expect around $40 of regular dividend payments on that ~$1200 purchase. And if next year's special dividend works out to be what I expect, I will also collect an additional $32 from that.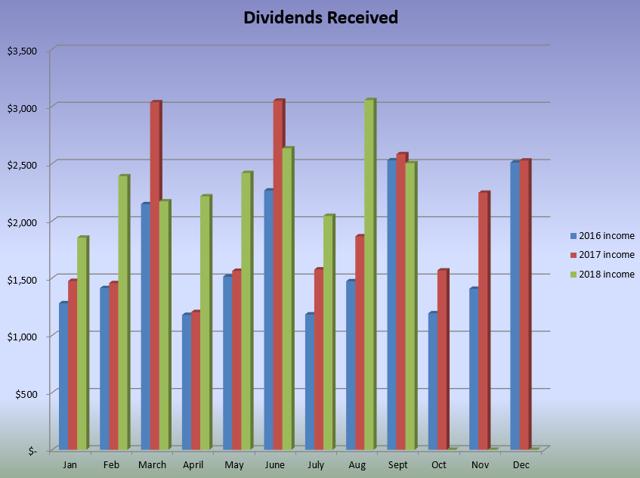 Figure 13 Source Broker Records
The graph above shows a monthly comparison of dividends received over the last 3 years. The just completed quarter shows a pattern similar to earlier quarters this year, where the first 2 months of the quarter have a year over year increase in dividends and the final month has a decrease, but the quarter as a whole has more dividends than the same quarter last year. Based on the NTM projection for dividend payments (located at the bottom right of figure 3), I currently estimate that I will receive about $1500 more in dividend payments than my goal.
Let's look at the benchmark data
My target growth rate is 12% more dividend income each year than the year before. By that standard, my DGI portfolio here is doing very well. I have beaten my goal each year so far. While that is only just coming up on 4 years, other earlier portfolios have also beaten that goal. I have every reason to believe that will be able to continue to meet my goal. So far for the first 9 months of the year, I am 19.5% ahead of the dividend payments I received last year at this time.
What I call my DGI Portfolio is a real portfolio owned by me and held in an IRA. The two portfolios consisting of 1 ETF each are models and I hold no shares of either of them. Using the Portfolio Visualizer tool, it wasn't very hard to model two benchmark portfolios, one using the ETF SCHD (SCHD) and the other using the ETF (SPHD). Both ETFs do a reasonably good job of modeling DGI behavior. SCHD was chosen because it is a larger fund and SPHD because it has a higher yield. The primary point of comparison is how the three portfolios meet my income goal. I include information on the total return of each model portfolio in the interests of transparency and because I have to scroll past those results to get to the income data in the results of the Portfolio Analyzer tool.
Normally at the end of each month I total the dividend payments I have received during the month and put that value in my spreadsheet. My broker provides a monthly report, usually available a few days after the next month starts, which I use to verify my numbers several times a year. I just did that the other day and did find some discrepancies in my numbers (I think I transposed some digits when adding things up) that were fairly minor. The graphs below reflect the corrected numbers.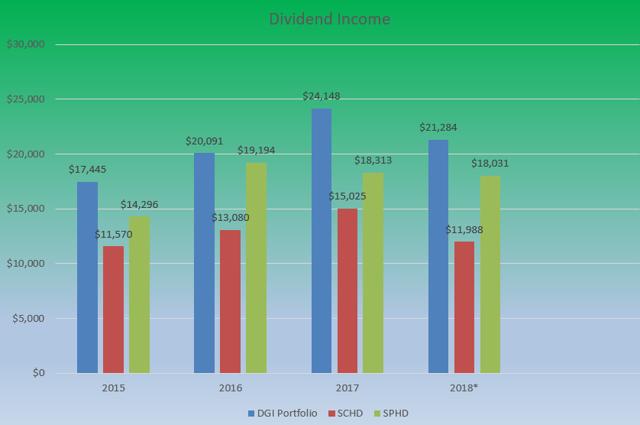 Figure 14 Source Author Records and Portfolio Visualizer
The 2018 results are as of October 3. I think it's clear that my DGI portfolio performed better than either of the two ETFs in producing income. SCHD produced significantly less dividend income and isn't growing it as fast. SPHD did better on both yield and growth, but the payments declined in 2017. Part of that was caused by the share price going up so much (as you will see below with the total return chart), but it is also disappointing in that it cut the annual dividend per share payments. My DGI portfolio is also well ahead this year. It so far has collected 19.5% more dividends than this time last year. Because ETFs don't have consistent quarter-to-quarter payments of dividends, it's hard to tell how much better I am doing that the ETFs, but it's looking good.
Figure 15 Source Author Records and Portfolio Visualizer
The total return numbers do not come out so clearly in my favor. Starting in right away with SPHD and by the end of 2017 for SCHD, the ETF based portfolios have a larger market than my DGI portfolio. Keep in mind both that I am not really paying much attention to capital gains while the ETFs are and that dividend reinvesting works best over longer periods of time. So it's not unexpected that the ETFs pulled ahead some this early. Also keep in mind that the purpose here is to provide income. Right now, with all the dividends being reinvested that doesn't make as big a difference as it would if the income needed to be paid for living expenses. When that time comes, rather than increasing the share count, the ETFs will be reducing it while my DGI portfolio sees no such reduction (or a lesser one given its higher income production).
Since my last update at the end of July, both my portfolio and the two model portfolios have increased in market value. SCHD has done the best and is again ahead of my DGI portfolio on this metric for the year. SPHD still lags my portfolio in price growth but does have better income production that SCHD (which is after all the primary goal here).

Figure 16 Source Portfolio Visualizer
Conclusion
I am well on target to meet my goal of growing my income this year by 12% over what I got last year. Right now I am just under 20% ahead of where I was last year at this time. I also still have some time to add shares that will increase the dividends from some of my positions.
Dividend growth investing does work provided your goals include income from dividends. Sure, it's not fast at first, but it does build up speed. Right now I am on track, and even a little bit ahead, of producing $100,000 a year in income in just 11 more years. And unlike share prices, most dividends go up each year (or at least you can identify companies where that will be the case), and they very rarely go down.
Note: I hope you all got something out of this article. I do appreciate the time you took reading it. If you are one of those who follow me here, I appreciate it; if you'd like to include yourself amongst those individuals, please hit the "Follow" button next to my name as well as following other contributors whose work you enjoy. As always, please leave any feedback and questions you may have in the comments below.
Disclaimer: This article is intended to provide information to interested parties. As I have no knowledge of individual investor circumstances, goals, and/or portfolio concentration or diversification, readers are expected to complete their own due diligence before purchasing any stocks mentioned or recommended. The price I call fair valued is not a prediction of future price but only the price at which I consider the stock to be of value for its dividends.
Disclosure: I am/we are long T, APLE, CBRL, CLDT, EPR, ETJ, GIS, LADR, MAIN, O.
I wrote this article myself, and it expresses my own opinions. I am not receiving compensation for it (other than from Seeking Alpha). I have no business relationship with any company whose stock is mentioned in this article.
Additional disclosure: Besides stocks talked about in the text, I am also long all stocks that appear in any graphics (with the exception of the ETFs SCHD and SPHD in which I hold no shares).