On September 28th, Elon Musk, the Chairman and CEO of Tesla (NASDAQ:TSLA), without admitting or denying the allegations of the complaint filed against him by the Securities and Exchange Commission, or SEC, consented to the entry of a final judgment which, among other things:
Permanently restrains and enjoins him from violating, directly or indirectly, Section 10(b) of the Securities Exchange Act of 1934 and Rule 10b-5 promulgated thereunder by using any means or instrumentality of interstate commerce, or of the mails, or of any facility of any national securities exchange in connection with the purchase or sale of any security.

To employ any device, scheme, or artifice to defraud
To make any untrue statement of a material fact or to omit to state a material fact necessary in order to make the statements made in light of the circumstances under which they were made, not misleading
To engage in any act, practice, or course of business which operates or would operate as a fraud or deceit upon any person

Orders him to pay a civil penalty of $20 million.
Requires him to resign from his role as Chairman of the Board of Directors of Tesla within 45 days.
Requires him to comply with all mandatory procedures implemented by Tesla regarding:

The oversight of communications relating to the Company made in any format, including but not limited to posts on social media (e.g., Twitter), the Company's website (e.g., the Company's blog), press releases, and investor calls; and
the pre-approval of any such written communications that contain, or reasonably could contain, information material to the Company or its shareholders.
Copies of the relevant consents and draft orders are available here.
I am fascinated by the latest reports that the District Court Judge in this case will require Tesla and the SEC to explain why the settlement is fair and reasonable. Since I think the SEC pled a lay-down case against Mr. Musk, I don't believe the Judge is likely to cut him additional slack. That being said, I don't do trial work and wouldn't presume to predict the actions of a sitting Federal judge. For now, the only thing I can say for sure is that the drama isn't over and we won't know the rest of the story until the end of next week.
While several commenters have suggested that a $20 million fine is chump change for a man like Mr. Musk who's borrowed hundreds of millions using Tesla stock as collateral, most don't understand the real and substantial long-term impacts of entering into a consent judgment.
While its enforcement powers and resources are limited, the SEC is aggressive and vigilant in its efforts to identify individuals who violate Federal securities laws and seek appropriate redress. The main weapon in their arsenal, a civil lawsuit to obtain a formal "obey-the-law injunction", is based on the theory that bad actors will continue to act badly unless they're restrained from doing so. Obey-the-law injunctions not only impose a limitless and permanent prohibition against future bad action, but they also require a bad actor to wear a regulatory scarlet letter for a decade.
The primary place the scarlet letter shows up is prospectuses, proxy statements, annual reports and other SEC filings that include biographical information on directors, officers, promoters and control persons. If a specified individual has entered into a consent judgment within 10 years prior to the filing date, his biographical profile must disclose the existence of the judgment and the reasons therefor.
A more painful impact of a scarlet letter is a regulatory Disqualification of Felons and Other "Bad Actors" from Rule 506 Offerings. Rule 506 is part of the SEC's Regulation D, the primary rule governing non-public offers and sales of securities. This is the Rule:
Tesla relied on for all of its pre-IPO financing activities;
Space X currently relies on for its financing activities; and
Tesla would have relied on if Mr. Musk had a real take private plan.
When the final judgment is entered, Rule 506 will be unavailable to any Musk related company for a decade unless the SEC waives the bad actor disqualifications.
I wasn't terribly surprised by the SEC's decision to let Mr. Musk continue as Tesla's CEO, but the SEC's leniency was no greater victory for Mr. Musk than O.J. Simpson's acquittal was a victory for him. Mr. Musk's scarlet letter has attached and it will be part of every financing discussion he has in the next decade. While it's impossible to quantify the impact, every fund manager that holds Tesla in his portfolio will have to consider whether the scarlet letter represents an acceptable investment risk. A scarlet letter is not a mortal wound, but it is the capital markets equivalent of a festering sore that smells a little off and is unacceptable in polite society.
I was not at all surprised by the Consent Judgment's requirement that Mr. Musk comply with mandatory procedures adopted by Tesla to restrain his unilateral dissemination of information that might be considered material to the company and its shareholders. That being said, I'd give my eyeteeth to understand the board's involvement in this e-mail Mr. Musk reportedly sent to Tesla employees less than 24 hours after the Consent Judgment was entered: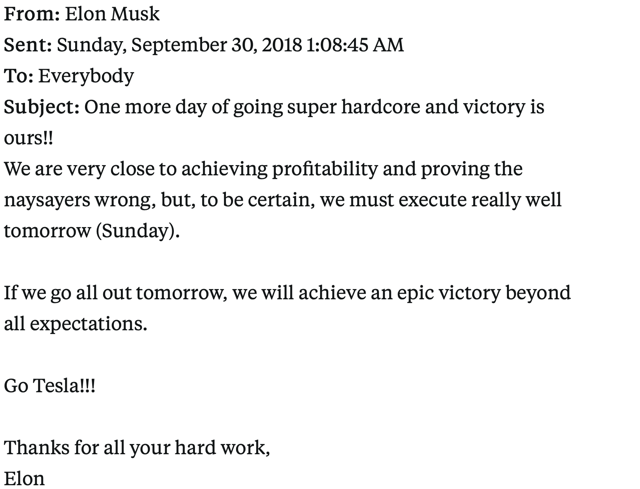 The last few days have been a fascinating time as Tesla tanked on news of the SEC enforcement action, soared on news of the consent judgment, and surrendered at least half of the recovery as investors began to come to grips with the reality that Mr. Musk was and remains a bad actor who is now subject to an obey-the-law injunction.
I increased my TSLA put position by 67% yesterday morning.