Welcome to Part 3 of the Best Pick and Shovel Cannabis Plays series. If you haven't, we suggest you check out Part One and Part Two in order to learn about the six opportunities we discussed so far. In this article, we will discuss three more stocks that focus on cultivation, hydroponics, and gardening for cannabis. We will discuss the strengths and risks of each of the stocks and share our outlook and recommendations. You will notice that the three stocks we will discuss offer similar products in the cannabis sector but have significantly different business and growth profiles. Investors should study each of them carefully before making a decision.
GrowLife - Still Haunted by its Past
GrowLife (OTCQB:PHOT) is a penny stock traded on the OTC market that has a market capitalization of around $35 million. The company provides cultivation tools and equipment to cannabis growers and its products include hydroponics equipment, nutrients, lighting, and other tools. The company distributes its products through retailers and also through its e-commerce sites in the U.S. and Canada. The business of GrowLife is easy to understand and you can go to their e-commerce site to get a sense of their products.

It would be remiss for us not to remind investors of what happened in 2014 when SEC halted GrowLife for two weeks that resulted in its share price collapsing 60% after trading resumed. GrowLife was a symbol of the 2014 "green rush" bubble and the stock never really recovered since then. The OTC status of the stock makes it a highly speculative investment, and we would recommend investors to be extremely careful here.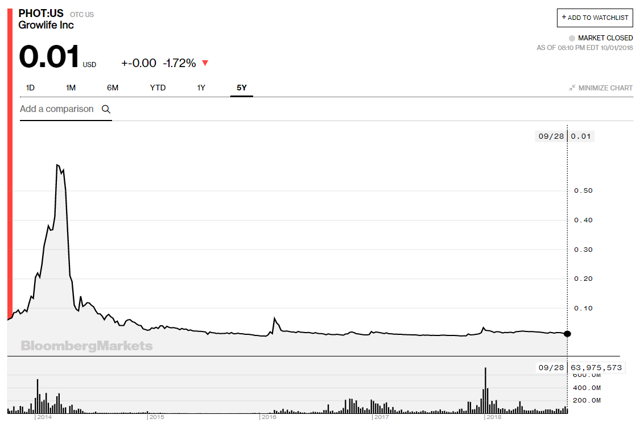 The stock generated $2.5 million net revenue in 2017, a significant growth from 2016. However, the gross profit was an abysmal 11%, which is barely enough to cover the $2.3 million in G&A expenses. The path to profitability is elusive as the company has had many years to get it right.

(10-K)
We still think the stock remains highly risky due to the penny stock status and lack of revenue and limited market capitalization. The past still haunts the stock as the 2014 meltdown could have permanently scarred investors and tainted the stock's reputation. We think there are better and safer options for investors looking for companies that provide hydroponics and gardening equipment, as we will show below.
GrowGeneration - A Better Version of GrowLife
GrowGeneration (OTCQX:GRWG) operates a network of 19 retail locations (6 in Colorado, 6 in California, 1 in Las Vegas, 1 in Washington, 3 in Michigan, 1 in Rhode Island, and 1 in Oklahoma) selling hydroponic and organic gardening products to cannabis growers of all sizes. The stock trades on the OTC market and has a market capitalization of $100 million. The company is a much better version of GrowLife as its $14.3 million in sales and $1.2 million of negative EBITDA paints a much more mature business profile. The management and investor materials conveyed confidence and the business has shown tremendous growth in each of the last few years as revenue increased 80% in 2017 including 43% organic growth. The company has grown through a series of store acquisitions and it plans to continue expanding into new markets in the U.S. through aggressive store openings and M&A activities. Management expects revenue to reach $85 million and EBITDA of $9.5 million in 2020 which is not impossible if the current growth trajectory continues. GrowGeneration carries a wide range of products and its sales are derived from a wide variety of products including nutrients, hydroponics, lighting etc. The company also has slightly better liquidity on the OTC market, and it is not a penny stock which helps avoid the stigma associated with the 2014 pot bubble.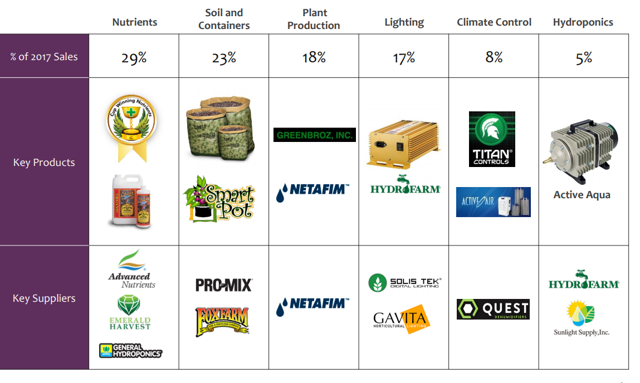 The stock has been dead before 2017 and had a huge run-up between December 2017 and February 2018. Part of the rally was due to the success in Canada and part of it was likely due to a press release that announced a $9 million financing and revised 2018 revenue guidance of over $30 million. The stock spiked to more than $8.0 before falling back to the $4.0-5.0 range. We think the company is executing well on its growth plan, and we see continued momentum in its retail business driven by impressive organic growth and M&A developments. The company even announced its B2B platform on Amazon (AMZN) and a division dedicated to selling to hemp farmers. We think investors looking for ideas should consider looking into GrowGeneration, which certainly seems like a much better choice than GrowLife.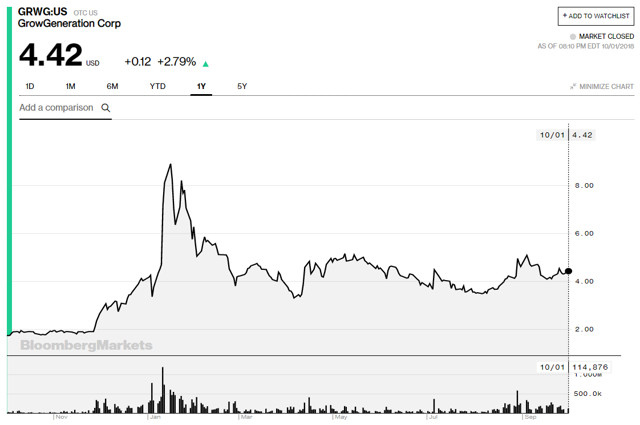 Scotts Miracle-Gro - The Way to Go?
Scotts Miracle-Gro (SMG) is the largest of the three stocks that we will discuss today. The company is the industry leader in gardening and fertilizer markets and its branded products are used by most consumers. Due to the lack of growth in its core segments, SMG pivoted towards hydroponics as an area of important growth in setting up its Hawthorne segment in 2014. However, the Hawthorn business has been severely underperforming in the last two quarters citing a challenging California market. However, SMG has spent almost $1.0 billion in acquisitions of various assets including the $450 million acquisition of Sunlight Supply in April 2017. Sunlight is the largest distributor of hydroponics products in the U.S., but the company has a lower margin and would be dilutive by $0.30 to $0.40 per share for SMG.

Despite the push by SMG into hydroponics businesses, SMG stock price has suffered serious declines in 2018 as Q1 and Q2 showed surprisingly weak numbers out of Hawthorne. Because SMG's core gardening and fertilizer business is struggling to find growth, the management has made a big bet on the hydroponics industry in the U.S., but the bet has suffered serious setbacks in the last two quarters. Management expects the weak 1H 2018 performance to continue into the rest of 2018 as demand remains sluggish. We think SMG has amassed most likely the largest asset base in the hydroponics industry but its recent struggles highlighted the uneven path for the nascent industry. Despite favorable headlines, sales have not matched up against management and investor's expectations.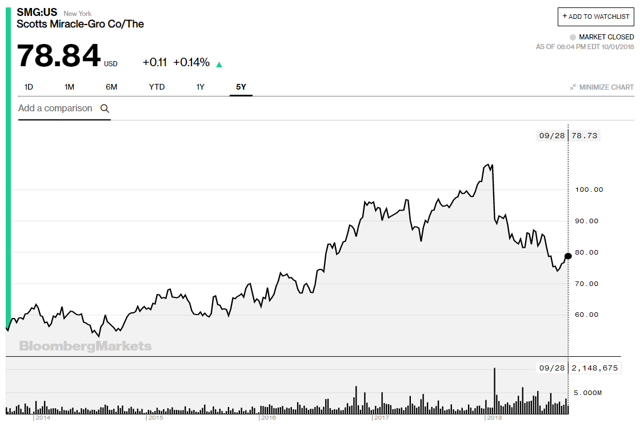 Putting Everything Together
We picked these three companies because they operate in the same industry focusing on hydroponics and cultivation-related supplies. We picked these three stocks also because they represent three very different types of investments that investors could choose from in today's markets. SMG's Hawthorne is the bellwether of the hydroponics market with $600 million in sales and it holds a portfolio of hydroponics assets through a series of acquisitions. However, SMG is a massive company with its core operations still focused on non-cannabis gardening and lawn, which are low growth areas. We actually prefer GrowGeneration among the three stocks due to its ability to scale quickly and a relatively large addressable market. The company has executed well and financials are improving quickly with sales expected to reach $30 million this year. Coming from a smaller base, GrowGeneration will be able to drive significant growth and its business has significant room for growth simply through organic growth and M&A. On the other hand, GrowLife continues to be haunted by its troubling past and the penny stock status is simply too risky for us to recommend at this point.
Author's Note: Follow us to receive our latest publications on the sector. We also publish a widely read Weekly Cannabis Report, which is your best way to stay informed on the cannabis sector.
Disclosure: I/we have no positions in any stocks mentioned, and no plans to initiate any positions within the next 72 hours.
I wrote this article myself, and it expresses my own opinions. I am not receiving compensation for it (other than from Seeking Alpha). I have no business relationship with any company whose stock is mentioned in this article.
Editor's Note: This article covers one or more microcap stocks. Please be aware of the risks associated with these stocks.