Trillium Therapeutics (TRIL) is a Canadian biopharmaceutical company developing fusion-proteins targeting CD47, an immune checkpoint inhibitor involved in suppression of the innate immune system (macrophages). If you are new to the CD47 story, I recommend you start here.
Last week, Trillium posted updated data from early phase trials of their lead compound, TTI-621, in various lymphoma subtypes. I previously wrote about TTI-621 and the CD47 pathway and will reserve this article for the discussion of Trillium's updated results. As a reminder, TRIL is evaluating TTI-621 in ongoing trials using two methods of delivery:
Intravenous (IV)
Intratumoral
The lead trials for TTI-621 are in diffuse large B-cell lymphoma (DLBCL) and cutaneous T-cell lymphoma (CTCL), but Trillium is also exploring TTI-621 in a variety of other hematological malignancies.
A brief background of Cutaneous T-Cell Lymphoma:
Lymphomas arise as cancer of the lymphocytes (white blood cells). Because of the natural diversity of white blood cells, there arise a large number of different types of lymphoma, each with its own diagnosis, treatment, and prognosis. T-cell lymphomas form a small subset of total non-Hodgkin's lymphoma cases, accounting for roughly 7% of annual cases. T-cell lymphomas are further comprised of 26 distinct entities, including cutaneous T-cell lymphoma. The most common form of CTCL is called mycosis fungoides (MF).
The NIH estimates the prevalence of MF at 1 in 100,000-350,000 persons, accounting for approximately 70% of all CTCL cases. MF has a relatively good prognosis, with 5-year survival rates approaching 90%.
By contrast, the 5-year survival for Sezary Syndrome, the next most common subtype of CTCL, is just 24%
Table 1: Classification of CTCL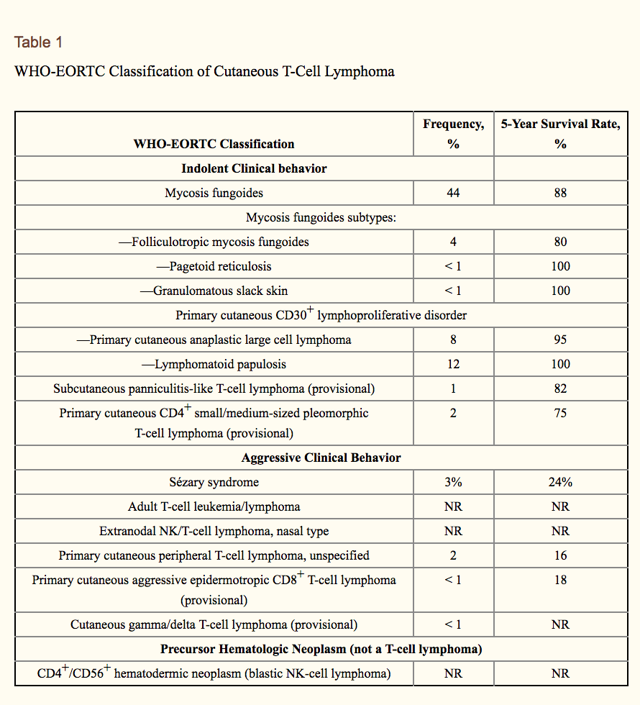 Source: Review of the treatment of mycosis fungoides and Sezary syndrome: A stage-based approach
CD47 is over-expressed in cancer cells, and in CTCL, CD47 expression correlates with disease state, providing the rationale for a CD47 targeting therapy.
CAILS: About the Endpoint
One surrogate endpoint for assessing CTCL is the Composite Assessment of Index Lesion Severity (CAILS). It consists of lesion measurements in five areas - erthyema (redness of skin), scaling, plaque elevation, pigmentation, and lesion size. These measurements are then averaged across multiple lesions for a composite score.
For context, mechlorethamine gel, a topical chemotherapy, was approved in 2013 for CTCL on confirmed response rate, defined as a 50% reduction in CAILS score. In a study of patients with at least one prior line of therapy, the test group saw confirmed responses in 68% of patients compared with 48% in the control ointment group.
More recently, Mogamulizumab, a monoclonal antibody against CCR4, was approved last month for the treatment of >1 line for mycosis fungoides and sezary cells, two subsets of CTCL. Mogamulizumab was approved on median progression-free survival (mPFS) compared to vorinostat.
I have reservations about the CAILS endpoint. It is a subjective, surrogate endpoint and I don't know how well it will read-through to more tangible endpoints like overall survival. Only one of the five CAILS measures, lesion size, is truly quantitative. The rest rely on qualitative assessment, which can only be effectively controlled in a randomized controlled trial.
Analysis of CTCL Results:
Trillium reported efficacy data based on CAILS scores for 18 patients, including 5 new patients receiving intratumoral injections since the previous data reported with a November 2017 cut-off. The results are in-line with what we previously saw at ASH. 8/18 (44%) patients saw >50% reduction in CAILS scores.
Compared with intravenous delivery, intratumoral injections appear very safe. No adverse events, grade 3 or higher, were reported.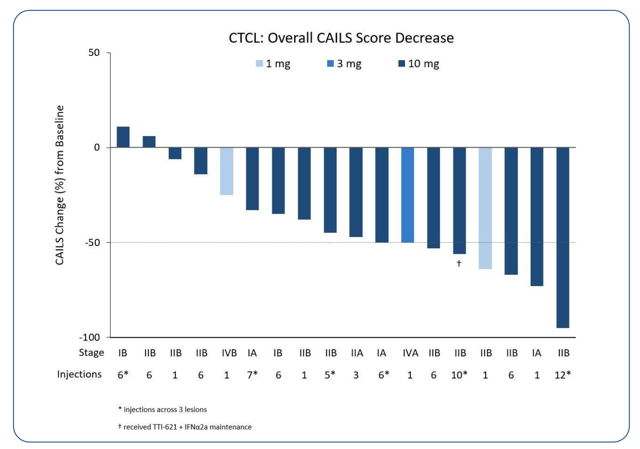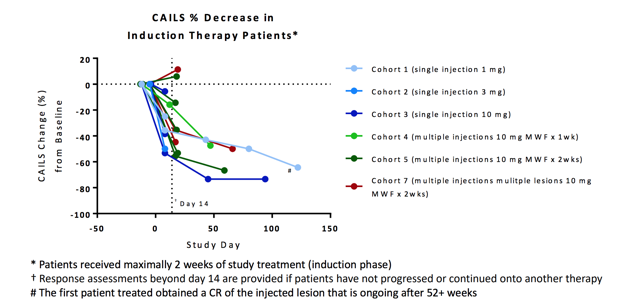 Source: Trillium Therapeutics Scientific Presentation
Two points stand out to me:
Responses generally appear to be deepening. 8 patients, including the only two with an increase in CAILS score, have data available for fewer than three weeks. Of the four patients on treatment for >50 days, all have seen continued reduction in CAILS scores.
Responses are seen in adjacent lesions. This would imply that intratumoral administration has achieved systemic delivery. 3/7 patients with CAILS scores in adjacent lesions saw a reduction in CAILS >50%. Only 1 patient saw an increased CAILS in an adjacent lesion.
The CTCL data remains intriguing. However, the indication remains tough from an investment standpoint. T-cell lymphomas are rare, and MF - the most common TCL subtype - has a good prognosis with existing treatment options.
Accrual has been understandably slow. Further, Trillium is a tiny company with low visibility in a big field.
Intravenous TTI-621 and rituximab combination:
By far, the bigger fish to fry is Non-Hodgkin's Lymphoma. Trillium also provided an update last week to their ongoing intravenous trial of TTI-621 monotherapy and combination with rituximab.
Although early, the rituximab combination efficacy results compare unfavorably to similar results published by Forty Seven (FTSV) in June. Previously, Forty Seven reported an overall response rate of 46% in NHL, with a 33% complete response rate.
By comparison, Trillium saw a single CR in 31 patients treated, with only a handful of partial responses.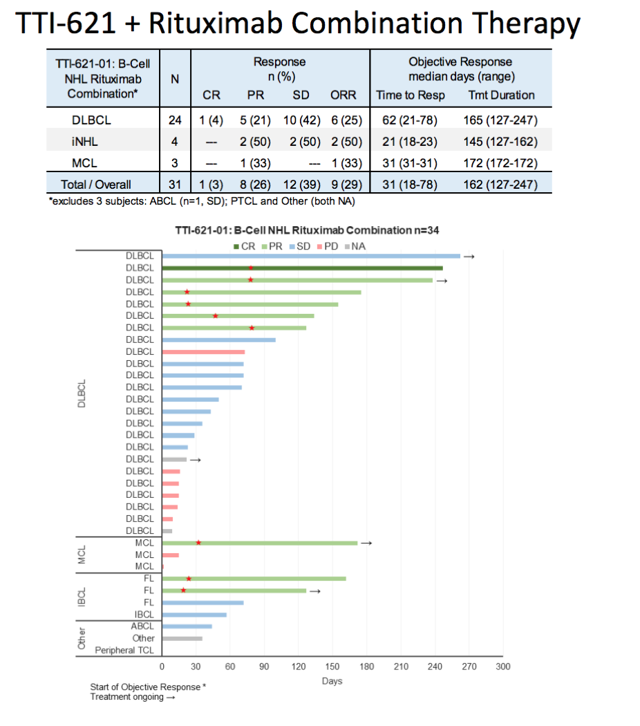 Source: Trillium Therapeutics Scientific Presentation
Source: Forty Seven SEC Filings
However, it is worth noting that the majority of patients with efficacy data reported were at the lower dose levels of 0.1-0.2 mg/kg. The 0.2 mg/kg dose has been shown to achieve ~25-50% receptor occupancy (RO) of the CD47 receptor. By comparison, Forty Seven achieved >90% RO in their trial above. Trillium continues to mandate dose escalation up to 0.5mg/kg, and I predict that we will see a modest improvement in efficacy at the higher doses. However, it remains to be seen whether these higher doses will be well tolerated.
With 163 patients now dosed, problems with transient thrombocytopenia (low platelet count) following IV administration of TTI-621 are now well documented. Roughly 20% of patients experience Grade 3+ thrombocytopenia, with cases of platelet counts typically stabilizing in a matter of days. The intermediate-grade cases of thrombocytopenia appear manageable, with a limited number of reported bleeding events.
Thrombocytopenia seen with TTI-621 bears some similarities to transient anemia with Forty Seven's Hu5F9 antibody. Both result in ~20% frequency of Grade 3 events. Both typically resolve within a few weeks of treatment. However, what presents a cause for concern is that TTI-621 contains an active IgG1 domain, which means that the drug may mediate antibody-dependent cellular cytotoxicity (ADCC) or complement dependent cytotoxicity (CDC) against healthy platelets.
Recall that cells can express both "Don't Eat Me" (CD47) and "Eat Me" signals. Because Hu5F9 binds to CD47 on red blood cells, inhibiting the don't eat me signal, patients experience a temporary low red blood cell count (anemia) as older red blood cells that also express an "Eat Me" signal are phagocytosed. Since Hu5F9 contains an IgG4 domain with reduced activity, healthy red blood cells are preserved so long as they fail to express an "Eat Me" signal. This allows Forty Seven to saturate patients with much higher doses, while the effects of temporary anemia remain largely dose independent beyond a threshold.
With TTI-621, the plot thickens a bit. Because TTI-621 contains an active IgG1 domain, platelet clearance is not necessarily limited to macrophage phagocytosis. Treatment bound platelets might exhibit a shorter half-life mediated by both IgG1 effector function in addition to sensitization to phagocytosis. For that matter, Fc mediated activity could occur at higher doses in several other healthy tissues where cells express CD47. Therefore, TTI-621 could potentially exhibit dose-dependent toxicity.
At this point, the reported safety data includes 16 patients that have been escalated to 0.5mg/kg doses and 10 that have been on the high dose for at least four weeks. We have not seen a safety subset for the high dose patients, but the company has reported that none of the high-dose patients discontinued due to adverse events. If there were a serious safety concern at the higher dose, we should have heard about it by now. That does not remove the potential for future adverse effects.
Additionally, TTI-621 continues to show no sign of abnormal hemagglutination or anemia, a common side-effect seen with anti-CD47 antibodies.
Trillium, Surface Oncology, trade at discount to Forty Seven
Here I use enterprise value to compare three key players that I have discussed previously as good comps to Trillium. I consider EV to be a much more appropriate metric here, given that Trillium's capital structure consists of 5 classes of securities, including common stock, series 1/2 preferred stock, and warrants for both common and preferred stock. EV also accounts for the large cash stockpiles of FTSV and SURF, relative to their market cap.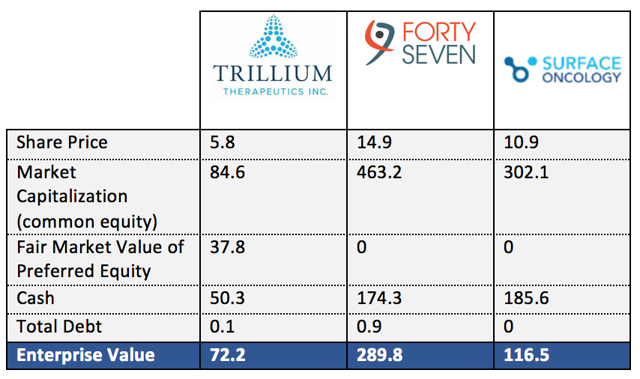 Source: Yahoo Finance
Trillium continues to trade at a discount to Forty Seven, but after SURF's share price slid 30-40% over the summer, now trades more competitively with SURF.
Final Note:
I remain cautiously optimistic about the prospects for this technology area and continue to evaluate companies developing CD47-directed therapies for potential investments before the ASH meeting in December.
Disclosure: I/we have no positions in any stocks mentioned, and no plans to initiate any positions within the next 72 hours.
I wrote this article myself, and it expresses my own opinions. I am not receiving compensation for it (other than from Seeking Alpha). I have no business relationship with any company whose stock is mentioned in this article.
Editor's Note: This article covers one or more stocks trading at less than $1 per share and/or with less than a $100 million market cap. Please be aware of the risks associated with these stocks.