Magellan Midstream Partners (MMP) is a unique MLP in several aspects. While its distribution yield is lower than that of other MLPs, it is superior because it is completely safe and grows at a relentless pace. In this article, I will analyze the unique features of Magellan.
Business Overview
Magellan has the longest pipeline system of refined products, which is linked to almost half of the total U.S. refining capacity. This segment generates 54% of the total operating income of the MLP while the segment of transportation and storage of crude oil generates 38% of its total operating income.
Resilience to downturns
Magellan operates with a fee-based model. Its management expects 85% of the operating income of the MLP to come from fee-based, low-risk activities, which are hardly affected by the gyrations of commodity prices. This helps explain the impressive resilience of Magellan during the downturn of the oil market that began in 2014. While most MLPs saw their earnings plunge amid the collapse of the price of crude oil and refined products, Magellan has grown its earnings per share by 2% in the last four years. It has thus easily kept raising its distribution while several other MLPs drastically cut their distributions.
Unparalleled business model - minimum debt – no dilution
Unlike the vast majority of MLPs, Magellan has the discipline to invest exclusively on high-return projects. As a result, it enjoys excessive free cash flows. To be sure, it has posted positive free cash flows for more than 10 consecutive years. Thanks to the strength of its business model, it does not dilute its unitholders by issuing new units. It has thus kept its unit count essentially constant in the last seven years. This is in sharp contrast to most MLPs, which dilute their unitholders at a high rate on a regular basis due to the poor cash flows that result from their low-return investments. Investors should not underestimate the impact of dilution. As a high dilution rate makes a MLP provide its distribution to more unitholders, it renders the distribution burdensome from an economic point of view and thus many MLPs find it hard to grow their distributions at a meaningful pace.
Magellan is also unique in the amount of debt it has in its balance sheet. While most MLPs have a leverage ratio higher than 4.5, Magellan has a leverage ratio of 3.4. Moreover, its net debt (as per Buffett, net debt = total liabilities – cash – receivables) stands at $5.3 B, which is only 6 times its annual earnings. This metric is far superior to that of most MLPs, whose debt is more than 10 times their annual earnings. The low amount of debt of Magellan offers great financial flexibility while its interest expense "eats" a negligible portion of its operating income and thus results in higher earnings.
Distribution record
Thanks to the strength of its business model, Magellan has an exceptional distribution growth record. To be sure, it has raised its distribution for 64 consecutive quarters at an average annual rate of 12%.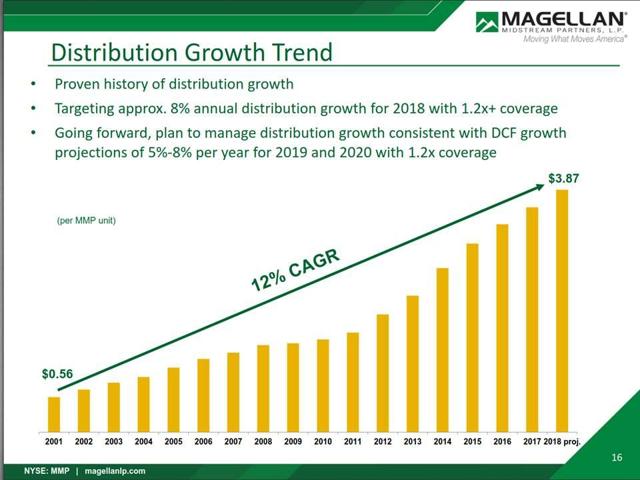 Moreover, it currently offers a 5.7% yield and its management has reassured investors that it will continue to raise the distribution at an approximate 8% annual rate. Therefore, while the current distribution may not be extremely high, it is particularly attractive given its safety and its growth rate.
Growth projects
Fortunately for its unitholders, Magellan does not rest on its laurels. It has invested $5.4 B on growth projects and acquisitions in the last decade and expects to spend another $2.5 B over the next three years on several projects, which are related to its segments of refined products and marine storage. Given the discipline of management to invest only in high-return projects, the size of the ongoing projects certainly bodes well for the growth prospects of the MLP.
Risks
As Magellan operates with a fee-based model, it is highly protected from the gyrations of commodity prices. Therefore, its risks are limited to severe economic downturns, which can significantly reduce the transported volumes of crude oil and refined products. Nevertheless, as Magellan is essentially affected only by the volume decrease in such instances, it is much more resilient than the majority of oil stocks during recessions.
A decrease in the transported volumes may also be caused by a steep increase in the use of alternative energy sources, such as ethanol, biodiesel, natural gas, battery-powered engines and solar energy. However, it is really unpredictable how much these energy sources will impact the future demand for oil products. Therefore, this risk factor is a long-term concern and is not likely to affect the results of Magellan for the foreseeable future.
Final thoughts
Magellan is a unique MLP. It is the only MLP that has a strong discipline to invest only in high-return projects. As a result, it is the only MLP with such strong free cash flows, a low amount of debt and no dilution to its unitholders. Its virtues are evident from the growth of its distribution for 64 consecutive quarters at a 12% average annual rate. As Magellan offers a 5.7% distribution yield and intends to raise it at an 8% annual rate, investors should consider opening a position in this unique MLP.
Disclosure: I/we have no positions in any stocks mentioned, and no plans to initiate any positions within the next 72 hours.
I wrote this article myself, and it expresses my own opinions. I am not receiving compensation for it (other than from Seeking Alpha). I have no business relationship with any company whose stock is mentioned in this article.