As my readers will know, I own my Canadian Wide Moat 7 for my personal registered retirement account. You can read about that portfolio here on Seeking Alpha, or here on a guest post on Sure Dividend. As we know Sure Dividend is a favourite with many Seeking Alpha Dividend Growth investors; you might enjoy this guest post on Why Dividend Growth Investing Works.
Here are the 3 Canadian Wide Moat sectors that are covered.
Canadian banking is dominated by the Big 5: Royal Bank of Canada (NYSE:RY), Toronto-Dominion Bank (NYSE:TD), Scotiabank (NYSE:BNS), CIBC (NYSE:CM) and Bank of Montreal (NYSE:BMO). If you check my disclosure you will see that I am employed at a Scotiabank subsidiary, Tangerine Investment Funds Limited.
The Telco space is dominated by the Big 3: Bell (NYSE:BCE), TELUS (Telus) (NYSE:TU) and Rogers (NYSE:RCI).
Canada's two big pipelines are Enbridge (NYSE:ENB) and TransCanada (NYSE:TRP).
For my portfolio I hold the 3 largest Canadian banks with Royal, TD and Scotiabank, those two pipelines, and due to familiarity with the companies and brands I hold BCE and Telus in that Telco space - the new utilities.
It might not look like much by way of diversification, but then again, Canada does not present a well-diversified stock market or economy. The Canadian market is dominated by the financials, energy and materials. I hopefully have exposure to best of breed financials, and I have access to the energy sector not by way of the more cyclical energy producers, but by way of the toll takers, those pipelines that (mostly) carry the oil and natural gas. I have exposure to the consumer by way of those two new-utility telcos in an industry that plays an undeniable trend - Canadians are addicted to their smartphones and other devices and they need that data. And in the end all 7 companies, in my opinion, benefit from that wide moat. Canadians' preference and loyalty and regulations protect those banks and telcos from competition. The pipelines well, they got their first. Who's going to build a pipeline beside an existing pipeline and compete on price? And as we know, most pipeline contracts are very long term. Those pipes are full.
Always, please keep in mind that a portfolio of 7 companies carries incredible concentration risks for the shorter term and longer term.
Now given that these are dividend growth companies and that these are companies that pay very generous dividends, an investor might first concentrate on those growing dividend payments. Courtesy of portfoliovisualizer.com, here's the income stream for a 5-year period from January of 2013 through to end of 2017. These figures are for the Canadian Dividends, we'll get to those US dividends and stock prices later.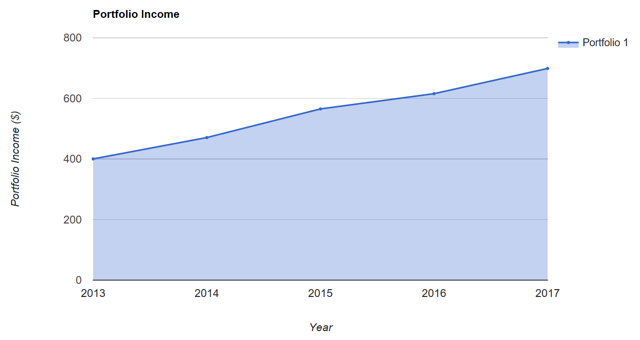 We can see that the starting yield was a clean 4% (right on the button) and that dividend income (with dividend reinvestment) increased to 7%. Of course that's the current income yield produced from that initial purchase in 2013. Given the share price appreciation, the current yield from the portfolio (in equal weighting and dividend reinvestment into each individual holding) would still have been 4% in 2017.
That said, there have been many opportunities along the way to boost that income yield by adding the dividend income plus new monies into the companies when they go out of favor. When companies are maintaining or increasing their dividends - stock price goes down, dividend yield available goes up. Simple math of course.
And in 2018 that 'stock price goes down event' or opportunity has presented itself once again. While my banks have held up reasonably well,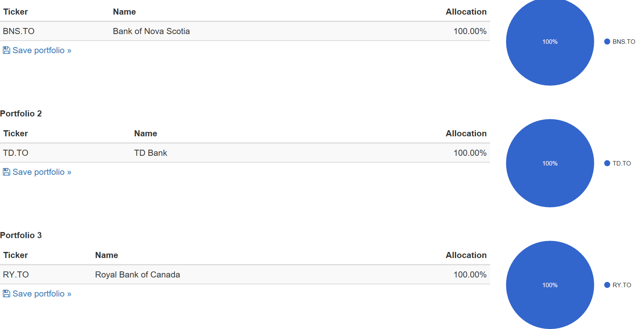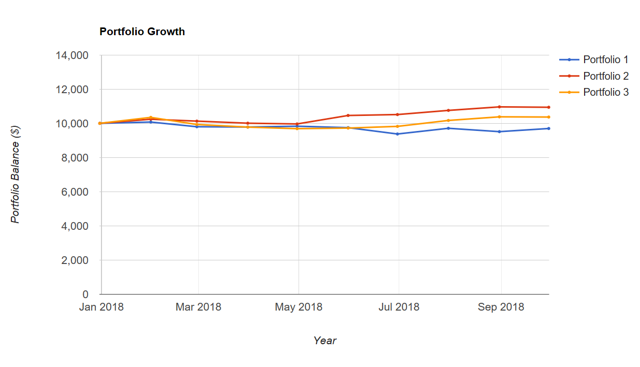 the same can't be said for my pipelines and Bell.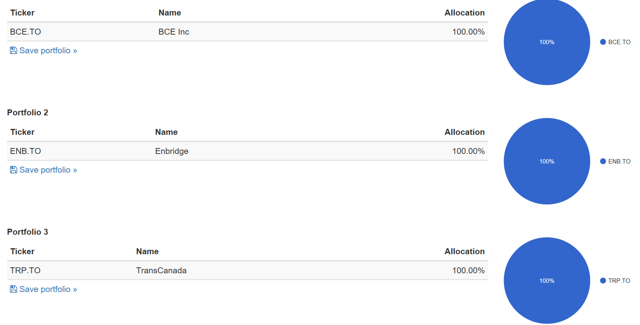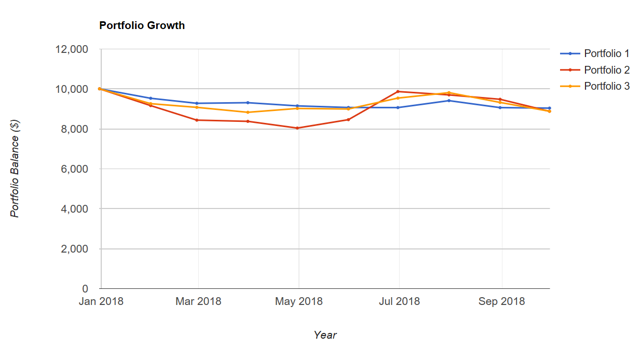 Keep in mind that these are long-term dividend growers and while we have had some falling share prices recently, we've had increasing dividends over many years.
From the 'newish' dividend tools on Seeking Alpha, here's the dividend history for Enbridge. Keep in mind that US investors do experience that currency exposure or risk. You might see what appears to be a dividend cut with your non-US holdings due to that currency exposure, even as the company is increasing its dividend on a regular schedule in its home country currency. Enbridge has increased its dividend in the range of 10% CAGR.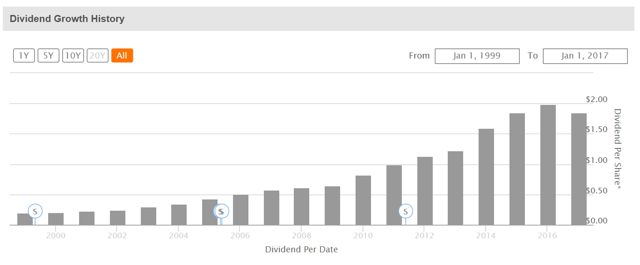 And here's TransCanada.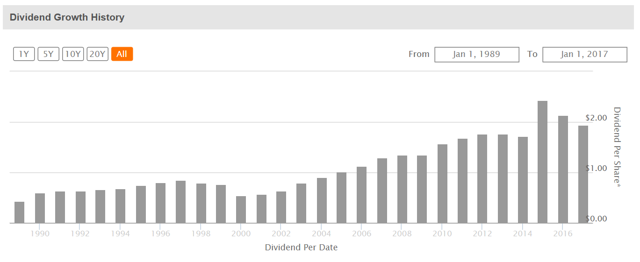 And lastly, Bell.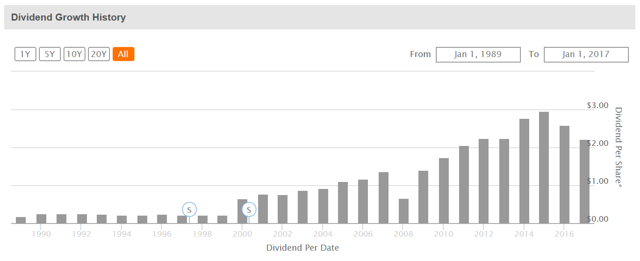 Yup, it can look somewhat 'lumpy' for a US investor. It might be important to keep an eye on that long-term trend, and to consider the true dividend growth rate - that is what will measure or reflect the true business success over time, and it will demonstrate management's commitment to that dividend growth offering or promise for investors.
So what do these price drops mean for US investors? Here are the current yields available in October of 2018. Of course, this will change as prices fluctuate on a daily and weekly basis. Figures courtesy of Seeking Alpha.
BCE - 5.7%
ENB - 6.0%
TRP - 5.0%
That's quite the juicy group. Of course one could create a mix that would generate a current yield above 5.5%. And there's a solid dividend growth history and promise thrown into the mix. Enbridge has suggested that it will continue to increase its dividend 10% each year for the next several years. I listened to portfolio manager Rob Lauzon who was on BNN yesterday. He had met with management (the day previous) and they had communicated to him that all was going to plan and that the pipelines were full and they expect them to be full for the foreseeable future. It appears we're still using oil and natural gas, and with increasing appetite. The link shows Mr. Lauzon's take on TransCanada. You can navigate through the site for his take on Enbridge and other Canadian dividend payers.
On the financial side, Scotiabank is also offering a juicy yield of 4.4%. That was also one of Rob's top picks in the banking sector. I personally have never invested based on analyst recommendations, but I've found this analyst to be quite sensible and measured. While we can't meet with management, it may be an added benefit to listen to those who do have that access. He appeared to like the opportunity presented in many of my wide moat holdings. But I'll leave the final decision up to you.
If you're looking for some generous yields, and dividend growth, north of the border might be a good place to look.
For my personal portfolio I may also be able to take advantage of these price drops, even though I am somewhat in the decumulation stage with my new blogging semi-retirement life stage as I attempt to make 'half a living' writing about Canadian Dividend options and ETF Model Portfolio construction, Robo Advisors and more.
As you may know I left Tangerine Investments in June to start my new venture, but my retirement group plan monies are still with Tangerine. I moved them out of the Tangerine Portfolios and into cash. Given the unpredictability of my life stage and income, I decided to keep that pot of monies in that retirement savings account. They will be moved to stock or bonds, or a mix of both.
While additional stock exposure would increase portfolio price risk, those big juicy dividends are looking quite tempting. I will be sure to update you on any 'moves.'
Author's note: Thanks for reading. Please always know and invest within your risk tolerance level. Always know all tax implications and consequences. If you liked this article, please hit that "Like" button. If you'd like notices of future articles, click the "Follow" button.
Happy investing.
Dale
Disclosure: I am/we are long BNS, TD, RY, AAPL, NKE, BCE, TU, ENB, TRP, CVS, WBA, MSFT, MMM, CL, JNJ, QCOM, MDT, BRK.B, ABT, PEP, TXN, WMT, UTX, BLK.
I wrote this article myself, and it expresses my own opinions. I am not receiving compensation for it (other than from Seeking Alpha). I have no business relationship with any company whose stock is mentioned in this article.