Since the end of the financial crisis, many REITs have seen a renewed appreciation for managing risk. Specifically, they have realized that an investment-grade credit profile provides them with the opportunity to tap an unsecured debt market and to continue to unencumber their portfolios.
Maintaining a healthy balance sheet is a tremendous driver for REIT performance, as it suggests discipline and the commitment by the management team to drive earnings growth. By focusing on dispositions, many REITs are continuing to delever in a time when cap rates remain attractive.
Just like when I pay off my credit card debt and get rewarded with a higher credit score, REITs are also rewarded for their strict discipline and improved cost of capital. So far in 2018, there have been 38 rating agency actions, of which 26 were positive.
Liquidity and access to capital within the REIT sector is strong, and most REITs have enjoyed healthy access to capital up and down the capital stack.
Eva Steiner, a professor at Cornell University, was co-author of the "Outstanding Paper" submitted at the 2017 NAREIT-AREUEA Real Estate Research Conference. In an interview with NAREIT last year, she said:
"We know that capital structure risks, especially high leverage and a high share of short-term debt, significantly reduced the cumulative total return of U.S. REITs in the 2007-2009 financial crisis. In this study, we found that reducing those risks ahead of the crisis, specifically by reducing leverage and extending debt maturity in 2006, was associated with a significantly higher cumulative total return 2007-2009, even after controlling for the levels of those variables at the start of the financial crisis."
She concluded by saying, "adjustments to capital structure ahead of the crisis were an important component of managerial skill and discipline that supported firm value during the crisis."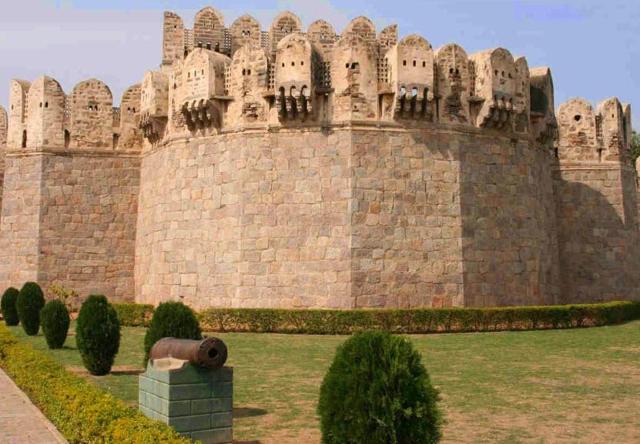 The A-Rated REITs
In the vast jungle of real estate products, there are thousands of investment options and, as many have learned, the riskier options appear to be those with unsound capitalization and poorly managed leverage controls.
Conversely, many publicly-traded REITs have managed to survive and thrive for decades using risk-aligned practices distinguished by sound balance sheet fundamentals and rhino-focused dividend performance.
While many public U.S. stocks are paying out modest dividend yields, high-quality REITs, characterized as rhino-like alternatives, seem to be resonating with income-oriented investors.
Since REITs are required by law to pay out 90% of income in the form of dividends, starved income investors are clamoring for these reliably safe-margin products.
The Rhino Principle is characterized by disciplined single-mindedness in which survival is predicated on taking charge of what is in your path. Similarly, public REITs are differentiated by rhino-like defensive investment strategies in which leverage is essential to long-term profitability.
As explained by Charlie Keenan in REIT magazine:
"Overall, public REITs are in good standing in terms of leverage, having cleaned up balance sheets since the financial crisis. This gives them a competitive advantage versus their private counterparts, especially at a time when banks have retrenched in lending and the commercial mortgage backed securities market has faltered."
For those income-oriented investors looking for stability, a REIT's credit rating is a good place to start. A credit rating is an assessment of the riskiness of a REIT's debt - issued and provided by one of three primary rating agencies: Moody's Investor Services (Moody's), Standard and Poor's (S&P) and Fitch Rating Services (Fitch).
While it is not a perfect measurement of risk for equity investors, I have found it to be a good indicator of a REIT's risk, providing greater clarity about a REIT's ability to grow value through access to low-cost capital.
The rating agencies evaluate a REIT's credit based on two primary criteria: (I) Business risk of its operations - basically how risky is the income from its properties, and (II) financial strength - a REIT's balance sheet strength including its leverage and liquidity.
The rating agencies then assign each issuer with a rating that falls into two general categories - (I) investment grade, or (II) sub-investment grade (historically, "junk").
Within these categories, there are specific alphabetic ratings, with investment grade falling between AAA and BBB- (S&P's rating scale) and sub-investment grade being anything rated BB+ or below.
It is important to remember that the rating agencies rate both a REIT's corporate credit as well as specific debt instruments, which may have features that make it more attractive to lenders such as mortgage interests in property or certain cash reserve features. From a REIT equity shareholder's perspective, the corporate credit rating is the most appropriate to evaluate.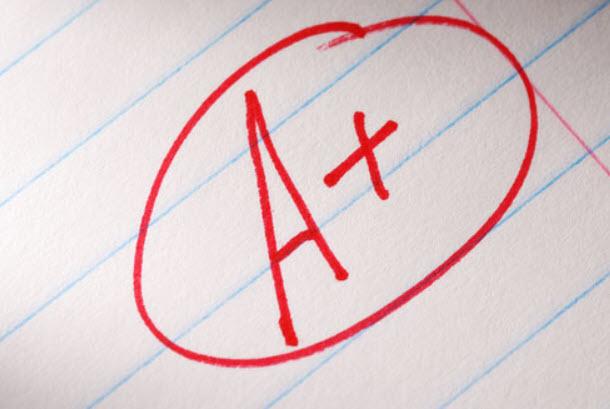 A Few Fortress REITs To BUY
It's October, and this means that Mr. Market is continuing to "spook" REIT investors, and this means that the market holds some opportunities and the best way to play it is to "wade into" the market, as volatility will likely persist near-term.
Keep in mind, REITs own REAL ESTATE, which is driven and based on rent growth and underlying fundamentals. Accordingly, I expect in the coming week or so that the REIT sectors will be driven by earnings more than rate expectations - barring a significant move in rates.
As shown below, my "A" list includes Realty Income (O), Simon Property Group (SPG), Federal Realty (FRT), AvalonBay (AVB), and Public Storage (PSA). These 5 REITs own assets in a variety of property sectors, so it's important to recognize that each REIT has its own risk characteristics.
5 REITs You Can Buy #1: Realty Income
The Big Why: Realty Income continues to have excellent credit quality in the portfolio with over half of annualized rental revenue generated from investment grade-rated tenants. The weighted average rent coverage ratio for the retail properties is 2.9x (on a four-wall basis), while the median is 2.8x.
Feather in its Cap: The company has approximately $1.1 billion available on its line of credit, excluding the accordion feature (including the accordion, the company has about $2 billion of capacity on the revolver). The company has an A3 rating from Moody's, one of just a handful of other REITs (with an A3 or better rating).
Downsides: The company's watch list remains in the low 1% range as a percentage of rent, which is consistent with levels of the last few years.
Performance YTD: 3.1%
Alpha Insider Management Update: In Q2-18, Realty Income completed $347 million in acquisitions at a 6.5% cap rate, and investment spreads were consistent with the company's long-term average. Around 52% of the rental revenue generated from these investments is from investment-grade-rated tenants, and overall, Realty Income continues to see a steady flow of opportunities that meet investment parameters.
Bottom Line: Given the continued strength and visibility in the investment pipeline and the current market environment, Realty Income is increasing 2018 acquisitions guidance to approximately $1.75 billion from the prior range of $1 billion to $1.5 billion.
The company increased the dividend for the 97th time in its history, a 4% increase over the year-ago period. The company has increased its dividend every year since listing in 1994, growing the dividend at a compound average annual rate of 4.7%. Realty Income is one of only five REITs in the S&P High-Yield Dividend Aristocrats Index. Maintaining a BUY.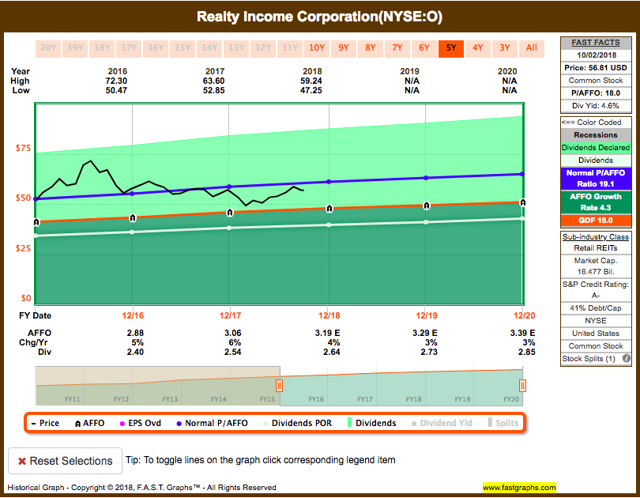 5 REITs You Can Buy #2: Simon Property Group
The Big Why: Simon has the scale advantage and the cost of capital advantage. Interesting enough, all of the 5 blue-chip BUYs enjoy similar attributes. Simon's moat is well-defined, and the management team has maintained strict discipline to drive shareholder returns.
Feather in its Cap: Simon does an excellent job releasing space to new tenants, and it possesses some pricing power given its high-quality properties. The company has reasonable debt levels with a balanced debt maturity schedule, and a solid fixed charge coverage ratio. Simon's debt ratings are among the best unsecured debt ratings in the REIT industry, and this underscores the balance sheet strength.
Downsides: Retail store closures continue to create an overhang as well as the uncertainty of Sears' (SHLD) demise.
Performance YTD: 4.3%
Alpha Insider Management Update: Simon announced its dividend this quarter of $2.00 per share, an increase of 11.1% year over year. The company will pay at least $7.90 per share in dividends, an increase of more than 10% compared to the $7.15 paid last year.
Bottom Line: Simon's balance sheet continues to be industry-leading, with net debt to EBITDA of 5.4x, well below the peer group. Fixed interest coverage was 5x. Simon has only 5% of debt that's variable rate, as the company refinanced approximately $2.4 billion of mortgage debt with an average rate of 3.98% and term of 8.9 years. Maintaining a BUY.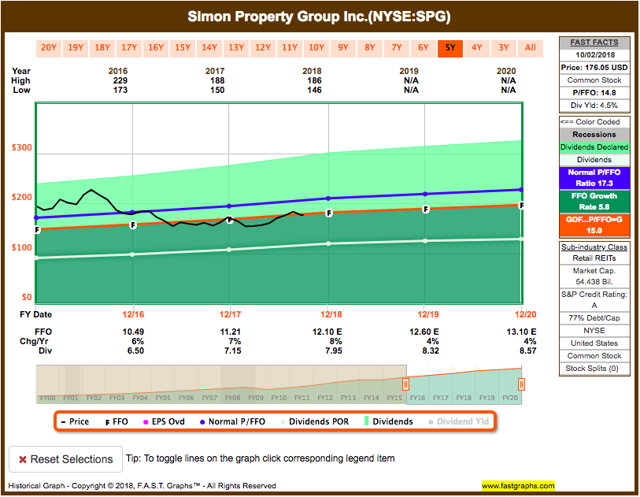 5 REITs You Can Buy #3: Federal Realty
The Big Why: Federal's 104 properties include over 2,900 tenants in approximately 24.2 million square feet and over 1,800 residential units. The company has a highly diversified portfolio with no one tenant that represents more than 3% of ABR and no single category is greater than 9%. The company owns flexible real estate purposefully positioned to be the real estate of choice for the widest selection of tenants.
Feather in its Cap: Federal is not solely focused on power centers (12%), super-regional centers (25%), mixed use (31%) or grocery-anchored (26%). The company maintains tactical exposure within its retail portfolio, focusing on underlying demographics and high-quality tenants.
Downsides: Year-to-date performance was driven by higher NOI, primarily due to less impact from failing tenants, higher other property revenues, lower property operating expenses with a slight offset from higher real estate taxes. Retail remains volatile.
Performance YTD: -5.4%
Alpha Insider Management Update: Federal entered 2018 extremely well-positioned from a capital perspective and, as a result, there was not a significant amount of activity in the quarter. At quarter-end, FRT's net debt to EBITDA ratio improved from 5.9x at year-end to 5.7x.
Bottom Line: Federal's A-rated fortress balance sheet continues to position the company to outperform in a challenging environment. The company is the only A-rated REIT in the shopping center sector. Maintaining BUY.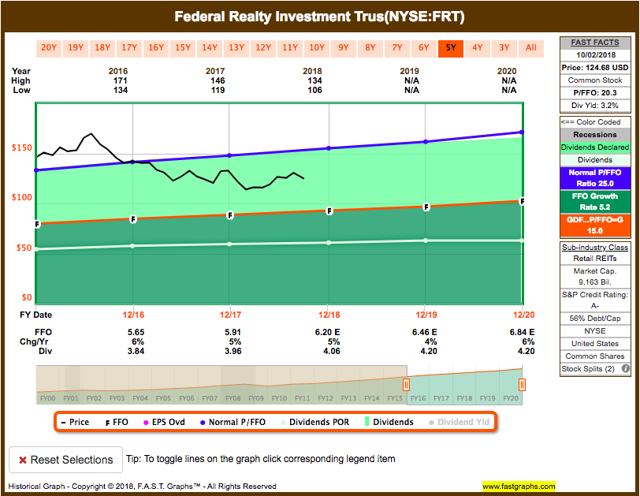 5 REITs You Can Buy #4: AvalonBay Communities
The Big Why: AvalonBay owns and operates over 288 communities containing nearly 84,000 apartment homes across 20 markets (primarily focused on coastal markets). The company is an S&P 500 company and is the 8th largest publicly-traded REIT in the U.S.
Feather in its Cap: AVB has multiple growth platforms, primarily led by new development and a conservative balance sheet with sector-leading credit metrics. Given the strength of the business model, I find it intriguing that AVB is underperforming the peers. On the surface, AVB should be performing better than the peers, and I thought it would be useful to take a deeper dive into the fundamentals to determine whether a true margin of safety exists.
Downsides: Development is a risk, but AvalonBay maintains 11 regional offices, each fully staffed with a team of professionals in development, construction, and residential services. The company chooses to act as its own general contractor in most cases, allowing it to further control costs and quality while ensuring that the communities are developed to last.
Performance YTD: 2.6%
Alpha Insider Management Update: AvalonBay's balance sheet management efforts over the past few years have produced a remarkably well-laddered debt maturity schedule that will serve the company well in the coming years, specifically via substantially addressing the near-term debt maturities and to stagger debt maturities efficiently over the next 10 years.
Bottom Line: AvalonBay is demonstrating sound risk management practices, and I believe that eventually shares will normalize (trade in line). By investing in high barrier-to-entry markets, AVB's portfolio is considered one of the most defensive in the apartment sector, and I am maintaining a BUY.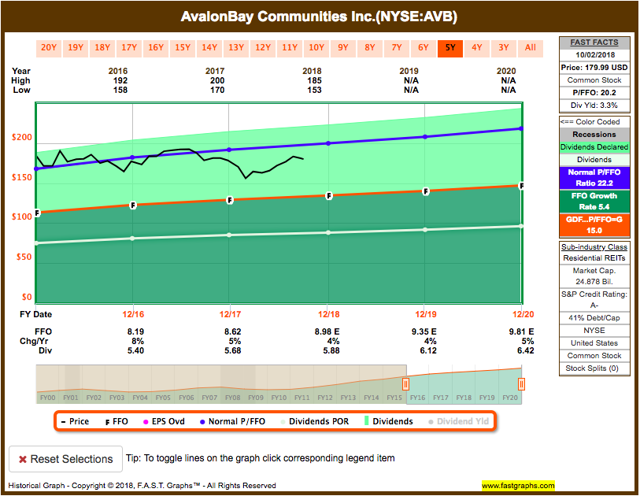 5 REITs You Can Buy #5: Public Storage
The Big Why: Public Storage built its first self-storage facility in 1972, and today it operates thousands of unique and diverse company-owned locations in the US and Europe, totaling more than 142 million net rentable square feet of real estate. Public Storage is among the largest landlords in the world.
Feather in its Cap: The size and scope of PSA's operations have enabled the company to achieve high operating margins and a low level of administrative costs relative to revenues through the centralization of many functions, such as facility maintenance, employee compensation and benefits programs, revenue management, as well as the development and documentation of standardized operating procedures.
Downsides: Between 2011 and 2016, PSA's same-store revenue growth rate averaged 5.4%, well above the 20-year historical average of 3.7%. The absence of new supply after the 2008/2009 financial crisis and strong job growth were "tailwinds" for the self-storage business. In 2016, however, PSA's revenue growth declined for the first time in six years to 5.8% and, in 2017, decelerated to 3.0%. The construction of new properties has increased significantly over the last three years.
Performance YTD: -2.5%
Alpha Insider Management Update: The "Public Storage" brand name is the most recognized and established name in the self-storage industry, due to its national reach in major markets in 38 states, its highly visible facilities, and facilities' distinct orange colored doors and signage.
Bottom Line: PSA's financial profile is characterized by strong credit metrics, including low leverage relative to total capitalization and operating cash flows. PSA is one of the highest-rated REITs, as rated by major rating agencies Moody's and Standard & Poor's. The company's senior debt has an "A" credit rating by S&P's and "A2" by Moody's. We maintain a BUY.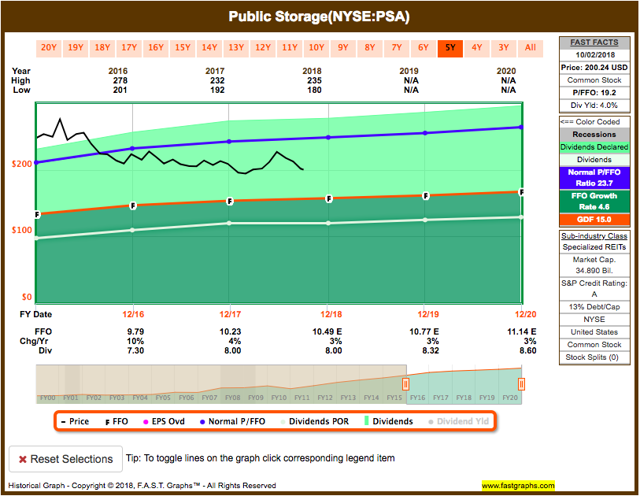 Author's note: Brad Thomas is a Wall Street writer, and that means he is not always right with his predictions or recommendations. That also applies to his grammar. Please excuse any typos, and be assured that he will do his best to correct any errors, if they are overlooked.
Finally, this article is free, and the sole purpose for writing it is to assist with research, while also providing a forum for second-level thinking.
Source: F.A.S.T. Graphs