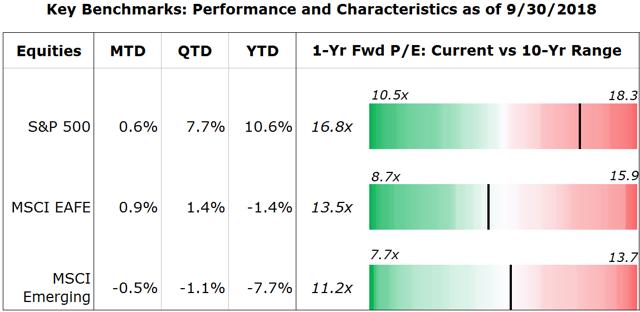 Data Source: Bloomberg
International Gains Ground as Trade Tensions Ease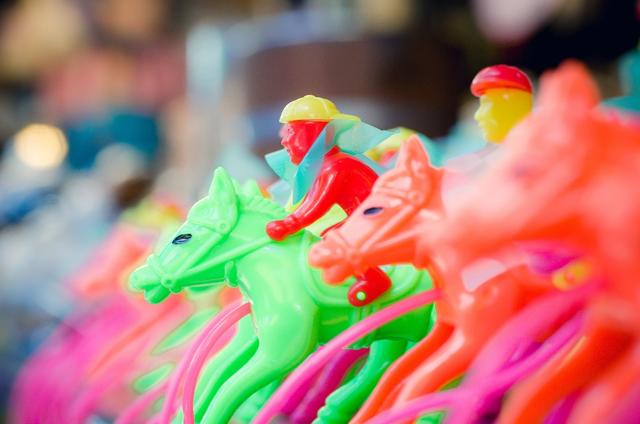 Source: istockphoto
As we write this, it was announced over the last weekend in September that the U.S. and Canada have reached a last-minute accord to revise the North American Free Trade Agreement (NAFTA). The accord allows Canada to join a revised agreement reached between the U.S. and Mexico this past August.
"NAFTA 2.0" represents a significant revision of the original NAFTA agreement, with the biggest impact expected on the automobile sector. For instance, the new agreement will require a greater portion of vehicles to be made in North America with higher wage labor sourced in the U.S. and Canada. Canada will also curb protection of its dairy industry in return for the U.S. to drop its demands to scrap the original treaty's Chapter 19 provisions allowing member states to challenge trade restrictions imposed on the others.
The NAFTA 2.0 revelation appears to represent a shift in global trade rhetoric despite outstanding issues surrounding U.S./China trade (tariffs were imposed on both sides but largely expected by investors) and a hardening stance between the United Kingdom and European Union over Brexit. Sentiment seems to be turning around for international investing, as higher interest rates are now being interpreted as signs of a stronger U.S. economy that can potentially lift the rest of the world out of its doldrums.
And despite higher commodity prices, notably oil, that can weigh on the domestic economies of emerging markets more susceptible to raw material inputs costs, the earnings fortunes appear to be turning around for emerging markets. Sentiment seems to be moving away from U.S. small caps as the earnings outlook appears to have hit a near-term peak (Figure 1).
Figure 1 - A Reversal of Fortune for Earnings Outlook: MSCI Emerging Markets versus U.S. Small Caps (Russell 2000) and Large Caps (S&P 500)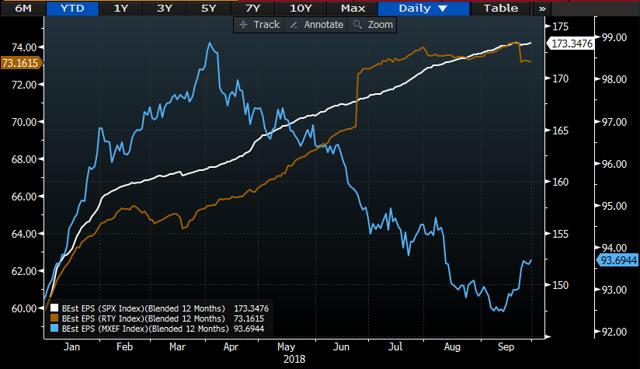 Source: Bloomberg using Bloomberg Earnings Estimate Data (BEst)
Emerging markets underperformed developed markets in September and the third quarter, but this masks a sharp reversal of relative performance between EM and developed markets starting mid-September. Some attribute the recovery to investors taking advantage of oversold conditions and cheaper valuations as well as positive central bank policy responses, including Indonesia, Russia and Turkey. Investors also expect Chinese stimulus measures to soften the impact from U.S. tariffs. Following the rally, the relative forward price/earnings (P/E) multiple of Emerging Markets narrowed a little bit versus the developed markets (Figure 2) but remains near the lower end over the past 10 years.
Figure 2 - Emerging Market Relative Valuation Narrows versus the Developed Markets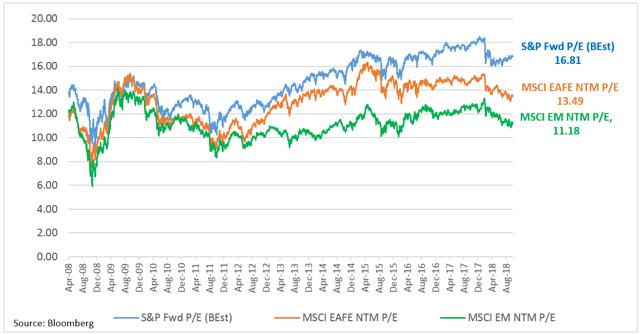 Investors are also warming up to Europe as a recovery in German business sentiment (Figure 3) is helping to lift the broader continent despite being at loggerheads over Brexit and confronting Italy over its proposed budget that would equate to a budget deficit of 2.4% of GDP. Even though French President Emmanuel Macron has seen his popularity plummet among French voters, he has advocated budget reform measures that would slash public expenditures from more than 56% of GDP to 51% by 2022 as well as implementing pro-business initiatives such as cutting taxes and introducing more flexibility into the labor market.
Trade frictions have also weighed on Japanese manufacturing sentiment, but Japanese equities rallied in late September as the U.S. and Japan agreed on a framework for negotiating a trade deal where the U.S. agreed not to impose auto tariffs on Japan as long as negotiations were ongoing.
Figure 3 - Japan and German Business Sentiment Could Recover as Trade Friction with the U.S. Begins to Subside

Emerging Markets Not Out of the Woods
Although investor sentiment appears to have bottomed for emerging markets, the region is still dealing with longer-term structural issues that could leave it more vulnerable to future shocks. We've discussed the external (foreign-currency denominated) debt burdens as a percent of GDP that are squeezing many emerging market countries, such as Turkey, and that much of this debt will need to be re-financed over the next two years.
And there are ongoing issues over the quality of economic data being released by China that is not giving the true picture of the country's inflation and business sentiment, not to mention the fact that China still imposes top-down government control over major bank lending practices, monetary policy, and capital movement. To help buffer the downturn in Chinese economy activity, China is supporting its state-owned enterprises at the expense of the private businesses.
And efforts to rein in debt-financed growth by the government earlier in the year may be reversed to counter a slowdown in manufacturing activity as the slowdown may prompt "Beijing to put in place more pro-growth measures - such as an easier credit policy and greater government spending." The Caixin China PMI index, which is heavily weighted towards smaller companies, fell to 50.0 in August from 51. So, despite the recovery in emerging market equity and debt markets, broader financial conditions continue to deteriorate as does China's broader manufacturing sentiment (Figure 4).
Figure 4 - Financial Conditions and Chinese Manufacturing Sentiment Reflect a Weakening Environment for Emerging Market Investing

The USD/CNY spot appears to have topped out for now (Figure 5), but longer-term structural issues remain for China even if negative sentiment has bottomed out.
Figure 5 - USD/CNY Appears to Have Topped Out for Now

The U.S. Economic Picture Still Looks Rosy Despite Higher Interest Rates
The Federal Reserve hiked its benchmark rate to 2.00-2.25% at its September meeting and removed the "accommodation" term from its communique, which some Fed analysts interpreted as a dovish signal that the end of the rate hike cycle may be near. Fed Funds futures are anticipating another rate hike at the December meeting, which would result in a real interest rate of 0.40%, assuming 2.1% core inflation. One would not be unreasonable to expect the Fed to act more cautiously when raising rates to make sure that the U.S. economy, post 2008, can withstand a positive real rate environment and not roll over into recession. The Fed has already removed emergency monetary measures such as quantitative easing as the Treasury and mortgage-backed securities held by the Federal Reserve Balance Sheet continue to roll off as they mature.
Risk appetite for U.S. equities and lower-grade credit remains unabated despite the higher rate environment. U.S. financial conditions remain robust (Figure 6) as high yield credit spreads hover near their 5-year lows (Figure 7). Lower-rated (BBB) investment grade risk is also benefiting from investors hungry for yield despite large-scale merger activity (AT&T (NYSE:T)-Time Warner (NYSE:TWX) and Comcast (NASDAQ:CMCSA)-Sky) that is being financed by more debt.
Figure 6 - U.S. Financial Conditions Are Accommodative Despite a Tightening Fed

Figure 7 - Investors Increasingly Comfortable with Taking on Lower-Grade Credit Risk

With the Fed feeling more confident on its rate hike projections, investors' attention should turn towards inflation. Core inflation (PCE Core Deflator) is just under 2%, but employment cost pressures are building up (Figure 8). The Fed may want to keep rates running ahead of core inflation, but not too far ahead.
Figure 8 - Core Inflation Running Just Under 2%, But Employment Cost Pressures Are Building Up

Even though business sentiment and capital expenditure plans have cooled off from their post-tax reform peak levels due to trade uncertainty, the U.S. economy continues to perform above expectations with 2Q real GDP growing at 4.1% and 3Q GDP tracking 4.1% growth based on the 10/1/2018 Atlanta Fed GDPNow model.
Looking forward, U.S. markets may be subject to volatility around the mid-term elections, but corporate profitability remains robust on top of ~10% year-over-year revenue growth generated by S&P 500 companies. What could trip up the U.S. story, apart from renewed trade disputes, is the risk of "overreach" - either overreach by the Fed, via aggressive rate tightening, or overreach by U.S. corporations via aggressive merger and acquisition activity funded by increasing amounts of debt.
One final note on oil prices where generic one-month spot crude oil rallied to $73.44 a barrel (up from an intra-quarter low of $66/barrel in mid-August). Global oil demand continues to outstrip supply (Figure 9) as OPEC members remain committed to maintaining discipline over production even as North American shale producers are taking advantage of higher prices by pumping out more oil. Although global supply/demand balance has narrowed, the balance is still negative which can provide a tailwind for further price increases.
Figure 9 - Global Energy Demand Continues to Outrun Supply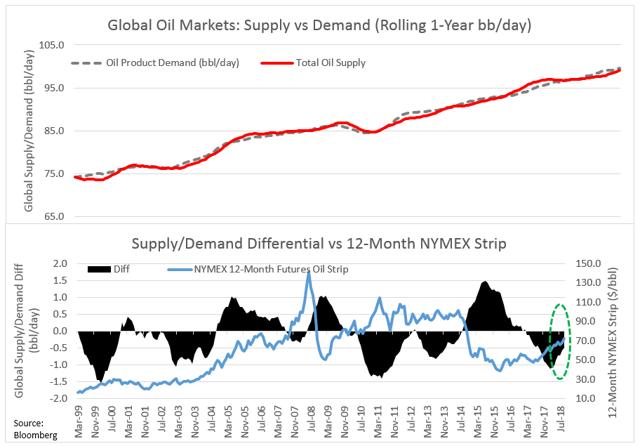 Third-Quarter Recap - U.S. Markets Dominated for Much of the Quarter but Gave Up Some Leadership at the End of September
For 3Q2018, the S&P 500 Index returned 7.7%, which led international developed markets (MSCI EAFE) and emerging markets (MSCI EM), returning 1.4% and -1.1%, respectively (Figure 10). The relative outperformance of the U.S. versus non-U.S. stocks started to narrow around mid-September as negative sentiment surrounding trade wars and local emerging market issues appears to have bottomed out.
Figure 10 - U.S. Outperforms Ex-U.S. Equity Markets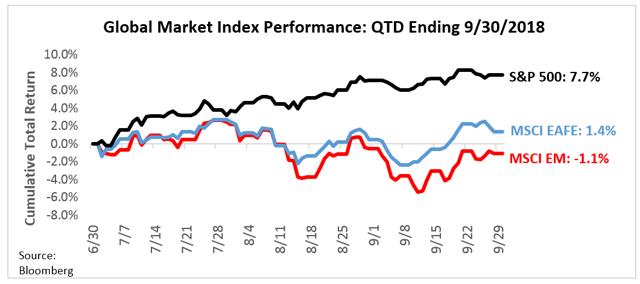 Within the U.S. markets, it was a strong quarter for U.S. large caps although growth and value performed in line with each other (Figure 11). U.S. small caps had led through the end of August but underperformed in September (small caps no longer benefiting from trade war rhetoric and a strengthening U.S. dollar). Value had also led growth as investors rotated out of high-priced technology stocks and into healthcare (perhaps in anticipation of the November elections where a Democratic Party victory would be deemed more favorable to healthcare), but value then underperformed as financial stocks, notably banks, underperformed following the Fed meeting.
Figure 11 - U.S. Large Caps Outperform Small Caps While Value and Growth Perform in Line with Each Other
As mentioned above, U.S. healthcare led all major sectors for the third quarter (Figure 12). The sector is viewed as a major beneficiary of an electoral outcome that sees more Democrats in state and Federal offices. Industrials also benefited from progress over trade negotiations. Despite the strong run in oil prices, energy and material stocks were the worst performers. Real estate and utilities also suffered from higher interest rates as inflation expectations continue to rise (Figure 13).
Figure 12 - Healthcare Leads All Major Sectors for 3Q2018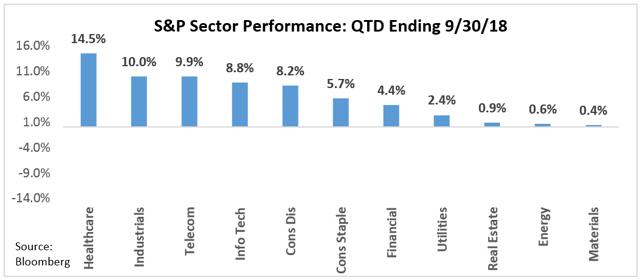 Figure 13 - U.S. 10-Year Treasury Yield Broke Through 3% and Forward Inflation Expectations Continue to Creep Up Past 2%

Broad investment-grade U.S. fixed income turned in a flat quarter despite higher interest rates as narrowing credit spreads helped offset the losses from higher rates. U.S. high yield performed well on the back of strong global equity sentiment. Emerging market bonds rallied 5% off the quarter-to-date lows on a bottoming of negative investor sentiment.
Figure 14 - U.S. High Yield Outperforms All Other Fixed Income Sectors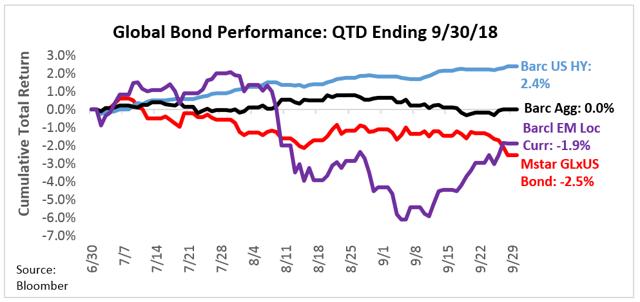 U.S. equities led all major regions for the third quarter (Figure 15), although Japan and Europe rallied late in the quarter (the latter selling off at the end of the quarter following disputes over the proposed Italy budget). Emerging Markets and Asia-Pacific were the laggards, although they also made up ground late in the quarter.
Figure 15 - U.S. Leads All Major Regions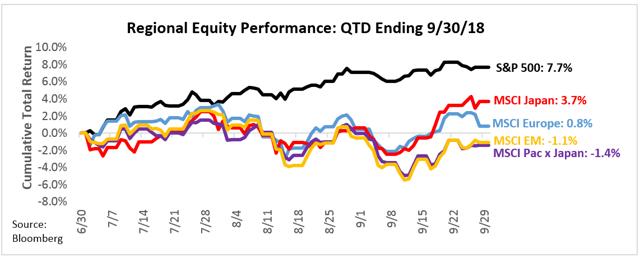 Finally, "Momentum" and "Quality" outperformed while "High Dividend" and "Value" lagged for the quarter. This continues to be a growth-driven market where investor sentiment favors "success" over "cheapness".
Figure 16 - Momentum and Quality Lead All Major Factors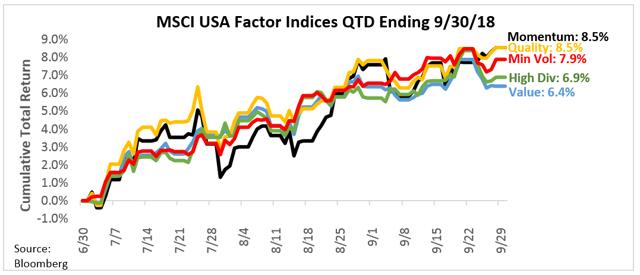 Disclosure
The above is the opinion of the author and should not be relied upon as investment advice or a forecast of the future. It is not a recommendation, offer or solicitation to buy or sell any securities or implement any investment strategy. It is for informational purposes only. The above statistics, data, anecdotes and opinions of others are assumed to be true and accurate however 3D Asset Management does not warrant the accuracy of any of these. There is also no assurance that any of the above are all inclusive or complete.
Past performance is no guarantee of future results. None of the services offered by 3D Asset Management are insured by the FDIC and the reader is reminded that all investments contain risk. The opinions offered above are as October 1, 2018 and are subject to change as influencing factors change.
More detail regarding 3D Asset Management, its products, services, personnel, fees and investment methodologies are available in the firm's Form ADV Part 2 which is available upon request by calling (860) 291-1998, option 2 or emailing sales@3dadvisor.com or visiting 3D's website at www.3dadvisor.com.
Disclosure: I/we have no positions in any stocks mentioned, and no plans to initiate any positions within the next 72 hours.
I wrote this article myself, and it expresses my own opinions. I am not receiving compensation for it. I have no business relationship with any company whose stock is mentioned in this article.