Cloudera (CLDR) recently announced their transformative acquisition with Hortonworks (HDP), creating what could be the industry standard for hybrid cloud data management. This could end up accelerating customer adoption, community development, and increase partner engagement.
Upon the closing of the transaction in Q1-19, the combined entity will become a $720 million enterprise serving 2,500+ customers. One of the biggest advantages to this deal is the new company's scale and size, leading to a more competitive environment among the cloud-based companies. Despite the ~11% increase in CLDR since the announcement of the acquisition, the stock still has room to run post-closing.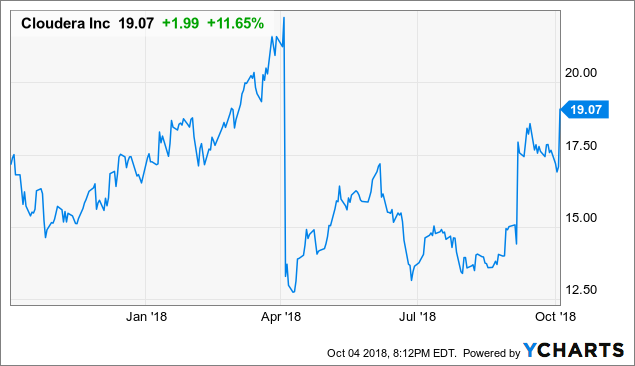 CLDR reported a relatively soft Q1 earnings which sent the shares down over 40% over the following days. Investors need to remember that yes, billings have decelerated over the past few quarters leading to ~7% billings growth in Q2, however, the Q2 earnings were still strong, leading to a raised revenue guidance. Subscription revenue represents ~84% of total revenue, thus, investors are paying for visibility into the company's revenue stream.
Acquisition Dynamics and Opportunity
One of the biggest advantages about CLDR's acquisition of HDP is the combined scale of the two companies. When competing against other cloud-based players, it is important to have scale and demonstrate this ability to prospective customers. The two combined companies will have a pro-forma revenue of ~$720 million, serving over 2,500 customers. This enterprise is surely large enough to compete against the larger players in the market, giving the combined enterprise larger scale and capabilities.
CLDR was on the path towards profitability and margin expansion, however, this acquisition will expedite this process. Management now sees a 2020 framework of $1+ billion in revenue corresponding with 20% revenue growth, 75% gross margins, 10% operating margins, and 15% cash flow margins.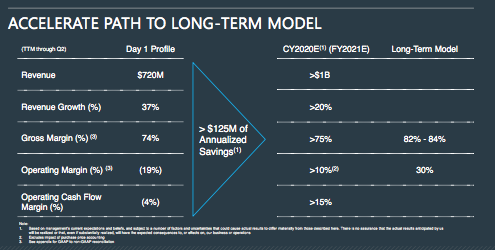 Source: Company Presentation
The path to profitability is much more profound for the combined enterprise. On a pro-forma basis, CLDR will have ~$720 million in revenue growing ~37% with 74% gross margins. This is a great growth rate and gross margin combination. However, when looking at the Rule of 40, CLDR would score a 33 (37% revenue growth + (4%) cash flow margin). The scale of the combined entity will enable a more competitive, dynamic force to other cloud-based competitors.
Over the longer term, management believes CLDR could scale to a $1+ billion company by 2020. Along with this 20% go-forward revenue growth rate, management sees gross margins expanding slightly to 75%, but operating cash flow margins growing to 15%+. Over the long term and post-acquisition expenses, management sees gross margins expanding further, reaching 82-84% and operating margin expanding to 30%. The significant margin expansion through 2020 is largely due to the projected $125 million in cost synergies pertaining to R&D optimization, sales enhancements, and overall improved efficiencies.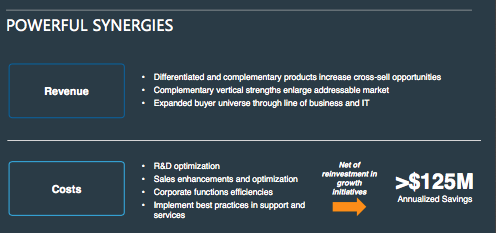 Source: Company Presentation
Just by taking management's 2020 expectations, CLDR will be a moderately profitable software company growing 20%+. This is well deserving of a premium valuation in today's market.
In addition, management discussed the several cross-sell opportunities from the combined entity. HDP has historically focused on IoT and edge computing, whereas CLDR focused more on data science, analytics, and machine learning. The difference in product offerings enables the two companies to cross-sell solutions to their current customer base. As a result, there will be an increased opportunity and TAM from CLDR post-closing. It should be noted that management indicated only modest customer overlap, less so pertaining to the larger customers.
The final significant benefit of this acquisition is CLDR's subscription revenue base and annual recurring revenue. The combined enterprise will serve over 2,500 customers. Among this customer base, more than 120 customers will have $1 million or more in annual recurring revenue ((NYSE:ARR)) and more than 800 customers will have more than $100,000 in ARR. Combined with the significant cross-sell opportunity, CLDR will have increased penetration opportunities into an already solid customer base.
Valuation
The combined CLDR enterprise will have ~$720 million of revenue growing at ~37%. With gross margins over the long-term model approaching mid-80s combined with long-term revenue growth of 20%+, this stock has the potential to trade at a premium for quite some time.
Given the combined entity will have ~$720 million in revenue and management is projecting $1+ billion by 2020, CLDR is on a clear path for continued top line growth.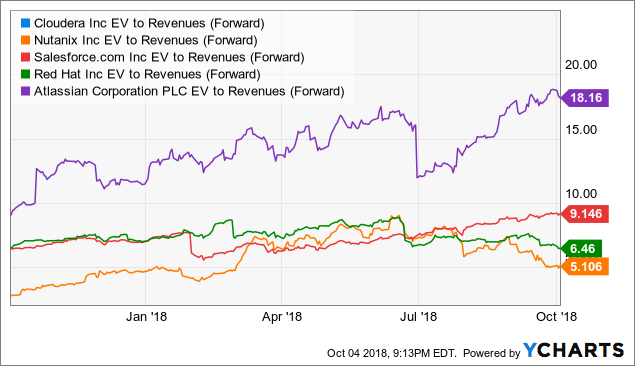 The combined enterprise will have a market cap of ~$5.5 billion and $464 million in net cash; this results in an enterprise value of ~$5.0 billion. Pre-acquisition, CLDR traded at 6.5-7.0x forward revenue. Using a revenue base of ~$925 million, derived from the $720 million combined revenue growing at a discounted 30% rate, this would result in a pro-forma forward revenue multiple of ~5.5x.
This forward revenue multiple is well below some of the leading cloud-based players in the market. The above sample set is a very small selection of possible cloud-based peers and is used only for illustrative purposes.
Over the long term, CLDR is poised to continue their solid growth trends and the acquisition of HDP gives the combined enterprise significant cross-sell opportunities and a clearer path to profitability. Though there may be some near-term turbulence as investors look to right-size their positions and gauge the appropriate multiple, CLDR is an exciting stock to own.
The main risk to CLDR is the fear that the acquisition will not close by Q1-19 or that the expected synergies are not realized. This would cause a negative reaction in the stock price as CLDR's revenue growth and path to profitability may be called into question.
Disclosure: I/we have no positions in any stocks mentioned, and no plans to initiate any positions within the next 72 hours.
I wrote this article myself, and it expresses my own opinions. I am not receiving compensation for it (other than from Seeking Alpha). I have no business relationship with any company whose stock is mentioned in this article.