There's more than one way to invest in municipal bonds. Closed-end municipal funds seek to provide higher levels of income, and short-term volatility can present attractive entry points for long-term investors.
Municipal bonds offer multiple benefits to income-seeking investors-high quality ratings, low default rates and low volatility relative to most fixed income sectors. Perhaps most of all, muni bonds are embraced by investors for their appealing tax advantages.
Just do the math. At the end of September 2018, investment grade bonds represented by the Bloomberg Barclays U.S. Aggregate Bond Index were yielding 3.46%. The Bloomberg Barclays Municipal Bond Index had a lower yield at 2.86%. However, taking into account their federal tax exemption, muni bonds provided a tax-equivalent yield (TEY) of 4.83%. (TEY is the amount of yield a taxable bond would have to provide in order for the investor to achieve the same level of after-tax income as that provided by a tax-exempt bond.) In this case, munis provided 1.37% more yield on an after-tax basis versus high-quality taxable bonds. This example assumes the highest personal tax rate. But even in today's low-yield environment, investors in any tax bracket can benefit from municipal bond tax exemptions.
Investors have the potential to achieve additional tax benefits by purchasing state and local tax-exempt bonds issued by states and municipalities in which they reside. This is particularly beneficial for residents of states with higher income tax rates, such as New York, New Jersey, California and Massachusetts.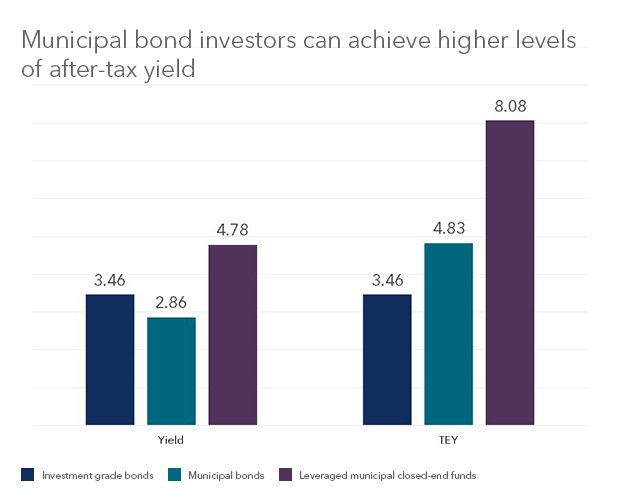 *Source: Morningstar, as of 9/30/18.Performance data quoted represents past performance and is no guarantee of future results. Index performance is for illustrative purposes only. It is not possible to invest directly in an unmanaged index.
Why closed-end funds?
Open-end funds can give investors access to a diversified portfolio of tax-exempt, income-generating municipal bonds at a relatively low level of volatility. Investors who choose to be more aggressive in their pursuit for income can benefit from municipal bond closed-end funds (CEFs). As of September 30, 2018, the average current yield of the Morningstar Municipal Closed-end Fund (Leveraged) category was 4.78%, which implies a TEY of 8.08%.
CEFs tend to provide higher yields than open-end funds, typically by using leverage to generate more income. Put simply, by borrowing at short-term interest rates and investing the proceeds in longer-term bonds, CEFs earn the spread between the two rates. Additionally, the structure of closed-end funds allows them to invest in a broader universe of municipal bonds, including less liquid investments that offer higher income and return potential.
But there's no such thing as a free lunch. Investors who desire the higher level of income afforded by a CEF must be willing to tolerate the price volatility that comes with the territory of exchange-traded securities. Fluctuations in investor demand drive disparities between a CEF's market price and its net asset value (NAV). While CEFs broadly may trade at a premium to NAV at times, market prices are usually lower than the NAV.
Why now?
CEFs are trading at historically wide discounts to NAV today, potentially creating an attractive entry point for long-term investors. While the long-term average is -3.4%, discounts have widened significantly from -3.1% to -9.3% over the 12 months ended 9/30/18, and year-end tax loss selling may drive discounts even deeper before the current trend reverses. These wide discounts offer buyers the potential to benefit from price appreciation in addition to attractive levels of tax-exempt income.
In our view, these conditions are cyclical, and discounts this wide are not likely to persist long-term. Historical data has shown that while muni CEF discounts fluctuate, they eventually trend back to their norm. As compared to the -9.3% average discount at the end of September, average muni CEF discounts have been narrower on 97% of the trading days going back to the beginning of 1997.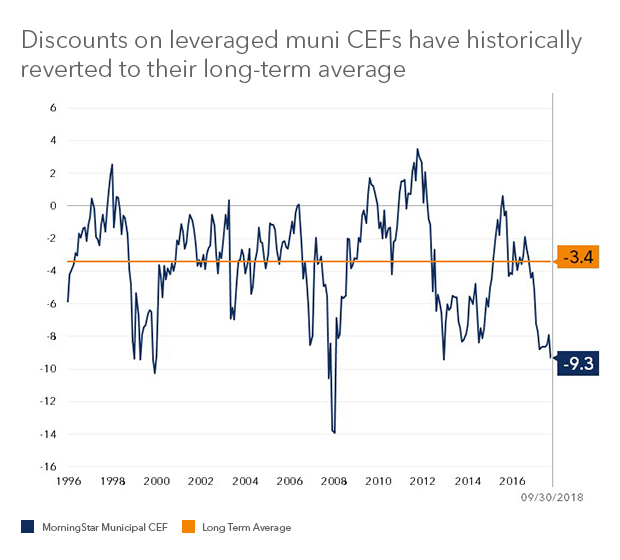 Source: Morningstar, as of 9/30/18
That said, we believe the selection of a muni CEF as a long-term holding should be driven by the investment's ability to provide attractive levels of tax-exempt income over time, whereas market price performance tends to have minimal impact on the total return of a muni CEF over time.
This post originally appeared on the BlackRock Blog.