In my works on offshore drilling dayrates (drillships, semi-subs, jack-ups, drillships part 2), I highlighted the fact that the market needs increased scrapping activity even if demand picks up. Put simply, older, less capable rigs should finally pave the way for modern rigs and newbuilds that are still in yards. The retirement of older rigs is a very important process, yet the market still fails to pick up a rapid retirement speed as seen in the picture below: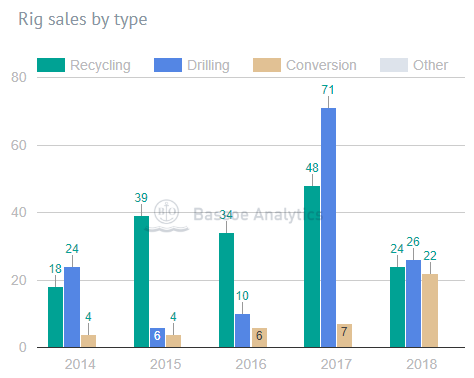 Source: Bassoe Offshore
In this light, news of retirements, especially in the floater space (floaters often have significant book values on the balance sheet, and drillers have to take an impairment hit), are interesting to follow for investors and traders in all offshore drilling stocks, be it Diamond Offshore (DO), Rowan (RDC), Noble Corp. (NE), Transocean (RIG), Ensco (ESV), Seadrill (SDRL), Seadrill Partners (SDLP) or Ocean Rig (ORIG).
The most recent retirement comes from Stena Drilling, a UK company which has 4 drillships and three semi-subs. The company announced that it the semi-sub Stena Clyde will be retired, reducing the number of rigs that the company operates to six.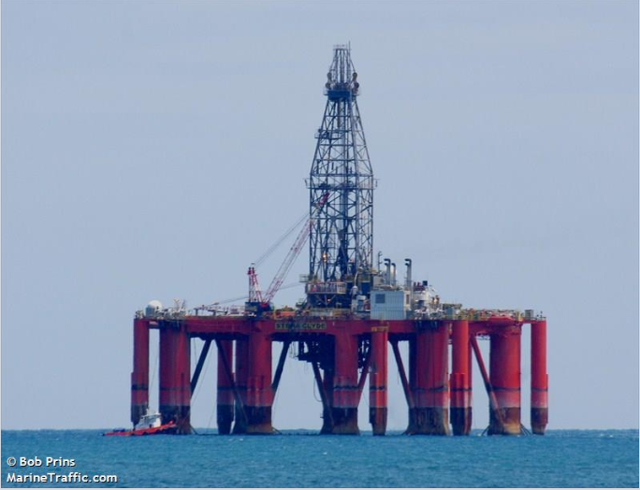 Stena Clyde
Stena Clyde is a rig of Aker H-3 design that was built back in 1976. Currently, 9 rigs of Aker H-3 and Aker H-3 Enhanced designs still exist. Interestingly, 4 of them are still drilling, 4 are cold-stacked, and one, Stena Clyde, was warm-stacked before the decision to retire her.
Dolphin Drilling has five rigs of these designs, and to me, it looks like most of them (if not all) will be soon coming off the market. Back in August, I wrote about the financial troubles of Fred. Olsen Energy (OTCPK:FOEAF), Dolphin is owned by Fred. Olsen. Fred. Olsen's problem is that the company has just one truly competitive rig, a drillship called Bolette Dolphin (2014), and it is not working. The only working rig is Blackford Delphin (1974), a semi of Aker-H3 design. My opinion is that Fred. Olsen is sprinting towards its end as the fleet is simply too old to have any chances in the modern market environment. Ultimately, this will lead to mass retirement of Dolphin rigs, just like in the cases of Paragon Offshore and Hercules Offshore.
However, future retirements are not limited to struggling smaller companies. Some major drillers also have room to get thinner. Transocean has currently 8 cold stacked rigs (3 drillships and 5 semi-subs), and it looks like most of them will be going away. Ensco has just two old rigs among 13 cold stacked ones, but with plenty of older jack-ups working right now, the company will have to keep them busy of face difficult decisions. Noble Corp. will likely retire older jack-ups Noble Gene House (1981) and Noble Joe Beall (1981) if it is not able to find follow-on work after the current contracts end. Noble's recent purchase of a jack-up increases the chances of this outcome. Rowan is already slim, Diamond Offshore will most likely keep its older moored rigs in a bid that the moored segment will continue to recover.
The current situation in the offshore drilling market is very interesting. Brent oil (BNO) prices are on the rise, with Brent now above $85 per barrels a month before Iran sanctions will start to work in full force. Drillers' shares are on the rise, although the pace of this upside has recently slowed down. The number of tenders increases, and we start to see some new contracts signed. However, dayrates remain under pressure in most market segments, and drillers' finances will lag the dynamics of oil prices.
At this point, I find that a close look at actual fundamentals, be it dayrates on new contracts or the number of rig retirements, is very important to compose a trading or an investing plan in the drillers' shares. I expect that retirements will gradually continue, but, in my opinion, retirement of more modern units in every market segment, be it jack-ups, semi-subs or drillships, will be necessary to balance the market and create an environment for a significant upside in dayrates.
So far, we see that even many older rigs are not retired. Balance sheet issues and/or the hope that things can miraculously work out prevent many drillers from more active scrapping of their rigs. I'm cautiously optimistic about the offshore drilling recovery, but I don't see fundamental data that would have pointed to rapid improvements on this front. Because of this, I expect plenty of volatility in the offshore drilling names for months and, perhaps, years ahead. Stay tuned.
Disclosure: I am/we are long NE, RDC.
I wrote this article myself, and it expresses my own opinions. I am not receiving compensation for it (other than from Seeking Alpha). I have no business relationship with any company whose stock is mentioned in this article.
Additional disclosure: I may trade any of the above-mentioned stocks.
Editor's Note: This article covers one or more stocks trading at less than $1 per share and/or with less than a $100 million market cap. Please be aware of the risks associated with these stocks.