Thesis
Procter & Gamble (NYSE:PG) is one of the biggest packaged consumer goods company in the world with annual revenues of more than $80 billion. It owns some of the best-known brands around the world. 23 of these brands generate annual revenues of more than $1 billion. The company has also rewarded investors with dividends for more than 128 years and raised them in 62 of them. It is a global company with diverse revenue sources, and as the middle class in the emerging markets (EM) expands, the company will attract new customers.
All this sounds good. However, a closer look at the company reveals some troubling signs. Some of them were clearly identified by Nelson Peltz, when he started his activism campaign on the company.
In this article, I will highlight three reasons why I believe that PG is not an ideal investment and why investors looking for exposure in PCGs should consider a company like Unilever (NYSE:UL) (NYSE:UN) instead.
Long History of Underperformance
Procter and Gamble has a long history of underperformance. The table below compares the company's shareholder returns - dividends excluded - with some of its closest peers.
| | | | | | |
| --- | --- | --- | --- | --- | --- |
| | YTD | 1-Year | 3-Years | 5-Years | 10 Years |
| Procter & Gamble (PG) | -8.18% | -8.07% | 16.49% | 11% | 18.09% |
| Unilever (UL) | 1.28% | -5.68% | 31.26% | 43% | 101% |
| Kimberly-Clark (KMB) | -5.01% | -2.02% | 5.01% | 26% | 82.7% |
| L'Oreal (OTCPK:LRLCY) | 8.14% | -2.02% | 35.96% | | 157% |
| Reckitt Benckiser (OTCPK:RBGPF) | 1.58% | 1.53% | 2.72% | 28% | 130% |
| Colgate-Palmolive (CL) | -10.68% | -7.62% | -7.62% | 13% | 75% |
| Church & Dwight (CHD) | 19.87% | 25.47% | 41.3% | 98% | 280% |
Source: YCharts
As the table above demonstrates, P&G's stock has been an underperformer for the past ten years. This underperformance does not apply to its stock price alone. A closer look at the key metrics shows a company that has a good and demonstrable track record of underperformance. The table below compares its quarterly YoY revenue and EPS growth with its close peers.
| | | |
| --- | --- | --- |
| | Revenue Growth | EPS Growth |
| Procter & Gamble | 2.64% | -12.75% |
| Unilever | -2.75% | 23.7% |
| Kimberly-Clark | 0.61% | -12.75% |
| L'Oreal | 3.67% | 4.28% |
| Reckitt Benckiser | 5.43% | 5.43% |
| Colgate-Palmolive | 1.57% | 23.7% |
| Church & Dwight | 14.4% | 68% |
Source: YCharts
Again, this table shows a company that continues to trail most of its peers.
Market Share Erosion
PG and other PCG companies are at an inflection point around the world. In traditional retail, these companies had the best positions in the stores because of the brand loyalty they were associated with. Today, with many people in the developed and EM countries moving to online shopping, this competitive advantage has been reduced. Recent research shows that young people are no longer attracted in traditional brands.
For this reason, many small brands have come up and disrupted the bread and butter of PG. For example, ten years ago, Gillette had the biggest market share in shaving razors. Then, small players like Dollar Shave Club (DSC) and Harry's came and interrupted the business and took a considerable market share. Today, Dollar Shave Club is owned by Unilever.
Similarly, new companies like Birchbox and Ipsy that offer a subscription service have gained market share. Another new company called Brandless has raised more than $292 million to offer unbranded products.
As this happens, P&G has become a big casualty. The table below shows the erosion of market share for most of its products.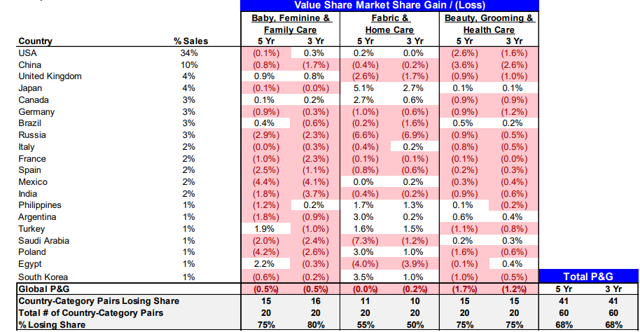 Source: Trian Partners
Sadly, P&G is not well-positioned for the future for two reasons. First, P&G has focused on its own brands and not expanded them. This is unlike what Unilever has done. To move with the trends, Unilever created Unilever Ventures, a private arm that invests in small brands. A look at its portfolio shows small, forward-looking companies that are targeted to the millennial customers. A good example of such a company is the aforementioned DSC. Since its founding, Unilever Ventures has made 56 investments.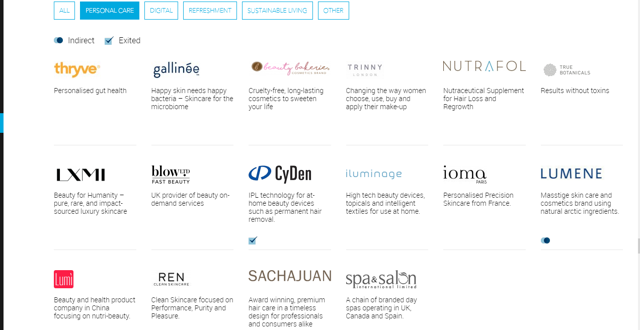 Source: Unilever Ventures
On the other hand, we have P&G. The company created P&G Ventures, an arm that according to Crunchbase has made only two investments - Your Mechanic in 2012 and Lovelt in 2016.
As a person who travels a lot in the Emerging Markets, the truth is that most buyers are more focused on cheaper and quality brands. In these countries, Chinese brands like Softcare are growing at a faster rate by using unconventional marketing brands.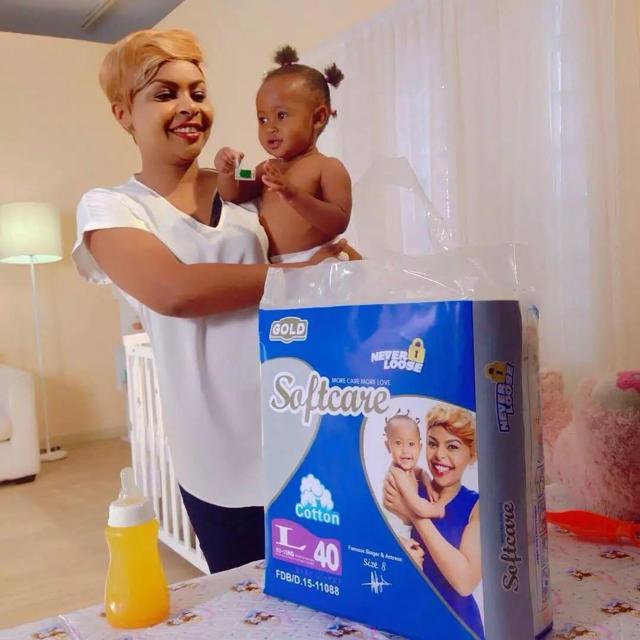 Source: Tuko
If a company as large as P&G is not accelerating growth through acquisitions, you'd expect it to be introducing its own products through its R&D. A quick look at all of P&G's brands shows that the company has not introduced any new product in the past few years. Most of its leading brands like Always, Ariel, and Crest were developed in the 60s. These products are summarized below.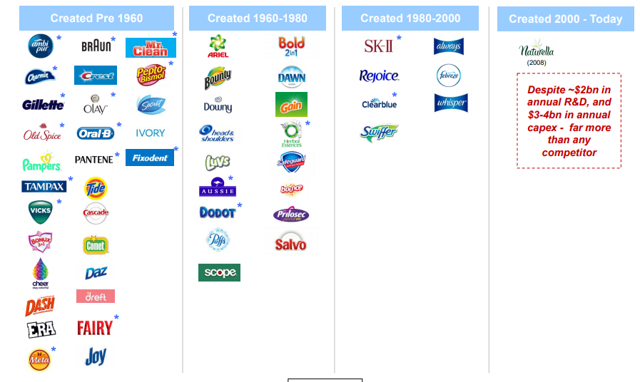 Source: Trian Partners
Remember that this is a company that spends almost $2 billion every year on R&D. The table below shows the R&D and advertising costs in the past five years.
| | | |
| --- | --- | --- |
| | R&D Costs | Advertising Costs |
| 2018 | $1,908M | $7,103M |
| 2017 | $1,874M | $7,118M |
| 2016 | $1,879M | $7,243M |
| 2015 | $1,991M | $7,180 |
| 2014 | $1,910M | $7,867 |
Source: PG 10-K
In other words, P&G is a company not positioning itself for growth through strategic acquisitions. It is also a company that is increasing its R&D costs while reducing advertising costs. It is doing this while seeing a continuation of revenue declines.
Final Thoughts
P&G has a market valuation of more than $209 billion and an enterprise value of $230 billion. The current valuation assumes that Nelson Peltz will help the company return to an ideal growth path. While his plan is a good one, the company continues to face two main realities. First, in the emerging markets, smaller Chinese brands that are less expensive are taking over. For the company to compete, it will need to price its products in line with these brands which will lead to margin erosion. Second, with e-commerce and influencer marketing taking over, the company's traditional competitive advantages will reduce. Finally, investors need to start questioning the company's continued increase in R&D costs without the development of new products.
Disclosure: I am/we are long UL.
I wrote this article myself, and it expresses my own opinions. I am not receiving compensation for it (other than from Seeking Alpha). I have no business relationship with any company whose stock is mentioned in this article.