The Risk Of A Recession Is Rising
Includes:
AAAU, BAR, DDM, DGL, DGLD, DGP, DGZ, DIA, DOG, DXD, DZZ, EEH, EPS, EQL, FEX, FWDD, GEUR, GHE, GHS, GLD, GLDI, GLDM, GLDW, GLL, GTU, GYEN, HUSV, IAU, IAUF, IVV, IWL, IWM, JHML, JKD, OTPIX, OUNZ, PHYS, PSQ, QGLDX, QID, QLD, QQEW, QQQ, QQQE, QQXT, RSP, RWM, RYARX, RYRSX, SCHX, SDOW, SDS, SFLA, SGOL, SH, SMLL, SPDN, SPLX, SPUU, SPXE, SPXL, SPXN, SPXS, SPXT, SPXU, SPXV, SPY, SQQQ, SRTY, SSO, SYE, TNA, TQQQ, TWM, TZA, UBG, UDOW, UDPIX, UGL, UGLD, UPRO, URTY, UWM, VFINX, VOO, VTWO, VV
by: Damon Verial
Summary
A look at the correlation between the copper/gold ratio and yields proves concerning.
The items in this correlation's calculation act as leading indicators for economic strength and seem to be signalling trouble.
While the market is still complacent to this, I urge caution.
I haven't been writing for Seeking Alpha lately, but when I find something in the market I cannot ignore, I feel obligated to present it. Recenty, I've discovered something rather worrying about the general market. However, gold traders might be happy about this revelation.
Let's start with the chart that worried me: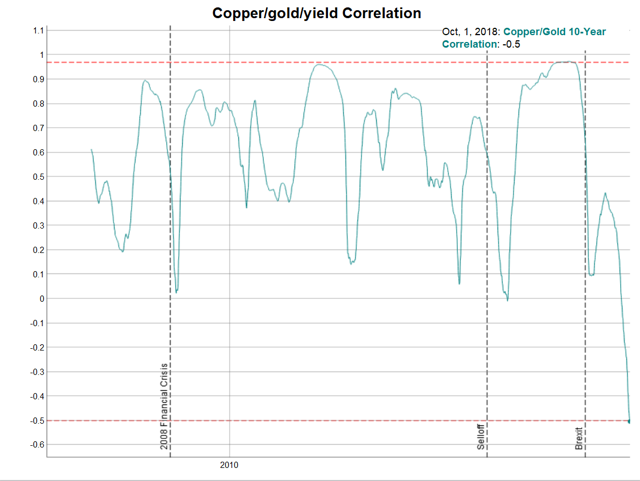 You are looking at a chart of the copper/gold ratio's correlation with the 10-year yield. This metric seems a bit convoluted but is actually quite informative from a macroeconomics perspective. Recall that I referred to this metric back in February, when many were worried about the market crashing; I used the metric in support of ignoring claims of a market crash and was proven correct.
To review, note that the copper/gold ratio is used often to gauge the state of an economy, as both are metals and thus comparable, yet the former is used in industry/manufacturing while the latter is used mainly as an investment and often represents bearish sentiment toward the standard market investments. The 10-year yield is a leading indicator of inflation expectations. The correlation between these two metrics should be strong and positive during economic expansion. For a more in-depth explanation, please see this article.
You should now be noting that in the above chart, the correlation has shifted negative. This is the first time I have witnessed such a drastic change in this metric. But my look-back period could be extended to find the last time this occurred, and so we will engage in this action to produce the following chart: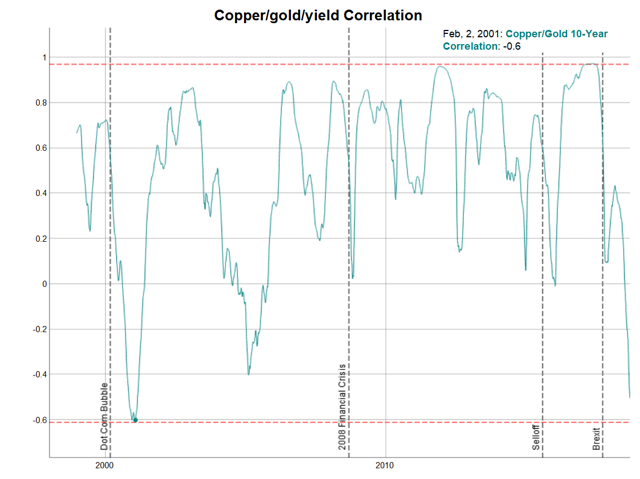 The last time this metric became strongly negatively correlated was during the 2000 dot-com bubble. You might also note that the correlation falls during financial panics. The falling tends to precede a panic, although this is not a hard rule.
Nevertheless, this change worries me. As you could see from my last article, I am neither a perma-bull nor perma-bear. When people were calling a top in the market, I claimed that worries were overblown.
Now, while investors are euphoric, I am advising caution. I spent the last day analyzing the data both directly related and perpendicularly related to this metric's shift and have found many parallels with 2000's dot-com crash. The results of my analysis would require a series of articles, so for now I will post a general summary and a recommended hedge for those who find my conclusions troubling. (If you are interested in a more in-depth look at my analysis, please tell me below so that I can prepare a multi-part look at the increasingly large risk for a market crash.)
The first topic on many minds is that of the U.S.-China trade tariffs. The threat this trade war poses to corporate earnings via higher costs and thus potentially lower margins has not yet been adequately reflected in the stock market. But the copper/gold ratio, which is turning downward, is likely the result of declining manufacturing in anticipation of this trade war.
As the trade war heats up, earnings will almost certainly fall. In isolation, this would drive up P/E ratios, but the market will almost certainly compensate by driving down stock prices – or, at the very least, exhibit more cautious stock purchasing habits because of P/E ratios getting out of hand.
The falling copper/gold ratio is likely an indication of things to come. Indeed, the ISM manufacturing index fell more than expected over the past month, from 61.3 to 59.8. You can see that manufacturing payrolls show employees leaving manufacturing sectors at a rate faster than overall employment loss: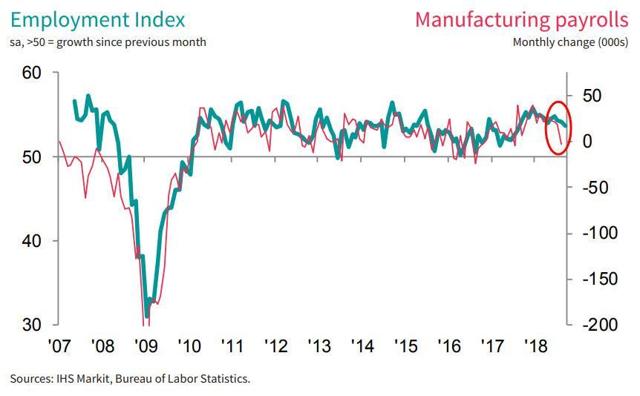 New orders and supplier deliveries both dropped over 3% last month. Inventories and backlogs are both down 2%. This is all in light of rising imports.
Yields come into play once you realize that a falling economy is usually "fixed" by the Federal Reserve dropping rates. But the current Fed is adamant about increasing its rates. Even if the Fed were to drop its rate as a method of encouraging borrowing, the current 10-year yield is still considered low, to where there is simply not much of a drop possible.
Rates will continue to rise, most likely. The 10-year yield rate shows an expectation of more inflation. This leads to higher prices and lower consumer spending, thus exacerbating the situation to which the falling copper/gold rate is implying.
In this light, the government has little recourse for fixing a recession, should one occur. We would likely be looking at a recession longer than those of 2000 and 2008. The main catalysts for such a recession would be a drop in stock prices and a resultant drop in consumer wealth, and therefore consumer spending.
We are already witnessing a drop in earnings guidance. Q3 EPS guidance has dropped for 76% of the companies in the S&P. This is not necessarily novel, but we have not seen such a rate since 2015: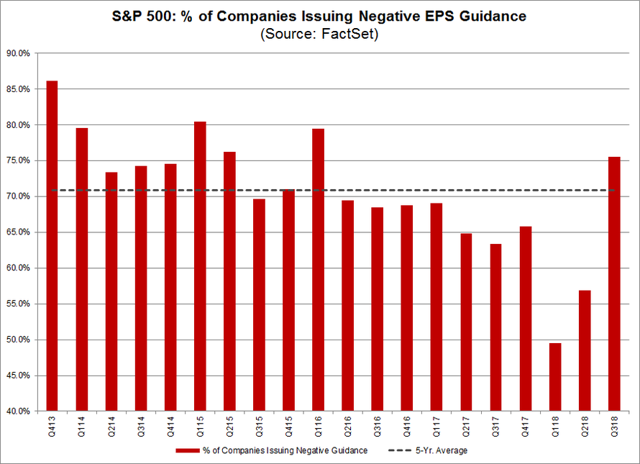 But this is for established companies. What about IPOs. Here's where we see another parallel with 2000: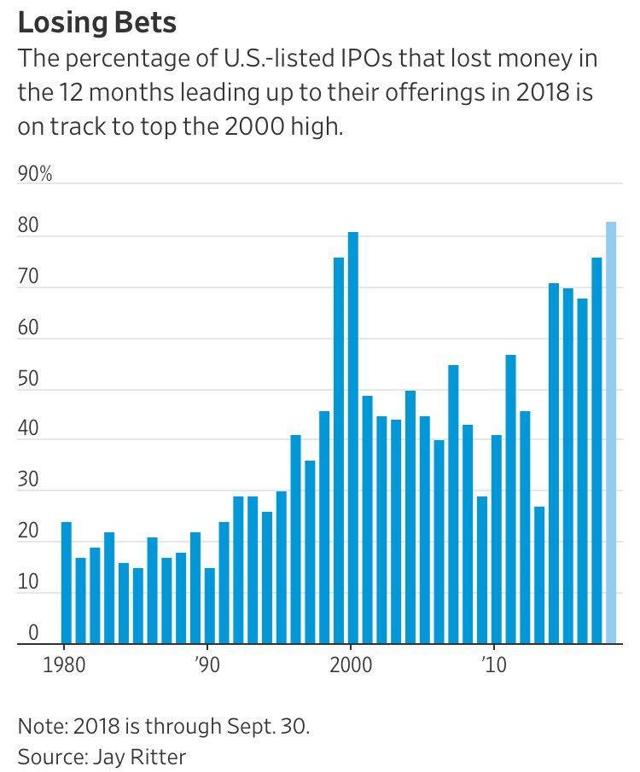 Although we are not experiencing a bubble as in the dot-com craze, we are seeing investors throw money into unproven companies. This is likely a result of the market being overvalued; P/Es are increasingly absurd, and EPS guidance is falling. Where else can you place your cash than these hail Mary bets?
The good news for gold investors is that the answer to the question above is already on the tip of your tongues. Gold outperformed once the bear markets in 2000 and 2008 were underway: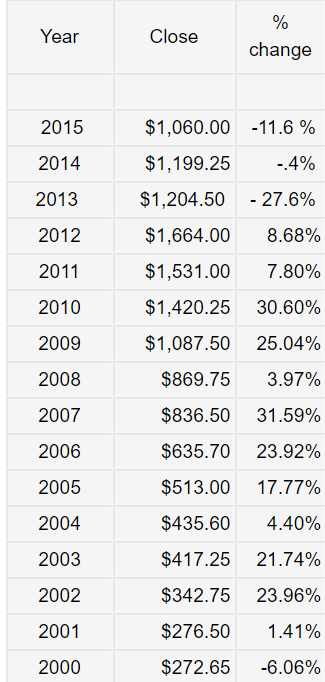 I don't often recommend gold as a hedge because its correlation to the market is often questionable, but at certain times it seems to work well as a hedge. Still, when investors no longer trust the market, as this article's metrics suggest, gold works well. I would recommend using options on the gold ETF (GLD) at this point, though, as it might still be early to outright buy gold.
Note that GLD will not entitle you to physical gold however. See this article for more info on how to invest in gold without buying physical gold.
Finally, I should mention that October is a seasonally schizophrenic month. It has been the best month for the market in good times and the worst month during crashes. Ensure you hedge your bets; I'll be taking long earnings trades (see my newsletter for ideas) and hedging with puts, as well as with GLD.
Note: Get my articles as soon as they are published by clicking the big orange "follow" button at the top of this page. Make sure you choose "real-time alerts."
Disclosure: I/we have no positions in any stocks mentioned, and no plans to initiate any positions within the next 72 hours. I wrote this article myself, and it expresses my own opinions. I am not receiving compensation for it (other than from Seeking Alpha). I have no business relationship with any company whose stock is mentioned in this article.