It's a day of record highs for US Treasury long-term yields.
Stronger-than-expected economic data saw Treasuries selling off, consequently pushing the 10-year yield to 3.144%, its highest level since 2011.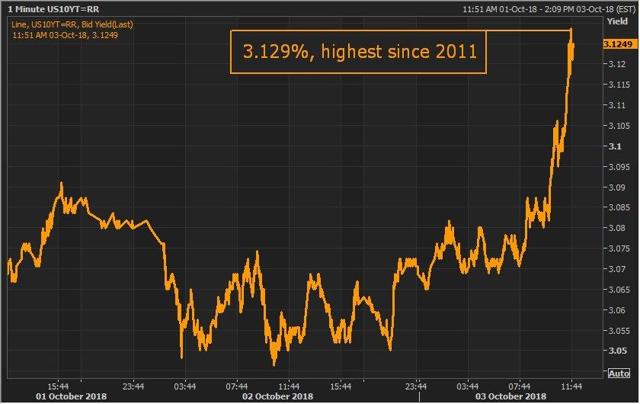 Yield on the 30-year bond also tops the 2018 peak to reach a four-year high at 3.298%.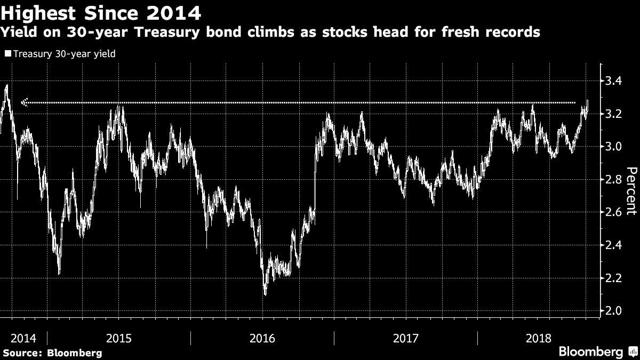 It was only two months ago when traders predicted slightly more than one rate increase (by the Fed) over the next year. The messages that the Fed Chair delivered during the press conference (that concluded the last FOMC meeting) left investors a little bit confused. No more!
As a result of the strong data, markets are now pricing in more than two Fed hikes (of 25bps each) in 2019. The additional ~0.54% expected tightening is approaching the Fed's own projections for three rate hikes next year.
While stock (SPY, QQQ, DIA, IWM) prices are at all-time record highs, prices of US Treasuries (BIL, SHY, IEF, TLT) and most investment-grade ("IG") bonds (LQD, AGG) are at multi-year record lows.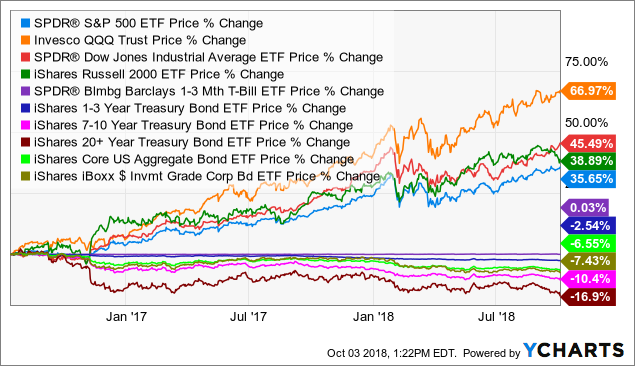 Overall, the old traditional trade-off continues: When stocks rally, bonds slide, at least certain types of bonds.
Nevertheless, while Treasuries and IG bonds slide, high-yield ("HY") bonds (HYG, JNK, AWF) remain buoyed. That doesn't make any sense on many levels, ranging from duration (medium-long being at great risk) to insanely narrow spreads that don't compensate investors for the risk!!!
The funny thing is that there seem to be many traders who are happily standing in front of the "Runaway Train". Otherwise, it's impossible to explain the recent flows in/out of leading bond ETFs, representing two extreme sides of the rating spectrum. On one hand, TLT = long-duration US Treasuries. On the other hand, HYG = medium-duration HY bonds).
The flows in TLT (negative) and HYG (positive) are notable (see below charts). It certainly look as though someone is making a trade here, using these ETFs to create a long HYG and short TFT position.
First, here's TLT that is seeing record outflows recently. As a matter of fact, earlier this week the US Treasuries focused ETF had its biggest one-day outflow in years, with circa $563M rushing out to the exit door.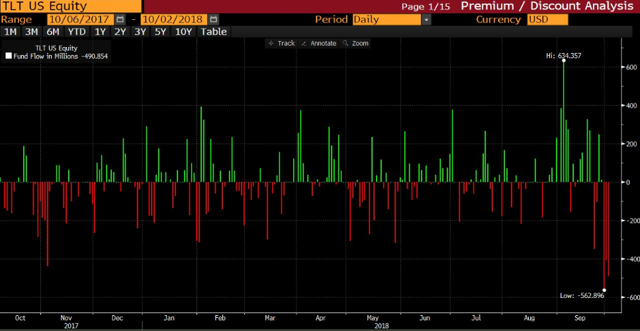 Now, here's HYG that is seeing record inflows at the same time (when TLT sees major outflows). So much so, earlier this week, the junk bond focused ETF had its biggest one-day inflow ever, with more than $700M pouring in.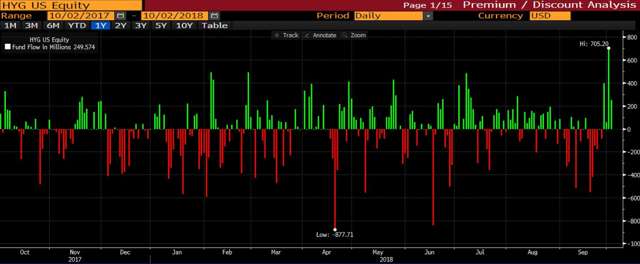 Looks strange? You bet!
Even Credit Suisse (CS), one of the biggest players in the leveraged loan market (ARDC, BGB, BGX), thinks so. Otherwise, it wouldn't send a letter to clients, trying to counter a rash of negative sentiment about the asset class.
Go figure: Negative sentiment but positive flows... Strange indeed.
Note that this is divergence happening at a time when the percentage of covenant-lite loans has increased to almost 79%, the highest level in years.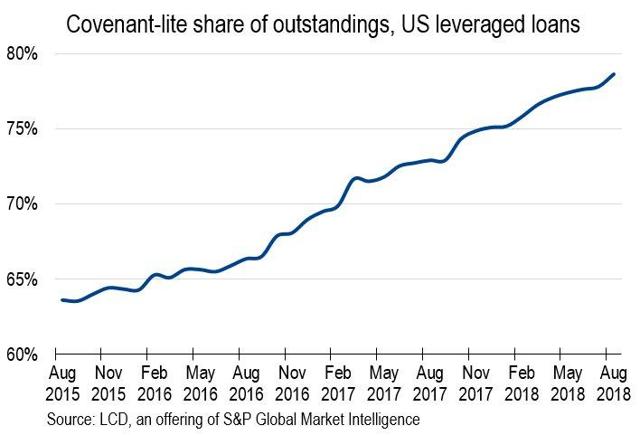 This is not only another sign we are late in the cycle, but it's also a red-shining warning flag. Deterioration in quality (of debts) and investors willing to buy anything (regardless of risk) is a lethal combination that never ends well. Never!
US HY spreads at their lowest levels in five years make no sense whatsoever. Make no mistake: Such low spreads are insufficient and provide very little protection to investors.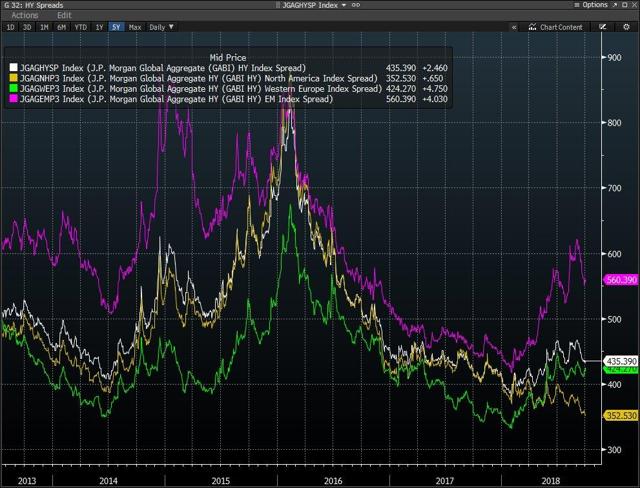 If this isn't enough for you, guess when was the last (and possibly the only) time the spread between HY and IG bonds was this narrow as it's now?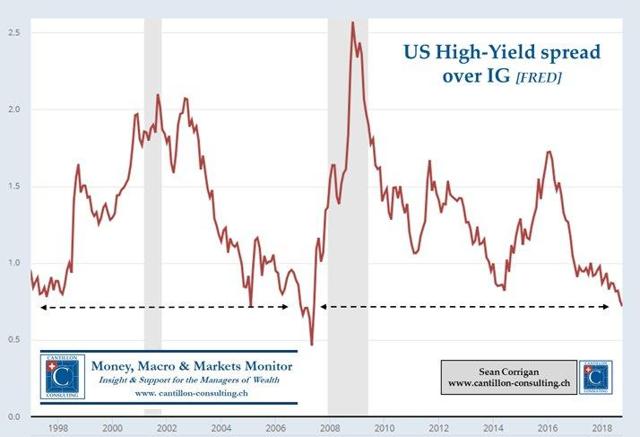 Yes, you got it right!
Please give that man in the corner a pre-Lehman (LEH) cigar! There's going to be a lot of smoke here down the road. That's the HY smoking road.
Make sure you take a good look at the above chart. In case this isn't clear, let me spell it out for you: US high yield credit spreads just hit their tightest levels since July 2007: ~316bps.
The last time we saw HY trading at such tight spreads was right before the subprime crisis started.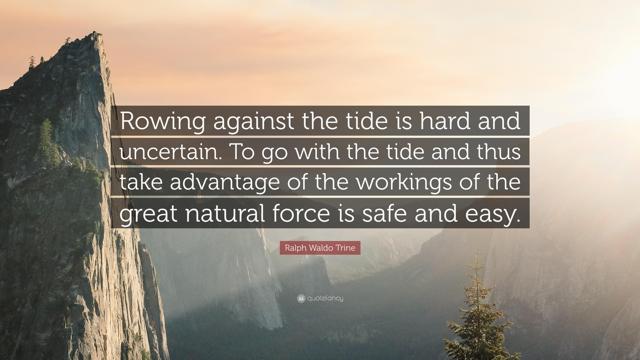 Author's note: Blog post notifications are only being sent to those who follow an author in real time. In order to receive notifications for both articles and blog posts, go to Author Email Alerts, which lists all the authors you follow, and turn on "get e-mail alerts" (see below).


The Wheel of FORTUNE is one of SA Marketplace's most comprehensive services. We view our service as a "supermarket of ideas" with an emphasis on risk management and risk-adjusted returns.
We cover all asset-classes: common stocks, preferred shares, public debts, baby bonds, options, currencies, and commodities.
With Trapping Value on-board, you're getting two leading authors for the price of one.
Before committing to the service on a long-term basis, take advantage of the two-week free trial.
Disclosure: I am/we are long BGB, BGX, ARDC.
I wrote this article myself, and it expresses my own opinions. I am not receiving compensation for it (other than from Seeking Alpha). I have no business relationship with any company whose stock is mentioned in this article.