Background
I was struggling to find the right title for this piece. I mean, this could/should have been "part II" of more than a few previous articles. For example:
After considering all options, I've decided that this piece should be named after the first two examples. It's a "wonderful world" on one hand (for the US), but one can't - and investors mustn't - ignore the "great divergence" on the other hand. I dare saying that the former can't last much longer while the latter persists.
Here's a quick run around the world, showing "how deep is your love" (for the US) on one hand...
...and how big is the (need for a) "dove" (in Europe) on the other hand.
So please fasten your seatbelts and join us for a tour that will take us around the world, from West (America) to the East (Asia), with many stops along the way.
From west to east, from equities to bonds, from the US dollar to Bitcoin, everything looks to be either in "deep lo--*" or in "deep s---t**".
* e.g. long, ** e.g. short (have you had something else in mind?...)
Brazil
Brazilian (EWZ) stocks are up a whopping 7.5% in two days as (far-) right candidate Bolsonaro shows strong momentum in election polls.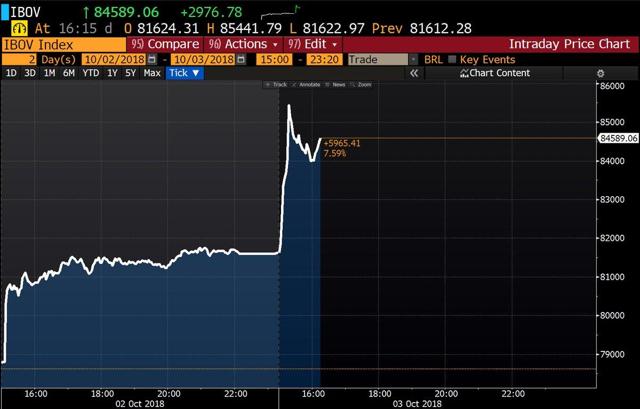 In the good old (normal) days, a far-right candidate leading in the polls would take the market down 7.5%, not up.
United States
No matter how you turn things round, the US (SPY, DIA, QQQ) economy seems like it's in a very good shape.
September ADP employment change was +230K, higher than expected and the most since February this year.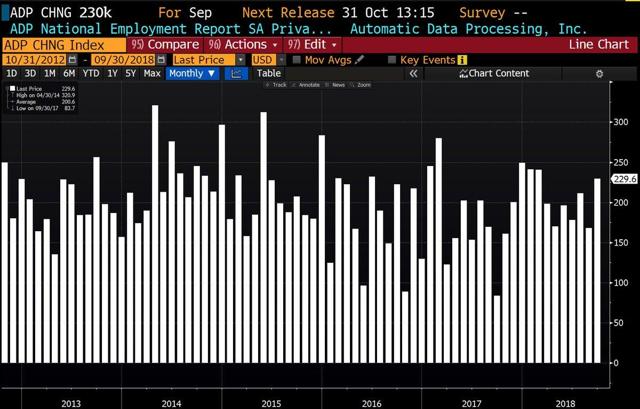 The ISM Non-Manufacturing Index rose to 61.6 in September, near record level, and much higher than expected.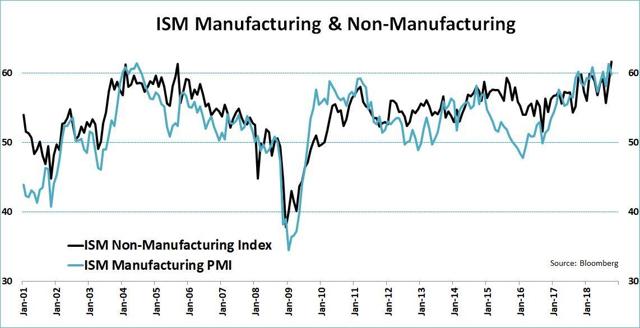 Looking for new US investment ideas? Check this out!
Germany
Believe it or not but a quarter of all banking jobs have disappeared since 2000. According to Bloomberg, Germany's (EWG) lenders have slashed around 188,000 jobs since then.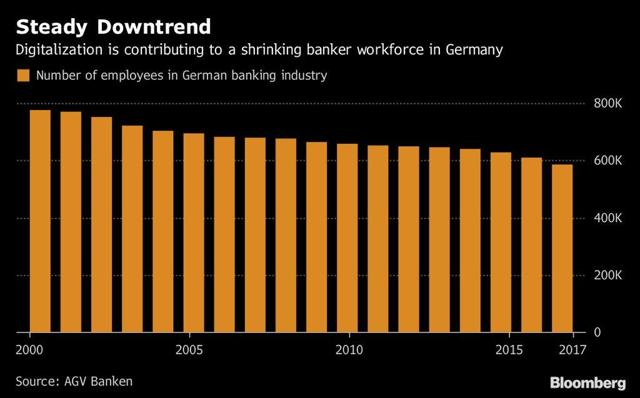 Many employees are now increasingly seeing "digitalization" as the next big threat to employment.
After Germany's Constitutional Court sought the EU judges' guidance, the EU is (re-) issuing a "blank check" to the ECB. As if this is a surprise...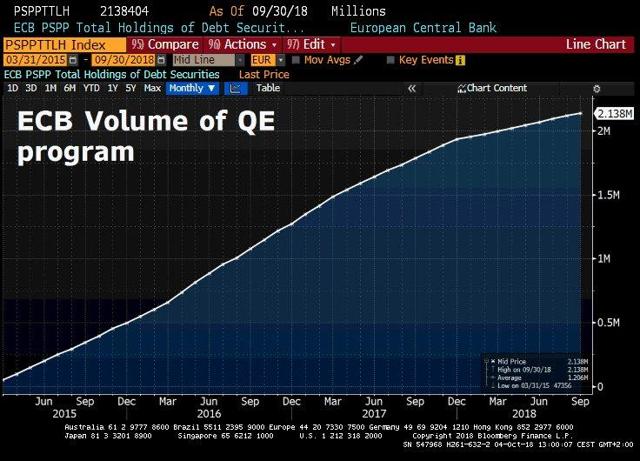 "The ECB didn't overstep its mandate by setting up a QE program", an adviser to EU's highest court said in the wake of a series of challenges arguing the tool clashed with prohibition of monetary financing.
Ok then, so the ECB's QE program is in line with EU laws.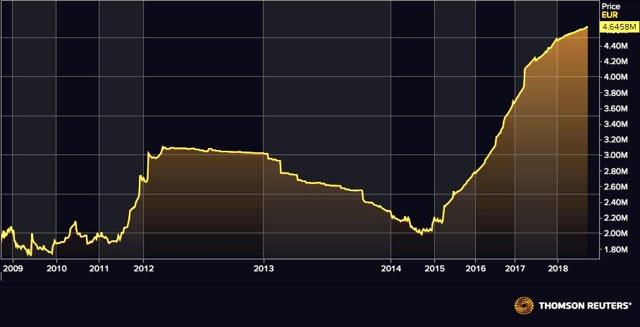 But is it also in line with investors' and economic rules' best interest?
Italy
While nobody knows how the Brexit for the UK (EWU) will look like, the theoretical Italexit trade is making a comeback: Investors are buying insurance against the possibility that Italy (EWI) dumps the euro (FXE).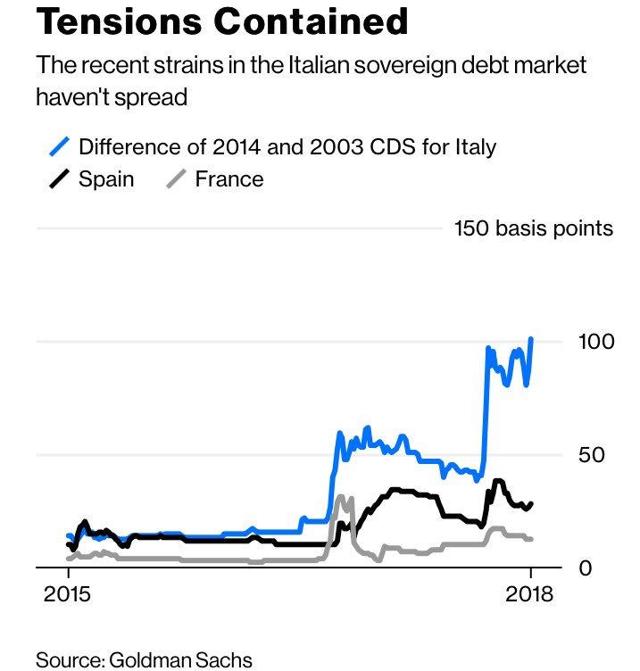 Although thus far it doesn't look like such worries have spread to other countries, it's worthwhile keeping a close eye on this space.
Just to be clear, Italy is a country we are only recommending to tourists, not to investors:
Euro/pe
Speaking of the euro... The single currency drops below $1.15 as the move in Treasuries triggering a US dollar (NYSEARCA:UUP) strength across the board. The latest leg of the move was helped by the positive tone of Fed Chair Powell comments that the Fed is a long way from neutral rates.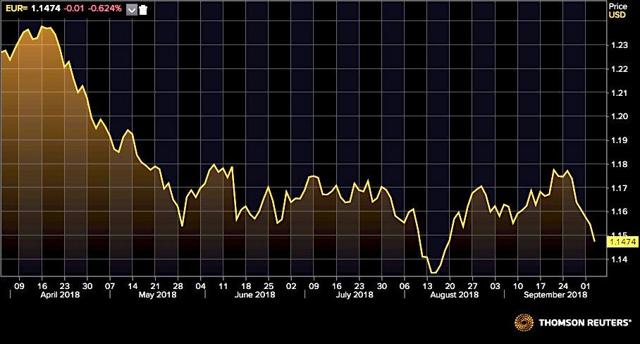 The euro could fall much further given the ever-increasing transatlantic gap. 10-year US/German yield spread rises to 267bps, its highest level since 1988.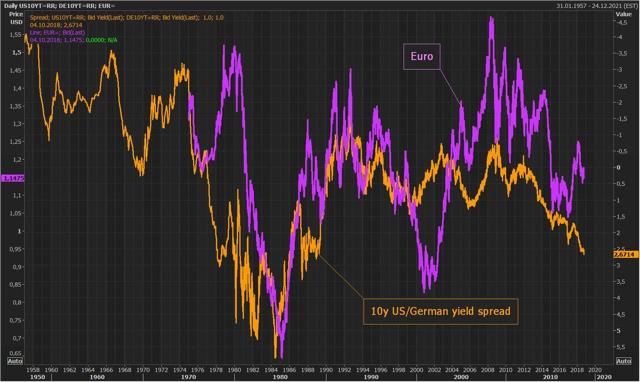 Even if one isn't a USD bull (as we are), the upside potential of the EURUSD rate is limited, as long as the gap between short-term bond yields in the US and Eurozone keeps widening.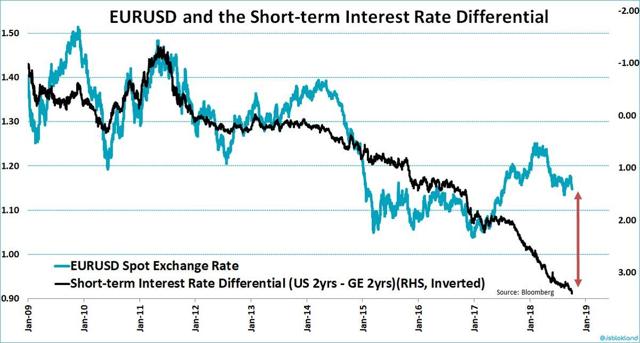 Mind the gap!
Turkey
Another country we are not fancy of, to say the least, is Turkey (TUR).
The Turkish lira (TRY) is down another 2.3% against the US dollar (USD).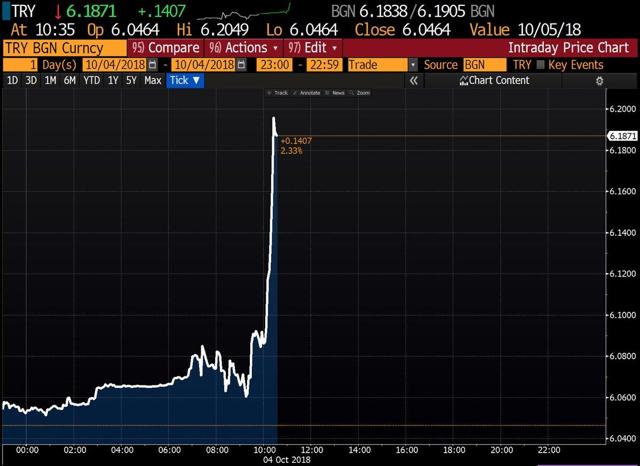 Greece
Following its biggest drop in a year, Greece's (GREK) banks are in focus.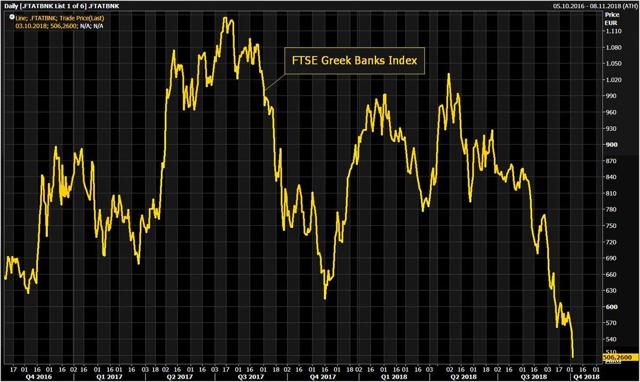 Tumbled on capital woes race to cut bad loans, they have lost about half their value since June this year. That's -50% in less than four months. Ouch!
China
JPMorgan (NYSE:JPM) dropped its bullish call on Chinese (FXI, MCHI) stocks due to a growing likelihood of a "full-blown trade war" next year. Analysts at the bank have downgraded Chinese shares to neutral from overweight.
As a result, the biggest China ETF drops as mainland markets shut for holiday.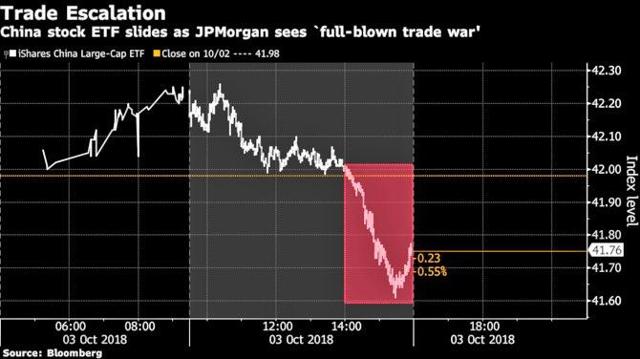 Bottom Line
One doesn't need to be a genius to se(ns)e that things are changing and moving fast to the extreme. I mean, even volatility (VXX) has woken up from the dead.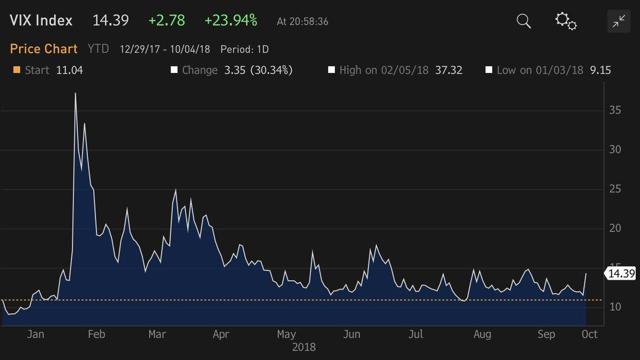 The US 2-year bond yield went from 0.2% to almost 2.9% over many years. However, it has doubled in just about one year; the past year of course.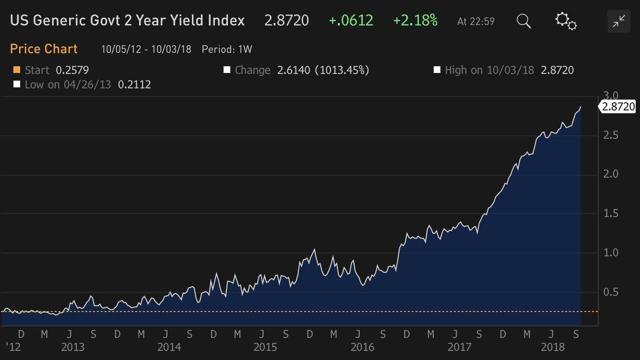 I can go on and on like this, but I trust you get the point. It's a crazy-extreme world we're living in and investors must adjust their mindset to such a crazy volatile world.
If you still find it hard to get convinced, check and decide for yourself. Below you can find the data when Europeans came back from lunch on 10/4. Take a close look at both daily ("%Chg") and yearly (%Ytd") columns.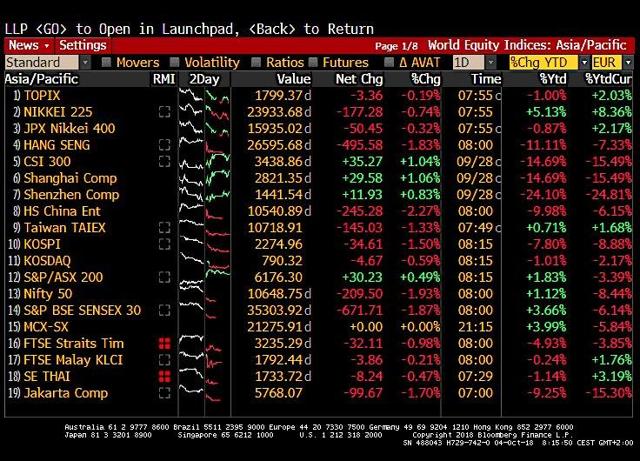 See what I mean?
To give you an even better idea what's going on today - just another day - here's a recap of the day (thus far):
10-year US Treasury (SHV, SHY, IEF, TLT) yields highest since 2011 at 3.22% following upbeat data and hawkish Fed.
Dollar elevated by yield surge.
Euro dips below $1.15.
Chinese shares in Hong Kong lead drop.
One day... No (?) cry...
One love... Let's get (our act/portfolio) together!
"What A Wonderful (Crazy) World" and what a "Great (Crazy) Divergence" indeed!
Author's note: Blog post notifications are only being sent to those who follow an author in real time. In order to receive notifications for both articles and blog posts, go to Author Email Alerts, which lists all the authors you follow, and turn on "get e-mail alerts" (see below).


The Wheel of FORTUNE is one of SA Marketplace's most comprehensive services. We view our service as a "supermarket of ideas" with an emphasis on risk management and risk-adjusted returns.
We cover all asset-classes: common stocks, preferred shares, public debts, baby bonds, options, currencies, and commodities.
With Trapping Value on-board, you're getting two leading authors for the price of one.
Before committing to the service on a long-term basis, take advantage of the two-week free trial.
Disclosure: I am/we are long JPM.
I wrote this article myself, and it expresses my own opinions. I am not receiving compensation for it (other than from Seeking Alpha). I have no business relationship with any company whose stock is mentioned in this article.