In my previous articles I have recommended Ryman Hospitality (RHP) and Host (HST) to buy. With P/E ratios 25.2 and 24.3 respectively it could be difficult to choose one? In this article, I'll show that the answer depends on what you think the market will do.
I am comparing these two REITs in particular because as I demonstrated in my previous articles, they both use their massive scale to achieve outsized gains. HST is the largest hotel REIT by market cap and is able to leverage its size by negotiating down costs with its partners. RHP on the other hand has the largest assets of any hotel REIT, averaging over 1,400 keys each. RHP is able to benefit from an economy of scale within its properties by achieving cost efficiencies such as labor. The two REITs also have very different business strategies. While RHP has a strong focus on group business, HST has a more mixed approach depending on each asset. Below I will analyze how each strategy plays out depending on macroeconomic conditions.
In a Bull Market.
In a bull market, my top choice would be for RHP. As you may recall, RHP owns the Gaylord Palms Resort & Convention Center in Orlando, Florida, Gaylord Opryland Resort & Convention Center in Nashville, Tennessee, the Gaylord Texan Resort & Convention Center near Dallas, Texas, and the Gaylord National Resort & Convention Center near Washington D.C. These hotels each have over 1,300 keys and at least 400,000 sf of meeting space. As we see from the picture below, this is significantly higher than its peers.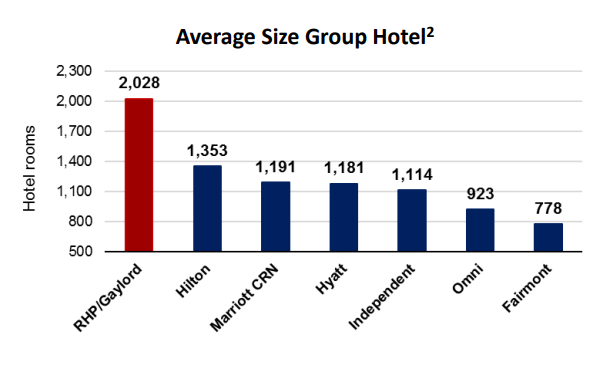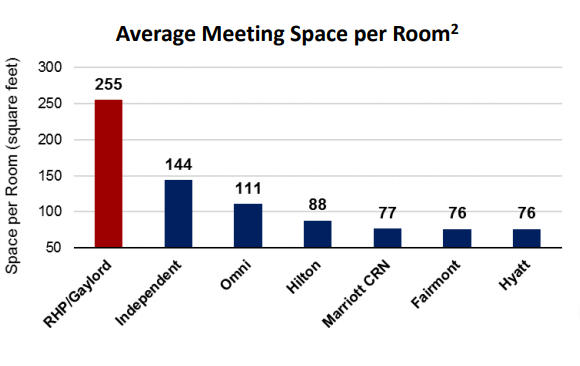 The abundance of meeting space and keys allows for oversized groups to come together under one roof. As we see below, this allows RHP to incur more group revenues than any other REIT. In a bull market, corporate travel usually increases as companies have extra capital for corporate retreats and business meetings. RHP's unique brand and excess meeting space allows them to capitalize on this upside more so than HST. RHP boasts that 72% of their total customers are group, substantially higher than industry average. This allows for outsized gains that are not easily repeatable. We can already see that RHP outperforms in a bull market. Its cumulative earnings from the previous 5 years of the bull market have produced outsized returns relative to its peers. (The peers include HST, PEB, DRH, SHO, LHO, RLJ and PK).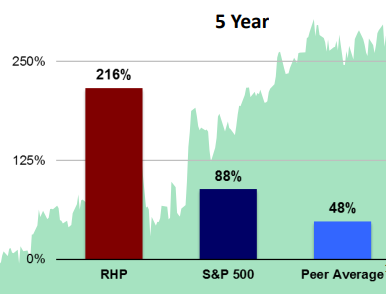 In a Bear Market
While RHP may be in a better position to capitalize on a bull market, its reliance on corporate demand makes it more susceptible to a downturn. During a bear market, corporations cut costs wherever they can and travel is usually one of the first things to go. HST on the other hand has a more diversified mix across different assets. HST does not disclose their transient/group mix but they do disclose that 18,615 out of their 52,433 keys (35%) are convention hotels, meaning that about 30%-75% of their customers are group. This reduces their dependence on group demand, making them safer in a downtown.
HST also has more geographic diversity. According to their investor presentation, no MSA represents more than 11% of their EBITDA. The same cannot be said for RHP, which is highly concentrated in 4 markets (soon to be 5). If say the DC metropolitan area were to have a terrible year, only 85 of HST's portfolio would be exposed. RHP does not disclose the Gaylord National's percentage of its real estate portfolio but we can infer that it could be close to 20% based on key counts. This exposes RHP to more serious fluctuations in individual markets, while HST's value will more accurately reflect the temperature of the hospitality industry at large. You can see the comparison below (Source: RHP Investor Presentation & HST Investor Presentation)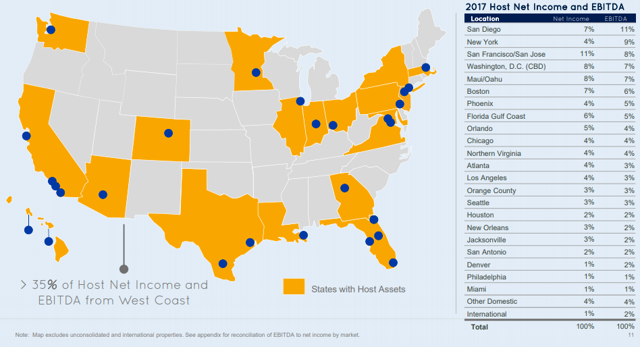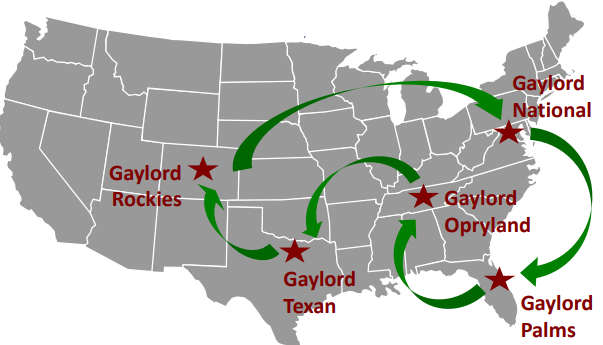 As of June 30th 2018, HST had the second lowest debt to equity ratio of its peers at 2.4x.(Source: HST Investor Presentation) RHP has a debt to EBITDA ratio of about 4.7x, almost double that of HST. Neither company are in danger of not making their debt service but in a prolonged downturn, HST would be able to last longer and is in a better position to recover. Furthermore, if either company needed to sell assets to raise cash in a downturn, HST could get away with selling an asset or two that wouldn't cause a massive dent in their key count. RHP on the other hand would have to sell of about 20% of its total key count to raise money through selling an asset. They could potentially sell a percentage interest in an asset but these deals are often more difficult to implement. In the event that they have to sell a full asset, their recovery would be more prolonged as its EBITDA potential would decrease due to less keys.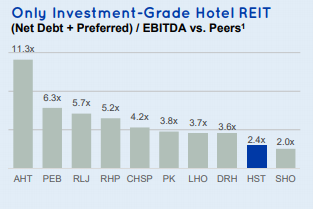 In addition to low leverage, HST has almost no chance of being unable to pay its dividend of 3.7%. The picture below shows that even in a 25% downturn, they still would have $614M in cash left over to pay their dividends.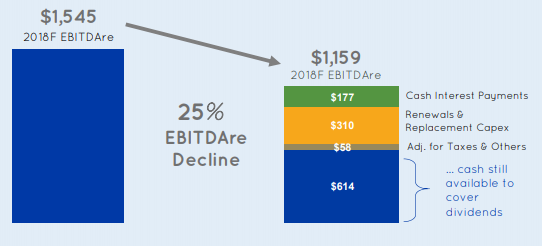 Final Thoughts
For anyone who is seriously looking into investing in the hospitality REIT sector needs to take macroeconomic tends into account. With current industry tailwinds like increased corporate spending due to tax cuts and lower unemployment, RHP looks like the better buy at the moment. But as we saw in 2008, good times don't last forever. Any bears out there should be buying HST because of it's low debt ratio, ability to pay dividends, and geographically diverse portfolio. Of course a true bear would stay away from the industry altogether as hotels are an inherently risky asset class, but I believe HST could act as a hedge in this case, providing hotel exposure with relatively low downside.
Disclosure: I/we have no positions in any stocks mentioned, and no plans to initiate any positions within the next 72 hours.
I wrote this article myself, and it expresses my own opinions. I am not receiving compensation for it (other than from Seeking Alpha). I have no business relationship with any company whose stock is mentioned in this article.
Additional disclosure: My employer may have transacted with one or more of the above mentioned companies in the past 5 years