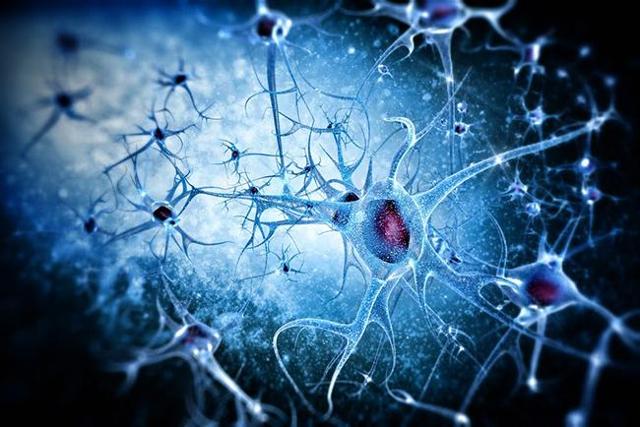 As the S&P 500 (SPY) and the Dow Jones (DIA) indexes recorded new highs last month, other indexes were consolidating and drifting lower. The Nasdaq (QQQ) retreated a little less than -1%, after being down nearly -3% during the month. The small-cap index, Russell 2000 (IWM), held up well earlier in the month only to slip sharply and diverge with the larger indexes, giving up nearly -3%.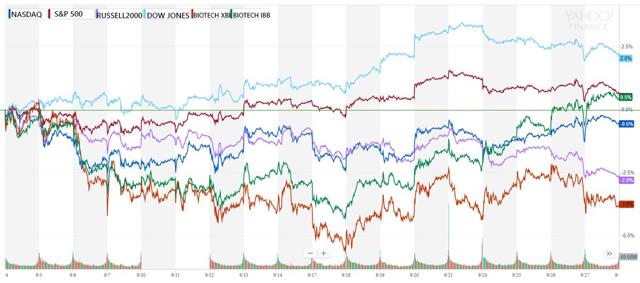 Source: Yahoo Finance; edits by PrudentBiotech.com
As can be observed from the chart above, the biotech indexes had a different story to tell in sharp contrast to all the larger indexes. The biotech sector declined sharply at the beginning of the month, with the S&P Biotechnology Select Index (XBI) declining over -5% and the Nasdaq Biotechnology Index (IBB) declining over -3%. However, the larger cap weighted Nasdaq Biotech Index recovered sharply during the second half of the month to notch up a nearly 1% gain. But the small-cap/mid-cap weighted S&P Biotech Index remained down over -3%, most likely reflecting the broader pullback in small-cap stocks.
Biotech Risk-Reward
It was interesting to note that the larger-cap biotech stocks, like Gilead (GILD), Alexion (ALXN), Vertex (VRTX), and Amgen (AMGN), represented in the Nasdaq Biotech Index are outperforming the small- and mid-cap biotechs represented in a higher proportion within the S&P Biotech Index. It is the first time in nearly two years that larger-cap biotechs are outperforming smaller-cap biotechs with some consistency and vigor rather than for short, fleeting periods.
2018 Performance - Nasdaq Biotech Index Vs S&P Biotech Index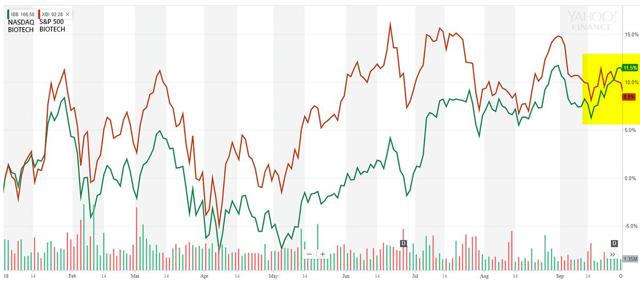 Source: Yahoo Finance, edits by PrudentBiotech.com
As sector followers would be aware, even after this relentless bull run over the past two years, the Nasdaq Biotech Index still has to rise another ~10% from the current levels to eclipse the prior high set in mid-2015, a milestone already achieved by the S&P Biotech Select Index earlier this year. So there is at least some comfortable room to run for larger-cap biotechs before they reach new territory.
We anticipate the divergence between large- and small-cap biotech stocks to remain pronounced during October as risk averseness continues to rise during the month, driven by the typical repositioning prior to elections.
Biotechnology remains a dynamic sector with promising opportunities. However, looking at the returns this year, it seems the overall performance of the sector is being held back.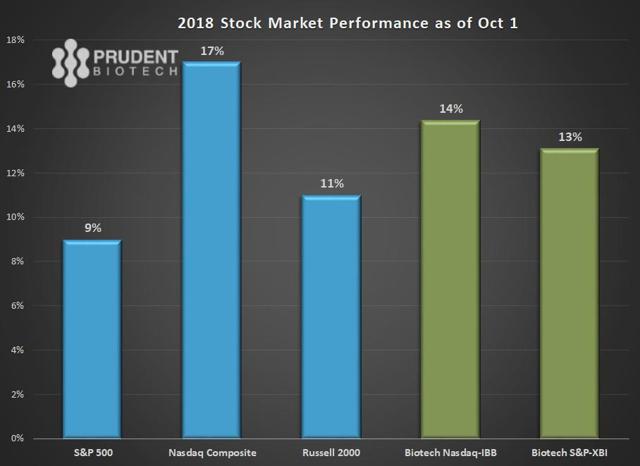 Source: PrudentBiotech.com
Considering the much higher risk inherent in biotech stocks, the industry's performance had not been much more rewarding this year, in what can be described as a favorable environment for stocks, when compared with other market indexes. Biotech performance is somewhere in the middle-of-the-pack of broader-based and less volatile indexes.
The key conundrum facing biotechs remains the drug pricing issue and the pressure to rein in prices.
Rising drug prices remain a topmost healthcare concern for most citizens, and when biopharma raises its prices, justifiably or not, it does provide an easy target for politicians to highlight during an election year. The drug pricing concern remains elevated in the minds of consumers as they witness rising healthcare costs hurting their own paychecks and budgets. Drug prices are the universal bete noire when most Americans see their health care deductibles and out-of-pocket costs rising. A report from Kaiser Family Foundation this week notes that deductibles have tripled over the last 10 years and have risen 8 times faster than wages.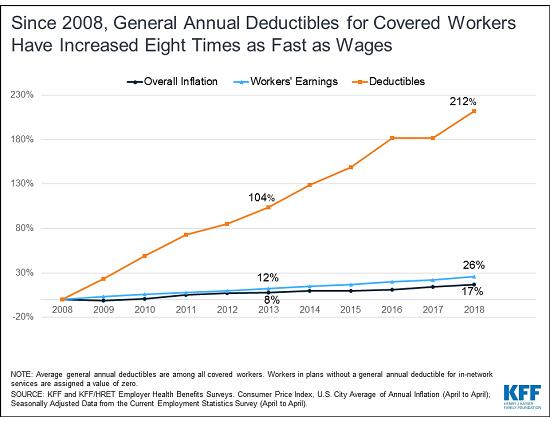 In an insightful comment in the report, it was noted:
"Health costs don't rise in a vacuum. As long as out-of-pocket costs for deductibles, drugs, surprise bills and more continue to outpace wage growth, people will be frustrated by their medical bills and see health costs as huge pocketbook and political issues," - KFF President and CEO Drew Altman
The quote above succinctly captures the drug pricing issue and the reason why it has become such a prominent political issue as well.
The overhang of drug pricing on valuations is a difficult conundrum for investors to resolve and perhaps it's even unresolvable for now. Investors will have to continue accepting it as an issue that will persist for the biopharma sector and hold back valuations.
It should be kept in mind that even though the pricing concerns persist, there is no legislative effort at this time in the form of bills towards regulating prices. The last effort earlier this year resulted in an industry-benign blueprint, American Patients First, to lower drug prices.
The drug pricing issue does not suggest that one should avoid the biotech and pharmaceutical companies. On the contrary, the biotech sector continues to offer promising opportunities for gains in an overall favorable market environment. Perhaps the indexes are masking the strength. The Prudent Biotech Portfolio is up +70% as of Oct 1.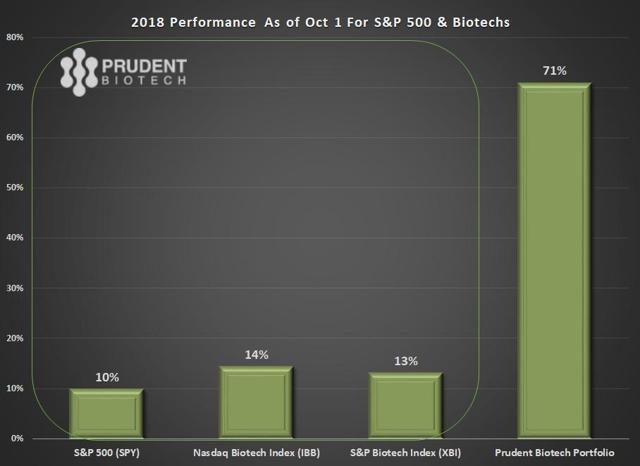 Source: PrudentBiotech.com
The same is true with the pharmaceuticals industry, which has been performing well overall and recording new highs, with some of the notable companies like Merck (MRK), Pfizer (PFE), and Eli Lilly (LLY) trading at all-time highs.
Conclusion
We anticipate growing volatility for the biotechs in October as investors begin to scale down the risk exposure, particularly with the upcoming elections in November. This will affect small caps harder than larger cap stocks. Consequently, we have scaled down the portfolio exposure in the Prudent Biotech Portfolio to 75% and the Graycell Small Cap Portfolio to 80%.
The November elections will not change the policy front dramatically, even with a change of control in Congress. But it can potentially raise the pressure on drug companies with more frequent hearings.
We anticipate the higher volatility to subside in November and December with a more favorable investing environment. We had earlier discussed the prospects for biotechs in the second-half outlook, Biotechs Building Momentum.
There are a number of promising biotech companies and some of them, which may be now or in the past part of our model portfolios, include Vertex Pharmaceuticals (VRTX), Ligand Pharmaceuticals (LGND), REGENXBIO (RGNX), Sarepta Therapeutics (SRPT), Neurocrine Biosciences (NBIX), Endocyte (ECYT), Arrowhead Pharmaceuticals (ARWR), Amarin (AMRN), Viking Therapeutics (VKTX), Intercept Pharmaceuticals (ICPT), Endo International (ENDP), Fate Therapeutics (FATE), ProQR Therapeutics (PRQR), Adaptimmune Therapeutics (ADAP), Reata Pharmaceuticals (RETA), Ra Pharmaceuticals (RARX), Arena Pharmaceuticals (ARNA), and Affimed (AFMD).
Author's note: As always, kindly do your own due diligence. The small cap/early mid-cap and biotech sector carry more risk of losses than the broader market. For additional information and helpful links, please check the Profile by clicking on the name above. Also, you can consider clicking the orange "Follow" button to receive such information immediately when published. Please feel free to add to this commentary or point out errors in the Comments section. Opinions can change with time and additional data. More details about our exposure to the names mentioned herein are in the disclosure below.
Graycell Advisors or Prudent Biotech is not a registered investment advisor (RIA) and publishes quantitative-driven model portfolios for investors and RIAs. Some or all of the companies/stocks mentioned in the article may be in the past, now, or in the future, be part of the various model portfolios for subscribers. In addition, although there are no personal positions presently, stocks mentioned can be part of the portfolios of family and associates.
Past performance is not a guarantee of future results. The information here is only provided for a general informational purpose and not as a recommendation, and is not guaranteed to be complete or accurate. Companies mentioned here may not be favored in the future as market trend changes and/or new information emerges, and no portfolio updates will be provided unless you are a model portfolio subscriber. Opinions, where expressed, can change with time and new information.
Disclosure: I/we have no positions in any stocks mentioned, and no plans to initiate any positions within the next 72 hours. I wrote this article myself, and it expresses my own opinions. I am not receiving compensation for it (other than from Seeking Alpha). I have no business relationship with any company whose stock is mentioned in this article.
Editor's Note: This article covers one or more microcap stocks. Please be aware of the risks associated with these stocks.