Arena Pharmaceuticals (ARNA) is a bio-pharmaceutical company developing novel, small molecule drugs targeting receptors across several therapeutic areas with one approved drug, lorcaserin/Belviq, licensed to Eisai (OTCPK:ESALF).
Arena has three drugs in advanced clinical development: ralinepag, in phase 3 for arterial pulmonary hypertension; etrasimod, in various clinical stages for immune and inflammatory conditions; and ololinrab or APD371, for pain associated with Crohn's disease.
Arena's management have made bold statements of these drugs. For example from the 2Q 2018 earnings call CEO Amit Munshi and Chief Medical Officer Preston Klassen said
Etrasimod is a thoroughly characterized in-house developed once a day oral S1P modulator with improved receptor selectivity and rapid on and off pharmacodynamics. We believe it is the only next generation S1P modulator with the potential to be the preferred oral option for patients suffering from a broad range of T-lymphocyte mediated immune and inflammatory disorders, such as IBD.

Olorinab, formerly APD371, peripherally restricted, highly-selective, full agonist of the CB2 receptor. We believe the said product has a potential to be a significant advancement in the treatment of visceral pain.

Ralinepag is a potential best-in-class product, our Phase 3 program is designed to elucidate the benefits of ralinepag across the spectrum of PAH patients, including not just prevalent patients, but newly diagnosed or incident patients. We believe that PAH patients have received early treatment with prostacyclin therapy and ralinepag is the best therapy to meet that need because of its improved receptor potency and extended pharmacokinetics resulting in a profile closer to the IV prostacyclin's than any other oral prostacyclin analog.
These statements are summarized in a slide presented at 2018 UBS Global Healthcare Conference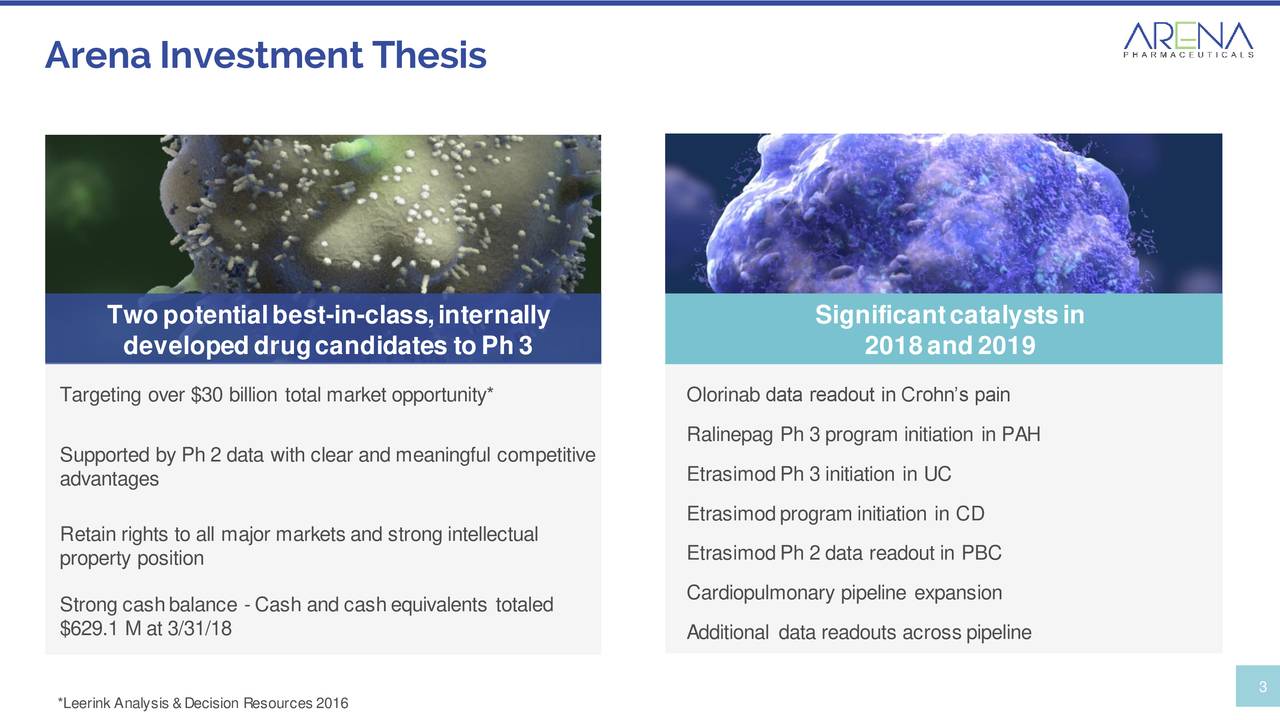 Arena reported second quarter financials
Revenues totaled $4.0 million, consisting of $3.1 million in collaboration revenue, and $0.9 million in royalty revenue.
Research and development expenses totaled $26.8 million.
General and administrative expenses totaled $10.4 million.
Net loss attributable to stockholders of Arena was $31.8 million, or $0.65 per share.
At June 30, 2018, Arena's cash and cash equivalents totaled $592.4 million with 49.3 million shares outstanding. During the second quarter Arena burned $26 million excluding one-time items.
As of October 5th, a $40 share price gives Arena a market capitalization of $2 billion. To assess whether Arena's capitalization is justified I will model Arena's most advanced clinical drug, ralinepag, by pulling net sales of drugs that treat the same condition from the two largest players, assume a market share of 30%, and use a multiple of three times peak annual sales for a potential buyout. This is not meant to be a exhaustive analysis but rather a rough estimate.
Pulmonary arterial hypertension, or PAH, is a relatively rare condition estimated to affect 500,000 individuals worldwide as mentioned in United Therapeutics' 2017 annual report. PAH is characterized by the degradation of the blood vessel wall lining between the heart and lungs resulting in elevated pulmonary blood pressure. The increased blood pressure strains the right side of the heart that can ultimately lead to heart failure.
Treatments for PAH targets three molecular pathways: (1) the endothelin, (2) the nitric oxide, and (3) the prostacyclin. Any one or combination of the three pathways can be targeted.
Treatments with prostacyclin pathway medications can slow disease progression and is the standard of care for advanced PAH patients. Most of these medications need to be administered frequently or continuously by intravenous, subcutaneous or inhalation. Ralinepag is a once-daily, oral prostacyclin pathway drug with a 20-26 hour half-life, making it superior to selexipag/Uptravi and prostacyclin analogs. In September 2014 ralinepag received orphan drug status for the treatment of PAH by the FDA.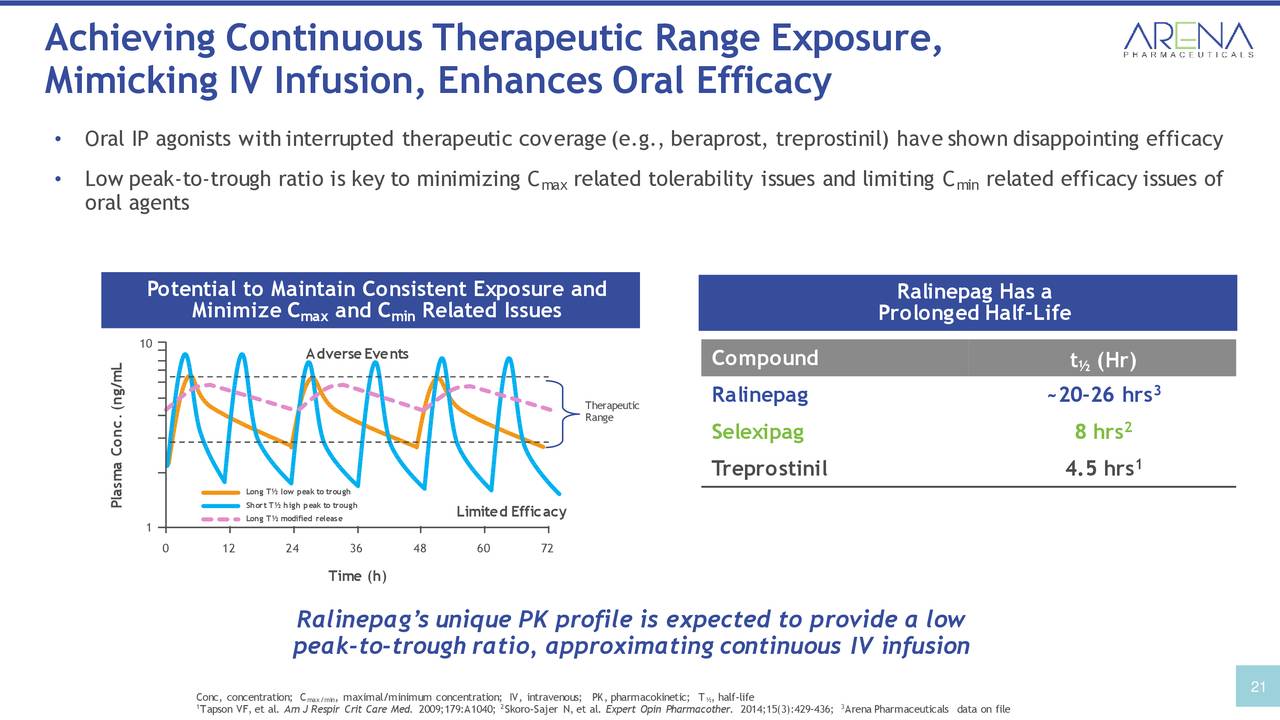 On October 2nd, Arena announced positive long-term data from an open-label extension of a phase 2 clinical trial.
Patients who continued on ralinepag had a median duration of treatment of 1.8 years at the time of right heart catheterization. They showed sustained improvements from baseline pulmonary vascular resistance, or PVR--a measure of the extent that pulmonary circulation "resists" cardiac output--and 6-minute walk test distance. The separation from control was statistically significant.
According to an article by EP Vantage, the two largest players in the PAH space are United Therapeutics (UTHR), and Johnson & Johnson (JNJ). The 2Q 2018 10-Qs from United and JNJ reported the following net sales in $ millions:
| | | | |
| --- | --- | --- | --- |
| | | 2Q 2018 | 2018 Est. |
| United | Remodulin | 159.5 | |
| | Tyvaso | 105.9 | |
| | Orenitram | 49.5 | |
| | Adcirca | 109.8 | |
| | | 424.7 | 1698.8 |
| JNJ | Opsumit | 311 | |
| | Tracleer | 143 | |
| | Uptravi | 171 | |
| | | 625 | 2500 |
| 2018 Total | | | 4198.8 |
To be conservative, I will assume this is the total PAH medication market. If ralinepag captures 30% of this space, that would imply annual net sales of $1.260 billion. Using a multiple of three times peak annual net sales, a possible buyout price would be $3.780 billion.
Some of the challenges to achieving 30% market share are the numerous PAH brand drugs that are currently approved, generic competition, and new drugs in development. For instance, both MannKind (MNKD) and Liquidia (LQDA) are developing dry powder formulations of the prostacyclin analog treprostinil. In September, United partnered with MannKind to develop and market the dry powdered treprostinil formulation known as TreT.
In addition to the above mentioned challenges, if Arena is unable to partner ralinepag, it will have to market the drug themselves requiring additional large amounts of capital. The most likely source of this capital would be dilution.
Conclusion
Ralinepag has the characteristics to make it a best-in-class for an orphan condition. Ralinepag is one of three molecules in advanced clinical trials. If ralinepag does receive FDA approval, Arena's market capitalization is by my estimates justified based on ralinepag alone. With two additional molecules in advanced development, Arena could see its market capitalization increase well beyond its current value if one or more additional drugs receives FDA approval.
Ralinepag is currently in phase 3 development with three clinical trials planned. With any drug development, many unknowns exist. If one of these unknowns rears its ugly head, it would at the very least delay approval and at worst kill ralinepag's approval and decimate the share price.
As always, never invest more than you can afford to lose or cause sleepless nights.
Disclosure: I am/we are long ARNA, MNKD.
I wrote this article myself, and it expresses my own opinions. I am not receiving compensation for it (other than from Seeking Alpha). I have no business relationship with any company whose stock is mentioned in this article.
Additional disclosure: I sold short ARNA January 2020 $30 puts.
Editor's Note: This article discusses one or more securities that do not trade on a major U.S. exchange. Please be aware of the risks associated with these stocks.