In light of current market conditions, I feel now is a good time to hedge against a large correction or bear market. Although there are reasons to be bullish on the stock market due to robust corporate earnings and strong economic data, there are many warnings signs flashing yellow at the moment. The high level of risk combined with the cheap pricing of protection provides a very compelling opportunity to hedge against a large correction or bear market.
Below are four primary reasons why I believe owning some protection makes sense here.
Interest rates could pressure stocks
Interest rates have been moving steadily higher. The yield on 3-month Treasury bills is now higher than the dividend yield on the S&P 500, which means bonds should provide a viable alternative to stocks.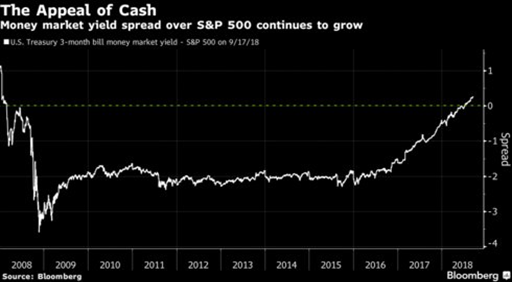 (Bloomberg)
Receiving a risk-free rate above the dividend yield on stocks could be appealing to some investors. Of course, rates and equities can continue to move higher together, but the speed of rate increases needs to be watched closely. It was higher rates in February of this year that contributed to the sharp correction in stocks. The amount of leverage in the system has exploded in recent years, with corporate debt levels at all time highs (CNBC). We must keep in mind that share buybacks have been a major factor for stocks as the below chart clearly shows. If rates continue to rise and the cost of capital increases, how will companies continue to borrow at this level to support share prices?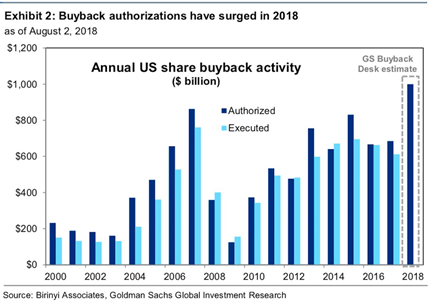 (Birinyi Associates, Goldman Sachs)
Valuations are historically rich
Although valuations are not a great timing tool, as bull markets see valuations expand, we must point out how rich they currently are. As seen below, the 10 year cyclically adjusted P/E ratio is in nosebleed territory, only surpassed by the tech bubble. We are currently in the 97% percentile of valuations, based on this metric.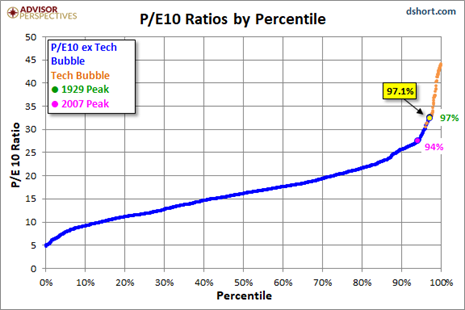 ( Advisor Perspectives)
Other metrics, such as Market Cap to GDP, show similar levels of overvaluation. Another alarming statistic, per TheMacroTourist, is that there are currently over 300 companies in the Russell 3000 trading over 10x Revenues, the highest since the peak of the dotcom bubble. The overall point here is valuations can certainly move higher, but based on history, they are frothy and indicate future returns from here are likely to be mediocre at best.
Sentiment and positioning is stretched
The US has clearly been the market of choice for global investors, as US stocks have outperformed global equity markets year to date. Per CNBC, a recent survey shows large investors are the most overweight US stocks since 2015, according to the August Bank of America Merrill Lynch Fund Managers Survey, a look at where 243 pros who manage $735 billion are putting their money. The outperformance relative to emerging markets is most striking. There is a myriad of reasons why the US is outperforming, from massive fiscal stimulus to stronger corporate profits.
Although outperformance can last for a while, it cannot continue indefinitely. At some point, markets will tend to converge which means either emerging markets could rally substantially, or the US markets are due for a correction. With sentiment this lofty for US equities, I believe it will be the latter.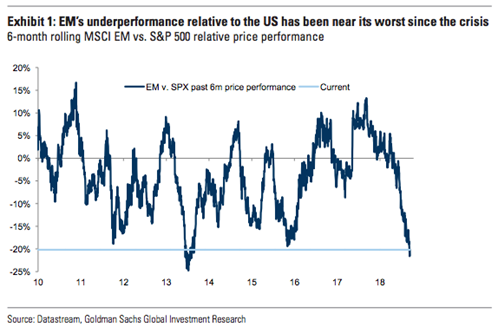 (Datastream, Goldman Sachs)
Another signal potentially indicating difficult times ahead is record high Consumer confidence. Generally, you would think high consumer confidence is a good thing, as it translates to increased economic activity, and in turn, higher stock prices. Though this may be true in the short term, confidence is going to peak before a recession. The last time sentiment was this high was during the dotcom bubble and stocks and the economy were about to roll over.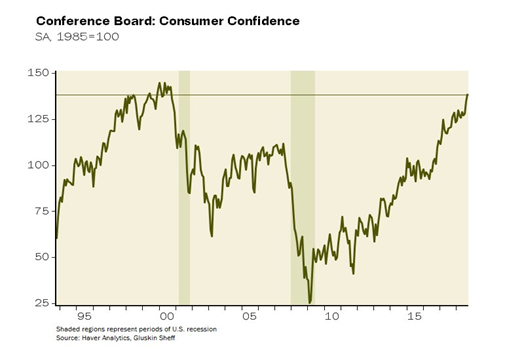 (Haver, Gluskin Sheff)
Political Risk is underappreciated
Handicapping political risk is difficult. We do not know how the midterm elections will turn out or what will untimely happen with President Trump's tariffs. We can be sure, however, that certain outcomes could create a large amount of volatility. If the Democrats take control of congress, it could result in some negative consequences for markets and the current administration. There could be a push to impeach the President and / or block some of his policies that have contributed to higher stock prices.
In respect to tariffs, most investors, myself included, were expecting them to be used as a negotiating tactic that ultimately resulted in better trade deals. Although some progress has been made with Canada, Mexico, and Europe, the trade war with China seems like it is going to drag on much longer than we thought. China has indicated it is preparing for a protracted battle here, by allowing its currency to weaken substantially and providing additional stimulus to its economy. Most people did not take President Trump seriously when he said he would add tariffs to all Chinese imports. It now appears, he is likely to do just that.
Although tariffs have only affected a small portion of the economy thus far and have been more than offset by the recent tax cuts, there is potential for a much larger impact. Per Goldman, if all proposed tariffs are implemented, they could affect $900 billion worth of imports. This would clearly have an impact on the economy and could result in disruption to supply chains.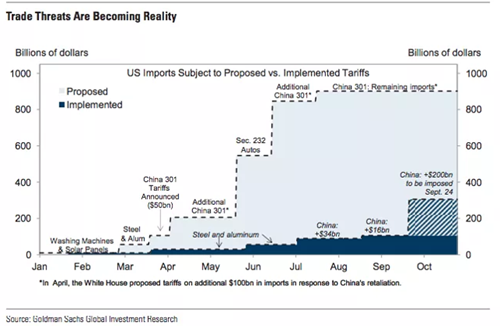 (Goldman Sachs)
Ultimately tariffs are a tax on the consumer and will likely increase inflation, which could cause the FED to be more hawkish, in turn pressuring equity prices. Hopefully senses will prevail and we reach an agreement on trade soon, but it is highly uncertain at the moment. If we continue down the current path, I imagine companies will be affected, and it will begin showing up in negative guidance.
Summary
This bull market could certainly continue for some time, but with lofty valuations, higher interest rates, stretched sentiment, and potential for earnings misses, does owning protection not make sense here? As mentioned above, higher interest rates are allowing safer investments to finally compete with stocks. These higher rates will eventually pressure equities due to the record level of corporate leverage and stock buybacks. In regards to earnings, high valuations and overbought conditions do not leave much room for disappointment.
If companies are ultimately affected by the tariffs and / or we get a surprise in the midterm elections, stocks could be ripe for a dramatic reversal. As we saw in February, the long term outlook does not have to change for equity markets to head south. A simple shift in sentiment is enough to cause selling pressure, which begets more selling from quant based and passive strategies, causing a swift correction.
Disclaimer: This article is distributed for informational purposes only and should not be considered as investing advice or a recommendation of any particular security, strategy or investment product, and does not constitute an offer to sell, nor a solicitation of an offer to participate in Carbide's programs. The author's opinions are subject to change without notice. Information contained herein has been obtained from sources believed to be reliable, but are not assured as to accuracy.
Disclosure: I/we have no positions in any stocks mentioned, and no plans to initiate any positions within the next 72 hours.
I wrote this article myself, and it expresses my own opinions. I am not receiving compensation for it. I have no business relationship with any company whose stock is mentioned in this article.