As most readers are undoubtedly aware, Friday's jobs report was a big deal.
Long story short, market participants were concerned that if September payrolls were accompanied by another hotter-than-expected average hourly earnings print, this week's acute Treasury (TLT) selloff could get worse, weighing on equities in the process.
On Wednesday, the sharp repricing higher in long end yields was greeted with a concurrent rally in U.S. equities (SPY). Clearly, risk assets interpreted the blockbuster ADP data and turbocharged ISM print as further evidence that the U.S. economy is far from "tired" and that interpretation led directly to a benign reading of rising yields. More simply, the bond selloff was seen as the market catching up to U.S. economic strength. Real yields led, but breakevens drifted higher as well, albeit struggling to push above May peaks.
Fast forward to Thursday, and the market quite clearly believed that yields were rising too far, too fast. Stocks are sometimes a fickle beast when it comes to rate rise, and equities ran out of patience as 10-year Treasury yields topped 3.20%. The dollar is along for the ride and is gunning for its longest winning streak of the year (obviously that hasn't been great for emerging markets):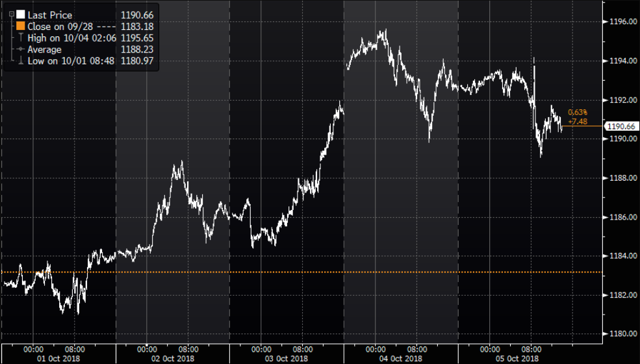 (Bloomberg)
The issue for U.S. stocks here is that the Powell Fed is widely seen as more data-dependent than the Yellen Fed. As such, there's a risk that a series of hot inflation prints could quickly change the narrative where that just means market participants going from embracing a repricing higher in long end yields as a sign that the economy is growing faster than the Fed is tightening, to becoming concerned that an inflation shock could prompt the data-dependent Fed to panic on the way to making a policy mistake.
That was the setup for the September jobs report which, as it turns out, didn't deliver the blockbuster headline number you might have expected given ADP and ISM.
To be sure, weather played a role (the number of workers unable to work due to weather was 299k), but nevertheless, 134k (the headline number) was a pretty big miss. If you write that off to hurricane-related noise, you're free to focus on the fact that revisions took the August gain to 270,000. Between that and the unemployment rate ticking down to a 48-year low, you come away feeling just as convinced that things might be overheating as you probably felt ahead of the data. Here's a visual: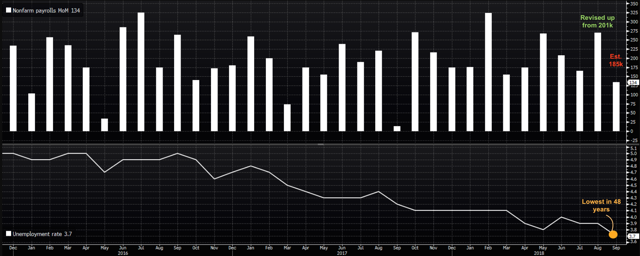 (Bloomberg, my annotations)
But as noted above, market participants are far more concerned about the inflation data these days than they are about the headline numbers and on that score, average hourly earnings growth came in at 2.8% YoY last month, in line with expectations. That was somewhat of a relief to the extent it wasn't the scorching hot beat that some folks were concerned about after a week of sharply rising bond yields and following multiple remarks from Jerome Powell over the last several days that reiterated the Fed's hawkish, data-dependent inclinations.
All of that said, once everyone exhaled and kind of took a second to step back and appraise the situation, it was pretty clear that nothing has changed. Between the positive revisions and the 48-year low on the unemployment rate, there's nothing to suggest that the labor market is "cooling off" per se. As far as wage growth is concerned, an in-line 2.8% YoY print may be evidence that there's "additional slack" (to use the oft repeated cliché), but one can't help but feel like this is still a coiled spring that at some point is going to unfurl on the way to unleashing a whopper of a wage growth number.
Lacking a reason to retrace the push higher, 10Y yields renewed their ascent late Friday and as I write this, sit at 3.24%: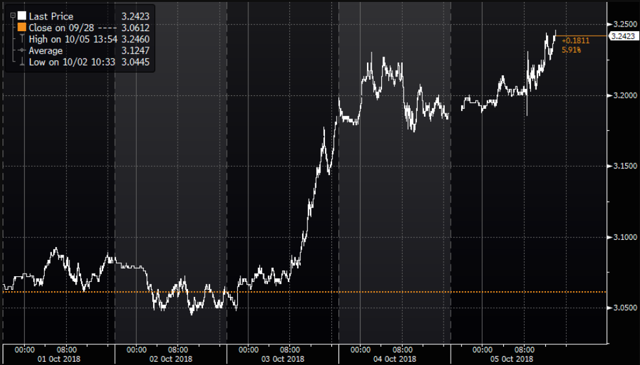 (Bloomberg)
I've talked a ton this week about the stock-bond return correlation and about how rapidly rising yields have the potential to flip that correlation positive, leading to "diversification desperation" or, more simply, stocks and bonds selling off concurrently.
On Friday, I wanted to focus your attention on two things, both of which are a bit more granular than the 30,000 foot discussion about the equity-bond correlation, but still relate to the effect of rising yields on equities.
For all the focus this year on the steady grind flatter in the yield curve and what that might portend for the U.S. economy, it's worth noting (and I've mentioned this before), that it's actually steepening which often opens the door to volatility, first in rates, and then in other assets. In February, for instance, the curve steepened in and around the equity rout.
With that in mind, have a look at the 2s10s on the week:

(Bloomberg)
Given what you've heard about the bond selloff and what you see there in terms of the 2s10s widening back out beyond 30bps, you might be wondering if rates volatility moved higher. The answer is yes, but with the caveat that the uptick pales in comparison to February and is but a blip on the longer-term radar screen. Here's a one-year chart of 3M10Y: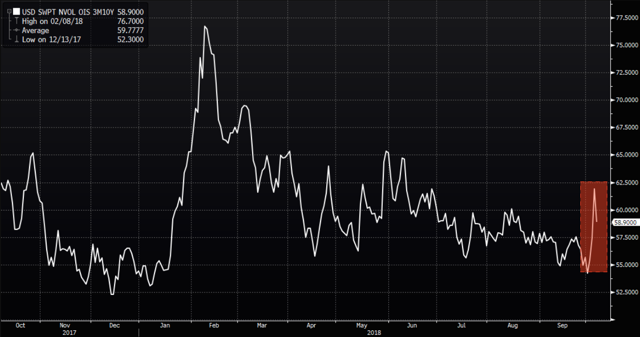 (Bloomberg)
And here's the longer-term picture, so you can see that this is hardly what one might call a notable bout of rates volatility: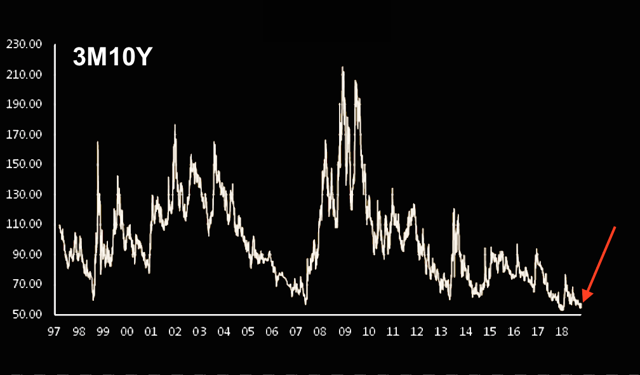 (Heisenberg)
The point: This bond selloff has been orderly - so far. Of course, that could change, but for now, this is some semblance of "well-behaved".
In addition to that, I wanted to offer readers a kind of equities-focused addendum that seeks to explain this week's action in stocks from the perspective of the curve steepening mentioned above. If you think about this week's bond selloff as the market catching up to (or, becoming a believer in) U.S. economic strength, you can divine something about what the steepening is likely to entail from a sector/factor/style perspective.
As Nomura's Charlie McElligott wrote on Friday, the growth-inspired steepening episode "is the catalyst for a 'Momentum' factor unwind, which corresponds with a reversal in the Growth/Value ratio, as 'Long Growth'/ 'Short Value' has been de facto positioning and the performance driver for the last two+ years."
In other words, the selloff in the long end catalyzed by the bond market suddenly catching up to ebullient U.S. economic data is reflected in equities via a rotation out of what McElligott calls the "secular growth 'hiding places'" such as FAANG and tech more generally. Those names, he reminds you, "were accumulated from the lazy multi-year 'slow-flation' U.S. economic narrative and are now being reduced."
To illustrate, have a look at a 5-day chart of the S&P versus the Value ETF (IVE), the Momentum ETF (MTUM) and the Nasdaq 100 (QQQ):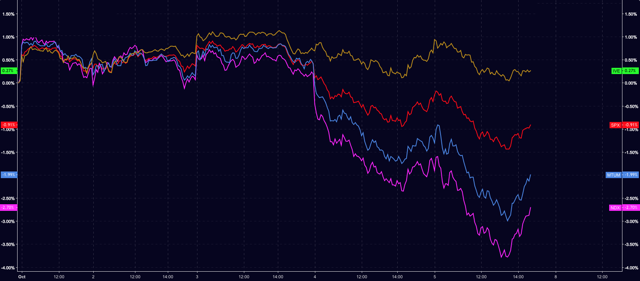 (Heisenberg)
In the same vein, the spread between the Nasdaq VIX and the "regular" VIX is now near the highest since the late July, Facebook-inspired tech selloff: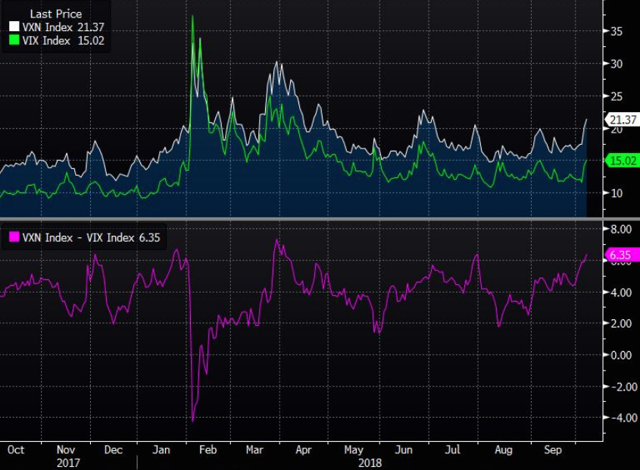 (Bloomberg)
And here's the FANG+ index on the week: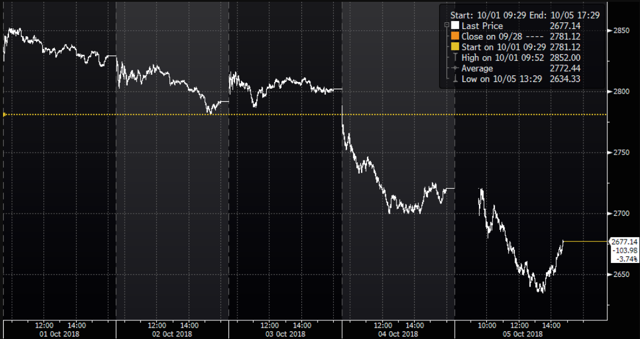 (Bloomberg)
Of course, there's another key catalyst for tech weakness. Obviously, Bloomberg's blockbuster exposé on Chinese hacking isn't doing tech any favors. On Friday, the MSCI Asia Pac Infotech index fell to its lowest since 2017 on the heels of that report: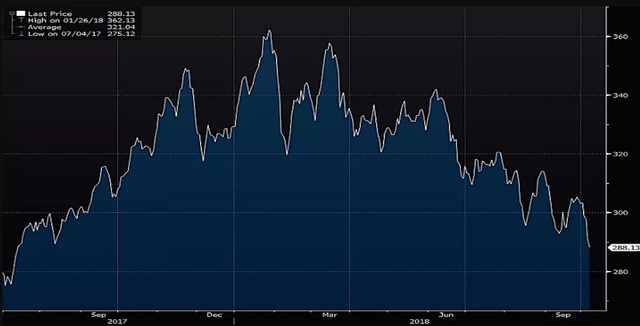 (Bloomberg)
Bloomberg's story simultaneously underscores the fact that tech is more vulnerable than many believe and heightens tensions between Washington and Beijing at the worst possible time.
The overarching takeaway from all of this is that the market is on the fence when it comes to how to interpret the steady stream of upbeat U.S. economic data.
This week, bonds decided now was the time to catch up to economic reality and while the anatomy of the selloff suggests that inflation fears aren't yet any semblance of acute, there's a palpable sense of angst hanging over each and every data point as everyone constantly questions how long the economy can continue to run as hot as it's running without triggering a sudden acceleration in inflation. An inflation scare has the potential to steepen the curve suddenly, risking an unwanted bout of rates volatility which would almost invariably spill over into other assets.
Additionally, the read-through for the Fed in that environment is particularly worrisome. As the above-mentioned McElligott put it on Friday morning, "going forward, a rogue inflation beat without a doubt is the largest risk-off threat to risk-asset psyche, as it disrupts the current 'steady' pace of normalization and would pivot the 'risk-positive' narrative from 'growing faster than we are tightening' to then risking 'Fed policy error' due to 'over-tightening risk'".
Finally, do note the implication from the commentary above about the steepening curve and the rotation away from Momentum and Tech. That underscores the notion that in addition to the fact that a rapid selloff in bonds has the potential to bleed over into equities, the character of that bond selloff has implications at the sector/factor/style level.
All in all, I think everyone can agree that after this week, bonds are in the driver's seat when it comes to determining what comes next for U.S. equities.
Disclosure: I/we have no positions in any stocks mentioned, and no plans to initiate any positions within the next 72 hours.
I wrote this article myself, and it expresses my own opinions. I am not receiving compensation for it (other than from Seeking Alpha). I have no business relationship with any company whose stock is mentioned in this article.