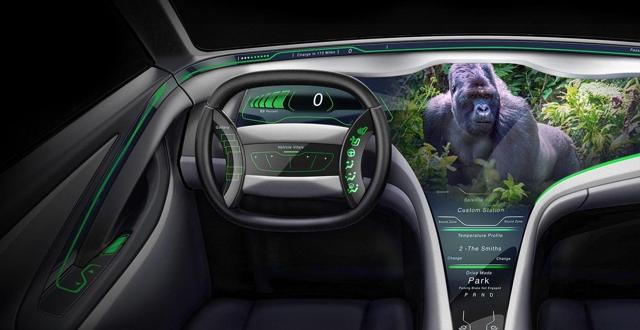 Image source: Corning's website; "automotive interiors".
After a couple of years sustaining a strong uptrend, the price of Corning, Inc. (NYSE:GLW) saw a period of high volatility during the first half of 2018. Apparently, investors did not take well to the net loss recorded during the last quarter of 2017, leaving the shares to fall quickly in the following days. Although the net loss was caused by a one-time item related to the enactment of the Tax Cuts and Jobs Act at the end of 2017, it was not until eight months later that the company saw a price recovery.
It seems that some of the investors' fears began to dissipate after Corning reported better results in its second quarter of 2018, driven by revenue growth in each of its segments due to strong demand in its final markets, and the successful increase of its productive capacity. Additionally, the company offered a positive forecast that further encouraged its outlook. Executives now expect that by the end of 2018, the company will report total revenues of $11.3 billion, almost 10% Y/Y growth, with improvements in margins as well.
We see that this short period of uncertainty was used by long-term investors to increase their position in the company, while offering a good entry point for new investors as well. However, once the price of Corning regains its historical highs, the question arises for new investors on whether the shares still have space for more increases.
We believe that Corning's business model has several competitive advantages, thanks to its continuous investment in innovation, that position it well in the long term, while taking advantage of several secular trends that promise to boost revenues in the coming years.
Competitive advantages through innovation
Corning has established several competitive advantages over the years, thanks to its constant investment in research and development. The company invests in R&D approximately two times more than its competitors in Asia, creating valuable intangible assets which have improved its manufacturing processes, expanded its production capacity, and reduced its manufacturing costs.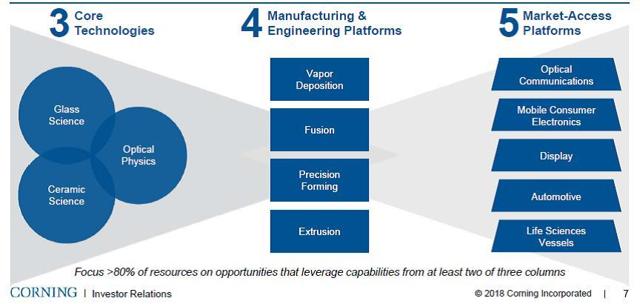 Source: Extracted from Corning's 2Q'18 Earnings Call Slides
The company has patented both manufacturing processes and specialized chemical compounds, which have improved the production of fiber-optic cables and glass substrates for LCD and OLED displays. This commitment to innovation has allowed Corning to be more agile than its competitors, and quickly take advantage of the trends in final markets such as smartphones and optical communications.
Corning's ability to innovate has allowed it to generate lower manufacturing costs and generate higher returns than its competitors which continue to use traditional methods. As a result, Corning generates approximately 40% of gross margins compared to its competitors in Asia which average an estimated 25%.
On the other hand, we see that the process of manufacturing glass substrates of Gen 10 and Gen 10.5 for large televisions has generated a switching cost for Corning customers. Due to the fragility and sterility necessary for the production of LCD and OLED screens, Corning takes the materials directly to the facilities of its customers, and manufacturing the display glass inside their factory. This synergy not only generates savings in Corning's costs, but also creates a significant switching cost for its customers, who would have to make a significant investment to change to a competitor.
In general, we see that the continuous investment in innovation has allowed the company to maintain gross margins above the industry as a result of its productive capacity and production processes while increasing the demand for its patented products. We believe that Corning will continue to innovate since these investments have generated a value-add both to its products and to its business model.
Secular trends boosting revenue
Apart from the strengths in the business model, several secular trends in the Corning markets offer valuable opportunities to generate sustained growth in the future.
The most significant trend comes from its most important market segment, Optical Communications, which has seen multiple factors boost demand. The communications industry in general has benefited from increased demand for device connectivity in recent years, given the growing use of mobile devices that require efficient and faster data transfer. Additionally, the growing tendency to consume video content has changed the patterns of data consumption, forcing carrier networks to update their existing copper-based networks in recent years.
Corning has invested in both basic technologies and new platforms within this market, creating additional growth drivers. Acquisitions such as the connectivity products of Samsung (OTC:SSNLF) and 3M Company (NYSE:MMM) have begun to generate revenue growth, giving a boost to this segment. We believe that the fiber-optic market still has room to grow, as the proliferation of cloud services, Internet of Things (IoT) applications, and 5G networks demand greater data transfer.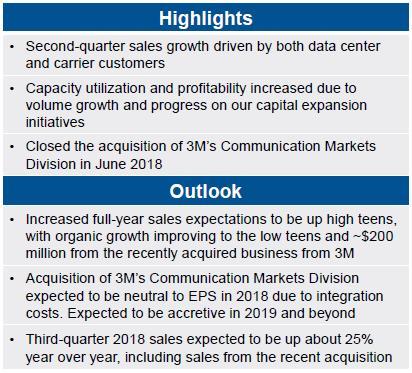 Source: Extracted from Corning's 2Q'18 Earnings Call Slides, "Optical communication highlights and outlook"
An additional trend comes from its Specialty Materials segment, although this represents even a smaller portion of Corning's revenues, we see that its flagship product Gorilla Glass has not only successfully penetrated the mobile device market, but has also begun to easily enter the automotive market.
On the one hand, Corning has expanded its leading position in the mobile device market with each launch of its Gorilla Glass double-sided glass. This glass is used in most high-end devices given its strength, durability, and flexibility. In July 2018, Corning launched its new version of Gorilla Glass 6, which was rated twice as strong as the previous version, promising to retain and expand its market share in this space. The company has also formulated customized versions for the wearables market, with offers such as its Gorilla Glass DX and DX Plus, which expand the company's offerings.
Additionally, we see that through constant innovation, the company has been able to easily expand its Gorilla Glass product to the automotive market. After announcing a joint venture with Saint-Gobain (OTCPK:CODYY) in 2016, Corning now manufactures and sells lightweight automotive glazing solutions. The Corning automotive access platform now has two growth factors, its environmental products and Gorilla Glass for next generation vehicles.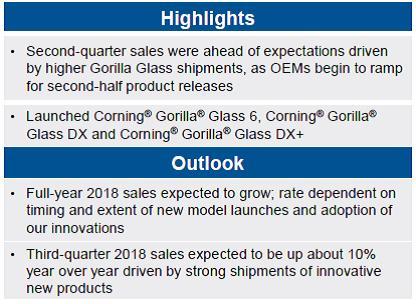 Source: Extracted from Corning's 2Q'18 Earnings Call Slides, "Specialty Materials highlights and outlook"
Overall, we see that the commitment of executives to invest in innovation has allowed the company to benefit from these trends quickly. We estimate that Corning will continue to invest in these areas as markets such as communications, mobile devices, and automotive unlock new opportunities in the future for the company.
Quick valuation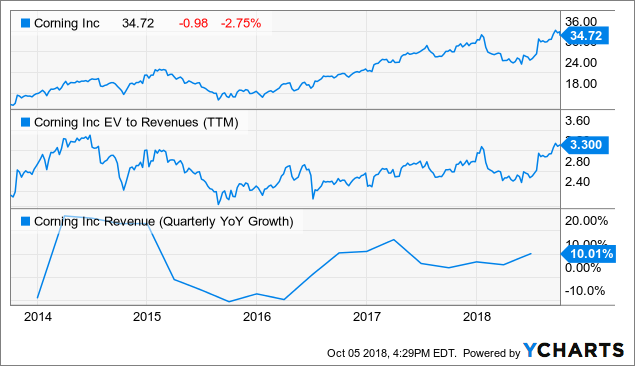 Looking to the future, we see that Corning's robust business model is well positioned to generate revenue growth of close to 10%. In our opinion, the demand for optical communications will continue with its current trend as technologies such as cloud services, IoT, autonomous driving, and 5G demand greater data capacity from carrier networks. Additionally, we believe that Corning can expand the demand of its Specialty Materials segment to markets such as automotive, giving an additional boost to its revenue.
Likewise, as a result of continuous innovation and investment in R&D, executives have projected an expansion in margins for the next five years. The company is expected to see a wider gross margin as investments such as the expansion of its Gen 10.5 glass plant in Hefei, China, begin to bear fruit.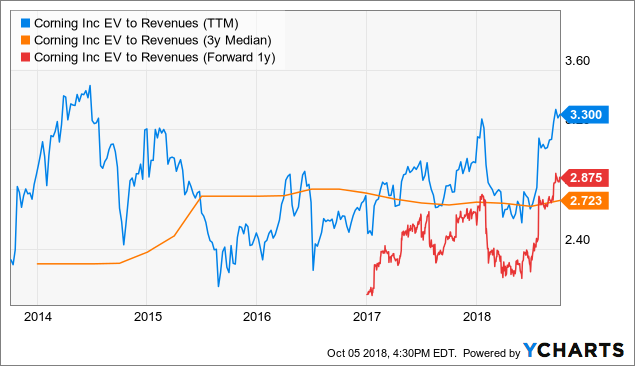 Looking at Corning's valuation, we see that as a result of a short period of uncertainty that caused an increase in volatility for the stock price, the company now trades almost in line with its closest peers. Ratios such as the P/B, EV/EBIT, and P/E indicate that the value of the company is at average levels in the industry, as a result of the contraction in the price of its shares during 2018.
Despite returning to more stable levels, we believe that valuations do not yet reflect the trends in Corning's end markets, which are expected to accelerate growth in the coming quarters. We estimate that the company is well positioned to generate a constant appreciation of its value in the coming years, well above the market and the industry.
Disclosure: I/we have no positions in any stocks mentioned, and no plans to initiate any positions within the next 72 hours.
I wrote this article myself, and it expresses my own opinions. I am not receiving compensation for it (other than from Seeking Alpha). I have no business relationship with any company whose stock is mentioned in this article.