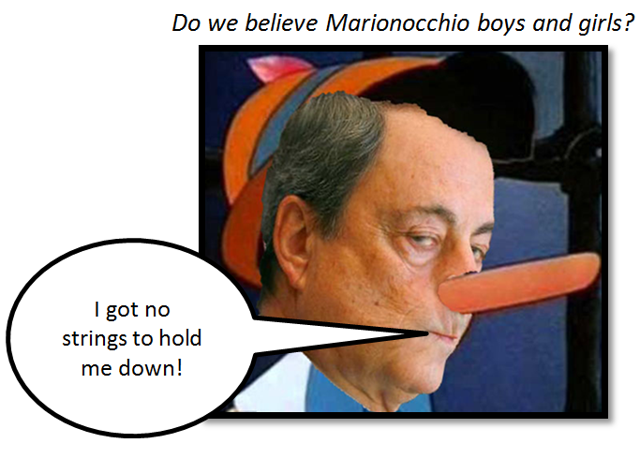 The last report characterized the ECB as being committed to the QE-ending mode process. No greater confirmation of this can be sought after Mario Draghi recently dubbed Eurozone inflation as "relatively vigorous". The ECB has tried this before, only to be dragged back in order "to do whatever it takes". Are we having déjà vu all over again? Mario Draghi is certainly leaving, but that is the only certainty at the ECB right now.

(Source: Reuters)
Partially confirming Draghi's hyperbolic descriptor, Eurozone headline CPI is picking up, whilst simultaneously Eurozone consumer inflation expectations have become un-anchored from the disinflation bottom and are rising.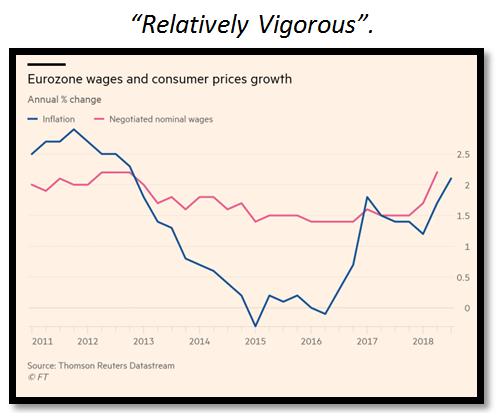 (Source: FT.com)
Wages are also leading inflation, relatively vigorously higher, for the first time in several years.
Faced with the conundrum that inflation is rising, just as growth is slowing, the ECB has no choice other than to stick to its inflation mandate. Draghi must normalize, based on his single mandate. Normalizing, just as trade wars and rising oil prices start blowing significant headwinds is going to be a risky business though. The only thing he can do is drag out the normalization process in order to mitigate the growing growth headwinds.
Draghi then qualified the relative inflation vigor as conditional upon interest rates remaining unchanged into next year. Furthermore, he removed some more of his initial tightening rhetoric with a summation of the current and future global trade status quo. He warned that the impacts of current protectionist moves will have a significant impact on the Eurozone, which policy makers must be prepared to deal with. Going forward, the situation could get even worse in his estimation if currently signaled further protectionist measures are implemented. He left nobody in any doubt that the ECB will "do whatever it takes" to mitigate these headwinds when, rather than if, they materialize.
In both the first and second instance, Draghi's rate hiking retractions were ignored by momentum traders; who were reversing bets against the Euro or betting on its appreciation going forward. The forward curve is also now discounting a tiny rate hike from the ECB before Draghi leaves, something that was hitherto totally unexpected.
Draghi's manipulative guidance was supported further by ECB Executive Board member Benoit Coeure. Nudging the normalization process along to the next step, he opined that it may be necessary for the ECB to provide clearer guidance on the trajectory of future interest rate increases.
Coeure's latest move should be seen as an affirmation of the ECB's centrality of commitment to the process of ending QE. He noted that such guidance brings with it the risk of loss of flexibility to deal with unforeseen hurdles to QE exit. The ECB must now evaluate the costs and benefits associated with guidance which commits it to a scheduled rise in interest rates.

(Source: Seeking Alpha)
The divergence in growth and inflation performance across the Eurozone was discussed in a previous report. It was therefore interesting to see Coeure addressing this matter recently. More interesting is the fact that he completely ducked this issue, other than to say that the ECB is on the case investigating.
Coeure's broad normalization commitment message was then reiterated by ECB Chief Economist Peter Praet. Praet is the architect and advocate of the ECB's balance sheet first rate increase second process of normalization, hence his guidance is key. Currently, he sees interest rates on hold until summer 2019, after which they can gradually rise.
Conceding that keeping interest rates low for too long builds up stability risk, Praet sought to play down this risk by talking up the alleged robust macroprudential standards of the Eurozone at the national level. By his reckoning, there are no bubbles in Eurozone asset markets, so there is little risk out there to test said robust national macroprudential standards. Since there are no bubbles, neither is there any pressing urgency to raise interest rates either presumably. It should be noted that said national standards have allowed a non-performing asset bubble and sovereign debt crisis to build up over the years. Praet's macroprudential allusion appears to be an illusion therefore.
After Draghi's bombshell revelation, Praet was at pains to soften the Hawkish nuances. In order to do so, he reiterated Draghi's conditionality that rising inflation is predicated and sustained by a low term structure of interest rates well into 2019. He then drove his message home by warning that enthusiasm for higher interest rates should be tempered by the real and rising threat of a "growth accident". He attributes this headwind to the trade wars and emerging markets risks. Thus far, he does not see the impact of these headwinds in the data, so they remain out there to be seen. Neither does he see these headwinds in the market discounting mechanism of the yield curve, which remains consistent with the view presented by the ECB as the thesis for ending QE.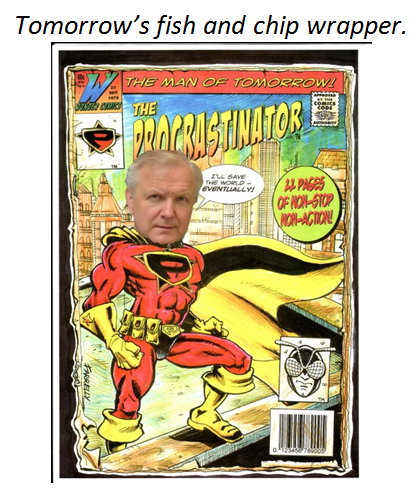 Governing Council member Olli Rehn tried to further pour oil on the troubled waters that had been stirred by Draghi's incendiary guidance. Reiterating and thereby emphasizing Praet's message, Rehn opined that "interest rates will slowly and gradually rise, starting towards the end of next year, and this whole normalization of monetary policy will be a very long and a gradual process." In anticipation of next year's rising interest rates, he advised Finnish mortgagees to do their stress tests now and take any action needed.
Rehn sees the need for detailed guidance diminishing as inflation rises. The problem is that this is not happening, thus implying that guidance will remain detailed and cautious; at least from Rehn and those who share his opinion.
Rehn's view and guidance is particularly interesting, as he is a contender to replace Mario Draghi as ECB president. It is noteworthy that his approach to the normalization is data dependent rather than pre-committed like Praet and Coeure. It should be noted that the data is softening and may soften further as the Brexit and trade wars blow stronger headwinds. It is therefore hypothetically possible and a rising probability that Rehn could call for an easing of monetary policy before the first interest rate hike has begun. Whilst this probability is low today, it has the potential to rise significantly in a confluence of weakening data, global macro events and Rehn's succession of Draghi.
Rehn already seems to be drifting into this uncertain realm. His latest commentary raises open questions on timing and order of policy action in relation to the normalization going forward. It is thus a small step to calling the whole process into question, if the data and global developments mitigate further towards procrastination.
A second verbatim dosage of oil on troubled waters was then administered by Benoit Coeure. Coeure also talked up the need for fiscal integration to make the Eurozone less reliant on ECB monetary policy. Whilst fully accepting that the ECB is in normalization mode, he views this process as a gradual one involving the maintenance of large residual amounts of ECB liquidity.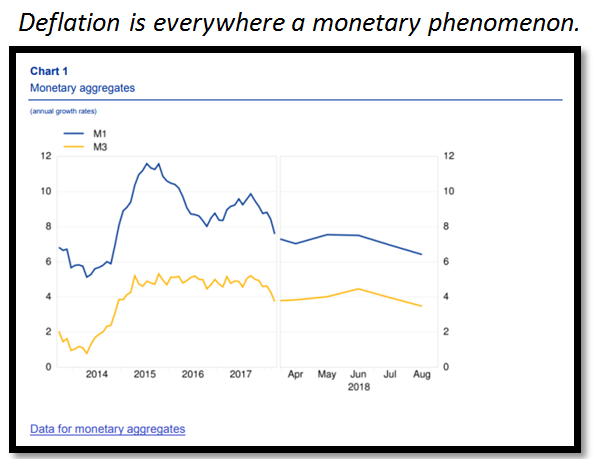 (Source: ECB)
There is something ironic and suspicious about Draghi and Praet's view that growth and inflation are conditional upon easy monetary policy. The latest Eurozone Money Supply data shows M3 growing at 3.5% Y-O-Y, down from its previous 4%. This is also much lower than the 5% rate seen back in 2017. The money supply is therefore shrinking, not growing. This implies that the ECB has been normalizing for some time already, or rather that since it has not been easing further, the banking system has not made up for the shortfall. Taking both men literally, since the money supply is falling and the ECB intends to normalize further, growth and inflation will fall unless the Eurozone banks take up the heavy lifting. The banks have not shown any signs of picking up the baton. On the contrary, they are hoping for a bailout of their non-performing loans.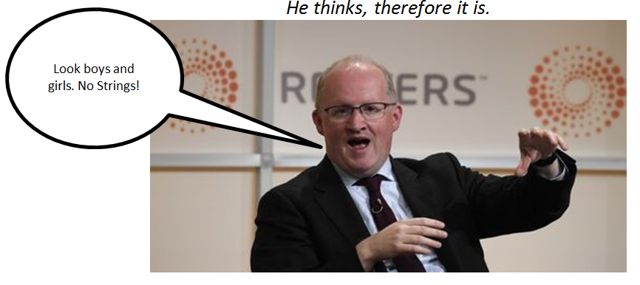 Governing Council member Philip Lane, who narrowly missed out on the vice president slot, now has his heart set on replacing Peter Praet as chief economist. He thinks that core inflation is rising sustainably. He also believes that forward guidance will become more important. Lane has thus accepted the invisible baton of framing the QE end first, rate hike second from the incumbent. As he comes into the home straight, Lane envisions a finish line at which there will be clearer guidance on the trajectory of interest rates in 2019. For now he cautions that the risks from trade wars and emerging markets should temper market enthusiasm to overly discount the prospect of rising interest rates.
Governing Council member and noted Hawk Jens Weidmann's comments illustrated that he would like the process of normalization to be glacial at best. As he sees it: "(policy normalization) is a long road which hides big challenges and whose end-point has yet to be determined." Weidmann's commentary should be put into a specifically narrow pecuniary German context.
The recent Ifo data showed that the Germany economy has stalled out. Dieter Kempf, the German BDI industrial association president, provided the context. Germany is now facing headwinds from Brexit, trade wars and also the bottlenecks to its industrial plans created by xenophobic obstruction of the integration of foreign workers into Germany Inc.
A prescient economic forecast commissioned by the German government from its top research institutes has slashed growth projections from 2.2% to 1.7% this year for the reasons cited by the BDI. The danger signals were then compounded by the German banking association. According to the bankers, there has been a significant drop in industrial investment, which is a headwind for the economy. Several red lights are flashing on the German economic dashboard, whose duration could become a game-changer for the Eurozone as a whole.
ECB Governing Council member Ewald Nowotny's opinion on the normalization timetable suggests that there is no consensus as yet. He would like interest rates to rise much sooner than as outlined by Peter Praet. He also hinted that his view is shared by others, with the cryptic statement that "I'm not entirely alone in my opinion but it is still an open discussion."
The more Hawkish ECB guidance overlays the underlying tightening fundamentals of the current unwinding of the nine billion euros of emergency liquidity injections to deal with the Taper Tantrum of 2014-2016 when the ECB last contemplated normalizing monetary policy. This emergency liquidity roll-off will coincide with a 15 billion euro cut in the current QE bond buying process. Guidance and capital markets are thus aligned in a significant liquidity tightening event. Ostensibly, monetary policy is tightening, because it is no longer easing, even as economic growth slows down.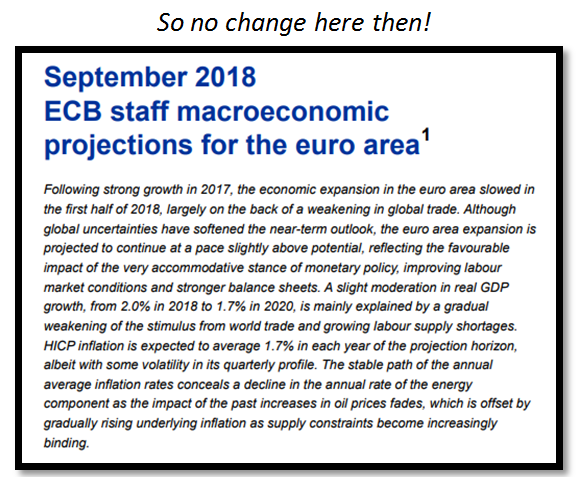 (Source: ECB)
The centrality of commitment to end QE by the Governing Council stands in stark contrast to centrality of commitment to the mediocre 2020 economic forecasts of its staffers. Furthermore, said staffers once again have opined that the economic strength in the Eurozone is by and large a byproduct of easy monetary policy. It is therefore very reasonable to question why the Governing Council should continue to big-up the guidance to end QE and raise interest rates in the face of conflicting data that allegedly goes into its policy-making models.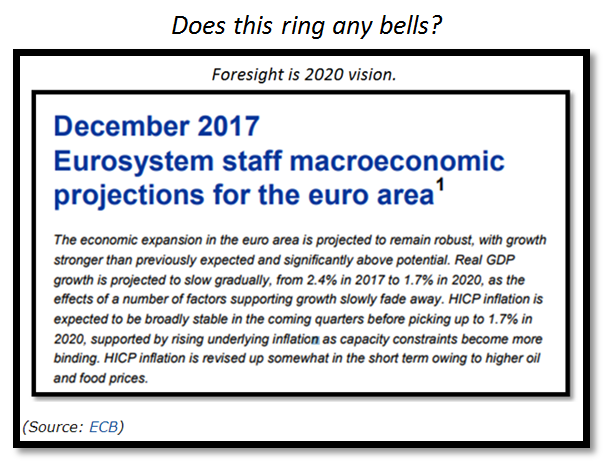 (Source: Seeking Alpha December 2017)
The current situation is reminiscent of that in December 2017 when a similar divergence of guidance and data occurred. Back then the weakening data proved to be correct, yet the Governing Council has adhered to and now strengthened its commitment to end QE. This observation could be seen as confirming the ECB's centrality of commitment to end QE.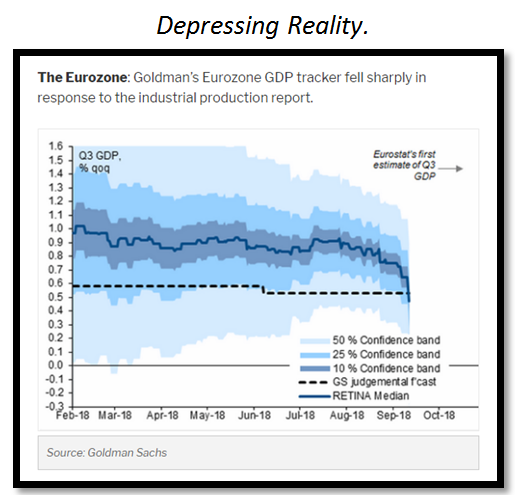 (Source: The Daily Shot)
It could also be seen as reckless avoidance of the facts. Given that global trade conditions have worsened, which the staffers clearly allude to in their forecasts, the Governing Council is making a big bet that a trade war won't happen. It is also making a big bet that Brexit is a non-event. As will be seen later, some ECB members are already doubting the merits of this wager.
The fluid situation in global trade and Brexit has started to impinge upon the ECB's short-term view. In its latest short-term economic bulletin update, it conceded that global growth will slow in the short-term. This implies that Eurozone growth will be negatively impacted by default. The ECB Governing Council is however reluctant to join these dots with guidance since it conflicts with its normalization program commitment. The duration of said short-term view must now be watched by the ECB, as it tries to maintain the centrality of its commitment to go ahead with its normalization agenda.
The centrality of commitment to normalize by the Bundesbank is so emphatically at odds with the data that it has stopped being amusing and started being worrisome. The German central bank's creativity in trying to disguise its bias recently hit new levels bordering on the absurd. Buba alleges that German economic softness is no longer just related to its previous bad weather excuse. It is now also related to a knock-on effect through the auto sector of tighter global emissions rules. Once the German automakers have recalled all the vehicles affected and retrofitted them with better catalysts, all will be reversed in theory. Apparently global vehicle purchasers love German cars so much that rather than substitute their purchases with different marques, they are waiting for the great German auto refit stimulus! One couldn't make this up if one tried.
The absurdity of the Eurozone King's missing growth clothes is however not limited to the Bundesbank. Benoit Coeure has already shown that it is also deeply rooted in the Governing Council. This is confirmed by council member Vitas Vasiliauskas who had the chutzpah to claim that the slowdown in the Eurozone was and is totally expected by his team. In fairness, Vasiliauskas is not lying, as the staffers have been forecasting doom and gloom all the way out to 2020. He should be careful however because admitting that a slowdown is expected significantly undermines the Governing Council's credible commitment to end QE.
ECB President Mario Draghi, never one to overlook an opportunity in a crisis, is also fitting the facts to his carefully crafted blueprint for deeper economic union. As discussed in the last report, said deeper economic union will be enabled by a consolidation in the Eurozone banking sector.
Draghi recently critiqued the current barriers to his plan wrapped in the ominous wording that it represents a barrier to credit creation which is a headwind. According to Draghi, the non-performing loans insulated within national banking system borders are preventing the cross-border creation of capital. In remedy, he suggests the creation of pan-border rules for lending. By default, said rules imply a parallel set of EU governance changes which are de facto deeper banking and economic integration. Governing Council member Francois Villeroy de Galhau then supported Draghi by urging EU lawmakers to get the vehicle to drive this process aka bank resolution fund into place this year, so that the great cross border consolidation can begin.
More significant than his cross-border incursion was Draghi's frontal assault on the subject of deeper fiscal union. Signaling that easy monetary policy will no longer be the crutch, which allows Eurozone paralysis on structural reform and fiscal integration, he called for progress to be made on a Eurozone fiscal mechanism to act as a buffer in times of economic weakness. His call echoes that of Eric Rosengren at the Boston Fed, who is crying out for buffers to be put in place whilst the US economy is still enjoying a period of growth. Draghi is using the end of QE and the potential Taper Tantrum that will ensue as catalysts to push Eurozone policymakers to pool fiscal resources to face the next crisis.
Responding with alacrity to Draghi, German Finance Minister Olaf Scholz affirmed his belief that all Eurozone national governments should agree on the next steps towards banking union. Bundesbank President Weidmann has drawn the German line at banking union only, as he stated that a full-blown debt sharing is not yet something that is feasible or desired by Eurozone nations.
The response to Draghi by Italy was much more interesting, given that it allegedly has a Populist government intent upon breaking EU fiscal limits and risking the breakup of the Eurozone in the process. Italian European Affairs Minister Savona called for the ECB to act as the pan-Eurozone debt restructurer in a process that will bring debt-to-GDP of all nations below 60%. This process would involve the ECB converting the sovereign debt it owes into a lien against future tax revenues of the debtor nations.
The response to Italy by the ECB was unequivocal yet indirect. Governing Council member Francois Villeroy de Galhau opined in general that it is not the ECB's job to mix politics with monetary policy. This means that the current Italian Populist attempt to get its Stability Pact breaking new budget financed on the ECB's balance sheet is a dog that doesn't hunt. In the bigger scheme of things, it means that the ECB currently has little interest in acting as the fiscal restructuring agency proposed by the Italians.

(Source: Bloomberg)
Readers should observe the perfect symmetry of the EU's preparations for deeper banking and economic integration with its preparations for Brexit. Negotiations have suddenly turned cold for Britain, after each side has tried to seize the moral high ground by appearing to be conciliatory.
President Macron challenged by the rising probability of "Frexit" from Core has become particularly vitriolic in reflection of his own precarious position. Having forgotten the mistakes made at Versailles in 1919, France continues its traditional cruel interpretation of the "reparations" clause towards an alleged existential foe. Ironically, whilst seeking to claw back fiscal transfers from Britain, President Macron is busily buying popularity with a fiscal stimulus of his own. Unfortunately, the EU Stability Pact limits prevent him from being overly generous with his stimulus, thus highlighting the problems of being a member of the Core club. President Putin and president Bush no doubt will have noticed this French behavior with great satisfaction. The next historical parallels in the form of treatment of ethnic Europeans in Britain and ethnic Britons in Europe and the new Danzig corridor on the Irish border are now up for negotiation on the historical mistake list.
Unsurprisingly, Germany appears to be the Eurozone nation that is most acutely aware of and most uncomfortable with the historical precedents that are being repeated. The unelected EU apparatchiks have lately been calling for the Eurozone to set up a parallel global finance and payment system to circumvent the current one based upon US and US dollar hegemony. This could be a reaction to President Trump or simply the revealing of a grander strategy. Jens Weidmann on the other hand, reflecting German fears of the past, or simply fears of having the current plan compromised, remains circumspect about the merits of this challenge to Pax Americana.
Brexit is the antithesis of deeper European integration. Brexit will therefore be used by the Eurozone as a catalyst for deeper integration. Britain must be ostracized and be seen to be worse off politically and much more importantly economically. It should therefore be no surprise that the Eurozone is accelerating towards deeper integration as Britain heads for the Brexit door.

(Source: Bloomberg)
The various initiatives currently being taken demonstrate a sincere move but no concrete details of plans for debt restructuring in the Eurozone that will lead to an attempt at deeper economic and fiscal integration. Unfortunately the Carthaginian behavior towards those who do not subscribe to this process will lead to deep political fractures within and between nations that only a massive dose of fiscal spending (European Marshall Plan II, III, IV, etc.) underwritten by Germany will hold together.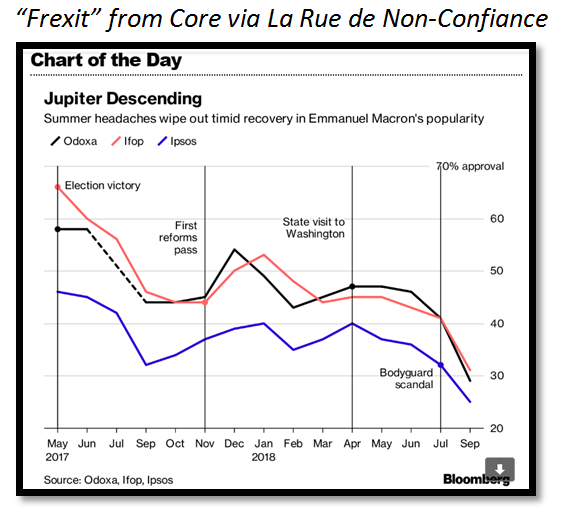 (Source: Bloomberg)
The last report observed the elevated and rising risk of the "Frexit" from Core, contemporaneous with the slipping of President Macron's halo and his economic reforms. This thesis is now gaining traction. The president currently polls worse than the man he ousted.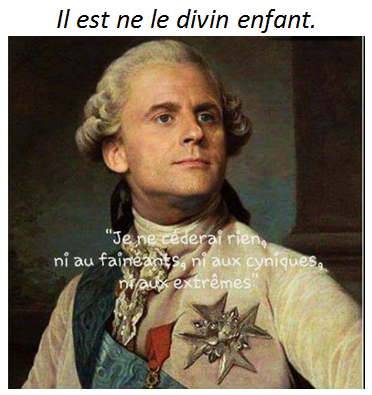 (Source: La Charte de Fontevrault)
The recent resignation of his interior minister and alleged father-figure is the third point needed to create the beginning of a political trend-line which leads to a vote of no confidence for Macron. Le Resignateur warned the president that he was becoming dangerously isolated from the French people and had effectively lost control of the streets in cities to Islamic extremists and drug dealers. France is imploding from within and Macron is losing his domestic and European political mandates.
Macron is now pushing for potentially fiscal limit busting tax cuts aimed at the constituents of the French polity from whom he has become alienated. Economic reform has thus been abandoned alongside commitment to the Eurozone's Stability Pact in the name of Macron's political survival. "Frexit" from Core is already occurring whilst Mr. Market is transfixed by "Amerexit" from the WTO, Brexit and potential "Italexit".
The ECB's Brexit fixation and hence its drag on the normalization process seem to be getting stronger. Governing Council member Ewald Nowotny sees Brexit risk as "relevant," and "that in relation to the potential dangers, that (Brexit) is in part still being underestimated". Olli Rehn's view must be something more worrisome than "relevant"! ECB Supervisory Board Chair and long-shot bet to succeed Draghi, Daniele Nouy also recently emphasized that the ECB would mitigate the negative impacts of any Brexit outcome. Governing Council member Philip Lane added to the chorus, as he advocated raising the ECB's level of Brexit vigilance as the negotiations reach their conclusion. Clearly there is a crisis "do whatever it takes" liquidity event planned and ready to go pending further negative developments.
Everyone in Europe seems to be heading for an "exit" of some kind these days. Who will be left behind to pick up the bill for the European Project one wonders, when the ECB stops buying sovereign debt? Or will it actually ever stop?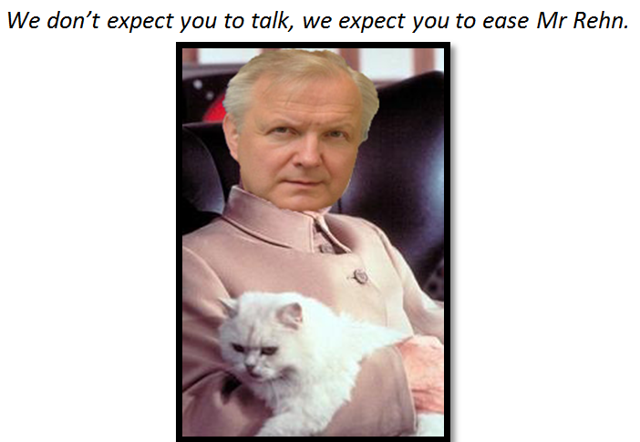 We have been expecting you Mr. Rehn.
Disclosure: I/we have no positions in any stocks mentioned, and no plans to initiate any positions within the next 72 hours. I wrote this article myself, and it expresses my own opinions. I am not receiving compensation for it (other than from Seeking Alpha). I have no business relationship with any company whose stock is mentioned in this article.