It's been almost two months since gold bottomed, yet the rebound so far has been uninspiring as the SPDR Gold Trust ETF (GLD) is still only a few percent away from breaking down again. After an almost 15% decline since April (which is a considerable drop for gold in such a short period of time), this paltry "bounce" has worn on the patience of those who have remained bullish during this difficult time.
However, GLD is still above its August lows and making another attempt to break above 115. The decline late last week towards the 112 level frightened off a lot of investors, but it was meaningless as gold hadn't broken down again; it's just stuck in this tight range. Now we have gold rebounding and approaching resistance. 115 is key as that would form a nice bottoming pattern on the chart and likely result in a major short covering rally, especially considering the still record bearish reading for the gold COT report. Until that level is overcome, there will be continued pressure on gold.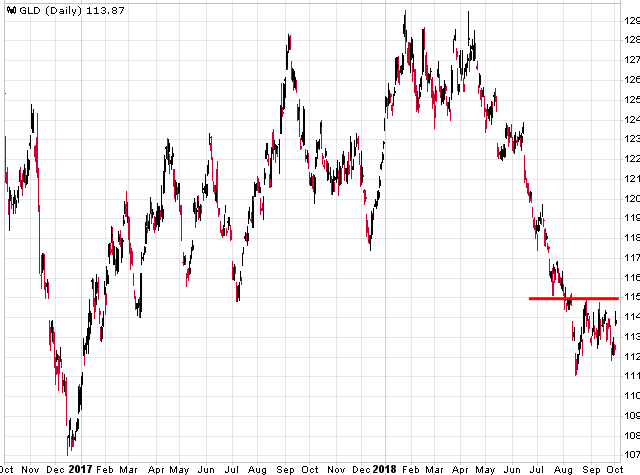 (Source: StocksCharts.com)
There doesn't need to be any emotion involved when it comes to investing. The bullish thesis either remains intact or it doesn't. The math either works or it doesn't. Logic needs to be the focus of attention, letting raw emotions take over only leads to mistakes. I have seen it time and time again from investors.
Gold and the miners have had a very disappointing year, but that shouldn't cloud one's vision. The fundamentals remain exceptional. This is about assessing the situation using sound reasoning, not erratic emotions.
Prime example, below is a ~35 year chart of the XAU (a major gold stock index which is older than the HUI). This chart goes from 1983 to 2018, giving us quite a bit of data to go on. If one lets emotions get the better of them, they might analyze this chart and see nothing but despair, especially over the last several years. But I see this very differently. I see a major gold stock index that is sitting near 35-year lows, one that over this entire period shown, has only been under the 60 level for about 10% of the time. The other 90% it has averaged well above 60. A mean reversion would result in this index at least doubling, which equates to about a 200-400% gain in many small and mid-cap gold stocks. Even if this happened, it wouldn't be that noticeable on the chart (just a blip really). A 100% move to ~120 is not out of the ordinary, the XAU has always rebounded back up to this level. ALWAYS. I see an index that appears as if it's at or near a major trough, not a peak. This 60 level has also proven to be some of the strongest support you will ever see for this index. That's likely because you are so close to the zero line that it's very difficult to push past it. It's happened on a few occasions, so it's certainly possible now, but it will just stretch the rubber band even more and the rebound will be equally as stunning as the decline. I don't see how anybody could look at this historical chart and see gray skies.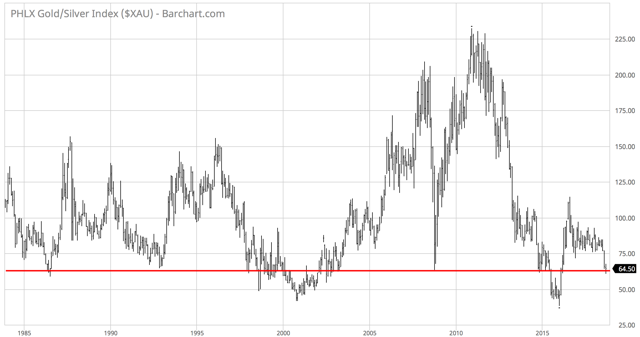 (Source: Barchart.com)
The VanEck Vectors Junior Gold Miners ETF (GDXJ) is one way to play this reversion to the mean. Even if GDXJ doubles from here, it will still be 60-65% below its 2011 peak. That just shows the potential upside from current levels. And a well-picked basket of gold miners will generate much stronger returns than GDXJ in that scenario, as many will increase 3-5x on a 100% move in GDXJ. Imagine the returns in individual gold mining stocks if GDXJ heads back to 2011-2012 levels - which I believe it will at some point in the future.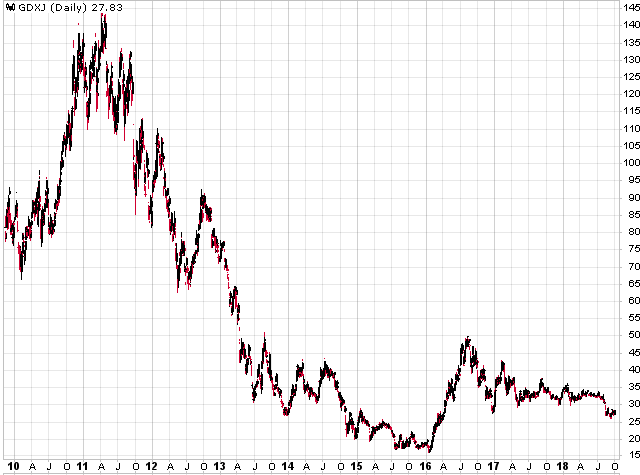 (Source: StocksCharts.com)
This year hasn't gone as expected for the sector as GLD and the mining stocks couldn't breakout and then key technical levels failed. I believe this is just delaying the inevitable as the sector is about to embark on a massive multi-year run on the back of rising debt, out of control deficits, stunning surges in inflation and dwindling mine supply. It's perfect environment for gold and the mining stocks.
Again, it's unclear if a bottom has been reached, but if it hasn't, then one has to ask how much downside is there really from current levels given the chart of the XAU shown above? Just pay attention to key technical levels - be nimble and very underweight if those break down, be voracious in accumulating if there is a break to the upside.
Anything can happen over the next few months, we also have to take into account possible tax loss selling as we approach the end of the year. But if your investment horizon is longer than the time it takes for the leaves to change color and fall to the ground, then the returns generated from the miners over the years that follow will be something not seen in decades.
The XAU and GDXJ hit a bear market low in January 2016, proceeded to surge almost 200%, and have spent the last 2 years digesting those gains and chewing up longs that jumped on board late. It's doubtful they will retest those lows, and this is likely the first major consolidation in a very long bull market. I know it doesn't look like it now, but this is a common pattern for an immature bull - one that is about to grow up fast.
Join The Gold Edge For Comprehensive Coverage Of The Sector
Become a member of The Gold Edge and receive some of the most comprehensive and in-depth analysis of the gold sector. Here are some subscriber articles that have been posted just over the last week or so:
Click Here To Join The Gold Edge!
Disclosure: I/we have no positions in any stocks mentioned, and no plans to initiate any positions within the next 72 hours.
I wrote this article myself, and it expresses my own opinions. I am not receiving compensation for it (other than from Seeking Alpha). I have no business relationship with any company whose stock is mentioned in this article.