Real Estate Weekly Review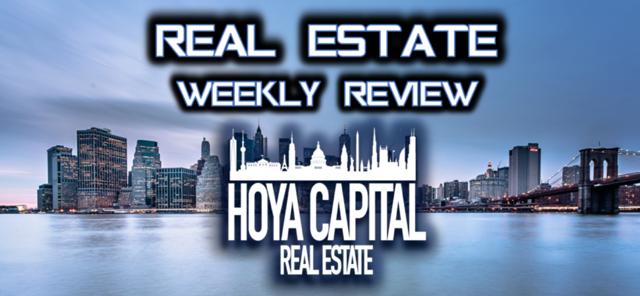 The sudden surge in the 10-Year yield to levels last seen in 2011 pressured interest rate-senstive sectors this week, along with the broader US equity market. The S&P 500 (SPY) retreated more than 1% this week despite strong economic data and positive news on trade relations with the US, Canada, and Mexico reaching an agreement on NAFTA. Real estate sectors were among the weakest, with REITs (VNQ and IYR) dipping more than 2% and homebuilders (XHB and ITB) dropping another 4%.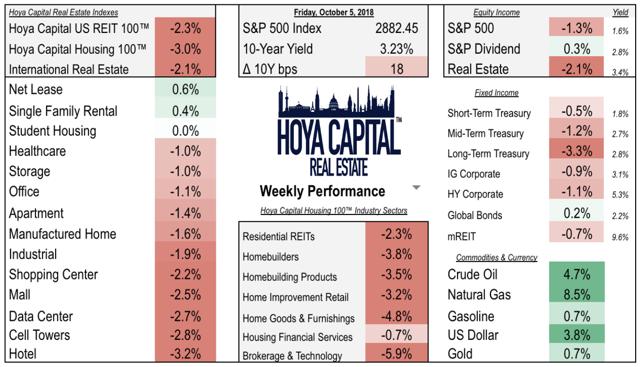 (Hoya Capital Real Estate, Performance as of 4pm Friday)
The Housing 100, a broad measure of the US housing market, finished lower by 3% this week with all sub-sectors besides the financial services sector seeing declines of more than 2%. In other areas of the real estate sector, mortgage REITs (REM) finished the week lower by 0.7% while international real estate (VNQI) finished lower by 2.1%.
Real Estate Economic Data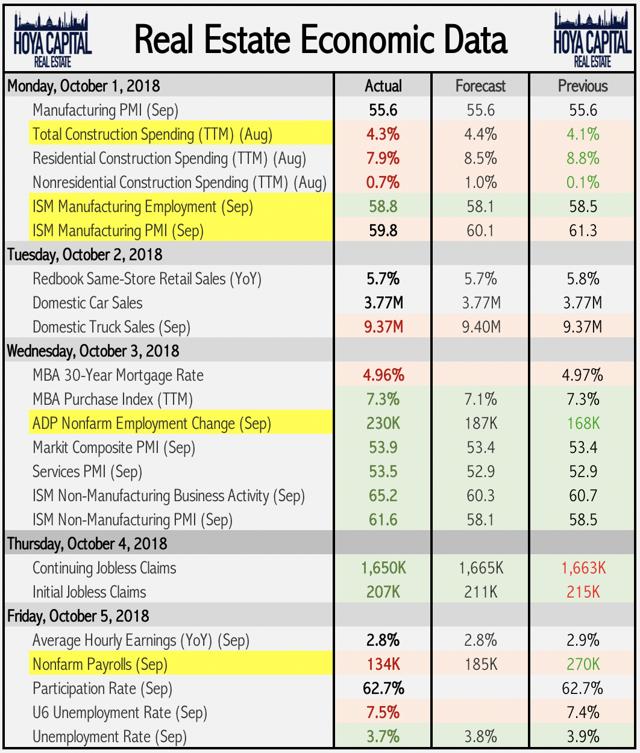 (Hoya Capital Real Estate, HousingWire)
Labor Market Continues to Exceed Expectations
Evidence of broad-based strength in the labor markets continued to show in September across nearly all metrics. The US economy has reaccelerated this year, recovering from a "mini growth recession" that occurred between 2015-2017, powered in large part by tax cuts, trade policy, and significant deregulation. The BLS reported a 134k rise in employment which, combined with the upward revisions of +87k from prior months, was slightly ahead of expectations of 185k net new jobs. Earlier in the week, ADP reported a 230k rise in private employment, significantly beating expectations. ISM employment and jobless claims data also beat expectations this week as labor market metrics continue to surprise to the upside.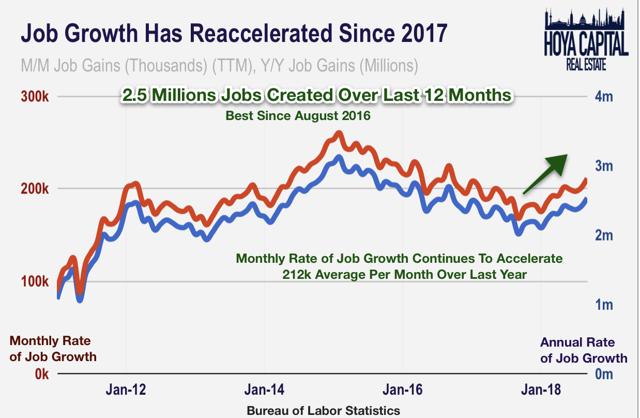 Investors remain keenly focused on average hourly earnings data for signs of tightness in the labor markets, which would generally be expected at the late stages of the economic cycle and would typically precede a slowdown in hiring. Average hourly earnings rose 2.8% in September which was in line with expectations, another sign that inflationary wage pressures remain muted. Wage growth is a positive for the US economy and corporate earnings when it results from productivity gains, but wage growth attributable to tight hiring conditions or government wage mandates (wage floors) is generally inflationary and results in higher interest rates and downward pressure to real economic growth and real wages.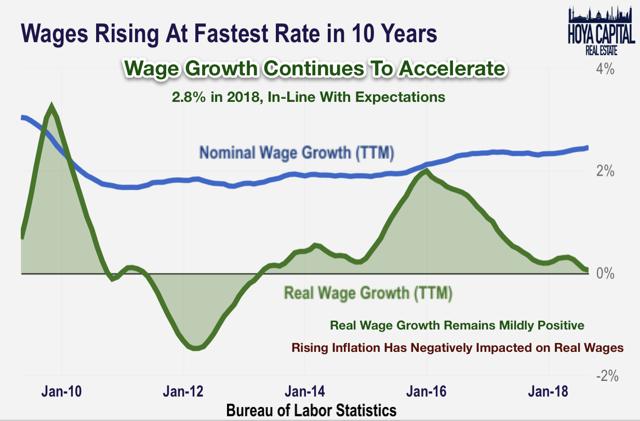 The story of the 2018 economic reacceleration has been a resurgence in the long-dormant goods-producing sectors. Manufacturing jobs, which had entered a mild recession in 2016, have seen significant growth in recent quarters. Jobs growth in the goods-producing sectors grew at a seasonally-adjusted rate of 3.1% over last year, retreating slightly from the 3.3% rate last month which was the strongest rate of goods-producing job growth since January 1985. On the other hand, the services sectors, which account for 85% of the economy, have been slowing modestly since 2014. Services employment rose 1.4% from last year. A recovery in the retail sector, which has a brutal stretch from 2016-2017, has helped to buoy services-sector hiring in 2018.

The debate among Federal Reserve economists centers around the degree to which slack remains in the US labor markets. Based on traditional metrics, such as the U-3 unemployment rate, there appears to be a limited number of available workers left to fuel further economic growth. The traditional measure of unemployment ticked down to 3.7% in September, the lowest rate in 49 years. A broader measure of unemployment, the U-6 rate actually ticked up to 7.4%. For several years we have pointed out that we believe that there is significantly more labor market slack remaining in the labor market than traditional metrics would imply, slack that could be unleashed by policy changes. The prime-age labor force participation rate remains nearly 100 basis points below the lows of the mid-2000s recession. A return to that level would imply a slack of 8 million jobs, suggesting that the recovery could very well endure for another half-decade.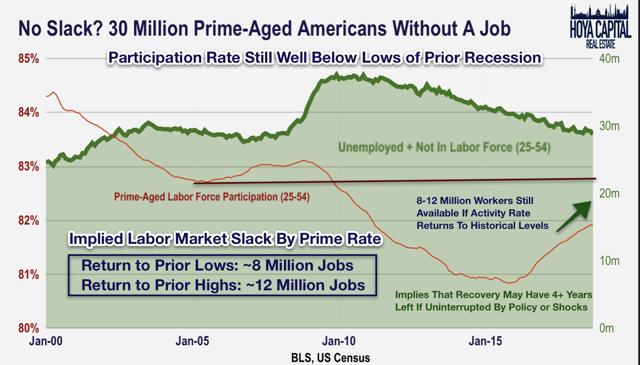 There are several common explanations for the sustained decline in prime-working age male labor force participation: high incarceration rates, the expansion and abuse of government benefits programs, opioid usage, and longer time spent in the educational system. Structural reforms may be needed to fully unleash that segment of the workforce. If this can be accomplished, we believe this suggests further slack in the labor markets and continued modest pressure on wage growth.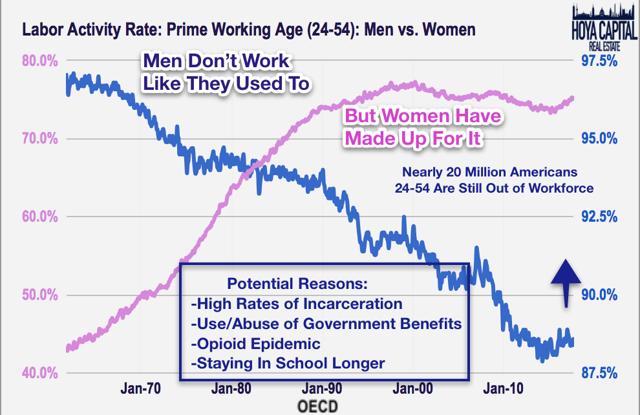 Construction Spending Continues to Moderate
Construction spending has continued to moderate in recent quarters following a surge of activity from 2014 through 2017. Residential construction spending continues to be the lone bright-spot, growing at a TTM rate of 7.9%. Non-residential spending continues to move sideways, climbing 0.7% over the last year. Rising construction costs, moderating commercial real estate values, and a shortage of construction labor continues to decrease the appetite for new development. Public spending has actually recovered nicely in recent months with growth approaching the fastest rate of the post-recession period. Improving state and local finances, a result of better-than-expected economic growth and tax receipts, have fueled appetite for public infrastructure spending.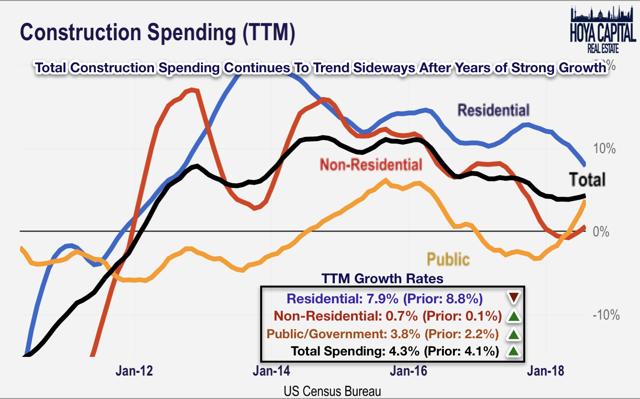 As we've discussed, rising construction costs can have a tightening effect on supply growth in the commercial real estate market. The PPI index for construction materials is higher by nearly 8% year over year, but the recent decline in lumber prices may indicate that the rapid rise in costs may be topping out. Lumber prices are down by more than 40% since May on signs of softening demand for single family home and loosening trade tensions with Canada.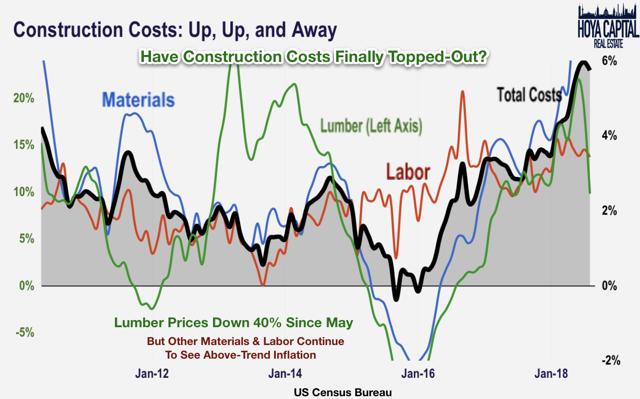 On an inflation-adjusted basis, real construction spending has been flat so far in 2018. The 6-8% average rise in construction costs implies that the majority of the growth in total spending has been the result of higher costs rather than 'real' growth in new supply. For REIT sectors facing supply pressures, the tightening effects of rising construction costs have been good news. Only the residential sector has seen 'real' supply growth in 2018.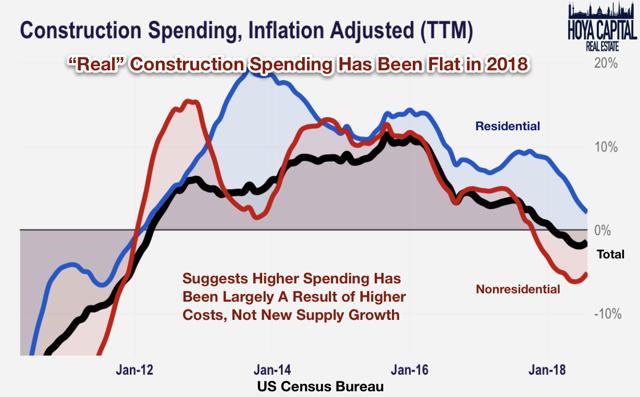 Interestingly, the construction labor data has been telling a slightly more optimistic story. Construction job growth has actually been quite strong in 2018, led by a reacceleration in residential building jobs, which include not only new home building but also remodeling and repairs. The solid labor market data suggests that we may see improving construction spending in the later half of 2018 and into 2019.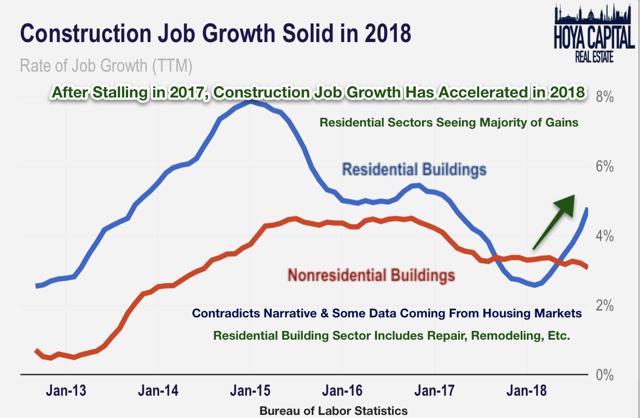 Earnings Season Recap
This week, we published our quarterly report on the shopping center sector: Shopping Centers: One Step Forward, One Step Back. Retail sales are on-pace for their best year since 2012, but shopping center REITs haven't gotten the notice. Despite strong recent performance, the sector is still down 9% in 2018. While ground-level fundamentals have inflected higher in recent quarters, the headwinds of rising interest rates and big-box bankruptcies has largely negated the positive economic tailwinds. The long-term outlook for well-located retail centers, however, remains very solid. Amazon (AMZN) is reportedly planning to open as many as 3,000 brick-and-mortar stores over the next four years.

Last week, we discussed the lodging sector in: Hotel REITs: Another Record Year for Hotel Demand. Powered by resurgent corporate travel, hotel demand set yet another record in the first half of 2018. The hospitality sector has seen more than 100 consecutive months of RevPar growth. Hotel REITs finally have their time in the sun. The sector has outperformed in 2018 and delivered solid results in 2Q18. Supply growth continues to hang over the sector and is most acute in the business travel segments and urban markets. REITs hold a disproportionate amount of hotels in this segment. Business tax reform and the accompanying economic resurgence of 2018 has led to a jump in corporate and luxury hotel demand, more than offsetting the negative impact of supply growth.

We also recently discussed the healthcare REIT sector in Healthcare REITs: Demographic Boom Within Sight. For healthcare REITs, the demographic boom fueled by aging Baby Boomers has been visible on the horizon for decades but is just now beginning to come to fruition. After years of stagnant demand growth, this demographic boom could not come soon enough. The healthcare real estate industry has been ailing from oversupply and underwhelming demand. Amid fears of rising rates and deteriorating fundamentals, healthcare REITs were left for dead earlier this year. Since early March, however, the sector has sprung back to life, jumping 20%.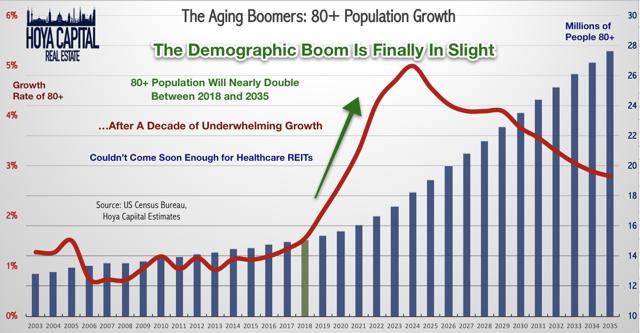 We also recently published our second-quarter REIT Earnings Recap. Bull markets don't die of old age, and neither does the real estate cycle. Following a mild downturn in 2017, robust economic growth has reignited the real estate cycle. After a disappointing 2017 beset by earnings misses and downward revision, REITs have delivered strong results through first two quarters of 2018, beating expectations and raising guidance across most sectors.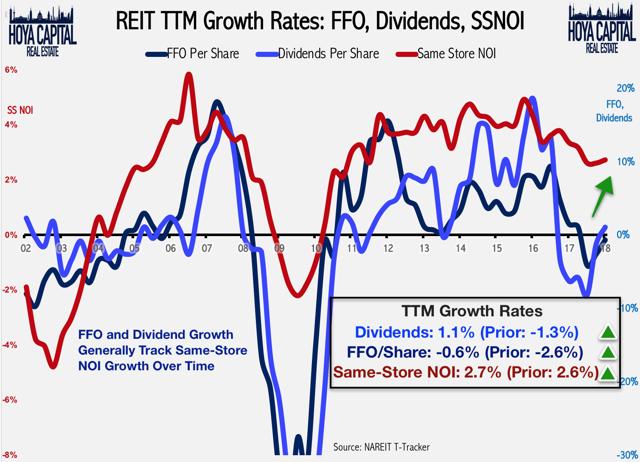 2018 Performance
REITs are now lower by 5% in 2018 on a price basis, underperforming the S&P 500, which has gained 8%. Homebuilders are off by more than 27% after rising more than 50% last year. The 10-Year yield has climbed 63 basis points since the start of the year, aided by the 31% climb in the price of crude oil and 12% rise in gasoline prices.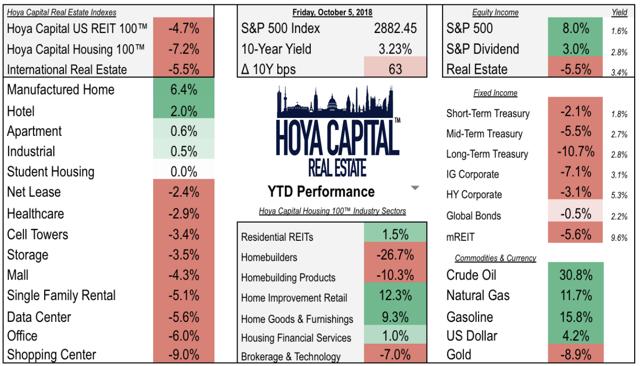 REITs and housing-related equities have outperformed the broader US stock market over the last 25 years. The NAREIT All-Equity REIT Index has delivered a 12.1% average annual return while the Fidelity Select Construction & Housing Portfolio (FSHOX) has delivered a 10.8% annual return since 1994. The S&P 500, meanwhile, delivered a 9.9% annualized rate of return during this period.

Bottom Line: Tough Week for Real Estate
Homebuilders and REITs dipped for the second consecutive week, pressured by the sudden surge in the 10-Year yield. Homebuilders have lost nearly a quarter of their market value this year. While housing data has indeed softened over the summer, the underlying backdrop of pent-up housing demand and an overall housing shortage remain positive for long-term housing fundamentals. The S&P 500 dipped more than 1% despite solid economic data and news on trade relations with China and Mexico. Domestic politics continues to be a focus with mid-term elections approaching
Job growth continues to impress as the unemployment rate dipped to 49-year lows. Wage growth is hovering around the strongest level in a decade. The pace of hiring has accelerated in 2018, powered by tax reform and deregulation. Goods-producing sectors, particularly manufacturing and construction, have powered the 2018 reacceleration. Despite the economic reacceleration, however, construction spending has trended sideways in recent quarters.
We will continue our REIT and Homebuilder Rankings updates next week with reports on the mall and homebuilder sectors. Be sure to check out all of our quarterly updates: Healthcare, Net Lease, Malls, Industrial, Single Family Rentals, Data Center, Apartments, Cell Towers, Manufactured Housing, Industrial, Shopping Center, Hotel, Office, Industrial, Storage, Homebuilders, and Student Housing.
Please add your comments if you have additional insight or opinions. We encourage readers to follow our Seeking Alpha page (click "Follow" at the top) to continue to stay up to date on our REIT rankings, weekly recaps, and analysis on the real estate and income sectors.
Disclosure: I am/we are long VNQ, SPY.
I wrote this article myself, and it expresses my own opinions. I am not receiving compensation for it (other than from Seeking Alpha). I have no business relationship with any company whose stock is mentioned in this article.
Additional disclosure: All of our research is for informational purposes only, always provided free of charge exclusively on Seeking Alpha. Recommendations and commentary are purely theoretical and not intended as investment advice. Information presented is believed to be factual and up-to-date, but we do not guarantee its accuracy and it should not be regarded as a complete analysis of the subjects discussed. For investment advice, consult your financial advisor.