"The older I get, the more I realize how many kinds of smart there are. There are a lot of kinds of smart. There are a lot of kinds of stupid, too." - Jeff Bezos
When we talk about the stock market, the questions remain. What about:
Rising interest rates?

Emerging markets?

Valuations?

Political climate?

Midterms?

Divergences?

Tech weakness?

A recession?

The Fed?
My answer is the same, what about them? Some of these issues have been with us for a while (Valuations), and some of them are new (Midterms). ALL are here now and the S&P 500 is 1.5% from an all-time high. If a market participant wants to keep it simple, the last sentence is all they need to know.
Investors have been entertaining all sorts of questions for years now. Some have given in to the scary answers that are often conjured up. For those that do keep it simple, they tend to focus on what matters. It doesn't mean they make like an ostrich and bury their heads in the sand; they simply realize a positive issue can and often does negate a negative one.
Now that is a concept that doesn't fit with the way the human mind operates. It's always the scary negative that has the most weight. When any negative is introduced, the scale that we have in our brains is tilted so much, it is next to impossible to bring it back into balance. This concept is so strong that for some the simple thought of any positive outweighing the negative doesn't even exist.

Markets move based on the weight of the evidence, which takes into account ALL of the relevant evidence, both good and bad. It assigns probabilities to each. The idea that the market is exhibiting a "teflon" characteristic where nothing "sticks" to it is a silly notion brought to light by the uninformed.
Here we go again. You see their notion is based on the fact that none of the negatives are sticking to the market. The stock market keeps going up, it's overvalued, and over exuberant in the face of all of these issues. The doomers then start throwing around the word crash and 40-50% corrections.
It is obvious they can't see any positives. They are the folks playing like an ostrich with their heads in the sand. Anyone who utters the teflon word doesn't have a clue that it just may be positives that are indeed sticking and influencing the price action.
An investor has to approach the market the way the market works. Recognize and account for all of the issues. It is how they have to approach managing their money if they want to be successful.
Scary charts, data points, divergences, and non-confirmations can be found EVERY single trading day of the year, regardless of the strength of the longer-term trend. It is ONLY when they morph into a trend of their own should they be given any weight. So instead of saying what if and concentrating a negative, it might be a good idea to also say what about this positive issue. Once you get your mind trained to do that, you will be in sync with how the stock market approaches ALL events.

Past articles have shown the comparisons to other secular bull markets. ALL started the same way. Good things happen after a stock or an index breaks out of a long-term trading range. Speaking of that, is there any doubt that this is indeed a secular bull market that may have a while to run? If there is, there shouldn't be. While nothing is guaranteed, the preponderance of evidence suggests just that.
I have labored under that assumption since 2013, and the concept is starting to catch on. Horan Capital Advisors believes the present stock market is very similar to the market breakouts in the 1950s and the 1980s. Below is a chart it posted on the topic.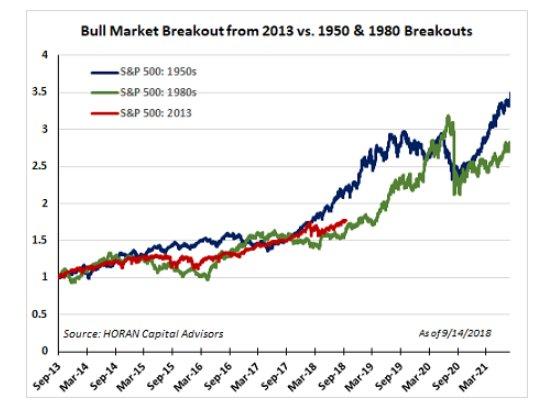 In its view:
"It is as reasonable, if not more so, to compare the current market to the 1950's and 1980's. The current economic and earnings backdrop provides a positive environment conducive to higher stock prices. This being the case, it is plausible that this bull market is only halfway through its advance in terms of time. The advance is highly unlikely to be an uninterrupted trend higher though."
The reason I highlighted the last sentence is because it is the most important. In a secular bull market, it's always about navigating from point A to point B. Investors need to realize that in these settings, there will be a time period where the pause button is in play. It is what an investor does during these times that will separate the successful from the also rans.
The successful will be those that interpret ALL of the data presented. They won't be running for the exits because the market is too old or because there is ONE issue that prompts fear.

Economy
Scott Grannis pours a lot of cold water on the notion that households here in the U.S. haven't made great strides in improving their situation. A host of charts and illustrations that make some interesting and valid points.
"To be sure, there are lots of mega-billionaires these days who are skewing the statistics upward, but that doesn't imply that the average person's living standards have declined. Virtually all of the wealth of the mega-rich is held in the form of equity or real property investment, and all of that is available to everyone on a daily basis."

"A person making an average income in the U.S. enjoys all the advantages that our nation's net worth has created. Regardless of who owns the country's wealth, everyone benefits from the infrastructure, the equipment, the computers, the offices, the homes, the factories, the research facilities, the workers, the teachers, the families, the software, and the brains that sit in homes and offices all over the country and arrange the affairs of the nation so as to produce over $20 trillion of income per year."

"Would the average wage-earner (or, for that matter, the average billionaire) in the U.S. enjoy the same quality of life if he or she earned the same amount while living in a poor country? I seriously doubt it."
All of this implies the consumer is in good shape and that bodes well for the overall economy.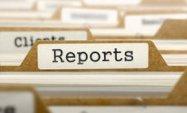 Construction spending edged up 0.1% in August, which undershot estimates, after small upward revisions that showed a 0.2% gain (was 0.1%) in July and a 0.7% (was 0.8%) decline in June.
ISM slipped in September but remained at a robust 59.8 in September, after popping to a 14-year high of 61.3 from 58.1 in July.
IHS Markit Services Business Activity Index registered 53.5 in September, down from 54.8 in August. Chris Williamson, Chief Business Economist at IHS Markit:
"Service sector business growth has eased considerably since peaking back in May, but remains relatively solid. Some of the slowdown can be traced to capacity constraints, with new business once again rising at a steeper rate than firms were able to boost output."

"Combined with the manufacturing results, the September survey adds to signs that the pace of economic growth cooled to the lowest since January but continued to run close to a 3% annualised rate over the third quarter as a whole. Firms are hiring in increasing numbers to expand capacity, with the employment index from the manufacturing and services surveys rising to a level indicative of a further non-farm payroll rise in excess of 200,000."
The ISM-NMI rose to a 21-year high of 61.6 from 58.5 in August and 55.7 in July versus a 12-year high of 59.9 in January. The ISM-adjusted ISM-NMI rose to a 13-year high of 60.1 that was also seen in July of 2015 from 57.5 in August and 55.2 in July.

Nonfarm payrolls increased only 134k in September, well below expectations, but after an upwardly revised 270k jump in August (was 201k), and a bump up to 165k in July from 147k. The unemployment rate dropped to 3.7% versus 3.9%. The lowest level of unemployment since 1969. Earnings were up 0.3% on the month, the same as in August (revised from 0.4%), and were 2.75% y/y compared to 2.92% y/y.

The auto industry generated a beat in September unit sales with the sales data coming in at 17.2 million for the month. First month in the last three that sales topped 17 million.

Global Economy
Global industrial output growth continues to slow. As shown in the chart below, the annualized pace of growth for industrial production is the weakest since December of 2016.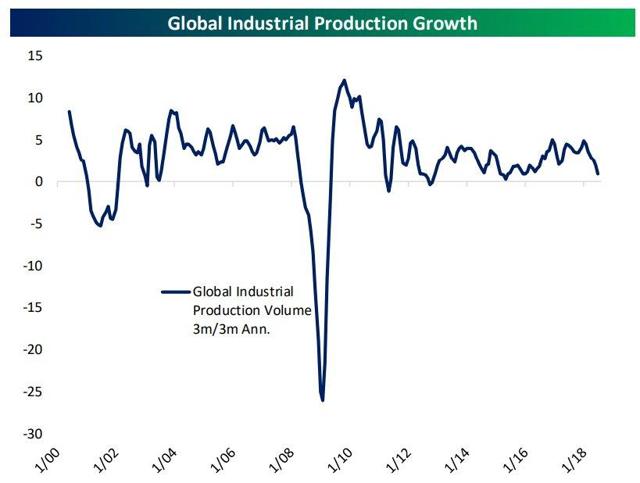 Source: Bespoke
The data shows that developed markets are weaker than emerging markets, Japan is the culprit bringing down the developed markets. Another issue was a brutal run for Brazil's industrial production, which endured a Q2 trucker strike. Latin America saw an 8.1% decline in Industrial production in that time period. Assuming a rebound from that region, global production could firm somewhat, but manufacturing output will also need to see a pickup from Japan and the Eurozone.
Overall, leading indicators of global economic activity are not looking positive. This has been the case for quite some time now, and we're starting to see individual readings just barely above neutral. At some point we need to see a leveling off of this trend.

Markit Eurozone Manufacturing PMI slipped to 53.2, broadly unchanged on the earlier flash reading of 53.3 and down from August's 54.6.
Chris Williamson, Chief Business Economist at IHS Markit:
"Eurozone manufacturing shifted down yet another gear at the end of the third quarter. The sector has seen booming growth at the start of the year rapidly fade to the worst performance for two years in September as production and jobs growth have slowed in response to a stalling of export trade."

"The survey paints the worst trade picture for over five years, with export growth having slumped sharply from a series record high in late 2017 to near-stagnation in September. The slowdown can be linked to sluggish demand and increased risk aversion among customers, often linked to worries about trade wars and tariffs, but also ascribed to rising political uncertainty and higher prices."
IHS Markit Eurozone PMI Composite Output Index came in at 54.1, down from the August reading of 54.5, and slightly lower than the earlier flash estimate of 54.2. Chris Williamson, Chief Business Economist at IHS Markit:
"Context is everything: although running close to a two-year low, the disappointing September PMI remains at a relatively elevated level and signals solid growth. Comparisons with official data indicate that the survey data are equivalent to GDP rising by almost 0.5% in the third quarter."

"Note that the PMI data also indicate that we can expect the official growth estimates for the first half of the year to eventually be revised higher. However, the fourth quarter is unlikely to see such robust growth, as recent months have seen a clear loss of momentum in terms of both output and new order gains."

Chinese industrial profits rose 9.2% in August to 519.6 billion yuan (US$76 billion). The pace of growth slowed for a fourth straight month and almost halved from the 16.2% gain in July. Yang Yewei, an analyst at Southwest Securities:
"Corporate profitability will continue to worsen, as the recent policy boost to spur investment growth will take time to set in. Both inventories and money owed to companies had edged up, a sign that business conditions were becoming increasingly challenging."

"The profit slowdown points to persistently weakening demand under the ongoing deleveraging campaign, despite policymakers shifting their focus to growth-boosting strategies."

"These measures include accelerating approvals for infrastructure projects and financing support for the private sector."
Chinese Purchasing Managers Index, a composite indicator designed to provide a single-figure snapshot of operating conditions in the manufacturing economy, fell from 50.6 in August to the neutral level of 50.0 in September. This signaled no change in the health of China's manufacturing sector following improvements in each of the prior 15 months.
Dr. Zhengsheng Zhong, Director of Macroeconomic Analysis at CEBM Group:
"The Caixin China General Manufacturing PMI dipped to 50 in September, marking the fourth straight monthly drop and an acceleration in the index's decline. The subindex for new orders slid but remained in expansionary territory, indicating manufacturing demand weakened further. The subindex for new export orders stayed in contractionary territory and slipped to its lowest point since February 2016. The output subindex also dropped despite remaining in positive territory, showing that continuous weakening of demand has started to drag on manufacturers' production. The employment sub index slipped further into contractionary territory."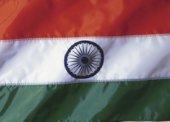 The Nikkei India Manufacturing Purchasing Managers index strengthened slightly in September to reach a level of 52.2, up from 51.7 in August.
Paul Smith, Economics Director at IHS Markit and author of the report:
"Growth of India's manufacturing sector picked up during the latest survey period, reflective of strengthening demand especially from foreign clients, which helped to drive export growth up to its highest level since the turn of the year."

"However, cost pressures reignited in September, exacerbated by a stronger US dollar which continues to raise the relative price faced by Indian manufacturers for goods such as steel and fuel. Output charges increased subsequently, albeit at a rate that remains well below the equivalent measure for input prices."

"Rising prices continued to weigh on sentiment, with confidence dropping a little to reach a three month low. Nonetheless, on balance, firms remain confident that output will continue to rise, buoyed by recent new business wins and expectations this will continue over the next 12 months."
The seasonally adjusted Business Activity Index in Japan fell to the lowest level in two years during September. Still above the 50.0 no-change mark with a reading of 50.2, down from 51.5 in August, the headline figure continued to signal expansion in Japan's crucial service sector. However, the rate of growth was notably slower and only marginal overall.

The headline Nikkei Japan Manufacturing Purchasing Managers' Index, a composite single figure indicator of manufacturing performance, concluded the third quarter by posting 52.5 in September. This was unchanged from August and signaled a relatively robust rate of improvement in the health of the goods-producing sector.
Joe Hayes, Economist at IHS Markit, which compiles the survey:
"Growth in the Japanese manufacturing sector was sustained in September, rounding off a fairly robust quarter of expansion. That said, the average PMI reading for Q3 was notably weaker than those for the first and second quarters of 2018, suggesting weaker momentum."

"Slowing input delivery times reportedly weighed on output capabilities in September, creating backlogs and pushing up shipping costs. Although job creation accelerated, output growth eased, suggesting that supply chain pressures are impacting production line efficiency."

"Although firms remained optimistic overall that output levels would be higher in a year's time, the degree of confidence dipped to a 22-month low, with some panellists raising concern towards the demand outlook."

The seasonally adjusted IHS Markit/CIPS Purchasing Managers Index in the U.K. posted 53.8 in September, following an upwardly revised figure of 53.0 in August (originally published as 52.8). The PMI has remained above the neutral 50.0 mark for 26 months.
Rob Dobson, Director at IHS Markit, which compiles the survey:
"September saw a mild improvement in the performance of the UK manufacturing sector. Domestic market demand strengthened, while increased orders from North America and Europe helped new export business stage a modest recovery from August's contraction. Business confidence also rose to a three month high."

"Despite these causes for short-term optimism, conditions in manufacturing are still relatively lacklustre overall. Based on its historical relationship with official ONS data, the latest survey is consistent with output expanding at only a moderate pace. Although total exports rose, exports of goods used as inputs by other manufacturers fell for the third straight month, ending the worst quarter for over three years for such exporters, suggesting that foreign companies may be sourcing less from UK-based component suppliers. Many UK manufacturers also noted that the backdrop."

Earnings Observations
FactSet Research weekly update
For Q3 2018:
The estimated earnings growth rate for the S&P 500 is 19.2%. If 19.2% is the actual growth rate for the quarter, it will mark the third highest earnings growth since Q1 2011 (19.5%).
Valuation: The forward 12-month P/E ratio for the S&P 500 is 16.7. This P/E ratio is above the 5-year average (16.3) and above the 10-year average (14.5).
Earnings Scorecard: For Q3 2018 (with 21 companies in the S&P 500 reporting actual results for the quarter), 18 S&P 500 companies have reported a positive EPS surprise and 15 have reported a positive sales surprise.
A fairly straight forward picture, earnings increase, the S&P posts gains.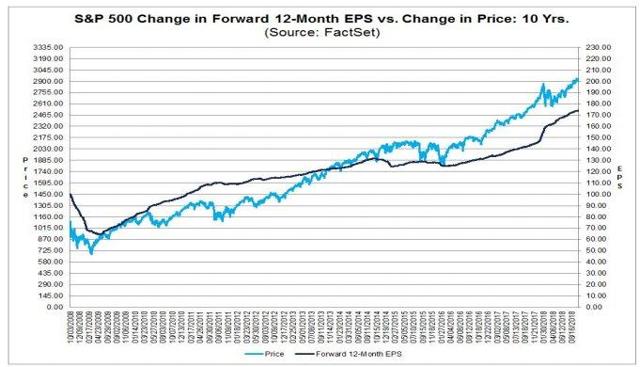 Over the past five years on average, the earnings growth rate has typically increased by 3.5 percentage points on average due to the number and magnitude of upside earnings surprises. If this average increase is applied to the estimated earnings growth rate at the end of Q3 (September 30) of 19.2%, the actual earnings growth rate for the quarter would be 22.7%. If that indeed occurs, the S&P 500 will report earnings growth above 20% for the third straight quarter.

The Political Scene
The U.S., Mexico, and Canada came to a late-hours agreement last Sunday to create a trilateral trade deal to replace NAFTA that is being deemed the USMCA, U.S.-Mexico-Canada Agreement.
Joe Hinrichs, executive vice president and president of Global Operations at Ford:
"Ford Motor Co. is very encouraged by announcement, and we applaud all three governments for working together to achieve free and fair trade in a strong regional agreement. We stand ready to be a collaborative partner to ensure this agreement is ratified in all three markets because it will support an integrated, globally competitive automotive business in North America. The benefits of scale and global reach will help to drive volume and support manufacturing jobs."

The Fed
On September 4th, the spread between the 2-year Treasury and the 10-year Treasury was 24 basis points. The conclusion, the yield curve is flattening, sell your stocks. On October 4th, the spread between the 2-year Treasury and the 10-year Treasury was 32 basis points. The conclusion, rates are rising, the yield curve is steepening, and sell your stocks.
When I step back and listen to all of the nonsense being put forth on interest rates these days, it tells me the interest rate situation has ZERO to do with the price action in the stock market now. Everyone wants to assign a reason for what is taking place during the trading day. How about this one? This is a pullback after a recent show of strength in prices.
Finally, 10-year Treasury at 3.19% is NO threat to this bull market with a rising economic backdrop. The 10-year was 5.6% in 1996, the S&P rose from 650 to the high of 1,550 before it topped out. Please do the math.

Sentiment
With the Dow suddenly hitting record highs, you would expect to see individual investor sentiment improve, and that's exactly what happened. According to the weekly sentiment survey from AAII, bullish sentiment surged 9.4 percentage points to 45.6% from last week's reading of 36.2%. That move represents the largest one week increase since early July and the highest weekly reading since mid-February.
Perhaps this is an omen, the wind changes direction, and investors jump on board just in time for the pullback.

Crude Oil
The price of crude oil broke out on Monday. At $74.34/barrel, crude is now at its highest level in nearly four years.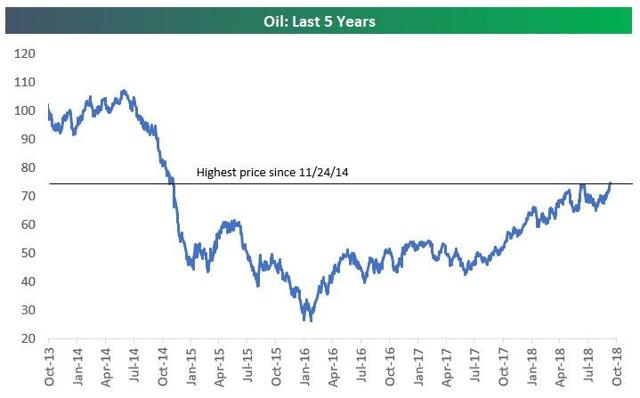 Source: Bespoke
Put your earmuffs on. Another couple of dollars to the upside and the calls of how this will put a damper on the economy will start to surface.
The EIA weekly inventory report posted a larger-than-expected build in inventories of 8 million barrels for the week. At 404.0 million barrels, U.S. crude oil inventories are at the five-year average for this time of the year. Total motor gasoline inventories also showed an increase. Rising by 1.5 million barrels last week and remaining about 8% above the five-year average for this time of year.
Five weeks of gains now as WTI closed the week at $74.34, up $0.78. For the moment, the price of crude is not pointing to a global slowdown despite the economic data coming out of the rest of the world.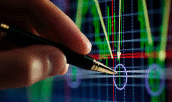 The Technical Picture
New highs posted earlier in the week, then a two-day selling event. Take your pick from the list of reasons for the selling. Rising rates, the Chinese trade issues, China hacking into U.S. companies. Maybe one, maybe all of them.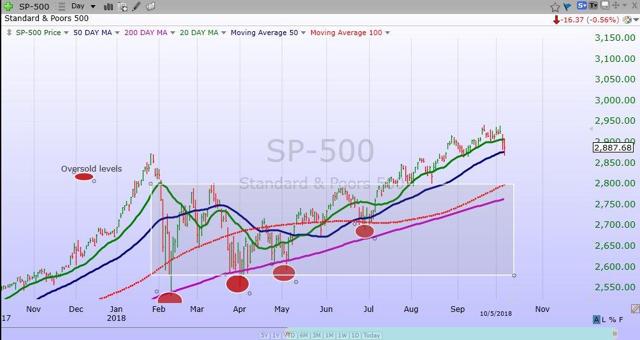 Chart courtesy of FreeStockCharts.com
When markets sell off, the first thing we do is look at support levels. Right now, the long-term support trend has held. Keep the situation in perspective, the S&P has rallied 300 points off the April lows. The index is 1.5 PERCENT off the all-time high. This isn't a time to overreact.
Today's intraday low of 2,869 is the new line in the sand. If that does not hold, then the door may be open for a test of the breakout level in July, S&P 2,800. That is 3% from the close today and a drop that is well within reason after the recent strength exhibited.
This isn't the time to sell and move into short-term bonds, and it isn't the time to raise cash. It is time to watch for support levels to unfold and add to positions that are being tossed aside.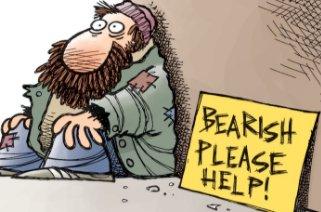 Market Skeptics
The tax cut myth. The political argument is the tax cut was a waste of time with nearly all the money going to share repurchases. The data clearly refutes this. Buybacks and dividends are growing just a tad faster than the increase in U.S. market cap, with companies repatriating about $465 billion year-to-date and receiving another $40-$45 billion from the corporate tax cut. Of that $500 billion, buybacks are up $125 billion - about a quarter of the total.
Individual Stocks and Sectors
An update on the state of the semiconductor industry. Three weeks ago, I posted my thought on what was transpiring:
"The sector gained a whopping 143% from the lows of February 2016 to the recent highs. It's now a simple matter of working off that excess. What we have seen now is a volatile sideways pattern."
Analysts remain bearish on the group; they believe the semiconductor cycle is over.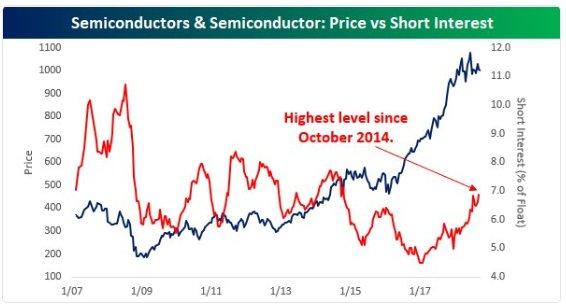 Source: Bespoke
Continuing with the negative sentiment, average short interest for semis is at the highest level in almost 4 years.
Despite the notion that the semiconductor cycle has run its course and is over, the semiconductor index (NYSEARCA:SMH) remains in a bull market trend. So while many believe the cycle is ending, individual companies are not reporting that in their updates and conference calls.
The latest from Intel (INTC), the poster child for everything that is supposedly wrong with the industry.
In an open letter posted to the company's website, Intel CFO and Interim CEO Bob Swan stated:
"The first half of this year showed remarkable growth for our industry. I want to take a moment to recap where we've been, offer our sincere thanks and acknowledge the work underway to support you with performance-leading Intel products to help you innovate...The continued explosion of data and the need to process, store, analyze and share it is driving industry innovation and incredible demand for compute performance in the cloud, the network and the enterprise."

"The surprising return to PC TAM growth has put pressure on our factory network. We're prioritizing the production of Intel((R)) Xeon((R)) and Intel(R) Core((TM)) processors so that collectively we can serve the high-performance segments of the market. That said, supply is undoubtedly tight, particularly at the entry-level of the PC market."

"We continue to believe we will have at least the supply to meet the full-year revenue outlook we announced in July, which was $4.5 billion higher than our January expectations. To address this challenge, we're taking the following actions: We are investing a record $15B in capital expenditures in 2018, up approximately $1B from the beginning of the year. We're putting that $1B into our 14nm manufacturing sites in Oregon, Arizona, Ireland and Israel."

"This capital along with other efficiencies is increasing our supply to respond to your increased demand; We're making progress with 10nm. Yields are improving and we continue to expect volume production in 2019; We are taking a customer-first approach. We're working with your teams to align demand with available supply. You can expect us to stay close, listen, partner and keep you informed. The actions we are taking have put us on a path of continuous improvement. At the end of the day, we want to help you make great products and deliver strong business results."
I don't see or hear anything that tells me growth is slowing in those remarks. Unless demand is about to fall off a cliff in an economy that now appears to be growing 3-4%, then all of the cycle ending talk isn't adding up.
I have made the case to own Intel since the stock broke out of a 16-year trading range at the end of last year at $38. While I remain bullish on the company, I also believe the death of the semiconductor cycle may have been grossly exaggerated.

The current global backdrop is a bit messy, but the U.S. economy is in a very good shape. Consumers are happy, businesses are chugging along, inventories are low, and there's no sign of a major imbalance built up from a debt perspective.
For months all we heard how concerning it was that the Dow Industrials were lagging. Now that they are leading, the focus switches to the lagging Russell 2000 index, and to some degree the Nasdaq as well. Apparently some have a really hard time understanding how the stock market works. This rotation out of leaders into laggards is how a STRONG bull market performs. The excesses are worked off.

The small-cap Russell index soared from July 2017 to its recent high posting a 50% gain easily leaving all of the other indices in the dust.
When we see that type of outperformance, there are only two scenarios that follow. Consolidation where the index reverts to the mean, a scenario where the final outcome will be a positive one. The other is a continuation into what becomes a parabolic move that will end badly.
There is absolutely nothing wrong with what is happening with the leaders taking a back seat to the laggards that are now having their day in the spotlight. Some find the need to search for the crack that will eventually take the market down. So far that has been a fool's errand.

Pullbacks are part of any bull market trend, and as stated last week, it all comes down to what an investor does with these pullbacks. The successful investor will bide his or her time and watch for support levels. In times when selling is indiscriminate like it was in the latter part of this week, the bargains stand out like a sore thumb.
The stock market continues to press higher despite a chorus expecting it to run into trouble. They believe this time they will be vindicated; they have the list of issues mentioned at the top of this article at their disposal.
However, since the "sell in May" period began, it's been like 2017 all over again, with a 12% gain in the S&P 500 and only a 3.5% dip along the way. While it did not receive much attention, the Dow Jones Industrial Average finally joined practically every other major index by breaking up above its January peak recently. Here is a newsflash that trumps all of the ammunition that the naysayers are armed with. When all indices are in sync and are making new highs, that typically does not signal the market is unhealthy.
Stay the course, the long-term trend is firmly in place.

I would also like to take a moment and remind all of the readers of an important issue. In these types of forums, readers bring a host of situations and variables to the table when visiting these articles. Therefore it is impossible to pinpoint what may be right for each situation. Please keep that in mind when forming your investment strategy.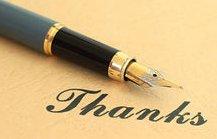 to all of the readers that contribute to this forum to make these articles a better experience for all.
Best of Luck to All!
Market volatility is here. Are you prepared? How far will this sell off go?The Savvy Investor Marketplace service offers the keys to investment success. The stock market will fool most of the people most of the time. It is time to get in on the right side of the trade. Please consider joining one of the most successful new ventures here on Seeking Alpha.
Disclosure: I am/we are long INTC.
I wrote this article myself, and it expresses my own opinions. I am not receiving compensation for it (other than from Seeking Alpha). I have no business relationship with any company whose stock is mentioned in this article.
Additional disclosure: My portfolios are ALL positioned to take advantage of the bull market with NO hedges in place.

This article contains my views of the equity market and what strategy and positioning is comfortable for me. Of course, it is not suited for everyone, as there are far too many variables. Hopefully it sparks ideas, adds some common sense to the intricate investing process, and makes investors feel more calm, putting them in control.

The opinions rendered here, are just that – opinions – and along with positions can change at any time.

As always I encourage readers to use common sense when it comes to managing any ideas that I decide to share with the community. Nowhere is it implied that any stock should be bought and put away until you die. Periodic reviews are mandatory to adjust to changes in the macro backdrop that will take place over time.