I remember when I was a young child in West Texas, going hunting with my grandpappy on our family's gigantic ranch. I used to enjoy those times, even though he wouldn't let me shoot his shotgun until I was much older. My most memorable experience from those hunts was the day we were shootin' for some food… armadillos I think… and he shot at a covey of armadillos and somehow missed them all. But then, as we watched, out of the ground came this bubbling crude… oil that is, black gold, Texas tea.
Hold it… I think I may be a bit confused. All of that does sound pretty familiar, but now that I see it in print I realize my memories are probably of watching Buddy Ebsen as Jed Clampett in "The Beverly Hillbillies." I didn't live in West Texas (neither did the Clampetts), didn't have a grandfather who took me hunting, and have only seen armadillos on the road in West Texas, never stampeding across the prairies.
Apparently, though, finding oil in prodigious quantities in the Permian Basin of West Texas is not any more difficult than taking random shots into the ground, at least if some on Wall Street are to be believed. Those Wall Streeters also believe that a woman's high heels might be enough to set off a geyser of oil if they are allowed to sink deep enough into the dirt there. But I digress…
Any article about the Permian should start out with an overview of the geology, and fortunately, I have a great schematic, as shown below: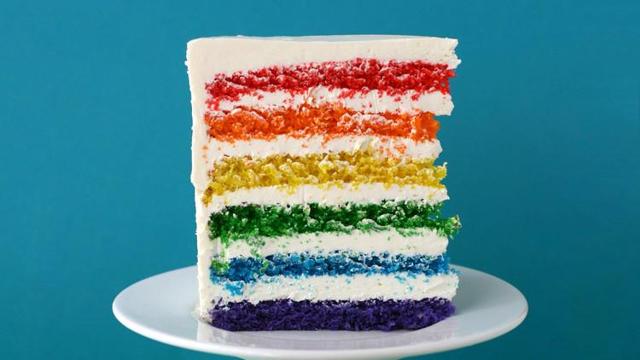 In addition to thinking that oil is everywhere in the Permian Basin, there is also a perception that the formations that produce hydrocarbons are laid out like Martha's layer cake. That is far from the truth, but often even the word "Permian" in an article can cause those Wall Streeters to begin sweating profusely and salivating.
Those of you who have followed my articles know that I recently wrote about companies I considered to be of potentially broad appeal to investors in: E&P 'Middle of the Road Club' (Non-Permian Edition) #18-1.
That group of companies included Alta Mesa (AMR), Carrizo (CRZO), Extraction (XOG), Gulfport (GPOR), Oasis (OAS), PDC (PDCE), Range (RRC), Southwestern (SWN), SRC (SRCI), Whiting (WLL) and WildHorse (WRD).
In this article, I will review certain companies that derive most of their revenue from the Permian Basin, specifically Callon Petroleum (CPE), Centennial Resource Development (CDEV), Cimarex Energy (XEC), Earthstone Energy (ESTE), Jagged Peak Energy (JAG), Laredo Petroleum (LPI), Matador Resources (MTDR), Parsley Energy (PE), QEP Resources (QEP), Ring Energy (REI), Rosehill Resources (ROSE), SM Energy (SM), and WPX Energy (WPX).
I'll follow a similar format to my non-Permian article, first presenting an overview of each company, then including my summary of notes from 2Q data and presentations, moving on to a detailed look at 2Q numbers and finishing up with some observations and conclusions. As usual, I do not make specific recommendations due to varying investment strategies and time frames that may apply to different readers, and those readers should do their own research and analysis before making an investment decision. I compiled the data myself from public sources, and although I have checked for errors, there will be some that I do not catch. The opinions expressed are my own.
Permian Overview
For those who are not intimately familiar with the Permian Basin already, the map below shows its location and the location of its 3 main component basins: the Midland, the Delaware and the Central Basin Platform. In all, the Permian extends over an area estimated at 250 miles by 300 miles, or 75,000 square miles. By my calculations, that gives the Permian as a whole almost 50 million acres, larger than the state of Oklahoma.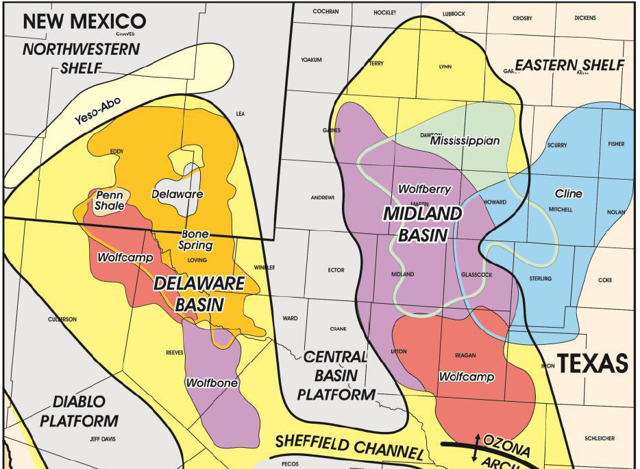 While a two-dimensional overview helps readers locate the Permian Basin on a map, the picture below represents a 3-D geologic slice that depicts the various formations and the differing depths of those formations across the entire area. It doesn't look much like Martha's layer cake anymore!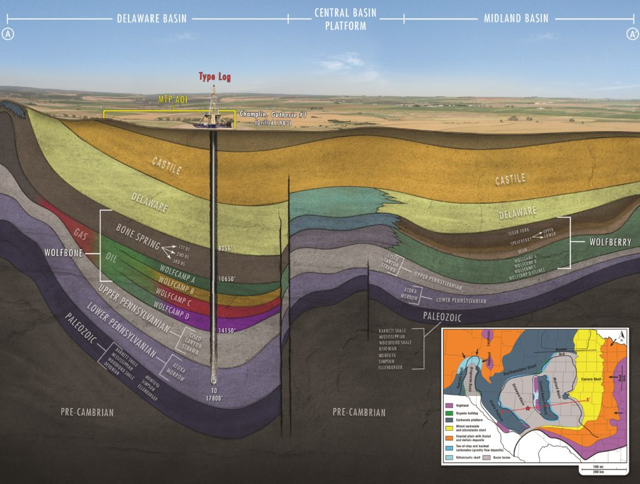 Much has been written and wild speculation has been generated with some of the prices that select companies have sold for in the Permian Basin. If analysis were as easy as pick a number, say $100,000/acre, for any acreage in the Permian, as a whole the Permian would be worth $5 trillion, and all one would have to know to value a company's acreage was how many acres were owned. "You own 1,000 acres? Wow, that's worth $100 million!" Um, no …. just as in real estate, location matters, along with numerous other factors.
Why pick the companies I did for this "Club" and article? After all, none of the top 10 acreage holders in the Permian Basin (Apache (NYSE:APA), Occidental (NYSE:OXY), Chevron (NYSE:CVX), ConocoPhillips (NYSE:COP), Pioneer (NYSE:PXD), EOG (NYSE:EOG), Exxon (NYSE:XOM), Devon (NYSE:DVN), Concho (NYSE:CXO) and Diamondback (NASDAQ:FANG)), who together control more than 11 million acres, are included. Well, companies like APA, OXY, CVX, COP, EOG, XOM, and DVN have extensive operations outside the Permian, including concessions outside the U.S.; others like PXD, CXO/RSP (NYSE:RSPP) and FANG/Energen (NYSE:EGN) are institutional favorites that may be included in my "Tier One Producers" or TOP Club.
Besides, I like to watch mid- to small-sized companies because of the competitive urgency they face in growing reserves and production, and ultimately attracting capital for future growth… and as M&A prospects for the bigger players. After all, to meet their corporate objective for 2022, a company like XOM needs to add 3 companies the size of PXD, and each company on list of top companies has that same "dilemma." Companies in the middle may be targets, but they may also be acquirers of companies within the same asset range or lower.
Company Overviews
As this article is intended as an introductory piece, despite the amount of detail that will follow, the overview is intended to show only what each company considers its main advantages or strategic positioning. The links provided after each company that are designated as their presentation will take you to the full presentation at each company's website, for further review and analysis if desired.
Callon Petroleum
I have to give CPE its due. It's not just that it has been in business since the 1950s, or that it was based in Natchez, MS, or that the Callon family (through founder John and his nephew Fred) remained involved in the company for most of that period, or even that the company sold off most of its properties back in the mid-1980s to repay its banks after prices crashed. Rather, it is that it has adapted throughout its history, survived and is now prospering when so many others have failed.
Until 2010, CPE was essentially a Gulf of Mexico operator. However, it then made the decision to exit the Gulf and focus on the Permian, at first using cash flow from its properties and ultimately using the sale proceeds from the sale of its primary asset, the Medusa Field, to W&T Offshore (NYSE:WTI). Despite being a fairly small player in the overall scheme of things, the company has done remarkably well.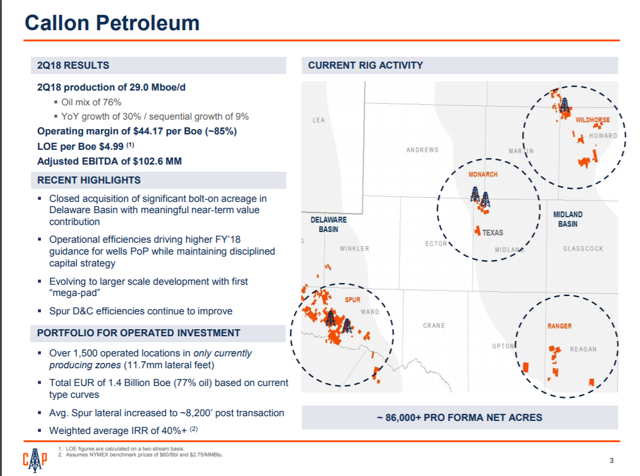 Centennial Resource Development
Talk about extremes! From a company with history dating back to the 1950s to one formed just last year. CDEV was formed as a Special Purpose Acquisition Corp. (SPAC) back in 2016, raising $1 billion+. The article I wrote about the company when it merged with several entities to form CDEV, first known as Silver Run, is at: E&P Centennial Celebration: Should Investors Join The Gang For This Kool Party?
CDEV was an initial public entrant into the Delaware Basin, which at the time had received less attention than the Midland Basin. Led by Mark Papa, the company has expanded rapidly and the stock has more than doubled since the IPO.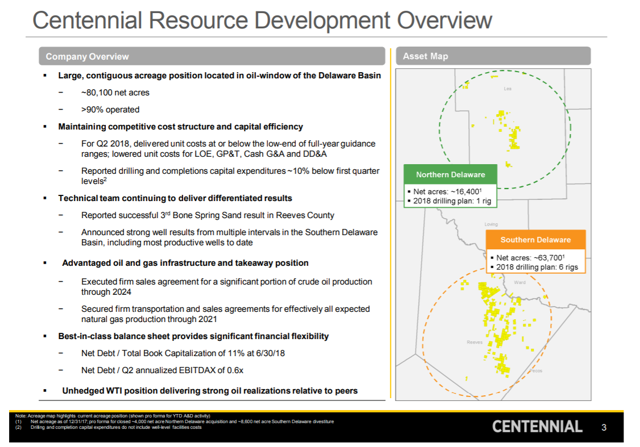 Centennial Resource Development presentation
Cimarex
XEC has also had quite the history! In the early 1980s, Apache Corp. had formed the first upstream MLP, Apache Petroleum Co. ("APC"), to take advantage of tax laws that allowed the pass-through of tax attributes to limited partners in a public entity. At the time, APA was primarily an exploration company, with a main focus on the Gulf of Mexico. By 1987, prices had crashed and the tax allure of its partnership was fading as well, so APA offered APC unitholders shares in APA in exchange for their APC units, or they could opt to exchange their units for shares in a new company, Key Production Co. Key was the predecessor to XEC, and acquired primarily producing properties.
In 2002, Helmerich & Payne (NYSE:HP) decided to spin off its oil and gas division, calling it Cimarex, which would then merge with Key. A tripling of the combined firm's market cap ensued, and the company shifted its emphasis towards the Permian and Mid-Continent areas, with a much more focused strategy. From a company with a market cap of $600 million in 2002, XEC has grown to a company with a Total Enterprise Value ("TEV") of almost $10 billion.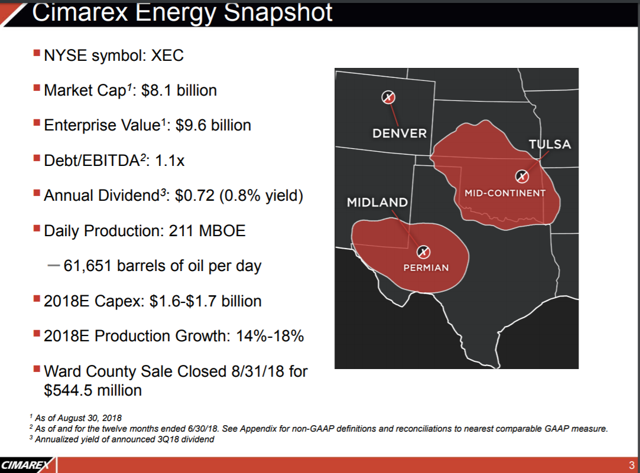 Cimarex also wins a prize from me for being one of the only E&P companies to include a slide that shows the impact of full-cycle returns compared to half-cycle returns. Although this still does not address the issue of corporate-level returns (after G&A, interest, etc.), it does illustrate how very high IRRs can shrink when fully-loaded. In their example, 70% D&C (half-cycle) returns translate into 40% IRR full-cycle returns.
Earthstone Energy
ESTE restructured into its present form over the past 5 years, after a group of serial acquirers with an excellent track record (most recently having sold GeoResources to Halcon (NYSE:HK) for $1 billion in 2010), with backing from PE firm EnCap and some of its portfolio companies, merged together. Its most recent transaction was a subsequent merger with Bold Energy in which ESTE acquired its Midland Basin properties. It has properties in the Eagle Ford. Based on the past history of its founders and the strategy of EnCap, most people expected ESTE to grow reserves and production by merger or acquisition, and then sell the company, but the market for Permian properties has made that growth difficult on the timing originally envisioned. ESTE has a significant number of Permian locations to drill, however, and has an active development program underway.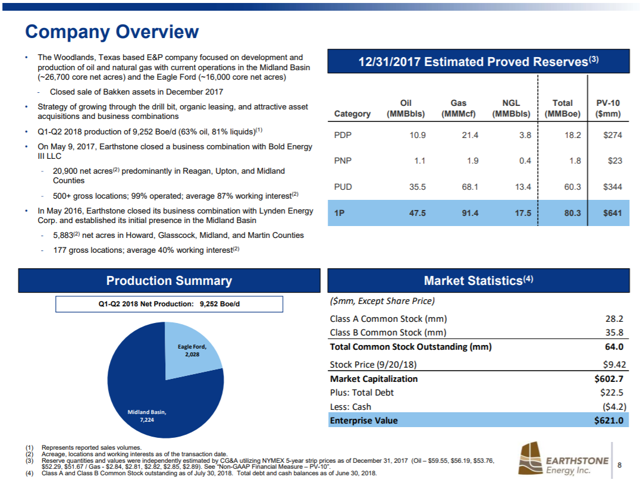 Earthstone Energy presentation
Jagged Peak Energy
JAG and CDEV come from roughly the same era as public companies. No, not quite as far back as the Permian era. Actually, the 2016-2017 era. Ah, the memories, right? JAG and a couple of other companies (XOG and WRD) owe much of their success in accessing the public market to CDEV, which was the first IPO (?) since the 2014 price crash. After CDEV did so well, JAG and the others followed.
My article on the JAG IPO can be accessed at: E&P IPO: Should Investors Scale Jagged Peak Or Watch From A Distance? The stock is trading today roughly where it went public in early 2017, and has traded in the range of $11 to $16 during that time (and mostly below the $15 IPO price).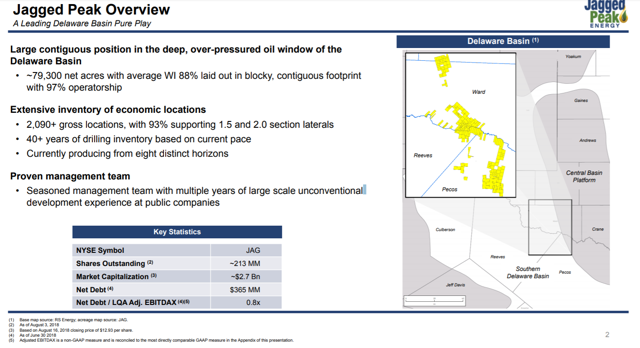 Laredo Petroleum
LPI was formed in 2006 and was backed by a PE firm before its IPO in 2011. LPI was one of the first of the mid-sized companies to emphasize what they refer to as a multi-disciplined, fully integrated earth model to identify the optimum places to drill, frack, etc. That system, developed in coordination with Halliburton (NYSE:HAL), has undergone several iterations over that time.
In addition, LPI was among the first operators to adopt a "corridor" approach to drilling and producing that allows it to lower costs by centralizing facilities along a linear corridor of land across multiple sections. It also maintains a conservative approach to booking PUD reserves despite having identified 500 future locations.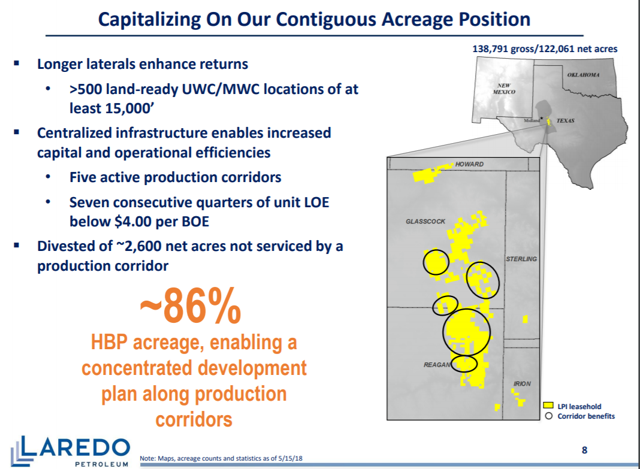 Matador Resources
Another great backstory! MTDR is really Matador II, formed by the same founder, Joe Foran, who formed Matador I back in 1983 with $270,000 contributed by family and friends, then sold the company in 2003 to Tom Brown, Inc. for $389 million (including additional capital). Foran formed MTDR that same year, and after backing from Wellington Management and certain General Mills (NYSE:GIS) benefit plans, went public again in 2011. Although the company has properties in the Haynesville and Eagle Ford areas, its primary focus has been on the Delaware Basin, where it was an early entrant.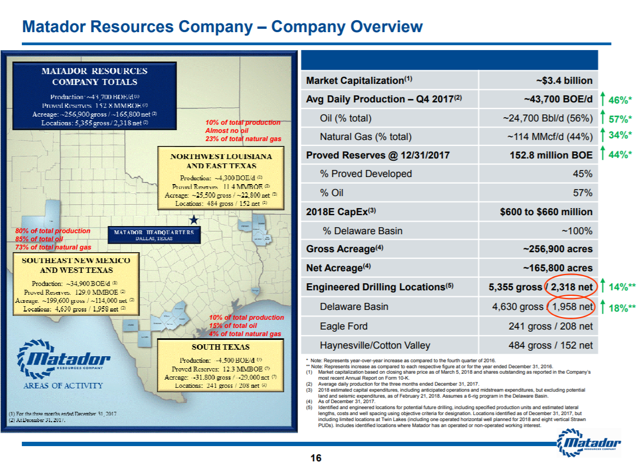 Matador Resources presentation
Parsley Energy
PE may well have had the worst timing as far as an IPO is concerned, going public less than one month before oil prices began their descent from the cycle high in mid-2014. The company had been formed in 2008 with backing from Joe Parsley, one of the founders of Parker & Parsley Petroleum and grandfather of Bryan Sheffield, PE's CEO. Parsley's nephew (and Bryan Sheffield's father), Scott Sheffield, worked for Parker & Parsley for many years, taking over when Joe Parsley retired, and ultimately merged the company with MESA, Inc. to form Pioneer Natural Resources.
Despite rough timing, PE's stock has more than doubled since it went public, placing it among the top-performing E&P companies during that time.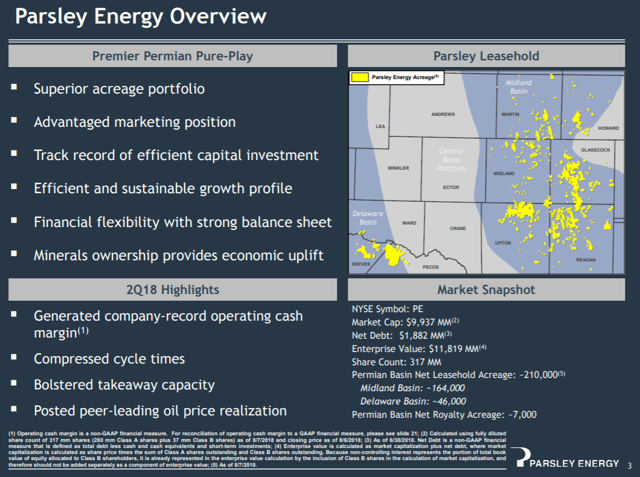 QEP Resources
QEP had its origins as the oil and gas division of Questar, a natural gas pipeline/utility company based in Salt Lake City. It was spun out to shareholders in 2010; Questar merged with Dominion Energy (NYSE:D) in 2015, and QEP is completely independent today. It has undergone a dramatic transformation since 2010, divesting non-core assets in many different areas of the country and investing significant amounts through acquisitions in the Permian Basin.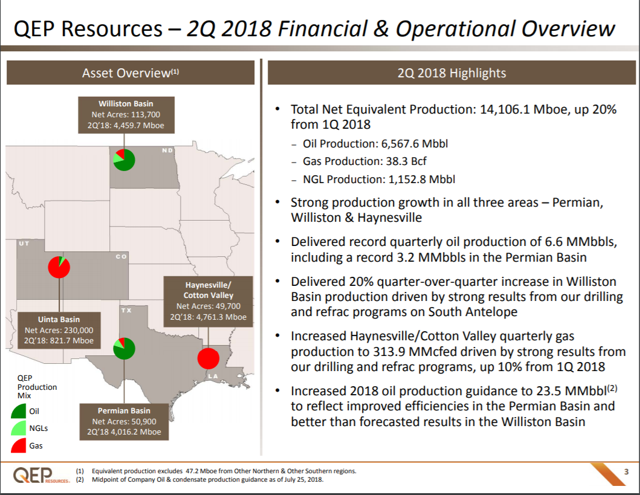 Ring Energy
REI was a development stage company prior to 2012, when it merged with Stanford Energy, an E&P company started by the founders of Arena Resources, which was sold in 2010 to SandrRidge Energy (SD) for $1.6 billion in cash and stock. Unlike most of the other public E&P companies, REI's focus is primarily on the Central Basin Platform and development of the San Andres formation.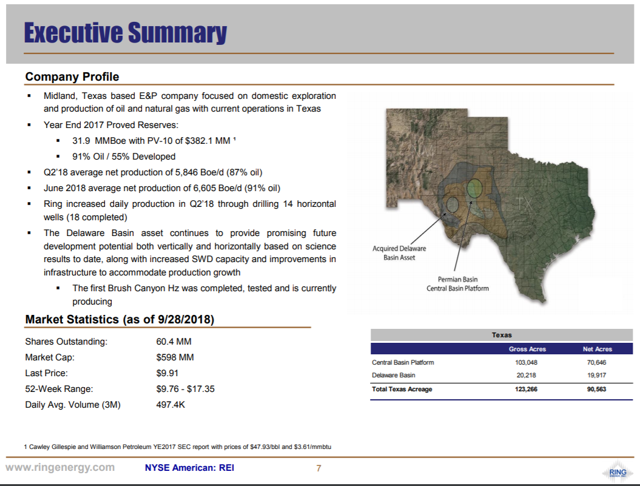 Rosehill Resources
Rosehill came public in 2016 as KLR Acquisition Corp., another SPAC. It was far smaller than other SPACs like CDEV, AMR, MGY, etc. at $80 million initially. In 2017, it combined with Tema Oil and Gas, a subsidiary of Rosemore, Inc., an entity controlled by descendants of the founder of Amoco. ROSE remains owned 70% by Rosemore, and has been actively acquiring additional assets in the Delaware Basin.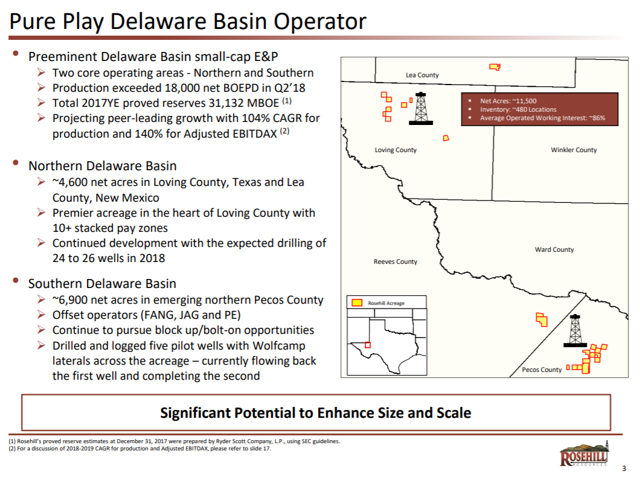 Rosehill Resources presentation
SM Energy
We have a winner in this group, at least in terms of longevity! The predecessor to SM was started in 1900 when the founders of the company, based in Duluth, MN, paid $11,000 to acquire 18,000 acres of land in St. Mary Parish, LA. The name was changed from St. Mary Land & Exploration Co. to SM Energy in 2010.
What started as a land company that leased acreage to large oil and gas companies to drill, primarily in South Louisiana, evolved over the years to become an independent E&P company in its own right. From 5 core areas in 2010, the company has whittled that down to 2: the Permian and the Eagle Ford.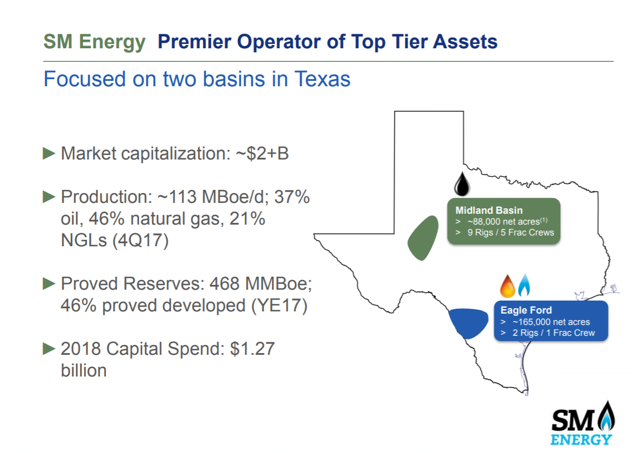 WPX Energy
Like QEP, WPX was originally part of a pipeline company, Williams Companies (NYSE:WMB). It was spun off to shareholders and began trading as an independent company in early 2012.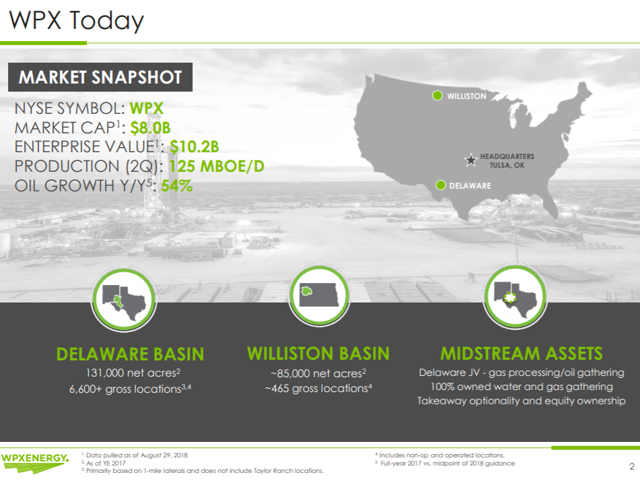 I am including the slide below since it shows the dramatic re-positioning of the company as an independent. From 7 core areas and a Rockies focus, WPX has reduced its core areas to 2, the Permian and Williston Basins, and dramatically increased its presence in the Permian during 2015 with the $2.75 billion purchase of RKI Exploration, a portfolio company of PE firm First Reserve. Not shown here is the also-dramatic shift from a company with 80% natural gas in 2010 to one with 80% oil and liquids in 2018.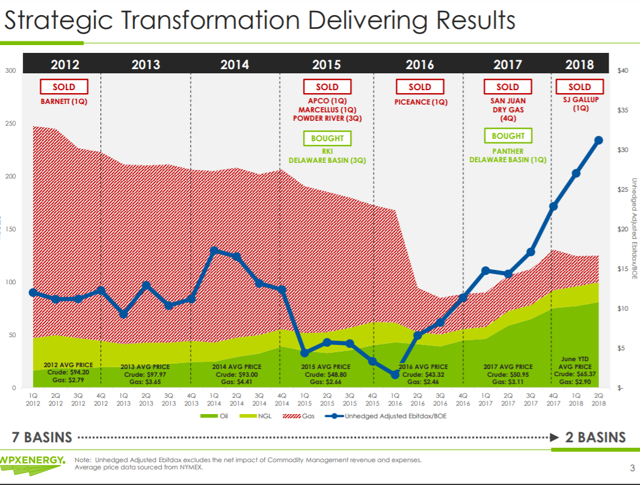 Operators
There are more than 500 operators in the Permian Basin, obviously most of them private companies. The map below, which is a couple of years old, shows selected public companies' acreage, and illustrates the chopped-up but generally completely leased status of holdings there.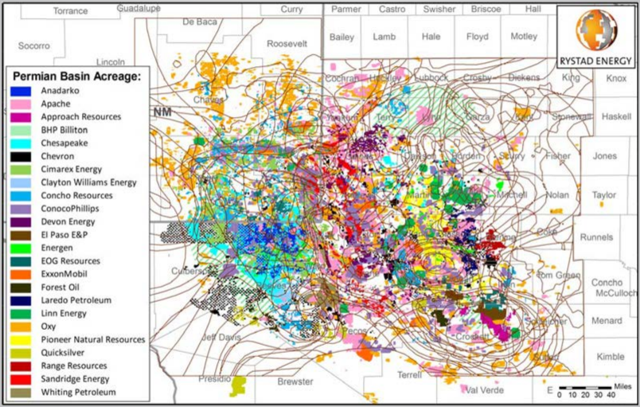 Source: Rystad Energy
Review of 2Q Results
The notes below are mine from reviewing public data from 2Q, including press releases, SEC filings and presentations. Other readers may have picked up on different items.

As I went through all of this data, I quickly came to realize that I would not be able to go into each company in the depth I wanted. The data can be overwhelming, but I also hope it is useful. The slide presentations are also useful, and rather than go into each one individually, I decided to create a single summary of their combined disclosures of competitive strengths and strategies. This is slightly tongue-in-cheek, because if you were to read through the slides in addition to the data, you would find a great deal of similarity between companies.
Financial results
Note: Similar to the non-Permian article... First, the disclaimer: I have obtained the figures in the following charts from public sources, including company press releases, SEC filings and press releases. I have tried to check and double-check these numbers and the formula impacts of my own calculations, but invariably there will be mistakes and inconsistencies. Readers are advised to use these data as a source of analysis, but also to do their own research and analysis before making an investment decision.
Reserve data is from 2017 year-end disclosures. Production and prices, income statement data and adjusted EBITDA are taken from 2Q figures and, in some cases, annualized for comparative purposes. This is done primarily because 2Q pricing data, and therefore results, are likely to be more comparable to current prices than 1Q. CFFO data is YTD through 2Q to minimize the impact of quarter to quarter swings in CAPEX.
As readers may have noticed in my prior articles, I often start my review of a company with existing proved reserves, because past is prologue in many cases. After all, a company gets no cash flow without existing reserves to produce (or capital). Past Finding and Development Costs often translate into fairly good estimates of future CAPEX needs to replace or grow reserves and production as well.
In all of the charts, readers will see certain cells highlighted in red or green. A green highlight indicates that a company's data places it in the top 4 among MOTR-Permian companies, while a red highlight means the company is in the bottom 4 in that particular category.
Cost Incurred (lines 15-20), Reserves and Changes to Reserves (lines 22-44), Standardized Measure and Changes to Standardized Measure (lines 46-71) and F&D Costs (lines 73-78) all deal with 2017 results, and are not updated except in connection with annual reports. Prices will have a positive impact on the numbers reported for 2017 as long as companies are able to at least replace reserves with current CAPEX.
In the chart, absolute measures of reserve volumes most often just confirm the relative size of each company; bigger companies tend to have bigger reserves. One thing that is important to track is the % mix of oil and natural gas, which is shown in lines 22-34. Those lines also show the % of reserves that are PD/PUD.
What is more important, though, is how much of a change in reserves companies were able to achieve. Lines 37-43 "walk forward" the reserves from 1/1/17 to 12/31/17 by the type of activity, showing reserves added by price increases, purchases, extensions/discoveries, etc. On line 44, red and green highlights show the companies with the lowest % gain and the highest, respectively.
Lines 56-73 likewise show the "walk-forward" of reserves from 2016 to 2017, using the same format that engineers and accountants use to show components of the changes, as with reserve volumes. The thing that sticks out the most to me there is that, as a group, these companies produced roughly 60% of their beginning value in 2017 (line 57/ line 56). Price increases (line 59) saved the day, and new CAPEX added reserves as well (line 64). Overall, a 28% increase in reserves (line 44) translated into an SEC value gain of 125% (line 71), not quite a 5X multiple.
Finding & Development (F&D) Costs are set out in lines 73-78. These are usually used to reflect the capital efficiency of each company in adding new reserves with CAPEX expended during that year. Overall, the group added reserves at a $/BOE cost of around $12.59. Rather than relying strictly on one year's results, analysts will usually use a 3-year average of F&D costs to compute future drilling returns, and a 3-year replacement % is also often calculated. I obtained the 3-year figures from an EnerCom publication.
[Note: All charts are best viewed by right-clicking on them, then clicking on "Open in new tab." Once the new tab is visible, simply zoom in to the desired magnification. Printing may work best set at 125%.]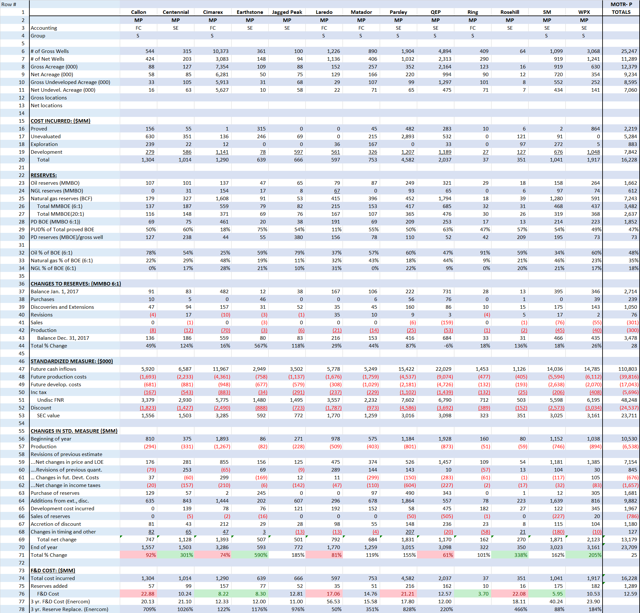 Like reserves and reserve values, production figures (lines 81-86) largely show which companies are larger, but their primary benefit is to show the breakout between oil, natural gas and NGL volumes. Lines 98-103 show the %s by product; obviously, in the Permian Basin, most companies are oil producers, and the lowest % of oil revenues by XEC and SM both exceeded 60%..
Lines 88-91 show prices for each product, and also a weighted average price received for all three. Companies received roughly $66/bo in 2Q, but the net prices/BOE ranged from $28 to $57. While not necessarily determinative of anything, those low prices will factor into the net margins in the charts following. Those are realizations before the impact of derivatives, so the lower %s represent the impact of natural gas and NGL prices, not hedges.
Following production into the income statement (lines 105-137) shows the product of volumes produced times price received for total revenues. In my analysis, I always break out property revenues from other corporate items, because reserve values are based on what the properties throw off for cash flow. Particular line items to watch include the GPT (Gathering, Processing and Transportation) line (113), the line for derivative gains/losses (123) and the line for impairments (128). GPT is often not addressed directly by managements (who much prefer to focus on LOE instead for obvious reasons).
This group reported fairly healthy results, with all but 2 companies reporting positive net income. Adding back one-time items like derivatives and impairments would have resulted in all companies having positive net income.
The $/BOE disclosures in lines 139-149 show the breakouts by each major category of revenue and expense, including the impacts of G&A, DD&A and interest. In many cases, management guidance only includes the property level numbers; some include G&A, but rarely do you see DD&A or interest (that I recall). However, those figures are real cash expenses or, in the case of DD&A, an estimate of what CAPEX will cost, so to construct real bottom line income or cash flow estimates, those are needed. To be perfectly true, the costs of legacy debt would also have to be factored into cash flow in some way, because none of the other items assume that principal payments have to be considered even if no actual payments are made.
The recycle ratio (line 150) can be a very useful indicator. It shows, for each $1 invested, how much cash flow is returned; a number below 1:1 essentially shows that a company is just cycling cash while likely not adding any value, while the higher the ratio, the more effective a company is in using its CAPEX. For now, again these numbers are substantially better as a group than the companies in the BOTB Club, certainly something you would want to see in higher quality companies. Ratios above 2:1 are particularly good.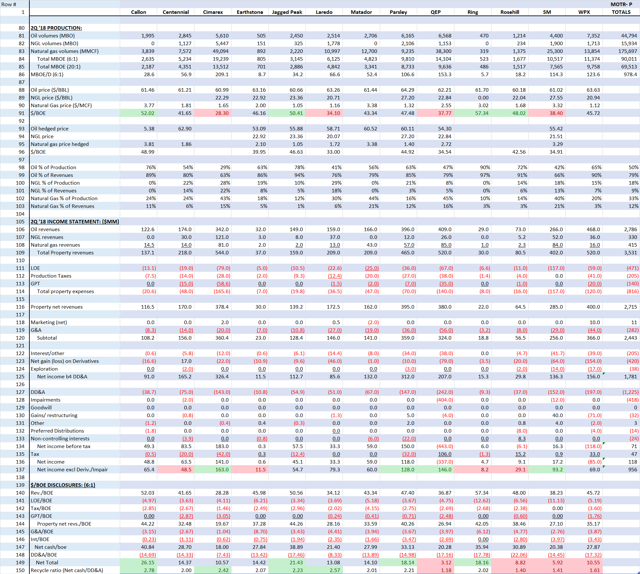 The Balance Sheet numbers are on lines 152-183. Most analysts would focus on lines 156-159, which shows the Plant, Property & Equipment (PP&E) balances. Unproved properties are usually revealed at year-end, and show how much companies have paid for their unproved acreage, while proved property balances show similar balances. Unproved properties are not amortized as part of DD&A. The other primary focus would be on debt (line 168 for bank debt and 169 for other long-term debt).
Comparing bank debt of $3 billion to $40 billion in proved PP&E shows that these companies are in good stead with their banks. Overall, though, $22 billion in other debt puts total debt at a little over 60% of PP&E, not a particularly comfortable level at then-current prices. That level as a % of NAV would put companies near the upper limit on most credit scales. Prices and/or reserve levels still need to go up.
The cash flow data shows how companies are trying. However, as a group, the companies had a negative Free Cash Flow ('FCF') of around $1 billion; only 3 companies spent within cash flow through 2Q. CAPEX budgets may be spent earlier in the year to produce more volumes later in the year and/or in the following year, though. Guidance for 2019 usually doesn't get issued until 1Q '19, but some companies could issue it in 4Q '18. Production forecasts for 2019 need to be growing given the CAPEX outspend in 2018.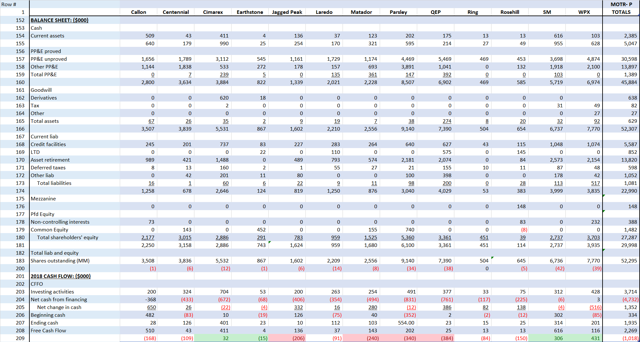 Lines 210-251 have details that are normally associated with debt metrics. Lines 216-219 illustrate companies that are far removed from current financial distress, with EBITDA/Interest >10:1 and net debt/EBITDA of <2:1. Most companies have set targets of debt/EBITDA of < 2:1 on a recurring basis, and many are already there.
Although lines 221-222 show amounts that are less than specified in most bank agreements, current assets often include in their definition the undrawn portion of bank lines. Whenever a quarter-end comes around that matters, the companies can simply draw down their line and repay it later if need be. few companies are anywhere close to the limit.
Lines 224-235 show debt in different ways. These cos. as a whole are nowhere close to borrowing bases, with liquidity (line 229) of almost $9 billion and amounts drawn as a % of borrowing bases of only 9%. Other metrics from lines 236-238 and 245-251 (don't worry about the number gaps) show Total Enterprise Values ('TEV') of around 8:1, very respectable with the rapid growth companies are projected to achieve in 2019.
Lines 255-268 look good, although I must admit to thinking they would look even better after reviewing what had come before them. Debt of $15 billion is only 24% of TEV.
Production and CAPEX Guidance
The chart below shows initial CAPEX and production guidance from earlier this year. Although some companies have updated these figures since then, I think it also makes sense to review how things may have changed since the beginning guidance; these figures will show that when compared to the guidance companies issue in connection with 3Q reports in November. Plus, the actual $/Boe from lines 139-150 above will also prove useful in comparing to forward guidance. I expect there could be changes to Permian producer results based on both current oil and natural gas pricing and takeaway constraints, in particular.

Discussion
Once again, we've gotten this far into the data without discussing individual companies much, and that is on purpose. All of these companies might, at some time, present great opportunities for trades and/or investment, and it is often hard to determine upfront, without volume and price cues, when that will be.
To go beyond this detail, I would probably head to the respective presentations for hedging detail, which can change from moment to moment, and also to review any other details of comparison of actual vs. projected results and updated geologic maps. While companies have begun stressing undeveloped acreage and the number of prospective locations they have, I would be very careful in extrapolating short-term results over an extended period of time, certainly a risk when companies talk of decades of locations to drill.
Even in the shale plays, there still is not enough data to confirm or reject certain assumptions, but in terms of quantifying risk, such disclosures represent the potential for conditional probability risk to crop up. That is, once the results of a certain number of those "locations" are known, companies may very well adjust their future plans based on results to date, and the number of locations and their valuations may change greatly. This is particularly a risk as companies "step out" in drilling (i.e., so-called "Tier 2" or "Tier 3" locations, as well as drill infill locations ("child wells") compared to original locations ("parent wells)). Geology does not change, but interpretation of geology is always changing based on recent data and results.
As far as valuation goes, many of these companies are trading off 2019 or 2020 projected results, something I am not quite willing to concede. "Permania" is still in effect to some degree, at least with the prices paid for top acreage. On the other hand, acquisitions of smaller tracts of land are still being done at prices below $30,000, and in some cases, below $20,000/acre.
Note in the chart below is Callon's recent acquisition of Cimarex assets in Ward County for $570 million. Those properties produce 6,832 boepd (73% oil) and include 28,657 net acres. Valuing the production at $35,000/boepd yields a price for the acreage of < $12,000 for highly contiguous acreage with operations, adjacent to CPE's existing assets. It's not about its location in the Permian Basin, it's about geology, and simply applying some sort of arbitrary $/acre figure is a decent screen, but not definitive by any means.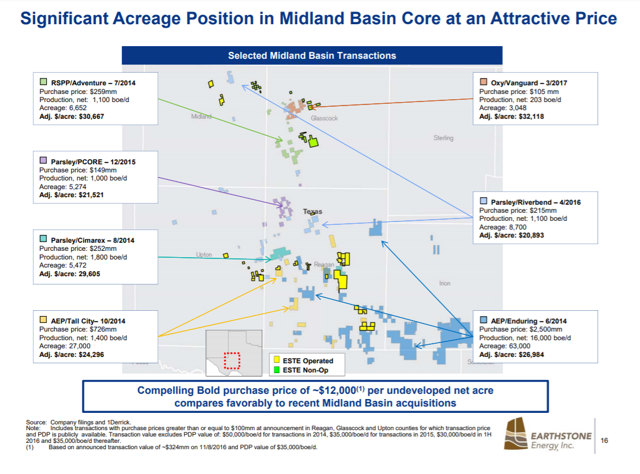 Besides CPE and ESTE, referenced above, I am also a fan of MTDR. However, all 3 companies are on the sidelines for me now given the potentially tough environment over the next 6-12+ months, at least as I see it. After price declines and stabilization, I would be looking to buy them (again), but not until volume and price are moving in the right direction without as much market "noise" as there is now.
The biggest issues (other than geology) facing these Permian companies in 4Q '18 and '19 involve pricing and takeaway capacities. Although companies have scrambled to find transportation options for both oil and natural gas, those options are going to be limited in terms of volume and very disappointing in terms of price, at least in my opinion. Discounts of > $10 on oil and > $1 on natural gas are essentially already here, and the takeaway contraints are not likely to be lifted until 3Q '19 for the most part. Purchasers are rushing to install new pipelines to resolve both issues, but the growth in production (even before companies like XOM, CHV, BP and OXY ramp up drilling programs in the Permian) may still overwhelm available pipes for some time. We'll see how much of that is already priced into the stocks of these companies.
Also, I must admit to being a bit reticent to invest much before the impact of the Iranian sanctions, the trade war impacts and the midterm results are known. Obviously, there are always risks out there that relate in one way or another to E&P, but this fall is shaping up to be very volatile, in my opinion, even apart from the fact that October is often a brutal month for stocks.
Conclusion
The group of companies in the MOTR Club look like very worthwhile companies to follow and possibly trade or invest in the future, although in some respects, investors are trading off leverage risk in more distressed companies for valuation risks in these companies. At least leverage is not an issue like it is with so many companies, so members should be able to implement their strategies without the baggage of legacy debt to contend with. While progress still needs to be made, and/or needs to be supplemented by further price increases, the current price environment may prove to have the tailwind that companies need to be more than merely FCF neutral or low growth from this point forward.
As an introductory overview, I have supplied a lot of data and information which will hopefully be of use to readers. While no recommendations are made by me, hopefully this article also serves as a takeoff point for further research by some readers, and in any case, I appreciate any input you have about this kind of article as to whether it proves useful.
The MOTR Club-Non-Permian group from my prior article includes Alta Mesa Resources, Carrizo Oil & Gas, Extraction Oil & Gas, Gulfport, Oasis, PDC Energy, Range Resources, Southwestern Energy, SRC Energy, Whiting Petroleum and WildHorse Energy.
Companies that are in the TOP Club may or may not be followed by me, depending on the response to these other articles, or they may be followed on some sort of modified basis. Those companies would include Anadarko Petroleum (APC), Antero Resources (AR), Apache Corp., Cabot Oil & Gas (COG), Concho Resources, Continental Resources (CLR), Devon Energy, Diamondback Energy, EOG Resources, Newfield Exploration (NFX), Noble Energy (NBL) and Pioneer Natural Resources.
Disclosure: I/we have no positions in any stocks mentioned, and no plans to initiate any positions within the next 72 hours. I wrote this article myself, and it expresses my own opinions. I am not receiving compensation for it (other than from Seeking Alpha). I have no business relationship with any company whose stock is mentioned in this article.